Leo Westermann
Recent Tweets
All Tweets
DraftExpress: RT @ChristopheEPcom Superb Documentary on Leo Westermann in Belgrade. MUST SEE http://t.co/rgkmRWu2gr via @canalplusfr
2013-04-06 10:36:49
DraftExpress: Pionir Arena Belgrade. Partizan-Olimpija Ljubljana. Big game for Leo Westermann and co. http://t.co/ac1Sd1VIeI
2013-02-23 15:04:12
DraftExpress: DX Euro Roundup Leo Westermann's Gamble Pays Off http://t.co/OukE8cZt Video analysis & scouting report of the much-improved French prospect
2012-12-17 08:40:11
DraftExpress: DX European Roundup Leo Westermann's Gamble Pays Off http://t.co/OukE8cZt - Video analysis and scouting report.
2012-12-16 16:15:32
DraftExpress: 1992-born French guard Leo Westermann moves to Partizan. RT @PartizanBC Leo Vesterman novo pojacanje Partizana mt:s! http://t.co/fEcN2hGA
2012-07-02 10:35:25
Team: Limoges
Physicals
Positions
Salary
Misc
H: 6' 7"
W: 199 lbs
Bday: 07/24/1992
(23 Years Old)

Current: PG
NBA: PG
Possible: PG

Agent: Pedja Materic

High School: INSEP Academy
Hometown: Haguenau, France

Predraft Measurements
| Year | Source | Height w/o Shoes | Height w/shoes | Weight | Wingspan | Standing Reach | Body Fat | No Step Vert | Max Vert |
| --- | --- | --- | --- | --- | --- | --- | --- | --- | --- |
| 2012 | Hoop Summit | NA | 6' 7" | 199 | 6' 4" | NA | NA | NA | NA |



Basic Per Game Statistics

- Comprehensive Stats - Statistical Top 25s
| Year | League | Name | GP | Min | Pts | FG | FGA | FG% | 2Pt | 2PtA | 2P% | 3Pt | 3PtA | 3P% | FTM | FTA | FT% | Off | Def | TOT | Asts | Stls | Blks | TOs | PFs |
| --- | --- | --- | --- | --- | --- | --- | --- | --- | --- | --- | --- | --- | --- | --- | --- | --- | --- | --- | --- | --- | --- | --- | --- | --- | --- |
| 2015/16 | French | Leo Westermann | 10 | 27.3 | 9.0 | 3.1 | 8.6 | 36.0 | 2.1 | 4.7 | 44.7 | 1.0 | 3.9 | 25.6 | 1.8 | 2.2 | 81.8 | 0.5 | 2.2 | 2.7 | 3.9 | 1.7 | 0.1 | 1.7 | 2.7 |
| 2015/16 | EURO | Leo Westermann | 7 | 27.4 | 9.1 | 3.1 | 7.0 | 44.9 | 2.0 | 4.0 | 50.0 | 1.1 | 3.0 | 38.1 | 1.7 | 2.0 | 85.7 | 0.4 | 3.0 | 3.4 | 4.4 | 1.0 | 0.1 | 3.6 | 2.4 |

Player Page&nbsp&nbsp| Player Stats | Mock Draft History | Related Articles&nbsp&nbsp| Add to My Draft Express&nbsp
&nbsp
European Roundup: Westermann's Gamble Pays Off
December 16, 2012
Scouting Report by Jonathan Givony, Video Analysis by Mike Schmitz

Sometimes a change of scenery is necessary for a prospect to reach his full potential and be viewed in a different light by the global basketball community.

In leaving ASVEL Villerbaune for Partizan Belgrade this past summer, Leo Westermann made an unprecedented move for a 20-year old French prospect considering the significant transition he would have to make on and off the court.

Moving from Western Europe to the Balkans and having to adapt to an entirely different style of basketball, type of coaching, language and culture along the way is something that most players his age and with his background would not have the courage to do. However, the risk appears to have paid off extraordinarily well and is likely to change the complexion of his career.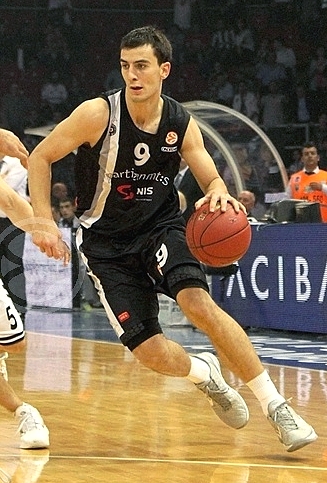 Euroleague.net



Starting at point guard and playing 29 minutes per-game (for the team that's largely considered the best in Europe at developing young players for more on why, read the comprehensive article we wrote from Belgrade in 2010 on the club and its iconic coach) at the highest level of competition found outside the NBA, Westermann has significantly improved his NBA prospects and at the very least cemented himself as a serious target for all the top Euroleague clubs moving forward.

Shouldering significant offensive responsibilities on "the youngest roster in Euroleague history" according to their coach, Westermann's numbers (10 points, 4 assists, 2.7 turnovers, 37% 2P%, 43% 3P%) are indicative of the difficult transition he's faced moving from Pro A France to the Euroleague, especially for those that are not well versed in the ins and outs of the European game. Watching his film tells a different story though.

Video Analysis:



Measuring 6-7 in shoes at the Nike Hoop Summit last spring, Westermann is nevertheless Partizan's primary ball-handler and facilitator, seeing more than half his offensive possessions running the pick and roll, where he shows tremendous potential. With his choppy footwork, terrific timing, and excellent basketball IQ, Westermann's ability to create offense has improved significantly this season under Dule Vujosevic, despite the stark increase in level of competition he's facing and the fact that his coach does not speak a word of English or French.

Partizan players endure long practice days heavy on conditioning, fundamentals and skill development, and Westermann's superior work ethic and mental toughness have allowed him to embrace and soak in these long sessions, which sometimes run 5-6 hours at a time. Westermann's athleticism appears to have improved considerably since the last time we saw him at the Nike Hoop Summit in April, and his confidence and aggressiveness have never been higher.

What stands out about Westermann's style of running the point guard position is the terrific blend of creativity, maturity and intelligence he displays, something you rarely see in a player his age at this size. He's a very good ball-handler, and while not overly quick or explosive, his ability to change speeds and read opposing defenses allows him to play at a very unique pace that makes him difficult to fully shut down.

Westermann gets his teammates easy baskets on a regular basis with his superb timing and court vision. He passes ahead in transition beautifully, makes skip passes over the top of defenses to open shooters, and has a knack for spoon-feeding his big men right underneath the basket with alleyoop lobs or post-entry bounce passes off the pick and roll.

Westermann's jump-shot has been somewhat streaky over the course of the season, something that has been the case for much of his career. While he was able to convert 43% of his 3-pointers during the Euroleague regular season, he's only made 29 of his 93 (31%) overall jump-shots (include 2-pointers) when taking Adriatic league competition into consideration.

Part of the reason for that is the role Westermann plays on this team. As the only real creator on Partizan's roster, he's forced to take quite a few tough pull-ups every game with the shot-clock winding down. Two-thirds of Westermann's jumpers have come off the dribble thus far according to Synergy Sports Technology, but he hasn't been terribly consistent with his feet set either, something that looks highly correctable considering his quick release and excellent shooting mechanics. It's not a stretch to ponder whether playing a smaller role where he isn't forced to shoulder as much playmaking responsibility would help his percentages.

One area where Westermann has struggled this season (and for his entire career in fact) and may never be a standout is s a finisher inside the paint. He only converts 51% of his attempts around the basket, and doesn't get to the free throw line at a high rate. Not possessing great length, strength or explosiveness, he has a difficult time finishing over athletic big men in traffic. He seems to realize this and often drives to the basket with the sole intent of dishing off to a teammate as soon as the defense rotates, which can make him somewhat turnover prone at times (he's averaging over four turnovers per-40 minutes). With that said, he was often asked to do far more than he likely should as the primary ball-handler on a young roster that was regularly overmatched talent-wise in the Euroleague.

While it's relatively easy to see Westermann fitting into a NBA roster offensively with his high skill-level and off the charts basketball IQ, it's on the defensive end of the ball that scouts have their biggest question marks. Westermann has made strides on this end of the floor this season as well, as he puts an excellent effort in, moving his feet well, putting solid pressure on the ball and showing terrific awareness and instincts anticipating his opponent's next move. With that said, he gets beaten off the dribble a fair amount at the Euroleague level, as he possesses just average lateral quickness, while his short wingspan and poor frame don't do him any favors in fighting through screens and contesting jumpers on the perimeter. He averages nearly five fouls per-40 minutes and is regularly targeted by opposing coaches due to his struggles staying in front of smaller guards.

Westermann's professional stock improved considerably with the fearless way he approached Partizan's Euroleague campaign, which unfortunately came to an end this past week when his team narrowly lost to Bamberg in overtime in Germany, their third overtime loss in just 10 games.

Westermann is a little bit different than some of the bigger European guards that have come before him in the sense that he's got good toughness and really wants to play solid defense. Nevertheless, he probably won't fit on every NBA roster due to his unique style of play and limitations, and will need to be paired with the right teammates who can help compensate for his shortcomings.

The success of other big European guards in the NBA this season, such as Alexey Shved, will likely help his cause, as will his very flexible situation with Partizan. A NBA team picking in the late first round or early second that is short on roster spots can elect to draft him and leave him over in Europe for a year or more to continue to develop on someone else's budget playing against outstanding competition on a nightly basis. Or if they prefer, they can bring him over right away.

Only becoming automatically draft-eligible in 2014 as a 1992-born prospect, Westermann will need to decide whether he wants to enter his name in the 2013 draft and test his value this spring. It's not out of the question that his stock could rise even higher with another strong Euroleague campaign next year.

[Read Full Article]

---
adidas EUROCAMP Day Three
June 13, 2012
-French point guard Leo Westermann had a very nice showing in Treviso, showing the same excellent basketball IQ and maturity as a floor general we saw from him at the Hoop Summit. He excels in settings like this playing against his peers, showing great patience offensively, making shots from the perimeter, and getting his teammates involved. He did a tremendous job finding Rudy Gobert in position to score, but struggled a bit with turnovers today. A 1992-born prospect, Westermann did little to dispel notions that he's one of the most mature lead guards in his age group.

[Read Full Article]

---
Nike Hoop Summit Scouting Reports: Guards
April 11, 2012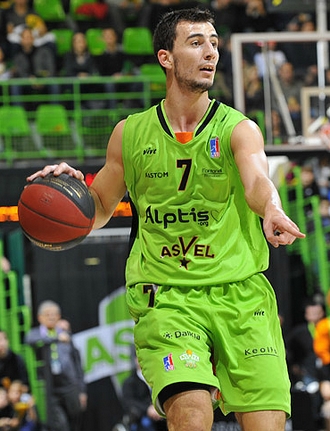 Asvelbasket.com



Jonathan Givony

The most experienced prospect participating at the Nike Hoop Summit, Leo Westermann is a starter for a team vying to make the playoffs in ProA France, which was very evident watching himself conduct himself on and off the court.

Measured at 6-7 in Portland, Westermann has outstanding size for any of the backcourt positions, even if his average 199 pound frame and mediocre 6-4 wingspan aren't feathers in his cap. He's not an impressive athlete either, noticeably lacking great quickness and explosiveness.

What Westermann does possess is a terrific feel for the game, which has allowed him to establish himself as one of the most productive players in his age group in Europe, and should help him reach a very high level in professional basketball when it's all said and done.

Despite his height, Westermann operates primarily as a point guard for his ASVEL team in France, which operates at a deliberate pace that suits his style of play. A big part of his offense comes on the pick and roll, where he does a good job getting his teammates involved intelligently, using both hands and making crafty passes in a variety of ways. He likes to throw lob passes over the top of the defense when trapped out on the perimeter, and has excellent timing using bounce passes to find cutters diving to the rim.

Westermann is generally a very unselfish player who reads the floor well and likes to make the extra pass. He shows excellent leadership skills despite his youth, constantly directing teammates and doing a good job executing in the half-court.

Also capable of playing off the ball, Westermann stood out as one of the purest shooters on the Hoop Summit World Team, with his picture-perfect mechanics. That's translated to his play this season as well, as he's hit a terrific 47% of the shots he's taken with his feet set through 38 games according to Synergy Sports Tech. This gives his coach some nice versatility to work with, allowing him to be paired alongside a smaller scoring combo guard in the Monta Ellis/Lou Williams mold.

Westermann's biggest shortcomings revolve around his inability to create shots efficiently inside the arc. He does not possess a great first step or overwhelming quickness, which makes it difficult for him to beat his man off the dribble and renders him fairly ineffective in transition and isolation situations. Westermann does not get into the paint all that often in the half-court, and when he does, his average frame and explosiveness make it difficult for him to draw fouls or convert at a high rate around the basket. Unfortunately his team has been relying on him pretty heavily for offense since Tony Parker left at the end of the NBA lockout, which he's struggled with at times in the form of turnovers. He coughs the ball up on nearly 25% of his possessions, amongst the highest rates in Pro A.

While Westermann is clearly skilled and versatile enough to find a niche for himself on the offensive end, defensively is where scouts might have the biggest question marks about his NBA potential. He shows nice intelligence, timing, intensity and toughness using his size to his advantage jumping in the passing lanes and doing his best to compete in one on one settings, but often has a hard time staying in front of quicker guards due to his average length and lateral quickness and will need to add strength to his frame to help fight through screens.

Although he is not oozing with potential due to his average physical tools, Westermann shows an intriguing skill-set as a big, unselfish guard with strong perimeter shooting ability and intangibles. While his stat-line didn't jump off the page at the Nike Hoop Summit, it was obvious that his smarts and experience played an important role in the World Team coming up victorious. Westermann will likely continue to move up the European ladder and looks like a strong candidate to reach the very top-level of competition there, which could make him an interesting player for a NBA team to "draft and stash" for a few years to see how he continues to develop.

Interview and Highlights:



[Read Full Article]

---
2012 Nike Hoop Summit: International Measurements
April 2, 2012
Leo Westermann
Weight: 199 lbs.
Height (w/ shoes): 6'7"
Wingspan: 6'4"

[Read Full Article]

---