Marcus Morris
Recent Tweets
All Tweets
DraftExpress: RT @ZachLowe_SI: Nice try, Marcus Morris, but you can't catch Vesely for MVP of the draft.
2011-06-23 08:54:05
DraftExpress: RT @NBADraftInsider: Wow, Jay Bilas just subtley blasted Marcus Morris while talking about Faried.
2011-06-23 08:45:28
DraftExpress: At NBA Draft media day. Klay Thompson (???), Marcus Morris (working out in Charlotte) and Chris Singleton (Charlotte) not attending.
2011-06-22 12:24:06
DraftExpress: Interview and workout footage w/ Marcus Morris and Justin Holiday from their training facility in Los Angeles - http://bit.ly/kCeXxm
2011-06-20 01:54:57
DraftExpress: Both Thompsons, Hamilton, Marcus Morris, Biyombo. RT @ConnorHuchton: Other than Leonard, who else is a possibility for the Bobcats at 9?
2011-06-15 04:36:29
Top 25s - Full List
Team: Pistons
Physicals
Positions
Rankings
Salary
Misc
H: 6' 9"
W: 230 lbs
Bday: 09/02/1989
(26 Years Old)

Current: PF
NBA: PF
Possible: PF

RSCI: 63

Agent: Leon Rose
Current Salary:$2,943,221

High School: Pennsauken Apex
Hometown: Pennsauken, NJ
Drafted: Pick 14 in 2011 by Rockets
Best Case: David West Meets Al Harrington
Worst Case: Udonis Haslem

Predraft Measurements
| Year | Source | Height w/o Shoes | Height w/shoes | Weight | Wingspan | Standing Reach | Body Fat | No Step Vert | Max Vert |
| --- | --- | --- | --- | --- | --- | --- | --- | --- | --- |
| 2011 | NBA Draft Combine | 6' 7" | 6' 8.75" | 230 | 6' 10" | 8' 9.5" | 8.0 | 29.0 | 33.0 |
| 2010 | LeBron James Camp | NA | 6' 9" | 218 | 6' 7" | NA | NA | NA | NA |
| 2010 | Amare Stoudemire Camp | NA | 6' 9" | 218 | 6' 7" | NA | NA | NA | NA |



Basic Per Game Statistics

- Comprehensive Stats - Statistical Top 25s
| Year | League | Name | GP | Min | Pts | FG | FGA | FG% | 2Pt | 2PtA | 2P% | 3Pt | 3PtA | 3P% | FTM | FTA | FT% | Off | Def | TOT | Asts | Stls | Blks | TOs | PFs |
| --- | --- | --- | --- | --- | --- | --- | --- | --- | --- | --- | --- | --- | --- | --- | --- | --- | --- | --- | --- | --- | --- | --- | --- | --- | --- |
| 2015/16 | NBA | Marcus Morris | 16 | 36.8 | 14.3 | 5.1 | 13.1 | 38.8 | 4.0 | 9.2 | 43.5 | 1.1 | 3.9 | 27.4 | 3.1 | 4.1 | 76.9 | 1.6 | 4.7 | 6.3 | 1.8 | 1.3 | 0.3 | 1.5 | 2.1 |

Player Page&nbsp&nbsp| Player Stats | Mock Draft History | Related Articles&nbsp&nbsp| Add to My Draft Express&nbsp
&nbsp
Marcus Morris/Justin Holiday Interview and Workout Footage
June 20, 2011
[Read Full Article]

---
Situational Statistics: the 2011 Forward Crop
June 19, 2011
Marcus Morris shouldered a heavy scoring load for one of the best teams in college basketball last season—using 16.4 possessions, which ranks him 4th in this group.

Nevertheless, he ranks as one of the most efficient at 1.12 PPP (3rd), behind just Derrick Williams and Justin Harper, despite turning the ball over on just 10.5% of his possessions (5th).

Morris ranked as the most effective back to the basket threats in this group of prospects, and in all of college basketball for that matter, scoring an incredible 1.18 points in post-up situations.

His jump-shot wasn't quite as effective as some of the other players in this group at .96 points per shot (connecting on 38% of his attempts), but he showed enough potential in this area, particularly with his pull-up jumper (.8 shots per game, 42% conversion rate) to lead us to believe that he can continue to develop in this area.

[Read Full Article]

---
Analyzing the 2011 NBA Combine Measurements
May 21, 2011
Marcus Morris is not an elite physical specimen, but he did register a positive wingspan to height ratio (6-10:6-7) at a solid 230 pounds. While he's still slightly short and not as long as the average power forward in our database, his mature offensive repertoire should help him overcome those limitations early in his career. Considering that many thought he would come in with a shorter wingspan than his height based on measurements conducted last summer, he probably helped himself in this regard, as he joked about in an interview with us. With that said, Morris would have the shortest wingspan of any power forward drafted in the first round according to our database.

[Read Full Article]

---
NBA Combine Interviews: Derrick Williams, Enes Kanter,the Morris Twins
May 20, 2011
[Read Full Article]

---
NBA Draft Prospect of the Week: Marcus Morris
March 10, 2011
Marcus Morris was going to have a breakout season.

All the signs were there. He was the most efficient scorer on a Kansas team that sent Sherron Collins, Cole Aldrich, and Xavier Henry to the NBA. His summer was constructed to take his game to the next level, featuring a stint with the USA Men's Select Team and a dominant week at the adidas Nations Tournament. With his confidence at an all-time high, the biggest question was how high the skilled, versatile power forward could push this Jayhawks team in his first season as its go-to scorer, and where that would place him on the NBA radar.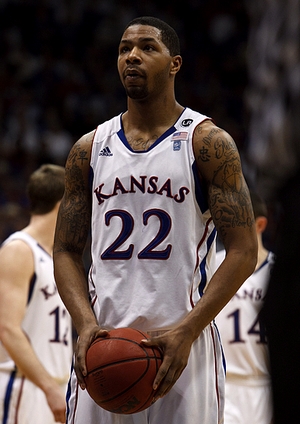 Icon SMI



Showing off a truly unique blend of versatility, strength, skill, and touch for a power forward at the college level, Morris has seamlessly assumed a leadership role and become the star first option Bill Self's team needed. Making the most of the touches Collins and Aldrich left behind, Morris ranks 12th amongst NCAA prospects in points per-40 minutes and seventh in effective FG%.

Keying the Jayhawks to a likely number one seed in the NCAA tournament, Morris has managed to improve his offensive efficiency in a season that saw his usage increase and his role expand to include more perimeter touches. While most players tend to do less with more and can't scale their production when they go from being a fourth option to a first option, Morris has broken that mold, doing more with more.

Though Morris' efficient 59.7% shooting is impressive at face value, the fact that his shot selection is distributed almost equally between jump shots, finishing opportunities at the rim, and post-ups makes it that much more remarkable. Ranking in the 83rd percentile amongst all college players in terms of points per jump shot and in the 95th percentile or above in points per shot around the glass and as a back to the basket post-ups according to Synergy Sports Technology, his skill level puts him on a tier above the rest of the power forwards in the college game, along with Derrick Williams.

Capable of facing up or turning over either shoulder in the post, Morris uses his sturdy frame, sound footwork, good body control, and exceptional touch both as a jump shooter and finisher to dominate defenders down low. He is extremely fluid with the ball in his hands, and does not rely on any one move in the paint. Able to score effectively in so many different ways with his back to the basket, Morris is just as confident and effective from the mid-post as he is from the block. He'll inevitably need to make some adjustments to overcome his lack of size and strength to score over bigger power forwards in the NBA, but the tools are there for him to find some level of success, if not a great deal of it, as broken down in the following video we compiled:



Marcus Morris Strengths/Weaknesses Video

Watch in full screen mode by clicking button in upper right hand corner of video



Stepping away from the rim, Morris has grown up in a hurry, showing a mature floor game that in many ways matches what he brings to the table in the post. Knocking down 40% of his catch and shoot jump shots and 12 of the 21 off the dribble jumpers he's attempted this season, Morris has consistent form and the ability to put the ball on the floor with both hands to create space for his smooth pull up jumper. Though he could still stand to improve his range and become more consistent from the charity stripe, Morris's shooting ability allows him to space the floor for his teammates by drawing defenders away from the rim –which certainly adds to his value as a prospect.

Despite his high usage, Morris manages to play a very low-mistake brand of basketball, as evidenced by his 1.7 turnovers per-game. He may not be looking to create very much for his teammates with the ball in his hands, but he makes some timely passes out of the post and does not take selfish shots.

When he doesn't have the ball in his hands, Morris does a great job getting up the floor in transition and won't hesitate to make rugged plays on the offensive glass. Though he is not relying on his ability to be opportunistic as thoroughly as he was playing next to Sherron Collins, he's still making his presence felt with his effort level, not just his skill level.

With the increasingly diverse roles power forwards play at the NBA level, Morris offers intriguing potential due to how complete a player he is at this juncture. While he could certainly stand to get stronger, is a bit undersized for the four position, has a short wingspan, and is not a freak athlete, he has the potential to play a David West-type role in if he continues to polish his game offensive and works on his weaknesses. That would be especially true if he's able to complement a dominant interior scorer such as Al Jefferson from the high-post or perimeter, or provide a prolific offensive punch off a team's bench a la Al Harrington.

Defensively, Morris is an effective defender on the college level. Showing good lateral quickness, solid intensity, and a willingness to mix it up down low, Morris allows Kansas to switch on screens out on the perimeter and does a nice job defending his position away from the rim. He shows good toughness in the paint, but lacks the length and leaping ability to be a factor when he rotates over from the weak-side.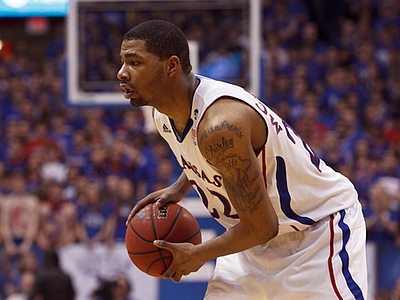 Icon SMI



The biggest question-marks regarding Morris's NBA potential are based on his ability to compete on the glass at the NBA level and effectively mix it up with the bigger, stronger, and more athletic matchups he'd be facing on a nightly basis defensively. Pulling down just 6.6 defensive rebounds per-40 (a career high), Morris provides just an average presence on the glass, lacking the size, length and explosiveness to go out of his area regularly for extra possessions. With Cole Aldrich moving to the NBA, scouts surely would have liked to see Morris become a more prolific rebounder in his absence.

Standing just 6'9 and possessing a wingspan which measured shorter than his height, Morris has some limitations that will require him to make some adjustments to defend and rebound adequately at the next level, but if he makes an effort to maximize his physical potential, his approach to the defensive end will go a long way towards helping him overcome those deficiencies.

Much of Morris's success will be determined by the role he's asked to play early in his career. He's a fairly finished product at this point, and if he's put in a position where he can utilize all the facets of his game, he's going to do some damage offensively if he can stay as dialed in as he's been this season for Bill Self—something that may have been a cause for concern earlier in his career.

Morris's skill level is clearly a cut above that of most players at the college level. If he can convince a team that he can translate his terrific production and skill-set to the NBA, he'll be a very popular name during the pre-draft process.

[Read Full Article]

---
Top NBA Draft Prospects in the Big 12, Part One (#1-5)
September 13, 2010
Jonathan Givony

One of the most polished big men in all of college basketball, Marcus Morris took somewhat of a back seat to Cole Aldrich, Sherron Collins and Xavier Henry last year, but looks like a prime candidate for a breakout season in 2010-2011.

Showing nice tools for the power forward position, including solid height, a strong frame, and good, but not great athleticism, Morris' production stems mainly from his unique versatility and extremely high skill-level.

While not looking terribly explosive on first glance, he's an incredibly fluid and coordinated athlete who can do a little bit of everything on the basketball court.

Offensively, Morris displays an almost complete game, being capable of scoring effectively and efficiently both on the perimeter and in the post, along with the aggressiveness needed to take advantage of his skill-set, always looking to make his presence felt when given the opportunity to do so. He shot an outstanding 59% inside the arc last season, and an intriguing 37.5% from 3-point range.

Despite attempting just 32 3-pointers last season, Morris is clearly a very capable shooter with his feet set, the type of player who opposing defenses need to respect, which helps create great spacing for his teammates to benefit from.

Very much a threat to do damage from the perimeter with the ball in his hands as well, Morris has an excellent first step and the ability to penetrate driving either left or right, which puts plenty of pressure on the defense.

If the paint appears overly congested, Morris shows the unique ability for a power forward to stop and pull-up for a smooth off the dribble jumper, or even change directions and maneuver his way stealthy around opponents, thanks to his polished footwork and excellent ball-handling skills.

As Morris matures and continues to improve his skill-level even further over the next few years, he will develop into quite a shot-creating mismatch threat at the power forward position, particularly in one on one situations.

Not one to be content just hanging around the perimeter, the biggest share of Morris' offense actually comes in the post, where his aggressive nature, terrific touch (particularly using the glass) and smooth footwork come in extremely handy at the college level.

A very good finisher around the basket for these exact reasons, there are some question marks regarding whether Morris' average leaping ability will make it difficult for him to score at quite the same rate around the rim in the NBA.

Quite a versatile offensive player as noted, Morris gets production by running the floor extremely well, crashing the offensive glass and finishing around the basket, looking very aggressive and opportunistic with his scoring attempts, which he clearly needed to be with players like Collins, Henry and Aldrich playing alongside him.

Defensively, Morris does not have the height, length or explosiveness to act as a real game changing presence in the paint, but he still puts a very good effort in and sees excellent results at the college level for that reason.

His lateral quickness and excellent fluidity give Bill Self the ability to switch on the pick and roll, where Morris does a good job moving his feet and staying in front of smaller players, something that gives Kansas a big advantage in the half-court.

As a rebounder, Morris' production was just average last season, particularly on the defensive end. It's not quite clear how much playing alongside a terrific rebounder in Cole Aldrich had to do with that, which is something to keep an eye on this season.

Morris received little to no attention last year from most NBA draft outlets, but there's a good chance that will change as soon as this season kicks off. His performance at the adidas Nations Experience in August was truly eye opening. Rarely do you find prospects who are as skilled and versatile standing 6-foot 9, and considering that he's only going into his junior season, there's no reason why he can't continue to improve down the road.

[Read Full Article]

---
adidas Nations Player Profile: Marcus Morris
August 27, 2010
Video film and production courtesy of Tad Hathaway of 312 Media
[Read Full Article]

---
Top NBA Draft Prospects in the Big 12 (Part Two: #6-10)
September 7, 2009
Jonathan Givony

The starting power forward of an excellent Kansas squad, already in his freshman season, Marcus Morris gained some extremely valuable experience which he should be able to build off going into his sophomore year.

6-9, with a good frame and a nice wingspan, Morris shows adequate physical tools for the power forward position, even if he can't be described as being anything more than an average athlete for an NBA power forward. Most of his virtues lie in the versatility he brings to the table, particularly on the offensive end.

Morris can do a little bit of everything, although there isn't any one part of his game that he can really hang his hat on at this point. Most of his offense comes from moving off the ball in Kansas' extremely efficient half-court sets, flashing to the rim, looking for open spaces in the opposing team's zone to get a clean shot off, and crashing the offensive glass. He played his role pretty well, garnering a good amount of assists, and being fairly efficient offensively.

He shows flashes of a very nice face-up game, looking pretty adept at putting the ball on the floor and beating his man off the dribble from the perimeter thanks to his quick first step and solid ball-handling skills, and a competent jump-shot with range out to the NCAA 3-point line. Morris made 6 of his 15 attempts from beyond the arc last season, and shot a decent amount of mid-range jumpers as well. He went through bouts of streakiness from game to game, and will likely be expected to do a better job of spacing the floor for Cole Aldrich this upcoming season. He needs to do a better job of cutting down on his turnovers, as he tends to get a bit out of control at times with the moves he makes, turning the ball over on 22% of his possessions, which is a very high rate

With the opposing team's best defensive big man usually focused on guarding the more dangerous Aldrich in most games, Morris had plenty of opportunities to post up weaker defenders and make his presence felt in the post, often with solid results. He doesn't possess great post-moves, nor is he terribly strong or explosive, but at this level he's skilled enough to get the job done, as he has good hands and very nice touch. He shows good potential to continue to improve on this part of his game in the future, particularly as he grows into his body. Morris already got to the free throw line at a very nice rate last season, although he only converted 60% of his attempts once there.

Morris is a solid rebounder and an improving defender—there is likely no way he would step foot on the court for Bill Self if he wasn't at least adequate in these areas. He moves his feet pretty well and all in all puts a solid effort in, but shows poor awareness and fundamentals on occasion, seemingly getting lost on rotations, giving up deep post position, and not always being focused enough. That's a theme that prevails on both ends of the court actually, as he clearly lacks experience and probably wasn't the most fundamentally sound player earlier in his career. Regardless, he has good tools to get the job done, and according to most reports, is a very hard worker.

It's definitely premature at this point to be drawing any long-term conclusions about Morris' NBA potential, although he seems to be on the right track. He'll likely have more of an opportunity to showcase himself once Cole Aldrich and Sherron Collins leave next year, as he looked to be on a pretty short leash for the most part last season, and probably rightfully so. Considering his size and versatile skill-set, he's a guy that NBA teams will need to keep an eye on in the meantime.

[Read Full Article]

---
Jordan Brand Classic Games (Day Three)
April 20, 2008
Marcus, the smaller of the two at 6-9, and also the more versatile, had the better game, named co-MVP after coming up with 20 points, 8 rebounds [6 offensive], 3 assists 2 turnovers, 8-15 FG, in 18 minutes. He showed an extremely high skill level facing the basket, knocking down contested 3-pointers and pretty pull-up jumpers from 18 feet, and putting the ball on the floor and making his way to the rim. He has good ball-handling skills in the open floor, but is just an average overall athlete, lacking explosiveness around the basket, but showing the creativity to finish nicely with finesse moves. He's a little bit low energy in his all-around demeanor, playing virtually no defense and also not putting much effort in on the glass either, even if he does have the size and length, as well as good hands, to be a factor here if he shows some more desire. He's listed by the always overly optimistic recruiting services as a small forward, but clearly looks like a power forward at the next level, as he just doesn't have the lateral quickness to defend any other position. Bill Self is not going to tolerate him playing the way he did here defensively, so it will be interesting to see how much he improves in Lawrence. He will most certainly have to if he wants to play in the NBA, since he's just not athletic enough to get by on his skill-set alone.

[Read Full Article]

---