Marcus Paige
Recent Tweets
All Tweets
DraftExpress: RT @nikehoopsummit: And as announced yesterday, James Robinson (6-3 PG) of #DeMatha replaces #UNC commit Marcus Paige who can't particip ...
2012-04-02 10:12:11
DraftExpress: RT @nikehoopsummit: @usabasketball roster: (cont.) Marcus Paige, Tony Parker, Rasheed Sulaimon, Kaleb Tarczewski
2012-03-06 11:54:37
DraftExpress: Boost Mobile Elite 24 Scouting Reports: http://t.co/UrRrUxx - Rasheed Sulaimon, Rodney Purvis, Robert Carter, Marcus Paige, Justin Anderson
2011-09-06 12:26:41
DraftExpress: Rasheed Sulaimon and Marcus Paige going at it. The UNC-Duke Smackdown lives on! http://t.co/g1dWth3
2011-08-27 09:36:47
DraftExpress: Kenneth Faried enters the game for the pros. Anthony Bennett, Marcus Paige, Shabazz Muhammad, Brandon Ashley, New Tony Parker up now.
2011-08-25 01:05:18
Predraft Measurements
| Year | Source | Height w/o Shoes | Height w/shoes | Weight | Wingspan | Standing Reach | Body Fat | No Step Vert | Max Vert |
| --- | --- | --- | --- | --- | --- | --- | --- | --- | --- |
| 2011 | LeBron James Camp | NA | 6' 2" | 156 | 6' 4" | NA | NA | NA | NA |
| 2011 | Deron Williams Camp | NA | 6' 2" | 156 | 6' 4" | NA | NA | NA | NA |



Basic Per Game Statistics

- Comprehensive Stats - Statistical Top 25s
| Year | League | Name | GP | Min | Pts | FG | FGA | FG% | 2Pt | 2PtA | 2P% | 3Pt | 3PtA | 3P% | FTM | FTA | FT% | Off | Def | TOT | Asts | Stls | Blks | TOs | PFs |
| --- | --- | --- | --- | --- | --- | --- | --- | --- | --- | --- | --- | --- | --- | --- | --- | --- | --- | --- | --- | --- | --- | --- | --- | --- | --- |
| 2014/15 | NCAA | Marcus Paige | 38 | 33.2 | 14.1 | 4.5 | 10.9 | 41.3 | 2.1 | 4.7 | 43.8 | 2.5 | 6.3 | 39.5 | 2.5 | 2.9 | 86.5 | 0.4 | 2.5 | 2.9 | 4.5 | 1.7 | 0.2 | 1.9 | 1.6 |

Player Page&nbsp&nbsp| Player Stats | Mock Draft History | Related Articles&nbsp&nbsp| Add to My Draft Express&nbsp
&nbsp
Top NBA Prospects in the ACC, Part Eight: Prospects #16-20
October 14, 2015
Josh Riddell

On the surface, it seems like Marcus Paige took a step back in his junior season, seeing his point production decrease by three points per 40 minutes pace adjusted while also seeing a two point drop in his true shooting percentage to 57%. However, he was hampered by injuries all season, including plantar fasciitis in his right foot, and a right ankle injury that required surgery after the season.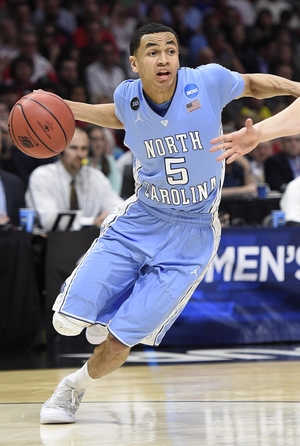 US Presswire



Paige returns to Chapel Hill for his senior season, hoping to lead North Carolina back to the Final Four, while also cementing his name in the NBA Draft conversation.

Primarily a point guard throughout his collegiate career, Paige has begun to play more off the ball over the past season, as he was UNC's only reliable perimeter shooter, so it's worth monitoring his usage this season. Although he doesn't always bring the ball up the court, much of the offense runs through him and he is charged with creating plays for the offense. He can also play off the ball by spotting up on the wing, running off screens or moving to get a step on his man to lead into a pick and roll.

As a point guard, he has excellent vision and can make every pass necessary to an open teammate. He has the court awareness to drive and kick or make wraparound passes, behind the head passes, and cross-court passes on target to his open teammates. His pure point rating of 3.10 is fourth among point guards in our top 100 and he has done a nice job of cutting down on his turnovers, from 3.1 per 40 minutes pace adjusted his freshman year to just 2.2 last season. His decision making has improved and he doesn't try to do too much on offense any more, playing within his limits.

This also showed up in his shot selection, highlighted by his 57% true shooting percentage. He's an excellent three point shooter, with such attempts accounting for 57% of his field goal attempts, where he converted 39.5% of his attempts. He is a deadly catch and shoot player and is comfortable ball faking and taking one dribble step sideways before launching his jump shot to beat the closeout. He's turned many of his long two's from prior years into threes that way, which NBA teams will enjoy.

He can attack a closeout by dribbling into the paint, but seems more likely to try to find an open teammate rather than his own shot. He already has a nice touch on his floater, which he will need as he doesn't have the size, explosiveness or body frame to absorb contact around the rim. He isn't a great finisher at the basket and he doesn't attempt many free throws (3.3 per-40) despite converting on 86.5% of his attempts. His 6'2, 175 pound frame isn't built to withstand constant contact from NBA big men, but he already shows different ways to beat the defense when he gets into the paint.

NBA teams may question his athleticism and whether his skills will be translatable against the athletic NBA point guards. He's undersized by all measures and none of his athletic tools leap off the page. His frame is especially concerning, considering he is already 22 and he'll have to answer whether he can add enough strength to withstand the rigors of a NBA season. His overall speed and explosiveness are also below average, which may cause him to struggle off the dribble and finishing at the rim. He already struggles to turn the corner which forces the offense into tough jump shots or a full reset on the play. His 44% 2P% ranks very poorly compared to other prospects, and he doesn't compensate for that by getting to the line at a high rate.

Paige's average tools will also hurt him on the other end of the floor, and it's difficult to project him as an above average defensive player. He's already at a disadvantage due to his lack of size and smaller frame and his poor length doesn't help. He is susceptible to getting beat off the dribble by smaller, quicker guards and can be outmatched physically by bigger guards. He'll have to do his best to fully grasp the concepts of a NBA defense, funneling his opponent to his teammates and make the right rotations to slow down the offense. To his credit, he is highly intelligent and competitive, and shows good instincts off the ball, averaging nearly two steals per-40 minutes.

Paige's flexibility to be either molded into a point guard or play as a scoring guard makes him an attractive draft prospect for NBA teams. He'll have to answer questions as to how he will hold his own against NBA players athletically on a nightly basis, but he has enough skills, savvy and smarts that should get him a chance to prove whether he can do so.

[Read Full Article]

---
Top NBA Prospects in the ACC, Part 6: Marcus Paige Scouting Video
October 22, 2014

Mike Schmitz is the video analyst for DraftExpress. Follow him on twitter and check out the DraftExpress video section. He will be breaking down the NBA draft in digital format all year long for us.

[Read Full Article]

---
2012 Nike Hoop Summit: USA Team Measurements
April 7, 2012
Marcus Paige
Height with shoes: 6'1 (in walking boot)
Weight: 165
Wingspan: 6'5.5
Standing Reach: 8'2

[Read Full Article]

---
2012 McDonald's All American North Carolina Triangle Smackdown, Part 6
March 28, 2012
Part Five (2012): Rasheed Sulaimon and Marcus Paige





[Read Full Article]

---
Boost Mobile Elite 24: Scouting Reports (Part One)
September 6, 2011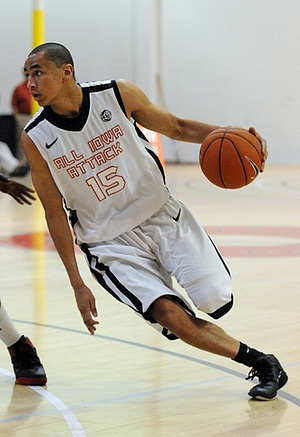 Icon SMI



Matt Kamalsky

One of the few committed players in attendance at the 2011 Boost Mobile Elite 24, Marcus Paige (#29 Scout, #28 ESPN, #41 Rivals) showed a smooth, well-rounded offensive game and a tremendous basketball IQ that didn't account for many highlights, but offered an impressive glimpse of things to come for the young point guard.

From a physical standpoint, Paige doesn't stand out among the other guards in this class at first glance. Showing an underdeveloped frame at this stage, the Iowa native had a difficult time dealing with the size and strength of the NBA players he matched up with during the late night scrimmage.

What Paige does have, is a degree of sneakiness to his athleticism that complements the rest of his game. The UNC commit may not rise up often to dunk on opponents on his forays through the paint, but he has a quick first step, sets up his drives well with fakes, knows when to push the ball in transition, and has the ability to change gears to create separation. He is very crafty with the ball in his hands on the offensive end, showing the ability to create for himself and others off the bounce. A traditional point guard who shows good vision and decision-making, Paige has the demeanor and skill set to become a fine distributor.

On top of his passing ability, Paige is also a competent scorer. He has a smooth left-handed jump shot that he can knock down with range off the catch and off of one or two dribbles from the midrange. A fundamentally sound offensive player, he doesn't force the issue very often, balancing his scoring and passing responsibilities and understanding that his lack of strength is a limiting factor when he tries to finish at the rim.

On the defensive end, Paige does a good job getting in the passing lanes and forcing turnovers. He isn't the biggest or longest player around, but shows consistent intensity and made himself surprisingly pesky matching up with his peers. He'll need to gain weight to consistently defend stronger guards at the next level, but there's no question that he has the basketball IQ and mentality needed to defend within a team concept.

One of the more polished guards we saw at the Boost Mobile Elite 24, Paige's physical profile will be an x-factor for his prospects long-term. He has the skill set, intangibles, and intelligence to flourish as the leader of UNC's fast break, but his ability to match-up physically with point guards at the NCAA level is something to keep an eye on.

[Read Full Article]

---