Marshall Plumlee
Recent Tweets
All Tweets
DraftExpress: Watching the #jbclassic regional game. A couple of interesting guys here like Marshall Plumlee, Deuce Bello. Anyone else to look at tweeps?
2011-04-16 05:48:55
DraftExpress: Video interviews & practice highlights w/ Bradley Beal, Wayne Blackshear, Marshall Plumlee, Kyle Witjer, Branden Dawson http://bit.ly/grAYSX
2011-04-15 12:47:40
DraftExpress: Mcdonald's AA Evaluations: Marshall Plumlee, Chane Behanan, Branden Dawson, Cody Zeller, Amir Williams http://bit.ly/fZOUG9
2011-04-05 07:44:17
DraftExpress: Duke & Indiana commits Marshall Plumlee & Cody Zeller debate who's the best brother trio in the state of Indiana: http://bit.ly/igdXY8
2011-04-05 07:30:20
DraftExpress: Wrapped up a great week in Chicago with some more interviews. Got Kyle Wiljter, Brendan Dawson, Marshall Plumlee and Wayne Blackshear.
2011-03-31 01:13:36
Team: Duke, Senior
Physicals
Positions
Rankings
Misc
H: 7' 1"
W: 214 lbs
Bday: 07/14/1992
(23 Years Old)

Current: C
NBA: C
Possible: C

Rank 79 in NCAA Seniors
RSCI: 50

High School: Christ School
Hometown: Arden, NC

Predraft Measurements
| Year | Source | Height w/o Shoes | Height w/shoes | Weight | Wingspan | Standing Reach | Body Fat | No Step Vert | Max Vert |
| --- | --- | --- | --- | --- | --- | --- | --- | --- | --- |
| 2010 | Amare Stoudemire Camp | NA | 7' 1" | 208 | 6' 8.5" | NA | NA | NA | NA |
| 2010 | NBA Top 100 Camp | 6' 11.5" | NA | 214 | 6' 9" | 8' 9.5" | NA | NA | NA |



Basic Per Game Statistics

- Comprehensive Stats - Statistical Top 25s
| Year | League | Name | GP | Min | Pts | FG | FGA | FG% | 2Pt | 2PtA | 2P% | 3Pt | 3PtA | 3P% | FTM | FTA | FT% | Off | Def | TOT | Asts | Stls | Blks | TOs | PFs |
| --- | --- | --- | --- | --- | --- | --- | --- | --- | --- | --- | --- | --- | --- | --- | --- | --- | --- | --- | --- | --- | --- | --- | --- | --- | --- |
| 2015/16 | NCAA | Marshall Plumlee | 6 | 25.8 | 6.2 | 1.8 | 2.7 | 68.8 | 1.8 | 2.7 | 68.8 | 0.0 | 0.0 | &nbsp | 2.5 | 4.8 | 51.7 | 2.8 | 4.8 | 7.7 | 0.8 | 1.2 | 2.5 | 1.0 | 3.0 |

Player Page&nbsp&nbsp| Player Stats | Related Articles&nbsp&nbsp| Add to My Draft Express&nbsp
&nbsp
What Did We Learn At the Champions Classic? Part 1: Kentucky vs Duke
November 18, 2015
Marshall Plumlee, 7'1, Senior, Center, Duke
12 points, 10 rebounds, 6 blocks, 4-6 2P, 4-8 FT, 36 minutes

Without Marshall Plumlee's impressive first half performance (11 points, 8 rebounds, 5 blocks), Duke may have lost this game by 20 points or more, as he was seemingly their only offense for a very ugly stretch where they simply could not do anything in the half-court.

At 7'1, with a much improved frame, and strong athletic ability, Plumlee can certainly be a presence inside the paint when he's playing with the type of confidence, aggressiveness and intensity he put forth in this game, at least at the college level. The way he protected the rim was particularly eye-opening from an NBA standpoint, as he showed really nice timing rotating from the weakside and chasing down loose balls, hustling non-stop for every moment he was on the floor.

Considering he turns 24 in July, and had only reached double-figure points or rebounds twice in his college career before tonight, Plumlee will need to continue to stay productive all season to hold scouts' interest. With two brothers in the NBA, there's already a blueprint for the type of role he can play, and even though there's something a little bit awkward or even goofy about his style of play, particularly offensively, you can't argue with his combination of size, athleticism and energy.

[Read Full Article]

---
McDonald's All American Game Interviews/Practice Highlights, Part Two
April 15, 2011
[Read Full Article]

---
Mcdonald's All-American Week Player Evaluations
April 5, 2011
One of the more impressive performers at this year's McDonald's All-American practices; Marshall Plumlee (#67 Scout, #82 Rivals, #37 ESPN) exceeded expectations relative to his modest recruiting rankings with his athleticism and aggressiveness.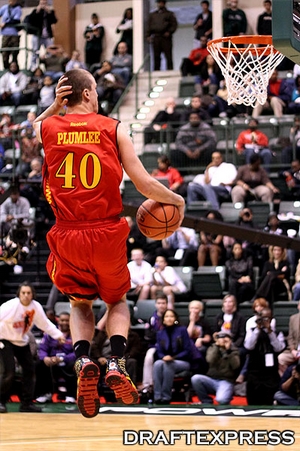 Jim Hlavac / DraftExpress



Sporting a long frame with great potential for growth and an athletic profile similar in many ways to his brother, 2008 McDonald's All-American Mason Plumlee, Marshall is an impressive specimen for a big man his age. A bit taller than his older brothers at nearly 7'0, he clearly needs to continue packing on muscle to help battle inside the paint, but he's made tremendous progress in that area already over the past year or so, and will likely continue to do so as his body fills out in time.

Despite his lack of strength relative to the more physically mature players he'll be matching up with in the ACC next season, Plumlee isn't afraid to mix it up down low. Though he converted many of his touches this week facing-up and using his quickness to create separation for his hook shot, he was equally as impressive fighting for position when crashing the offensive glass, finishing in traffic with his tremendous explosiveness, and scrapping for loose balls.

Stepping away from the basket, Plumlee knocked down a few face-up jump shots, but was primarily looking to put the ball on the ground when he got a touch on the block. He hasn't been known to try to impose his will offensively in the past, but showed an unexpected assertiveness here that could set him apart from his brothers. If Marshall can continue to play with the aggression he did this week, gain some weight, and polish his skill level, he could be a great asset for Coach K down the road.

Defensively, Plumlee's potential was very clear. He's a good rebounder in his area already and showed a fine energy level. His physical tools competitiveness will help him in the college game, and with some added strength and experience, he'll fit in just fine with the coaching he'll receive in Durham.

Considering Plumlee may be competing with both his brothers for playing time next season, as well as with fellow McDonald's All-American Ryan Kelly, he may not be looking at extensive playing time early in his career, but with his size, athleticism, and budding skill-set, he's a definite prospect to keep an eye on down the road.

[Read Full Article]

---
Mcdonald's All-American Interviews: Plumlees vs Zellers, Cuse Recruits
April 5, 2011
Duke commit Marshall Plumlee and Indiana commit Cody Zeller debate who's the best brother trio in the state of Indiana.





[Read Full Article]

---
2011 McDonald's High School All-American Dunk Contest Videos
April 1, 2011
Marshall Plumlee's two final round dunks looked like this...





Marshall Plumlee cuffs the ball in his right hand as he runs and jumps out in front of the hoop with his body sideways and rotates his arm and dunks it all while keeping his left hand on his head in a pose.





Marshall Plumlee takes the ball in one hand and jumps while moving his arm up and under before dunking it on the reverse side of the basket.

[Read Full Article]

---