Mason Plumlee
Recent Tweets
All Tweets
DraftExpress: Top performers from the 2014 Orlando Summer league (PER) Mason Plumlee James Ennis Nerlens Noel Kentavious Caldwell-Pope Jordan Adams.
2014-07-12 22:39:05
DraftExpress: Top Performers at Orlando SL so far (50 total min+) in PER Mason Plumlee Kentavious Caldwell-Pope James Ennis Nerlens Noel Jordan Adams
2014-07-10 10:13:35
DraftExpress: With the #22 pick in the NBA Draft the Brooklyn Nets select Mason Plumlee. This pick was NOT made by Boston in a KG trade team sources say
2013-06-27 21:54:47
DraftExpress: Still on the board Sergey Karasev Dennis Schroeder Shane Larkin Mason Plumlee Reggie Bullock Gorgui Dieng Rudy Gobert Tim Hardaway Jr
2013-06-27 21:20:57
DraftExpress: Cheering section. Nerlens Noel Michael Carter-Williams C.J. McCollum Mason Plumlee C.Zeller Schroeder http://t.co/9VWoKZxgGJ
2013-05-16 11:48:25
Team: Trailblazers
Physicals
Positions
Rankings
Salary
Misc
H: 7' 0"
W: 238 lbs
Bday: 03/05/1990
(25 Years Old)

Current: C
NBA: C
Possible: C

RSCI: 18

Agent: Mark Bartelstein
Current Salary:$1,357,080

High School: Christ School
Hometown: Arden, NC
Drafted: Pick 22 in 2013 by Nets

Predraft Measurements
| Year | Source | Height w/o Shoes | Height w/shoes | Weight | Wingspan | Standing Reach | Body Fat | No Step Vert | Max Vert |
| --- | --- | --- | --- | --- | --- | --- | --- | --- | --- |
| 2013 | NBA Draft Combine | 6' 11.25" | 7' 0.5" | 238 | 6' 11" | 9' 0" | 6.2 | 30.5 | 36.0 |
| 2012 | LeBron James Camp | NA | 6' 11.5" | 240 | 6' 10" | NA | NA | NA | NA |
| 2012 | Amare Stoudemire Camp | NA | 6' 11.5" | 240 | 6' 10" | NA | NA | NA | NA |
| 2011 | LeBron James Camp | NA | 6' 10" | 234 | 6' 11" | NA | NA | NA | NA |
| 2011 | Amare Stoudemire Camp | NA | 6' 10" | 234 | 6' 11" | NA | NA | NA | NA |



Basic Per Game Statistics

- Comprehensive Stats - Statistical Top 25s
| Year | League | Name | GP | Min | Pts | FG | FGA | FG% | 2Pt | 2PtA | 2P% | 3Pt | 3PtA | 3P% | FTM | FTA | FT% | Off | Def | TOT | Asts | Stls | Blks | TOs | PFs |
| --- | --- | --- | --- | --- | --- | --- | --- | --- | --- | --- | --- | --- | --- | --- | --- | --- | --- | --- | --- | --- | --- | --- | --- | --- | --- |
| 2015/16 | NBA | Mason Plumlee | 18 | 28.1 | 10.1 | 3.8 | 6.9 | 55.6 | 3.8 | 6.8 | 56.1 | 0.0 | 0.1 | 0.0 | 2.4 | 4.3 | 56.4 | 2.7 | 5.9 | 8.6 | 2.5 | 1.2 | 1.1 | 2.1 | 3.3 |

Player Page&nbsp&nbsp| Player Stats | Mock Draft History | Related Articles&nbsp&nbsp| Add to My Draft Express&nbsp
&nbsp
NBA Combine Interviews: Plumlee, Withey, Muscala, Dedmon
May 23, 2013
[Read Full Article]

---
Mason Plumlee Video Scouting Report
April 22, 2013




More Video Scouting Reports:



-Trey Burke
-Allen Crabbe
-Jeff Withey
-Shabazz Muhammad
-Mike Muscala
-Jackie Carmichael
-Erick Green
-Giannis Adetokunbo
-Nerlens Noel
-Victor Oladipo
-Kelly Olynyk
-Russ Smith
-C.J. McCollum
-Mam Jaiteh
-Ben McLemore
-Leo Westermann
-Sergey Karasev

Mike Schmitz is the video analyst for DraftExpress. Follow him on twitter and subscribe to his YouTube channel. He will be breaking down the NBA draft in digital format all year long for us.

[Read Full Article]

---
Trending Prospects: Mason Plumlee
April 3, 2013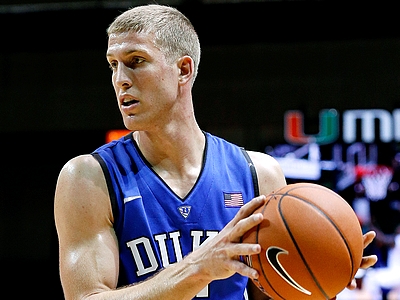 US Presswire



Derek Bodner

Returning to Duke for his senior season, Mason Plumlee had high expectations placed on his shoulders, both from an individual and team perspective. For the most part Plumlee has met those expectations, as he posted the best numbers of his career and helped the Blue Devils advance to the Elite Eight before falling to Louisville.

He saw his scoring average continue to increase, posting a career-best 19.0 points per 40 minutes pace adjusted, a nice increase over the 15.2 he posted his junior season while keeping his true shooting percentage and free throw rate up near the top of big men prospects in our database.

He sees a considerable amount of his offense in the post, a transformation that started during his junior season. According to Synergy Sports Technology, nearly 40% of his possessions now come from the post, where the 0.897 points per possession he generates is near the top 25th percentile in college basketball.

His increased effectiveness in the post has not come from a drastic change in his repertoire of post moves, as it's still relatively limited. His post game largely consists of hook shots over either shoulder, with an occasional drop-step mixed in. He has been doing a better job of establishing good post position and now does a fairly good job sealing off his defender and creating space.

He is showing increased awareness in the post, doing a better job of sensing both where his defender and where the double team is coming from, and doing a better job of either kicking it out and re-posting or attempting a counter move away from the help, but it's not yet at the point where you would consider it second nature for him. Plumlee will at times still look methodical in his counter moves, especially when his defender is able to dislodge him from his established post position and disrupt his move, something which happens with a bit too much regularity. Also, while he has improved his left hand on hook shots, he still tends to rely on his dominant right hand on all other finishes around the basket, at times leading to wasting his established position by finishing with his wrong hand.

Plumlee also gets a good portion of his offense off the ball, something that should carry over much more effectively to the next level. He is extremely quick getting up and down the court in transition and is overall very athletic for his size, with the ability to finish above the rim emphatically. He also moves well without the ball, has soft hands, and attacks the offensive glass. While his 3.0 offensive rebounds per 40 minutes pace adjusted is the lowest of his 4 year career, that is likely due to the fact that much more of Duke's half-court offense has been run through him than it has in years past.

Another area where Plumlee's athleticism could shine is diving to the basket off pick and roll sets. The fact that he's not a threat to make jump-shots hampers him somewhat in this regard, and his ball handling is only average – you wouldn't want doing more than one or two power dribbles in traffic – but he has the size, athleticism, and touch to develop this part of his game as his perimeter skills develop.

One area that Plumlee hasn't made all that much improvement in is his perimeter shooting. According to Synergy Sports Technology, Plumlee attempted only 10 jump shots on the season. He did improve his free throw percentage quite a bit, from 52.8% his junior season to 68.1%, with 4.8 makes per game. While that is a good sign, he still has a hitch in his release and has yet to really show that in game situations. His jumper will likely be something teams will want to study more closely during his pre-draft workouts to gauge if he has more potential here than he's shown.

On the defensive side of the ball, Plumlee has the size and willingness to be an effective post defender, as he has in years past. He has continued to fill out his frame, as it appears he has added both lower and upper body strength, and has done a better job of holding position down low. He's also a very good defensive rebounder, with his 8.0 defensive rebounds per 40 minutes pace adjusted ranking second among centers expected to be drafted in the first round, trailing only Nerlens Noel. He does a good job boxing out and fighting for position early, and does a good job tracking the ball.

While he's overall a good athlete, his lateral quickness is average at best. He tends to give quite a bit of room to ball handlers on the pick and roll, as he struggles to get back to his man if he doesn't. In the NBA, with improved pick and roll play and the big men he'll be asked to defend, this is going to be a concern. Duke was attacked mercilessly at times on the pick and roll this season, and Plumlee was a major target of opposing coaches due to his inability to step outside of the paint. He's also not a prolific shot blocker, so it remains to be seen how effective of a rim protector he will be inside the paint.

Mason Plumlee is a name decision makers will be readily familiar with come June, with clearly defined strengths that should be able to provide help to a team next year. Near 7-footers with NBA caliber frames and terrific running and leaping ability aren't easy to come by, so it's not difficult to see him fitting into a NBA rotation, even if his long-term upside is somewhat limited. If he can show that his improvement in the post will translate to the next level and show signs that he can develop his jump shot into a usable weapon, it's possible that he can convince someone that he still has room for growth despite the fact that he is already 23 years old.

When it's all said and done, Mason Plumlee clearly has the physical tools and talent needed to play in the NBA. The biggest question might be whether he is physically and mentally tough enough to make his presence felt on a nightly basis against other elite-level athletes inside the paint.

[Read Full Article]

---
Top NBA Draft Prospects in the ACC, Part Three
September 19, 2012


Mike Schmitz is the video analyst for DraftExpress. Follow him on twitter and subscribe to his YouTube page. He will be breaking down the NBA draft in digital format all year long for us.

[Read Full Article]

---
Trending Prospects (3/9/2012)
March 9, 2012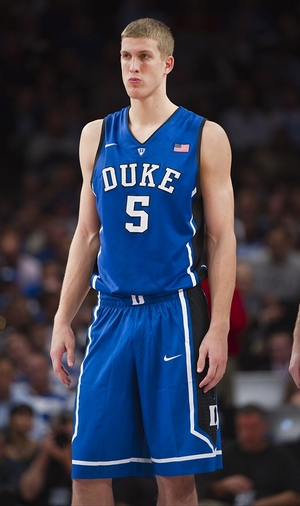 Icon SMI



Derek Bodner

Standing 6'11" with good size and impressive athletic tools, a combination of limited role and unrefined skills had prevented Mason Plumlee from turning that into production on the basketball court in the past. While not the focal point of the Duke offense this year, Plumlee has been asked to create more for himself during his junior year, with some mixed results.

Plumlee has seen his scoring output increase from 10.6 points per 40 minutes pace adjusted last year to 15.0 this year. Scoring largely off offensive rebounds and cuts to the basket in years past, Plumlee has been used substantially more as a post-up threat this year. He does a good job of establishing position and has the length and quickness to get shots off down low. Although still a little methodical and prone to over-dribbling at times, he is showing an increased ability to score over either shoulder in the post.

Perhaps the biggest improvement in his offensive game has been his ability to get to the free throw line, including his ability to draw fouls from post-up opportunities. Plumlee has nearly doubled his free throw attempts, from 3.7 free throw attempts per 40 minutes pace adjusted to 7.2.

Despite his improvement in the post, Plumlee still shows perhaps the most potential in the NBA as a face-up threat, both from pick and roll threats and from creating off the dribble. Plumlee sets good screens off the pick and roll and can cover ground quickly with his long, rangy strides. Combine that with his soft hands and this creates an intriguing pick and roll player at the next level.

He also has the quick first step and athleticism to potentially attack the basket as a face-up threat, although this is currently held back by a lack of perimeter shooting ability. According to Synergy Sports Technology, Plumlee has attempted virtually no jump shots this year, which combined with his lack of progress from the free throw line (54.3%, 44.1%, 51.2% so far during his three years at Duke) creates a huge question as to whether he will be able to translate these gifts into production. While not having many advanced ball handling moves, Plumlee is good enough in a straight line with either hand to take his man off the dribble if they are forced to defend him from the perimeter.

Making his mid-range game a reliable threat would also improve his effectiveness as a passer, where he shows very good vision from the high post and foul line extended areas.

Plumlee also continues to be a solid option off the ball, something he had previously shown. His soft hands and physical tools come into play here, and he does a good job of finding openings in the defense off dribble penetration. He also shows good pursuit off the offensive glass, pulling down a solid 3.8 offensive rebounds per 40 minutes pace adjusted. While he elevates quickly off the ground, he can at times bring the ball down and over dribble, allowing defenders time to recover.

Plumlee is a very good rebounder off the defensive glass, showing good technique boxing out and with good hands and an ability to grab the ball at its apex. His 8.8 defensive rebounds per 40 minutes pace adjusted is a good mark, and a substantial improvement from his freshman year.

Defensively, Plumlee once again has very good physical tools that have not yet been fully realized. His length and quickness off his feet allows him to be a weakside shot blocking threat, he has solid lower body strength and length to defend the post, and he moves his feet fairly well defending the perimeter. That being said, his recognition and consistency could still use some work, particularly early in the shot clock, as he at times tends to rely more on his upper body to hold his ground rather than getting leverage and using his lower body.

Mason Plumlee has taken a larger role in the Duke offense this year, which has made him a more consistent contributor than in years past. His continued success on the offensive and defensive glass provides a solid base as a useful rotational big man at the next level, and his soft hands, athleticism, and defensive potential should help him see court time as well.

[Read Full Article]

---
Top NBA Draft Prospects in the ACC, Part One (#1-5)
September 16, 2011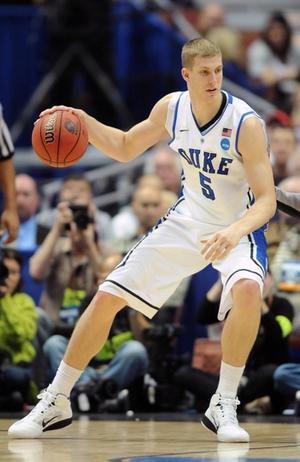 Icon SMI



Joseph Treutlein

Coming off a limited but intriguing freshman season, Mason Plumlee saw his minutes expand as a sophomore, but remains largely the same player from a skills perspective. A player with excellent physical tools and hints of skills in a few areas, Plumlee has yet to put it all together consistently at the collegiate level, but will have yet another chance as a junior.

The biggest area where Plumlee made strides as a sophomore is his propensity to get open in off-ball cut and pick-and-roll type situations. Possessing great size, hands, and mobility, along with an impressive knack for elevating quickly around the rim, Plumlee is a massive and reliable target in this area of his game. This is the one area of his game where he displays consistent toughness in his style of play, really excelling to the best of his abilities.

While he does a good job getting open in this aspect of his offense, he's still heavily reliant on his point guards to consistently perform, something that became more evident when teammate Kyrie Irving was out with injury. From a stylistic standpoint, this propensity in the pick-and-roll game combined with the increased talent level could theoretically make Plumlee a more effective offensive threat in the NBA if he lands in the right situation.

The other area Plumlee made strides with on the offensive end this past season is with his rebounding—where his production increased by nearly 50% on a per-minute basis from his freshman to sophomore seasons. He's placed more of an emphasis on crashing the glass consistently, showing a decent nose for the ball and pursuit ability. His good hands and excellent bounce allow him to get a lot of put-back attempts in this manner, but he could be more assertive as a finisher in this area, occasionally shying from contact and hurting his ability to finish consistently.

As for Plumlee's developing individual offense, there was really nothing to see from a face-up perspective this season, as his ball-handling remains largely undeveloped. His post-up game is featured much more frequently, but it also remains raw. Plumlee shows an excellent ability to consistently separate with his size and athletic ability, but he often relies on hook shots and turnaround jumpers in the 5-10 foot range, where he doesn't show great touch and shies away from contact.

Developing more of a power post game where he can take better advantage of his physical tools and mitigate his lack of touch would be helpful for him in the long term. He rarely makes power drop step moves despite having the quickness to get by his man and bounciness to easily elevate around the rim, and this is something he should focus on.

Plumlee's free throw shooting regressed last year, from an already mediocre 54% to an even more dismal 44%, which hints at the struggles he's had performing under pressure at times.

On the defensive end, Plumlee once again has good physical tools and shows flashes of ability in man-to-man defense, but his awareness is lagging behind. He has a groundwork of fundamentals in post defense and does a decent job using his mobility to stick with the opposition on face-up drives, but is prone to being caught out of position and can lose focus easily. This is the area where Plumlee could see the most dramatic improvement if he put in the work, as his physical tools make him uniquely positioned to be an above average shot blocker, post defender, perimeter defender, and pick-and-roll defender from an NBA perspective, but it would require much more commitment and improvement on this end of the floor, particularly from a mental perspective.

Looking forward, Plumlee obviously has a lot of talent and potential to improve, but hasn't shown a significant learning curve in his two years in Durham. With many of last year's leading minute-getters moving on to the NBA, Plumlee has an opportunity to step up into more of a leadership role this season, and will have ample opportunity to expand his game and develop more consistency.

Going into his junior year, Plumlee cannot rest on the laurels of his upside any longer. NBA scouts will want to see clear signs of maturation both physically and especially in terms of his mental toughness, something that there are some doubts about at the moment. Plumlee can ease those concerns with a productive and consistent season as a key cog on one of the deepest and most talented teams in college basketball.

[Read Full Article]

---
Top NBA Draft Prospects in the ACC, Part One (#1-5)
October 17, 2010
Joseph Treutlein

One of the most talented freshmen in the country last season, Mason Plumlee played a role much smaller than what he was capable of due to the incredibly deep Duke championship squad. Relegated mostly to finishing on cuts and offensive rebounds on the offensive end, Plumlee played his role well while also showing occasional flashes of why he's so highly regarded as a prospect.

Standing 6'11 with a decent frame, average length, and superb overall athleticism, Plumlee has the prototypical physical profile for an NBA power forward. Extremely explosive and agile with great coordination and a very high motor, Plumlee has the potential to excel anywhere on the court on the offensive end should he develop the requisite skills.

While Plumlee did most of his damage on simple finishes around the rim for the Blue Devils, he shows the groundwork of skills in a variety of areas when he gets the occasional chance to create his own offense, being at least adequately capable of dribble drives, perimeter jumpers, and back-to-the-basket moves.

Plumlee's post game is probably the most underdeveloped area of his offense, as he's very lacking in instincts while having a limited repertoire of moves. Despite this, he still shows immense potential in this area, as his counter-moves are incredibly rangy, he already is showing flashes of ambidexterity finishing, and he has a decent turnaround jumper off both shoulders. Developing his hook shot and becoming more comfortable with all his moves in general should be among his priorities here.

While Plumlee could develop into a good back-to-the-basket player in the NBA should he put in the work, he's probably best suited as a stretch four, as he's lacking in upper body mass right now and probably isn't capable of putting on substantially more weight without sacrificing some of his athleticism. Operating out of the face-up position either from the high post or wing, Plumlee looks much more comfortable and that's probably where his potential is highest.

Possessing a great first step, incredibly rangy strides, and already a decent handle with both his left and right hands, Plumlee is very dangerous when he gets straight line opening to the basket, something that should open up far more in the NBA's better spaced, more isolation-oriented game. While Plumlee will occasionally flash an impressive spin move in the lane, he struggles with other changes of direction on drives and his game certainly lacks a degree of polish in this area. Regardless, his physical tools and groundwork of skills alone make this an effective staple of his game, though it still has room to improve substantially.

The area of Plumlee's game that was utilized the least as a freshman was his perimeter jump shot, as he took just 16 jumpers on the entire season according to Synergy Sports Technology, though half of them came from behind the three-point arc. Plumlee has good form with a high and quick release, though he seems to lack confidence in his shot, or possibly is tentative to use it because of all the other perimeter shooting options on the Blue Devils. His 54% free-throw shooting is also quite poor, though it was on a small sample size of just 46 attempts.

One of the most encouraging aspects of Plumlee's offensive game from a future development standpoint is his excellent set of intangibles, as he possesses a high motor, good basketball IQ, and clearly buys into a team concept given the role he accepted. Plumlee moves well off the ball, attacks the offensive glass, sets excellent screens, and shows very good court vision on passes out of the high post, finding lots of little ways to contribute even though he doesn't get many touches.

Defensively, Plumlee likewise shows a very high motor and excellent fundamental base, being attentive and composed both in the post and on the perimeter. While he lacks a certain degree of physical toughness in the post and is prone to giving up position down low before the ball gets to his man, Plumlee does a pretty good job using leverage once his man has the ball, uses his hands and forearms well, and does a great job using his average
length to contest shots. On the perimeter, Plumlee's versatility is very impressive, as he has an excellent stance, is very active moving his feet, and shows a great level of mobility both in man-to-man and pick-and-roll situations. He hedges very aggressively on screens while also being comfortable switching onto smaller guards when the situation calls for it. The one thing Plumlee could improve on defensively is his defensive rebounding, as he pulled them in at a lackluster rate last season.

Looking forward, Plumlee is obviously still very early in his development, and Duke's very deep roster certainly hasn't helped jumpstart his growth, but things should open up a bit for him this season with Brian Zoubek and Lance Thomas both graduated. Despite his small numbers, there is a reason Plumlee is our #1 ranked returning prospect in the ACC, as he's capable of improving immensely in a variety of offensive areas, something he should have plenty of chances to do this year. His game is also likely much better suited for the NBA game, where the increased spacing and more isolation/pick-and-roll opportunities very much play to his strengths. A likely lottery pick whenever he decides to declare as long as he continues developing, Plumlee's ceiling is very high and he should have the intangibles to give him every chance to reach it.

[Read Full Article]

---
adidas Nations Experience Dunking Drills
September 9, 2010
[Read Full Article]

---
Nike Hoop Summit, High School Prospects
April 16, 2009
Headed to Duke next season, Mason Plumlee didn't make a huge impact in this game, though he did show a nice set of skills on both ends of the floor throughout the week. The big man has a decent frame, and shows an excellent all-around physical profile, standing around 6'11". His leaping ability was on full display as he blocked 2 shots in the game, and showing excellent recovery speed in the process.

Offensively, the big man would rather face the basket and take his man off the dribble than play in the post, but he can also drive to the basket with either hand. To take his game to the next level, Plumlee could work on scoring from the low-post by further developing his footwork.

It will probably take some time before we can really begin to talk about Mason Plumlee and the NBA draft, but he has excellent upside thanks to his physical profile, hustle, and developing offensive game. He will add to a very nice group of talent at Duke, yet still have a chance to see plenty of playing time as a freshman.

[Read Full Article]

---
Player Evaluations, McDonald's All-American Game (West Team)
April 3, 2009
This future Duke big man is quite an interesting prospect, combining great size with terrific athleticism and a budding skill-level, which gives him great upside to continue to develop down the road. Plumlee (#19 Scout, #42 Rivals, #11 ESPN) made some truly jaw-dropping plays in the private scrimmage the day before the real game, exploding off the ground for some highlight reel caliber plays that made both benches erupt with glee. He's quick off his feet, extremely explosive and has a real penchant for the spectacular, as he displayed in the dunk contest as well.

Plumlee can put the ball on the floor a bit and is also capable of knocking down an occasional 3-pointer, while his leaping ability makes him quite a presence on the offensive glass. His limitations are pretty glaring though, as he lacks the strength or footwork to do much of anything with his back to the basket, and despite his nice touch, is still too streaky from the outside to be relied on as much of a perimeter threat at this stage. His body and feel for the game need quite a bit of work as well, but there is no doubt that he's a player to keep an eye on down the road, as he could become a very high-level prospect as he fills out and gains more experience.

[Read Full Article]

---
Initial Scouting Reports, High School Class of 2009 (#11-150 Recruits)
July 30, 2008
As far as long-term prospects go, Mason Plumlee (#12 Scout, #25 Rivals, #19 ESPN) is definitely one of the most talented big men we saw in the month of July. 6-10, with a great frame and very nice athleticism, Plumlee has a great physical profile for an NBA power forward prospect. He also shows flashes of the budding skill level needed, as he can put the ball on the floor from the perimeter with big strides and very nice ball-handling skills, hit 3-pointers, pull-up off the dribble, and is an absolutely outstanding passer.

He is so skilled that his AAU team even runs him at the point guard position, which is not something that is really conducive to winning games at a higher level of competition, but tells you a little bit about how versatile he is. Plumlee would regularly grab a rebound at the U-18 National Team tryouts and then ignite the fast break on his own, showing very nice dexterity in the open court and an advanced feel for the game.

As intriguing as Plumee might be, he still has a long ways to go in many facets of the game. He's not very effective inside, showing virtually no moves around the paint, limited ability to finish through contact, and a concerning lack of toughness at times. He seems to offer up his glimpses of potential in small doses, and has a tendency to coast as far as his intensity is concerned in others. His court awareness inside the arc is surprisingly underdeveloped, and that translates to the defensive end of the floor as well, where he is extremely weak. Adding strength to his excellent frame will be a priority once he reaches the college level.

Plumlee is definitely a name for scouts to keep in the back of their mind, but they'll probably have to be patient with him.

[Read Full Article]

---
2008 King James Classic: Top Big Men
May 4, 2008
The premature departure of Atlanta forward Derrick Favors left Plumlee as the top big man the King James Classic had to offer. Despite standing a legit 6'11, he owns a game that is more suited for a small forward then a player approaching the seven foot mark. The North Carolina prep possesses quickness uncommon for most face the basket power forwards and has an awfully strong lower body, surprising many with his above average leaping ability. While having a physically weak upper body, he has a frame that definitely has the potential to grow once he spends some time in the weight room.

Just as surprising are his slithery moves off of the dribble for a player his size, which he showed a number of times when beating future UCONN wing Jamaal Coombs off of the dribble. Mason handled the ball well in the open floor, even going coast to coast on a few occasions. As far as shooting is concerned, he displays an absolutely gorgeous jumper with range that extends out to the collegiate three point line. Plumlee's soft touch and perimeter oriented game will make him a perfect "pick and pop" guy under Coach K's system at Duke.

Though Mason has skills that most players his height don't possess, he owns very little in terms of a back to the basket game. Every time he received the ball within 8 feet of the rim he would turn and face, looking incredibly uncomfortable even when facing that close. Likewise he will have to vastly improve upon his strength if he hopes to compete on the blocks in the ACC, standing far too weak presently to fight in the trenches down low. Added strength would also help Plumlee become a better positional defender in the post considering the asset that he could be as a shot blocker with his height and nice leaping ability.

It seems like Duke will be a perfect fit for Mason in terms of style of play, given their history of letting big men play on the perimeter. Hopefully he will continue to develop his game over the next year and his tenure at Duke, so he doesn't wind up like talented prep stars Shavlik Randolph and Josh McRoberts who struggled to make any significant progress as players in their time in Durham.

[Read Full Article]

---