Maurice Creek
Recent Tweets
All Tweets
DraftExpress: Opens a scholarship for Dante Exum? RT @insidethehall @ZachOsterman reporting that Maurice Creek will not return to Indiana next season.
2013-04-24 16:14:36
DraftExpress: RT @peegs: Official IU press release on the torn Achilles tendon injury for Maurice Creek: http://t.co/xGjb4kGh #iubb
2011-10-10 08:57:29
DraftExpress: Top NBA Prospects in the Big Ten #16-20 - Victor Oladipo, Maurice Creek, Brandon Paul, Jordan Morgan and Draymond Green http://t.co/WwCEqRY
2011-09-14 09:41:15
Team: Leiden
Physicals
Positions
Rankings
Salary
Misc
H: 6' 4"
W: 185 lbs
Bday: 08/16/1990
(25 Years Old)

Current: SG
NBA: SG
Possible: SG

RSCI: 73

Agent: Chris Luchey

High School: Hargrave Military Academy
Hometown: Temple Hills, MD




Basic Per Game Statistics

- Comprehensive Stats - Statistical Top 25s

Player Page&nbsp&nbsp| Player Stats | Mock Draft History | Related Articles&nbsp&nbsp| Add to My Draft Express&nbsp
&nbsp
Top NBA Draft Prospects in the Big Ten, Part One (#1-5)
September 1, 2010
Kyle Nelson

Indiana shooting guard Maurice Creek was emerging as one of the best freshmen in the country when he fractured his kneecap in late December and ended his season after just 12 games. Creek had already built quite the resume, however, including a 31-point outing against Kentucky and strong showings against Maryland and Mississippi. Now, as Indiana prepares for its third rebuilding season, Creek must quickly regain his old form and produce for the Hoosiers.

At 6'5 with a lanky and wiry frame, Creek does not readily pass the eye test for an NBA shooting guard, looking like he needs to continue to get stronger to handle more physical defenders. Until his frame fills out, he will remain just an above-average athlete as well, as he does not boast particularly impressive quickness or explosiveness. Despite his limitations, however, he is an incredibly smart basketball player and almost always plays both within his abilities and around his limitations.

Creek's physical profile raises quite a few questions about how he will fare on the offensive end nightly in the Big 10, not to mention the NBA. On tape, however, Creek adapted quickly to the competition, scoring 25.5 points per 40 minutes pace adjusted while shooting 60.9% from inside of the arc and 44.8% from outside. At this stage, he is an outstanding catch-and-shoot player, almost always squaring his body to the basket while boasting an incredibly quick release on his jump shot. His shooting motion is a bit unorthodox, but his percentages speak for themselves and in just 12 games, Creek established himself as one of the most efficient shooters in our entire database.

Though the sample size was small, Creek showed some solid progress scoring off of the dribble, as well. Though his first step is not particularly impressive, and his ball-handling skills are still improvable, he plays angles better than many his age and, at times, he did a good job of getting to the line by drawing contact in the lane. Next season, he must continue to utilize his basketball IQ to find opportunities at the rim or at the foul line. Similarly, he shows potential scoring from mid-range, where, despite his lack of countermoves, he can utilize his excellent scoring instincts to create space for himself and his teammates.

It is also worth mentioning that Creek is a solid passer and, at times, is the lead ball handler on the offensive end, further examples of his versatility and how much potential he has at the collegiate level. While his lack of ideal athleticism may limit him to a degree in the NBA, Creek should only get better at Indiana, where he can continue to build on his skill-set and find ways to involve his teammates on both ends of the floor.

On defense, Creek showed promise by playing very intelligently, including running over screens, moving his feet instead of his hands, and talking to his teammates. Unfortunately, against more athletic competition such as Kentucky, he noticeably struggled due to his average lateral quickness and lack of strength. This season, he must work on maintaining his fundamentals against better athletes, in addition to maintaining the intensity and effort that scouts have respected since he was in high school.

Creek is still a ways away from reaching his full athletic potential at this point, but he is already one of the Big Ten conference's top scorers. He is also one of the conference's most intelligent and skilled players. Assuming that he is as far along in the rehabilitation process as reports indicate, Creek should be able to pick up where he left off last season and continue to develop on both ends of the floor. While he played just 12 games last season, Creek is clearly a top prospect in the Big 10 conference, and with early-season trials against Kentucky, New Mexico, Boston College, and Northern Iowa, he should have no trouble proving himself to scouts even before the rigorous Big 10 conference schedule commences.

[Read Full Article]

---
National Prep Showcase--Elite Prospects
November 24, 2008
Maurice Creek (#45 Scout, #59 Rivals, #61 ESPN) was one of the better shooting guards here at the National Prep Showcase, although his shooting percentages did not necessarily reflect that. We observed Creek last season at this tournament while playing for South Kent (and since in AAU), and he has made considerable improvement in the past year, transforming from prospect into pure scorer.


Offensively, Creek is a mature player who already looks very comfortable coming off screens and putting points on the board. Unlike many young players his age, he is already able to read when to flare out, curl, or go straight off of a screen depending how his defender is playing him. Given the fact that he is just a decent ball handler and an average athlete, this helps him greatly in terms of getting his shot off.

The Maryland native's biggest asset is his ability to shoot the ball. Able to spot-up equally well from beyond the 3-point line and mid-range, he is able to keep defenders honest by slashing to the rim with his strong scoring instincts. Creek showed no problem creating his own shot this weekend, usually settling for mid-range jumpers instead of going all the way to the rim. Having a noticeably stronger drive towards his right hand, defenders neglected to realize that his left hand appears to be relatively suspect at the moment. With stronger college scouting that will surely be picked up on quickly, meaning he has a considerable amount of improvement in this area if he hopes to continue his scoring prowess.

Like last year, Creek remained impressive on the defensive end. Although he wasn't matched up against any marquee swingmen, he still showed the ability to stay in front of his man laterally and put a fair amount of pressure on the ball. The future Hoosier will still need to add some weight to his slender frame in order to defend stronger guards at the next level, but he is already making the right steps towards becoming a nice defender at Indiana.

Given Indiana's rebuilding process, there will plenty of opportunity for Creek to see significant minutes as a freshman for IU, with the potential to even start in his debut campaign. The opportunity will also be there for Creek to get buckets early on given the Hoosiers influx of youth, so don't be surprised if he is a player who puts up strong scoring numbers early in his career

[Read Full Article]

---
National High School Hoops Festival Recap
December 14, 2007
Another one of many talented players to get playing time over the weekend for the Cardinals was nationally ranked junior Maurice Creek. The shooting guard has already received scholarship offers from Texas, Marquette, Pittsburgh and Maryland among others, and with good reason. He already possesses a pretty good frame for the two-guard position, but a little extra muscle certainly wouldn't taking anything away from his ability.

Creek is a scorer who can hurt you in a few ways. Most impressive was his ability to catch and shoot quickly when coming off of screens. He has a quick, consistent release and was able to knock down several mid-range jumpers in this manner. In Iso situations he showed an ability to break down defenders off the dribble. Creek isn't extremely quick with his first step, but possesses very solid handles and creativity that allow him to get in the lane and do damage. He showed no hesitation going up against bigger players on his way to the hoop, displaying nice body control and an ability to finish with contact.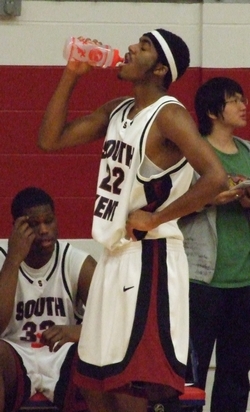 Jonathan Givony, DraftExpress



There is a lot of upside to Creek's game, and he looks like the kind of player who if nothing else will be able to step onto a high level Division 1 team in two years and provide instant offense. Again, due to the frequent rotation of players that South Kent employed, Creek only played in about half of the game. In the time he was on the floorm he made his presence felt enough to impress.

[Read Full Article]

---
National Prep Showcase: Day Three
November 20, 2007
A highly touted junior with offers from big-time programs like Texas, Pitt, Marquette and Maryland, Maurice Creek showed off his potential this weekend, but also showed why he's not a sure thing to pan out at this point.

Creek is a shooting guard who was asked to play heavy minutes at the point, due to the absence of Isaiah Thomas in the second game. He did an admirable job there, looking extremely unselfish, while also displaying nice athleticism and court vision, and maturity beyond what you would expect from a player his age. Creek pushed the ball an awful lot in transition, creating his own shot fairly spectacularly at times, and finishing around the hoop with either hand.

As a perimeter shooter, Creek is streaky, knocking down some shots here this weekend, but also missing quite a few (even air-balling one). He looks like he has some potential in this area if he continues to work hard, though. Defensively, Creek did an excellent job, getting right in the teeth of his matchup, and coming up with a number of blocks and steals in the process.

Creek still needs to grow into his frame and make plenty of strides in all parts of his game. He's got a nice base to work off of, but needs to become more consistent in the way he approaches the game, as he was very up and down from possession to possession, sometimes looking terrific, and sometimes not showing anything at all. Time is on his side, though.

[Read Full Article]

---