Michael Washington
STRENGTHS:
- Ability to get to free throw line
- Ability to face the basket
- Excellent hands
- Defensive potential
- Potential
- Solid frame
- Wingspan
- Improved perimeter shot
- Pick and pop potential
WEAKNESSES:
- All-around offensive polish
- Decision making
- Shot-selection
- Turnover prone
- Ball-handling skills
- Extremely limited w/back to the basket
- Footwork/Post-moves
- Defensive awareness
- Defensive fundamentals
- Foul prone
- Did not win in college
- Doesn't always know limitations
- Questionable intangibles
- Got by on instincts at college level
- Older than class peers
- Relatively unproven
- Poor passer
- Lacks explosiveness
- Free throw shooting
Recent Tweets
All Tweets
Updated scouting reports on Kentucky's Eric Bledsoe, Artsiom Parakhouski, Memphis' Elliot Williams & Michael Washington http://bit.ly/aaPHGS
2010-01-28 02:22:12
Top 25s - Full List
Team: NON-NBA College Team: Arkansas
Physicals
Positions
Rankings
Salary
Misc
H: 6' 10"
W: 239 lbs
Bday: 10/02/1986
(29 Years Old)

Current: PF
NBA: PF
Possible: PF

RSCI: 43

Agent: Charles Briscoe

High School: Genesis One
Hometown: McGehee, AR
Best Case: Amir Johnson
Worst Case: Sharrod Ford

Predraft Measurements
| Year | Source | Height w/o Shoes | Height w/shoes | Weight | Wingspan | Standing Reach | Body Fat | No Step Vert | Max Vert |
| --- | --- | --- | --- | --- | --- | --- | --- | --- | --- |
| 2010 | Portsmouth | 6' 8.5" | NA | 239 | 7' 0" | 8' 11.75" | NA | NA | NA |



Basic Per Game Statistics

- Comprehensive Stats - Statistical Top 25s
| Year | League | Name | GP | Min | Pts | FG | FGA | FG% | 2Pt | 2PtA | 2P% | 3Pt | 3PtA | 3P% | FTM | FTA | FT% | Off | Def | TOT | Asts | Stls | Blks | TOs | PFs |
| --- | --- | --- | --- | --- | --- | --- | --- | --- | --- | --- | --- | --- | --- | --- | --- | --- | --- | --- | --- | --- | --- | --- | --- | --- | --- |
| 2009/10 | NCAA | Michael Washington | 28 | 25.3 | 12.2 | 4.3 | 8.7 | 49.8 | 4.1 | 7.8 | 53.0 | 0.2 | 0.9 | 23.1 | 3.4 | 5.2 | 64.4 | 2.0 | 4.2 | 6.2 | 0.8 | 0.7 | 1.3 | 1.8 | 3.5 |

Player Page&nbsp&nbsp| Player Stats | Mock Draft History | Related Articles&nbsp&nbsp| Add to My Draft Express&nbsp
&nbsp
Top NBA Draft Prospects in the SEC (Part Two: #6-10)
September 20, 2009
Matthew Kamalsky

One of the most intriguing physical specimens in college basketball, Michael Washington really put things together last season, breaking out in a big way. Though Arkansas's season proved to be a tale of two halves, Washington showed flashes of brilliance throughout. A year older than his peers, Washington threw his name into the 2009 NBA draft before reconsidering and heading back to school. Considering he almost doubled his per-40 outputs in some areas between his sophomore and junior seasons, one can't fault Washington for heading back to Fayetteville given the upward trend in his production and the opportunity to improve his resume by leading a Razorback squad that returns essentially all of its contributors to a strong season.

Last time we checked in on Washington in-depth last January, we saw a player blossoming despite a lack of fundamentals in some areas. Washington's biggest strength has always been his impressive blend of size and athleticism, and last season saw him step out of a much smaller role and diversify his offensive game considerably. His point per-play jumped from 0.79 to 1.00, an incredibly significant gain given his possessions per-game almost tripled to 13.6. While few bigmen make such a jump in productivity, what makes Washington's development more impressive is how he was scoring those points.

According to Synergy Sports technology, almost 26% of Washington's touches came in the form of post-ups, a considerable jump from the 8% they accounted for last season. Though he continued to get a large proportion of his touches by virtue of his athleticism and rebounding ability, this upward trend in post-touches will be a key point of interest for NBA-types and an important aspect of Washington's game to keep an eye on. Receiving nearly three-quarters of his post touches on the left block, Washington uses a quick dribble going right to create enough space to jump stop into scoring position. His aggressiveness with that move and the sheer quantity of touches he gets with defenders draped over him at the rim allow him to get to the line 7.0 times per-40 minutes pace adjusted. If he can merely improve his 60% free throw shooting, he'll be a much more intimidating offensive threat on the NCAA level.

Though he shows some nice things when he opts to face-up, at this point, Washington's ability to beat his man in the post has more to do with his aggressiveness turning the corner than anything else. He lacks post moves in a traditional sense, scoring a lot of his points by hustling down the floor and establishing good position on the block. Though his face-up ability is considered an area of strength, it is still something he'll need to focus on and utilize more consistently to showcase it.

Washington's lack of fundamentals in the post give him intriguing potential in that aspect of the game, but his ability to shoot the ball from the midrange could be equally important to his long-term success. Displaying solid touch on his shot all the way out to three point range, Washington doesn't have the prettiest stroke, polished perimeter footwork, or ideal consistency. However, his ability to move away from the block and hit shots is interesting to say the least, though his willingness to take deep jumpers isn't always a positive thing. With the footspeed to run the pick and pop effectively with little feel for positioning or footwork, Washington's ability to improve his perimeter repertoire in practice will key to his NBA future, as that part of his game adds another dimension to what he brings to the table offensively. He may never possess the ball-handling ability to fully utilize his athleticism, but if he can polish one of two of the things he does well on the offensive end to go along with what he already can offer an NBA team in terms of hustle plays and rebounding, he'll have himself well positioned moving into next summer.

Defensively, Washington has a few defining characteristics. First, his size, wingspan, and athleticism help rank him as one of the most proficient all-around rebounders in our database. Second, his 3.1 personal fouls per-game place him highly in that category as well, an indication that his lack of defensive intensity has helped him decrease his fouling just enough to keep him on the floor. Third, Washington is capable of being more productive than his 1.0 steals 1.3 blocks per-game let on. Though his fundamentals leave a lot to be desired and he plays tentatively to stay out of foul trouble, Washington's raw physical tools could be a much more prominent asset to him defensively. Showing the ability to keep up with much smaller players when switched onto them on the perimeter, Washington has all kinds of defensive potential –having no problem making a play when in the right place at the right time-but has to learn how to go straight up in the post, be more disciplined against fakes, and play as though he's aware that his defensive presence will have a lot to do with where he's drafted if his offensive development stagnates.

As a 22 year-old senior, Washington's raw skills may give him potential, but NBA teams will do their homework on his intangibles and ability to fulfill his promise, as older prospects without polish in some area seldom get a free-pass from talent evaluators. Given what he accomplished last year, Washington stands to gain as much as any player in his class from a marginal improvement. No one expects him to explode up draft boards like he did last season, but the signs of progress he shows will determine whether he is selected in the late-first round or begins to slide further down draft boards.

[Read Full Article]

---
NCAA/NIT Tournament Stock Watch, Rumor Mill
March 24, 2009
Michael Washington mulls NBA draft outlook

Bob Holt of the Arkansas Democrat Gazette brings quite a bit of information to the table from Arkansas coach John Pelphrey, to help us understand Washington's situation.

"I think he'd like to come back for his senior year, but I think he does want to see what interest might be out there," Razorbacks Coach John Pelphrey said Monday. "My sense of it is that if he can be a first-round draft pick, that's one thing.

"If not, let's come back and work and see if we can't become a first-round draft pick."

The NBA Draft, held June 25 in New York, includes two rounds and 60 overall picks. Only the 30 picks in the first round get guaranteed contracts.

ESPN.com has Washington No. 41 among its top 100 NBA Draft prospects and lists him as a late first-round to second-round pick. Two other Web sites - draftexpress.com and nbadraft. net - don't list Washington as being picked in either round.

Pelphrey said he's spoken briefly with Washington on the subject and the two likely will talk about it more in the coming days.

"Certainly, it's perfectly within his right to test the waters," Pelphrey said. "That's all within the confines of the NCAA rules and regulations, so we'll see."

Pelphrey said he'll help Washington in whatever way he can, but that whether he enters and stays in the draft ultimately is a decision for Washington - who turns 23 on Oct. 2 - and his family.

"We will gather some information, but obviously this is a Mike and his family decision," Pelphrey said. "It is not a John Pelphrey or University of Arkansas decision. We will support him to make the best decision possible. We aspire for all these young men to have a chance to play at a higher level and obviously Mike has worked hard to garner some recognition..

"I thought Mike made great, great strides from his sophomore to his junior year," Pelphrey said. "I think he's got a chance to make a similar jump again from his junior to his senior year."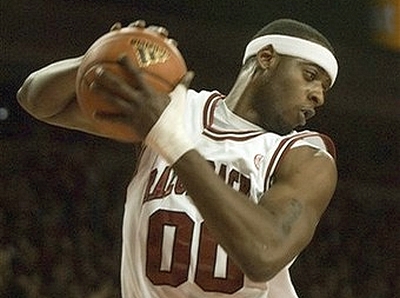 AP



It sounds like Pelphrey—a Billy Donovan disciple—is going about this the right way. Washington will turn 23 in October, and has quite a few things going for him as an NBA prospect—mainly his outstanding physical attributes. Washington has great size, length and athleticism for an NBA power forward, and has some intriguing skills to match, particularly his ability to finish around the rim, his productivity as a rebounder, and his very raw ability to face the basket. The problem is that Washington is still very much a project, especially defensively and as a decision-maker, only really having one solid season at the college level after seeing little playing time his first two seasons at Arkansas. Scouts are going to raise serious red flags about the way him and his team finished off the season—losing 15 of their last 17 games, after starting off the year in such a promising way. If Washington feels like he can improve even half as much next season as he did this past year, he would be smart to go back to Arkansas, as his stock isn't all that high right now, and he might have a hard time sticking on a roster immediately considering how far he is from seeing consistent playing time at an NBA level. On the other hand, he doesn't have a great deal to lose by testing the waters and going through private workouts and possibly the NBA combine in Chicago this June, as long as he does it the right way.

We currently have Washington ranked as a late first round pick in our 2010 mock draft, and would probably move him to the early to mid portion of the 2009 second round if he decides to enter, depending on which other players declare.

[Read Full Article]

---
NCAA Weekly Performers, 1/12/09
January 13, 2009
Despite losing their second game of the season on the road this weekend against Mississippi State (bringing their record to 12-2), there is no question that the Arkansas Razorbacks have been one of the most pleasant surprises of this NCAA season thus far. A large part of that has to do with the play of their late-blooming big man, Michael Washington, who was terrific in home wins over top-10 ranked Oklahoma and Texas.

It may have seemed strange for us to mention Washington as one of the top NBA draft prospects in the SEC following his freshman season, after averaging just 8.5 minutes per game. One quick look at the physical tools and upside he possesses, though, shows you exactly why we pegged him so early as someone to keep an eye on.

Showing a great frame, an outstanding wingspan, freakish athleticism and all kinds of intriguing skills, Washington fits the (raw) mold and then some of your modern day NBA power forward. He runs the floor extremely well, possesses an excellent first step, is very explosive around the rim, has good hands, and is quite a presence finishing around the basket.

Much more of a face the basket type big man, Washington shows nice potential as a pick and pop threat. He has good touch and is capable of making shots with range out to the college 3-point line, and can also put the ball on the floor in a straight line with an excellent first step and finish with an explosive two-handed dunk.

His ball-handling skills need work and he's still extremely streaky with his shot-selection and overall decision making (as evidenced by the 23% he shoots from beyond the arc), but there is no question that he shows great potential in this area. His quickness beating defenders off the dribble in the mid and high-post allows him to get to the free throw line at a very nice rate (8.8 attempts per-40 pace adjusted) but the fact that he only converts 61% of his shots there tells you all you need to know about his lack of polish. His below average basketball IQ is underlined by the very poor assist to turnover ratio he currently posts, averaging more than twice as many turnovers as assists.

Still extremely raw with his back to the basket, Washington does not look comfortable at all operating in the low post, showing poor footwork and almost no moves even against mediocre college defenders. He's able to produce down low mostly through his terrific work on the offensive glass, as well as his ability to cut nicely to the rim and finish with authority thanks to his excellent length and explosiveness.

Defensively, Washington had an extremely tough time staying on the floor his first two years in college due to foul trouble, and seems to have solved that problem mostly by not playing any defense this season at all. He gives up position way too easily in the post, and shows very little in the ways of fundamentals trying to stop his man. He lacks intensity here in a very serious way, and does not appear to possess great awareness either on this side of the floor. Still, his size, length and athleticism allow him to be somewhat of a presence at the collegiate level just by being out on the court, and it's not out of the question that with good coaching and plenty of hard work, he is able to become at least adequate here thanks to his terrific tools. He is already an outstanding rebounder, averaging well over 10 per game in just 30 minutes.

A year older than his class due to the unusual route he took to the NCAA (his Mississippi based prep school, Genesis One, came under scrutiny from the NCAA for potentially being a diploma mill) Washington is about the same age as most seniors, and will likely see NBA teams take a close look at his background when draft-time rolls around. He regardless shows great upside and is the type of player that could really rise up the boards with a strong NCAA tournament showing or some excellent private workouts, as there are not that many big men in college basketball who display his combination of physical attributes and raw perimeter skills. Before we get too excited, though, we'll have to see how he fares as Arkansas enters the significantly tougher portion of their schedule in the SEC.

[Read Full Article]

---
Top NBA Draft Prospects in the SEC (Part Two: #6-#10)
October 5, 2007
A very raw player who didn't see steady playing time until the last 10 games of the season, Michael Washington brings a very intriguing skill-set to the table for a player of his size. Washington also has great mobility and good overall athleticism, making the 21-year-old sophomore (he spent five years in high school) a very interesting prospect.

Most of what Washington contributes comes on the offensive end, where he doesn't play like your typical power forward. He starts with the ball from behind the three-point line on many occasions, where he can spot up and smoothly knock down a jumper or put the ball on the floor with his right hand to drive to the basket. He doesn't have the most advanced ball-handling skills, but is above average for a player his size, and with very long strides and a good first step, is able to get to the basket easily on many of his attempts. He finishes with good touch at the rim, but doesn't really show much ability in changing directions getting there. Washington does a good job of utilizing fakes on the perimeter to get his defender off-balance, leading to many of his drive attempts.

If the defender doesn't play up on him, Washington has no problem putting the ball up from behind the three-point arc, having good confidence with his shot, even though his results are pretty inconsistent. When open, Washington has good form and an effortless shooting motion, though his form and accuracy suffer when he tries to pull up off the dribble while being defended, sometimes forcing the issue in that manner. Washington doesn't do much damage from the mid-range yet, though he should definitely work on his high post game, as his skill-set is perfectly suited for playing there.

Washington's post game is very underdeveloped, not showing a large array of moves, though he's tried drop-steps and hook shots to little avail at times during the season. His footwork could use some work, and he could definitely add some lower and upper body strength to help him fight for position and to help him finish stronger when going straight up against defenders. Washington does fight for position down low when he doesn't have the ball, though, and generally does a good job finding open space near the rim, getting open for easy lay-ups on dump-offs. He doesn't finish very strong when contested, and seems to lack the vertical explosiveness to try and go over defenders for a strong jam.

Washington's rebounding is sub-par for a player his size, as this aspect of his game suffers from a lack of fundamentals and strength. He does occasionally do a good job slithering around opposing players with his slight frame, though, getting to the boards in that manner. Defensively, Washington's effort level looked good late in the season, as he stuck with his man off the ball and paid attention to the whole court well, but he's lacking in fundamentals with perimeter defense, not lowering his center of gravity and not putting in much lateral effort staying in front of his man with the ball. In the post, Washington's fundamentals look a bit better, but he gets pushed around extremely easily due to lack of strength.

Washington seemed to make some very nice strides late in the season, but he'll need to keep his effort level up and work on the fundamentals of his game to take the next few steps as a player. Right now he's still mostly a project (he only averaged 3.5 points and 1.6 rebounds in 8.5 minutes per game last year), with some intriguing characteristics, but plenty more work left to be done on his all-around polish. His future clearly seems to be at power forward, so moving some of his game to the high and low post while adding strength and working on defensive fundamentals should be among his main priorities. Washington definitely needs to spend a few more seasons at the NCAA level improving his game and playing less like a shooting guard, but there are some lingering concerns going back to his prep days, where there was talk of some excess baggage.

[Read Full Article]

---