Nate Wolters
Recent Tweets
All Tweets
DraftExpress: RT @Mike_Schmitz Really like Nate Wolters. Can really shoot it. Good handle instincts. Great floater. Good size at 6'4. Video http://t.cou2026
2013-06-27 23:22:36
DraftExpress: Really like Nate Wolters. Can really shoot it. Good handle instincts. Great floater. Good size at 6'4. Video http://t.co/gM88hFQj2Q #Sixers
2013-06-27 23:19:30
DraftExpress: At #38 Washington takes Nate Wolters
2013-06-27 23:17:21
DraftExpress: RT @Jkarnes1 Nate Wolters will only be doing upper body testing today at the combine. A slight hip flexor pull. Should fully recover soon.
2013-05-17 12:55:28
DraftExpress: Nate Wolters will only be doing upper body testing today at the combine. A slight hip flexor pull. Should fully recover soon.
2013-05-17 12:29:42
Team: Besiktas
Physicals
Positions
Salary
Misc
H: 6' 5"
W: 196 lbs
Bday: 05/15/1991
(24 Years Old)

Current: PG
NBA: PG
Possible: PG

Agent: Jared Karnes
Current Salary:$816,482

High School: St. Cloud Tech
Hometown: St. Cloud, MN
Drafted: Pick 38 in 2013 by Bucks

Predraft Measurements
| Year | Source | Height w/o Shoes | Height w/shoes | Weight | Wingspan | Standing Reach | Body Fat | No Step Vert | Max Vert |
| --- | --- | --- | --- | --- | --- | --- | --- | --- | --- |
| 2013 | NBA Draft Combine | 6' 3.5" | 6' 4.75" | 196 | 6' 3.75" | 8' 2" | 5.5 | NA | NA |
| 2012 | Kevin Durant Camp | NA | 6' 4" | 189 | 6' 3.5" | NA | NA | NA | NA |



Basic Per Game Statistics

- Comprehensive Stats - Statistical Top 25s
| Year | League | Name | GP | Min | Pts | FG | FGA | FG% | 2Pt | 2PtA | 2P% | 3Pt | 3PtA | 3P% | FTM | FTA | FT% | Off | Def | TOT | Asts | Stls | Blks | TOs | PFs |
| --- | --- | --- | --- | --- | --- | --- | --- | --- | --- | --- | --- | --- | --- | --- | --- | --- | --- | --- | --- | --- | --- | --- | --- | --- | --- |
| 2015/16 | Eurocup | Nate Wolters | 7 | 30.4 | 16.4 | 6.0 | 13.1 | 45.7 | 4.9 | 9.6 | 50.7 | 1.1 | 3.6 | 32.0 | 3.3 | 4.3 | 76.7 | 0.7 | 3.6 | 4.3 | 5.9 | 1.9 | 0.3 | 2.3 | 2.7 |

Player Page&nbsp&nbsp| Player Stats | Mock Draft History | Related Articles&nbsp&nbsp| Add to My Draft Express&nbsp
&nbsp
NBA Combine Interviews: McCollum, Carter-Williams, Wolters, McCallum
May 18, 2013
[Read Full Article]

---
NBA Draft Prospect of the Week: Nate Wolters
May 8, 2013
Scouting Report by Walker Beeken. Video Analysis by Mike Schmitz

After establishing himself as one of the top mid major players in the country in his sophomore and junior seasons at South Dakota State, Nate Wolters made the most of his final chance to impress NBA scouts as a senior. The 6'4" point guard continued to score at a high rate while improving his efficiency as he earned Summit League Player of the Year honors and led his team to their second consecutive NCAA tournament appearance.



Video Analysis



More Video Scouting Reports

While Wolters has certainly earned plenty of fans for his play over the last couple seasons, his NBA potential is still up for debate. The level of competition in the Summit league makes it more difficult to judge how his game might translate to the NBA level, and he doesn't have the prototypical physical profile. He does have excellent size for an NBA point guard prospect, but he lacks great length (6'3.5" wingspan) and strength, and he doesn't have the speed or explosiveness that scouts would generally like to see at the point guard position.

His physical limitations cause the most concern on the defensive end, where he plays intelligently and shows good toughness and instincts, but he lacks the ideal lateral quickness to stay in front of NBA guards. He defended pretty well at the Summit League level and even held his own defensively in big outings against New Mexico and Michigan, but NBA teams will certainly want to put his lateral quickness to the test in workouts over the next couple months to get a better gauge for how he'll be able to defend against quicker guards in space.

On the offensive end, Wolters proved to be one of the most productive players in all of college basketball as a senior, displaying an impressive all around skill set, as his combination of ballhandling skills, scoring instincts, and feel for the game made him very difficult to defend at the college level.

He has an excellent command of the ball and plays at a great pace, always seeming to be under control and rarely forcing the issue, despite the large amount of creating responsibility he shouldered for the Jackrabbits. He keeps his head up and sees the floor and shows very good vision and passing instincts, never hesitating to make the smart, simple pass to the open man.

Running the point for South Dakota State, Wolters carried a heavy load of the offense, as almost 60% of his offensive possessions came in isolations or as the ballhandler in pick-and-roll sets in his senior season. While not the most explosive player off the bounce, Wolters has a deceptively quick first step and is excellent at changing speeds and getting his defender on his heels, while also using the threat of his jump shot to open up opportunities to drive to the basket.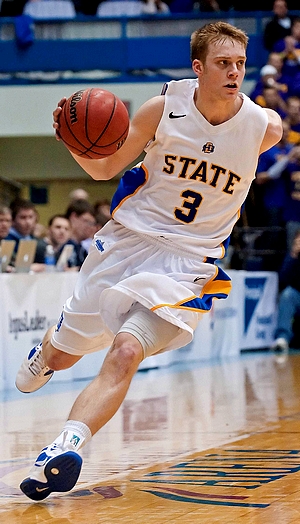 US Presswire


Wolters does a great of utilitizing his size and craftiness to score inside the arc, connecting on an impressive 53% of his 2-pointers on the season. He does a nice job using floaters driving either direction, and he attacks the basket and gets to the free throw line at a high rate, where he knocked down 82% of his attempts as a senior.
Perhaps the most encouraging sign of Wolters' senior season was the improvement of his perimeter jump shot. After shooting 36% and 41% from 3-point range in his first two seasons at South Dakota State, he struggled with his jumper as a junior, only connecting on 24% of his 3's. As a senior, Wolters made 38% of his attempts from behind the arc, on a career-high of over five attempts per game.

Wolters does have a bit of an unconventional release, but he gets it off fairly quickly off the catch and can create separation and fluidly shoot it off the dribble as well. He does a very nice job using hesitation dribbles to get his defender on his heels, and he has an effective step-back jumper as well, as he does an excellent job of keeping his dribble alive and always making himself an offensive threat.

Wolters should be an interesting player to follow over throughout the predraft process, as he certainly has some qualities that could boost his stock as he's extremely skilled and has an excellent feel for the game. He'll have plenty of opportunities to compete against NBA level athletes up until draft day, and NBA teams will surely be watching closely to see how he does staying in front of quicker point guards, as well as how does offensively trying to create off the dribble against longer, more athletic defenders. If he's able to alleviate some concerns in those areas and show that he can shoot the ball consistently from the NBA 3-point range, Wolters should have a good chance to get drafted next month, and potentially even hear his name called in the first round.

[Read Full Article]

---
Top NBA Prospects in the Non-BCS Conferences, Part Four
November 14, 2012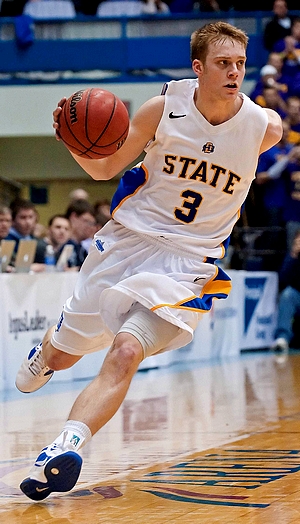 US Presswire



Matt Kamalsky

The 9th best scorer in Division I last season, Nate Wolters built on the momentum he gained during his breakout sophomore season to establish himself as one of the premier mid-major players in the country as a junior. Earning Summit League Tournament Most Valuable Players honors in leading South Dakota State to its first ever NCAA appearance, Wolters substantiated the buzz he had generated among scouts with a 19-point, 4-assist effort in the first round against a Baylor Bears rosters littered with NBA talent and athleticism. Already off to a fast start as a senior, Wolters ranks among the most serious threats to lead the nation in scoring and is clearly one of the senior point guard prospects in the country regardless of level of competition.

Standing 6'4, Wolters has excellent size for a point guard, a key component of his offensive dominance at the college level. Lacking great lateral quickness, leaping ability, and speed, Wolters plays at his own pace, but finds ways to get to the rim by changing speeds off the dribble and gets his shot off inside the arc by virtue of his creativity and size.

It is Wolters's ability to create off the dribble and score inside the arc that makes him such a potent offensive threat and an intriguing point guard prospect. Functioning as his team's primary ball-handler, main distributor, and go-to-guy, Wolters has the ball in his hands as often as any player in the country. With nearly one-third of his possessions coming in isolation situations, another quarter coming on the pick and roll, and a little over 20% coming as the ball-handler in transition, Wolters is a polarizing figure for the Jackrabbits, but turned the ball over on just 11% of his possessions last year.

A steady ball-handler who seldom forces the issue, Wolters doesn't beat defenders with quickness, but he's very adept at picking and choosing his spots off the dribble and scoring from various spots on the floor. Even if he's not blowing by defenders, Wolters uses his craftiness to find angles to the rim where he's gotten significant better and drawing fouls, finishing at an impressive 59% rate last season.

When his defender cut him off and he wasn't able to get all the way to the rim, the then-junior showed the ability to use his floater and pull-up jump shot to score under duress inside the arc. Knocking down 36% of both types of shots last season, Wolters makes difficult off-balance shots on the move from the midrange with regularity, shooting over the top of smaller guards or spinning and leaning away to score around opposing big men. Coupling his usage with his savvy offensive game and low-turnover rate, and it isn't hard to see why Wolters ranked among the 30 most prolific per-40 minute pace adjusted scorers in college basketball last season.

In addition to his scoring ability, Wolters is also an exceptional passer. Ranking among the top 20 players in the country in pure point rating(a weighted variation of A:TO ratio developed by John Hollinger) in the college game last season, the Saint Cloud native is an extremely effective play-maker for a scorer of his caliber. Showing a knack for finding teammates in rhythm in South Dakota State's half-court sets, Wolters also shows tremendous vision in firing the ball to teammates when he attacks the basket off the dribble.

Despite his many merits on the offensive end, Wolters still has a number of areas to improve in, the most significant of which may be his ability to consistently knock down shots from beyond the arc. After shooting a terrific 41% from distance on 3.3 attempts per-game as a sophomore, Wolters took a step back as a junior, knocking down just 24.1% of his 4.0 attempts per-game last year. Though the vast majority of his 3-point attempts come late in possessions off the dribble and not in the typical catch-and-shooting situations most 40+% 3-point shooters enjoy, Wolters would benefit from a season of more consistent shooting from the perimeter, whether his attempts come inside or outside of the arc.

On the defensive end, Wolters faces significant questions about whether he can hold his own at the next level. Lacking great lateral quickness, Wolters is not always able to stay in front of quicker guards. He has however developed some strategies to overcome that, consistently leaving himself a cushion against quicker players, recognizing where his help is, and giving up a jump shot before a layup. Wolters could stand to get stronger to help himself fight over screens and hold up against the more athletic guards he'd encounter in the NBA, but he simply doesn't have the athletic profile of a stalwart defensive player.

Already propelling his team to a 2-0 record this season, Wolters has started his senior season off right. If he can have a strong year shooting the ball and continue to do the things that he did at a high level last season, there's no question he'll help himself in the eyes of scouts as he looks to carry the Jacks back to the NCAA Tournament.

[Read Full Article]

---
Top NBA Draft Prospects in the Non-BCS Conferences, Part 5 (#21-25)
November 9, 2011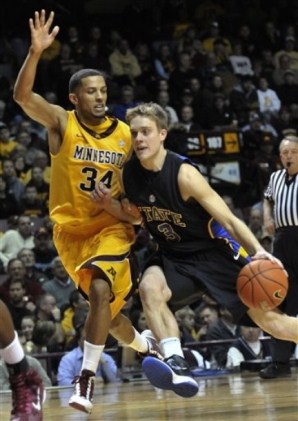 AP



Joey Whelan

Brookings, South Dakota has historically been non-existent on the maps of most NBA scouts, but Nate Wolters may be giving them some reason to change that. The Jackrabbits point guard put together one of the more well-rounded stat-lines in the country last season, posting averages of 19.5 points, 4.6 rebounds and 6.1 assists while shooting nearly 41% from beyond the arc. As a standout at a non-traditional basketball school playing in a small conference like the Summit, however, Wolters has an uphill battle to prove he can play at an elite level of competition.

Physically, Wolters is a mixed bag when projecting him as a pro. At 6-foot-4 he has good size for the point and is solid enough to withstand some contact off the dribble. His length is also a positive, playing a big role in his above average rebounding numbers for his position. From there, however, things tend to tail off to a degree. Wolters isn't always quick enough to consistently beat Summit League defenders off the dribble, let alone NBA caliber players, nor is he a particularly explosive leaper. He is able to create offense thanks to his shiftiness with the ball and ability to change speeds, but how this would translate playing against more physically gifted players is still a question mark.

Based on his physical profile, terrific ball-handling skills and ability to play at different speeds, it should come as no surprise that SDSU utilizes Wolters most frequently in pick-and-roll sets, accounting for 28.1% of his total possessions last season according to Synergy Sports.

He does a tremendous job here of mixing up his scoring with his passing ability, finding players creatively in every way possible, be it bounce passes, post-entries, kick-outs, lobs or drop-offs at the rim. Wolters is indeed one of the best passers in college basketball, ranking 5th amongst all prospects in assists per-40 pace adjusted, and 3rd in Pure Point Ratio. Wolters' unselfishness and excellent basketball IQ are clearly significant reasons his team ranked as the 25th most efficient offense in all of college basketball season.

While Wolters does a tremendous job of creating for his teammates, he isn't quite as effective at creating high percentage shots for himself inside the arc. He rarely is able to fully turn the corner on his opponent, and has a difficult time finishing over length inside the paint. He converted just 46% of his 2-pointers last season, which is not terribly impressive, but was able to compensate for that with his craftiness drawing fouls, getting to the free throw line 7.5 times per-40 minutes pace adjusted. Once there, he converts 80% of his attempts.

When he opts to attack from the outside, Wolters proves to be a dangerous perimeter shooter, connecting on 41% of his three-point attempts last season. He has a quick, fluid release, and is capable of making shots both with his feet set and off the dribble when called upon. Because of how dominant a ball-handler Wolters is forced to be in South Dakota State's offense, he doesn't get many catch and shoot opportunities, but the fact that he can play both on or off the ball is a major plus considering his size.

As one would expect, many of the physical limitations that Wolters deals with offensively, manifest themselves in his defensive game as well. His lack of elite quickness makes it difficult for him to defend opposing players off the dribble. He anticipates well and knows how to play the angles to his benefit, but against quicker guards he simply can't keep up. Wolters does hustle and is a tough player, proving to be an above average rebounder for his position almost purely based on effort and anticipation ability.

It's hard not to be impressed by the numbers that Wolters has produced relatively early in his career, and there's reason to believe they will continue to improve, as his field goal and three-point shooting numbers improved significantly from his freshman to his sophomore seasons. Given his physical limitations, Wolters will need to keep proving himself at the college ranks, showing that he can translate his production against better competition and help his team win games. A NCAA tournament berth could help his cause quite a bit.

[Read Full Article]

---