Nick Johnson
Recent Tweets
All Tweets
DraftExpress: Top NBA Prospects in the Pac-12 #6-10 Kyle Anderson Jordan Adams Josh Scott Devon Collier Nick Johnson http://t.co/FHsd9SxSEI
2013-10-04 01:15:53
DraftExpress: DX: Arizona vs. Arizona State: Smackdown (Nick Johnson, Jahii Carson & Angelo Chol) http://bit.ly/g8cP7t
2011-04-26 10:41:32
DraftExpress: Maybe down the road. He's obviously a very smart, savvy player. RT @JTMBasketball: Any chance Nick Johnson can convert to the point?
2011-01-17 04:37:50
DraftExpress: Sean Miller is going to love Nick Johnson. NBA upside might be limited as a 6-2 SG, but he'll be an impact player from day one & for a while
2011-01-17 04:27:18
DraftExpress: Great game coming up (starting to feel like a broken record). LeBryan Nash's Lincoln squad vs. Myck Kabongo, Nick Johnson and Findlay Prep.
2011-01-17 02:56:07
Team: Arizona, Junior
Physicals
Positions
Rankings
Misc
H: 6' 2"
W: 198 lbs
Bday: 12/22/1992
(21 Years Old)

Current: SG
NBA: SG
Possible: SG

Pick: 45 in 2014 Mock Draft
Rank 7 in NCAA Juniors
Rank 61 in Top 100 Prospects
RSCI: 23

High School: Findlay Prep
Hometown: Henderson, NV

Predraft Measurements
| Height w/o Shoes | Height w/shoes | Weight | Wingspan | Standing Reach | Body Fat | No Step Vert | Max Vert | Bench Press | Lane Agility | 3/4 Court Sprint | Class Rank |
| --- | --- | --- | --- | --- | --- | --- | --- | --- | --- | --- | --- |
| NA | 6' 2.5" | 198 | 6' 5.5" | NA | NA | NA | NA | NA | NA | NA | NA |



Basic Per Game Statistics

- Comprehensive Stats - Statistical Top 25s
| Year | League | Name | GP | Min | Pts | FG | FGA | FG% | 2Pt | 2PtA | 2P% | 3Pt | 3PtA | 3P% | FTM | FTA | FT% | Off | Def | TOT | Asts | Stls | Blks | TOs | PFs |
| --- | --- | --- | --- | --- | --- | --- | --- | --- | --- | --- | --- | --- | --- | --- | --- | --- | --- | --- | --- | --- | --- | --- | --- | --- | --- |
| 2013/14 | NCAA | Nick Johnson | 31 | 32.5 | 16.1 | 5.4 | 12.2 | 43.9 | 3.8 | 7.8 | 49.0 | 1.5 | 4.4 | 34.8 | 3.9 | 5.1 | 76.6 | 0.8 | 3.1 | 4.0 | 2.8 | 1.2 | 0.5 | 1.8 | 2.0 |

Player Page&nbsp&nbsp| Player Stats | Mock Draft History | Related Articles&nbsp&nbsp| Add to My Draft Express&nbsp
&nbsp
Top NBA Draft Prospects in the Pac-12, Part 4 (#6-10)
October 3, 2013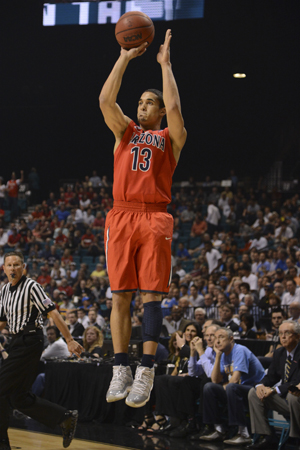 US Presswire



Kyle Nelson

Nick Johnson entered college basketball ranked #23 in the Recruiting Services Consensus Index, ahead of lottery picks Michael Carter-Williams, Otto Porter, and Ben McLemore. Yet, he struggled to live up to the lofty high school expectations that followed him to Arizona, even though he was named to the Pac-12 All Freshman Team. He emerged as a key contributor as a sophomore, playing both on and off of the ball while proving himself as a top-notch perimeter defender. He struggled on the offensive end of the floor down the stretch though, particularly in the NCAA Tournament. Now a junior, Johnson is the veteran leader on a very young and talented team, but his NBA prospects are decidedly mixed.

Most problematic is his lack of a position. While some project him as a point guard, he will likely play off of the ball as a junior, and is well-undersized at 6'3 with a 6'6.5 wingspan and a 200-pound frame. While he is a very good athlete, with speed and agility to go along with explosiveness around the basket –not to mention a rumored 38" no-step vertical leap– he lacks the size, length, and strength to play the shooting guard position in the NBA.

Potential aside, another problem is that Duquesne-transfer T.J. McConnell's arrival likely means that Johnson's point guard days are behind him for the time being. That said, he shows some legitimate flashes of playmaking ability, particularly his capacity to find open shooters while slashing to the basket and his increasing comfort operating out of the pick-and-roll. That he ranks among the top-10 shooting guards in our database in assists-per-possession ratio is not a fluke. Yet, despite his willingness to share the ball and above average court vision, he makes too many mistakes –like when his passes miss his teammates by feet or when he leaves his feet without a plan– to suggest a smooth transition to the position at this, let alone the next, level.

Complicating this projection is the unfortunate reality that Johnson is not a particularly productive player. In fact, he ranks among the least productive shooting guard prospects in our database, averaging just 14.5 points per 40 minutes pace adjusted. He finds a majority of his offense in transition and as a jump shooter. His superior athleticism and solid handles, allows him to finish at a solid rate at this level, but his lack of size and strength will likely hinder him at the next.

It is worth noting here that Johnson finished less than 50% of his shots from inside of the arc. Part of this has to do with his inconsistency as a mid-range scorer. While his repertoire includes both pull-ups and step-back jumpers, as well as runners and floaters, he is at his most consistent (not to mention comfortable) as a shot creator while slashing to the basket.

He did improve considerably as a spot-up shooter last season, however, making an impressive 38.1% of his overall jump shots and shooting 39.1% from beyond the arc. His sports fluid mechanics with his feet set and he is able to get his shot off against taller defenders due to excellent lift and a high release point. As he moves to the shooting guard position, scouts will be watching to see if he can differentiate himself as a more prolific and versatile shooter, especially given how he will be expected to produce in a new role.

While he has a lot of work to do on the offensive end, he is an accomplished collegiate defender, usually finding himself guarding the opposition's best perimeter player. His greatest attribute is his intensity, which combined with his lateral quickness allows him to be a very good man and pick-and-roll defender. He also fares well gambling in passing lanes to the tune of 2.4 steals per game, though this tendency oftentimes finds him out of position, which hinders his ability to close out on perimeter shooters.

Yet, his prospects as an NBA player revolve almost completely around whether he can develop into a capable lead guard. His ceiling has never been particularly high, but he will have to evolve into a more productive player if he wants to prove his case to scouts. The good news for Johnson is that the tools are there, and his effort on the defensive end will guarantee him playing time despite Arizona's increasingly improving perimeter rotation. Athletic combo-guards are increasingly becoming fixtures in NBA rotations; therefore it is up to Nick Johnson to prove that he has what it takes to develop into a legitimate prospect on the foundation of a solid sophomore season.

[Read Full Article]

---
HoopHall Classic Scouting Reports: Elite Prospects (Part Three)
January 23, 2011
Jonathan Givony

One of the most polished players seen at this event, Nick Johnson (#33 Scout, #40 Rivals, #23 ESPN) looked like the rare high school senior who could step into a college team's rotation immediately and not look out of place.

Undersized for a shooting guard at just 6-3, Johnson compensates with a strong frame and excellent athleticism, showing nice quickness and the ability to play above the rim in highlight reel fashion.

Offensively, Johnson is a fairly complete player, starting with his excellent shooting ability. He gets very nice elevation on his jump-shot, being capable of making shots both off the dribble and with his feet set. He's a very smart, savvy player who operates unselfishly on the court and is just as effective in transition as he is in the half-court, moving off the ball crisply and looking very willing to make the extra pass. Johnson still has room to improve on his shot-creating skills and ability to the pick and roll, but considering the work ethic he shows, that appears likely down the road.

Defensively, Johnson lacks great size or length, but makes up for any shortcomings he might have with the toughness he brings to the table. Often asked to guard players 3-4 inches taller than him seeing minutes at the small forward position for his high school team, Johnson held his ground admirably against the incredibly strong and athletic LeBryan Nash both inside the paint and on the perimeter, He showing a feistiness to his game that Arizona head coach Sean Miller will surely enjoy.

Johnson is virtually guaranteed to have an excellent career at the college level, but at 6-3, will have to continue to improve his playmaking ability and overall offensive polish to emerge as a NBA prospect.

[Read Full Article]

---