Nihad Djedovic
Recent Tweets
All Tweets
DraftExpress: Undrafted: Kevin Jones, Drew Gordon, JaMychal Green, J'Covan Brown, Tu Holloway, William Buford, Nihad Djedovic, Casper Ware, Henry Sims
2012-06-28 11:03:29
DraftExpress: Scouting the Draft-Eligible International Prospects - Nihad Djedovic, Leon Radosevic, David Jelinek http://t.co/AX8Sa1bq
2012-05-02 04:09:01
DraftExpress: Players who withdrew their name from the early-entry list yesterday: Andrew Albicy, Furkan Aldemir, Nihad Djedovic, Emmanouil Koukoulas
2011-06-14 06:18:52
Internationals Tomislav Zubcic (Cibona, 90) & Nihad Djedovic (Xacobeo, 90) will not enter draft, agent Misko Raznatovic (Beobasket) informs.
2010-04-24 11:18:02
Top 25s - Full List
Team: Bayern Muenchen
Physicals
Positions
Salary
Misc
H: 6' 7"
W: 211 lbs
Bday: 01/12/1990
(25 Years Old)

Current: SF
NBA: SG/SF
Possible: SF

Agent: Misko Raznatovic

High School:
Hometown: Visegrad, Bosnia

Predraft Measurements
| Year | Source | Height w/o Shoes | Height w/shoes | Weight | Wingspan | Standing Reach | Body Fat | No Step Vert | Max Vert |
| --- | --- | --- | --- | --- | --- | --- | --- | --- | --- |
| 2012 | Eurocamp | 6' 5.5" | 6' 7" | 211 | 6' 7" | 8' 3" | NA | 29.0 | 32.5 |
| 2010 | Eurocamp | 6' 5.56" | 6' 6.74" | 211 | 6' 7.13" | 8' 4.79" | NA | 25.6 | 33.9 |
| 2007 | Hoop Summit | NA | 6' 5.75" | 198 | 6' 7.75" | 8' 2.25" | NA | NA | NA |



Basic Per Game Statistics

- Comprehensive Stats - Statistical Top 25s
| Year | League | Name | GP | Min | Pts | FG | FGA | FG% | 2Pt | 2PtA | 2P% | 3Pt | 3PtA | 3P% | FTM | FTA | FT% | Off | Def | TOT | Asts | Stls | Blks | TOs | PFs |
| --- | --- | --- | --- | --- | --- | --- | --- | --- | --- | --- | --- | --- | --- | --- | --- | --- | --- | --- | --- | --- | --- | --- | --- | --- | --- |
| 2015/16 | EURO | Nihad Djedovic | 7 | 29.7 | 15.1 | 5.6 | 11.1 | 50.0 | 3.7 | 6.6 | 56.5 | 1.9 | 4.6 | 40.6 | 2.1 | 2.3 | 93.8 | 0.9 | 2.4 | 3.3 | 3.1 | 1.1 | 0.0 | 2.4 | 2.1 |

Player Page&nbsp&nbsp| Player Stats | Mock Draft History | Related Articles&nbsp&nbsp| Add to My Draft Express&nbsp
&nbsp
Scouting the Draft-Eligible International Prospects (Part One)
May 2, 2012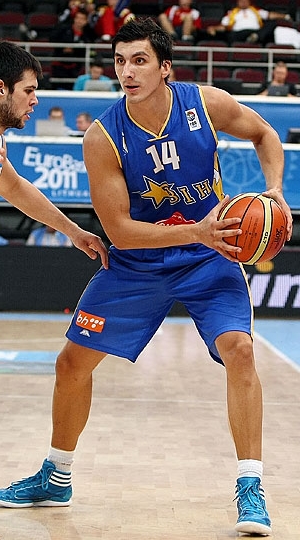 FIBA Europe / Castoria / Matthaios



Jonathan Givony

Nihad Djedovic has been on the radar for what feels like forever now. We first wrote about him in 2006 when he was 16-years old making his professional debut in Bosnia, and continued to follow him when he was signed by Spanish powerhouse Barcelona and invited to the Nike Hoop Summit in 2007.

His progression continued with solid showings at the adidas EuroCamp in 2008 and 2010, but he has yet to have his true breakout season since then, partially due to the situation with the team that owns his rights. Barcelona has repeatedly loaned him out to different teams year after year--back to his home club in Bosnia, to their affiliates Cornella in the Spanish third division, to fellow ACB team Obradoiro, to Italian and former Euroleague squad Virtus Roma, and most recently to Turkey, where he's finishing off the season in Istanbul with Galatasaray, who are currently in first place in one of the strongest leagues in Europe.

Barcelona still owns his rights and he is under contract with them for two more years, but they appear to be more interested in his younger brother Nedim Djedovic at this point, born in 1997 who they signed and is considered one of the most promising young prospects in Europe.

Djedovic has been enjoying consistent playing time for the past three seasons now in some of the top leagues in Europe—the ACB, the Italian league, the Euroleague, and now Turkey. Everywhere he's gone he's proven capable of putting the ball in the basket fairly efficiently, including this past summer at the European Championship in Turkey (Eurobasket), where he saw heavy playing time representing his home country of Bosnia.

Djedovic has excellent size for a wing player a 6-7, to go along with a strong frame and impressive athleticism for a European prospect. He can create his own shot prolifically thanks to his quick first step and strong ball-handling skills, showing good footwork, long strides, and the ability to change speeds and directions fluidly.

Very effective in the open floor, Djedovic has consistently shown the ability to get into the paint at every level he's played at, both in transition and in the half-court. His 2-point percentages have been impressive everywhere he's been—55% this season in both Italy and Turkey, 64% in Italy last year and 73% at the Eurobasket last summer (in just five games)—indicating that he's also a very solid finisher around the rim. He uses shot-fakes effectively on the perimeter and is able to take his man off the dribble in pick and roll and isolation situations, at times being asked to be his team's primary ball-handler and facilitator in the half-court.

The biggest thing holding Djedovic back at the moment is his propensity for turning the ball over. He coughs the ball up four times per-40 minutes this season, on nearly a quarter of his possessions, amongst the highest rates in the Italian league this season. He simply tries to do too much at times with the ball, over-dribbling wildly, trying to make very difficult passes, and running into brick walls. He's a little bit inconsistent in his approach in general, as his performance tends to fluctuate greatly from game to game, ranging from simply outstanding to very poor depending on which night you catch him on.

Additionally, Djedovic is just an average perimeter shooter at this point, converting around 35% of his 3-pointers this season on under one make per game, both career highs, up from 25% last season. Djedovic's instincts as a shot-maker actually aren't bad, poor shot-selection seems to be the main culprit here, as well as inconsistent shooting mechanics. He elevates extremely well off the floor creating separation from his defender, but he jumps a different height every time, and with a different release point.

Defensively, Djedovic is very solid, using his size and athleticism effectively to guard opposing wing players, which is perhaps not a surprise considering the level of competition he's played at the past three seasons. While he sports just an average wingspan (measured 6-7 in Treviso), he moves his feet well, puts a solid effort in, and has the lateral quickness to defend either wing position, which gives him the versatility to play at virtually any level of competition.

Although he's still working on becoming a consistently efficient player, Djedovic may be a little underrated at this point, as it's difficult to find many other players with his size, athleticism, shot-creating ability and experience available in the second round. His contract situation does not appear to be too much of a hindrance either, as there's apparently a good chance he will become a free agent this summer.

After playing on a very disappointing Virtus Roma team for a year and a half, an organization that appears to be in disarray at the moment, Djedovic moved mid-way through the season to Galatasaray, who are competing for a championship. He's getting plenty of minutes, and has had some solid performances, albeit inconsistently thus far.

With a deep playoff run in the very competitive Turkish league, Djedovic's talents will be on fully display for the next month and change, which could help improve his draft stock significantly. He is automatically eligible as a 1990-born prospect, and looks like a solid candidate for the second round for a team looking to draft and stash a promising international player.

[Read Full Article]

---
adidas Nations Experience 2008: European Prospects
August 16, 2008
When Team Europe was struggling for a basket early on in the week, there was always one player on the floor able to offer instant relief—Bosnian swingman Nihad Djedovic. Mature, creative, highly aggressive, with outstanding all-around scoring instincts, Djedovic appears to have an American style of play that is better suited to this camp setting than most of his European counterparts. He was incisive throughout the week in his ability to attack the rim, showing nice ball-handling skills, excellent body control around the rim, a solid frame for a player his age, and the hunger to put the ball in the rim that most great scorers have.

In addition to his ability to create his own shot, Djedovic can also stroke the ball from the outside, showing nice touch and a quick trigger getting his shot off. In terms of his NBA potential, things get a bit murkier, as he appears to be quite a bit more mature than most players his age, and therefore has seen his upside questioned compared to some of his peers in his age group. He's not the most athletic guy by any stretch, and also doesn't seem to show all that much interest in playing defense. Still, NBA teams need guys who can put the ball in the hole, and Djedovic will likely be able to do that on any level, making him a player to keep tabs on for sure over the next few years.

[Read Full Article]

---
L'Hospitalet 2008: Balkan Dominance
January 13, 2008
Head and shoulders above any other perimeter player in terms of physical development, Djedovic could operate almost at will on the floor, being able to create his own shots and rarely shying away from any shooting opportunity. Actually, his performance was too individualistic for some stretches, which was expected since he's currently leading Cornellá (a team linked to F.C.Barcelona) in scoring in the Spanish third division (no other teammate plays pro basketball). His combination of ball-handling, athleticism and strength made his drives difficult to contain. He was able to consistently beat his opponents attacking both sides off the dribble, although not always cashing in off his slashing attempts. His left hand needs some work (both ball-handling wise and finishing around the basket) and his footwork, although nice, is not the best around to drive in heavy traffic.

At the end of the day, Djedovic showcased his preference for the long range shot, which looked improved from the last time we had saw him. He showed very good range, off the dribble ability and solid mechanics. Still it would be desirable that he didn't forget his slashing game, a danger already visible when he plays with the pros, where he settles for perhaps too many jumpers. Although he delivered some nice passes, we missed a bit more creativity from Djedovic, some go-to leadership that didn't simply rely on his scoring power. He's able to do better in this department, in our opinion. A good defender, the Bosnian probably wasn't as focused in this regard given his improved offensive role on the team.

All in all we're talking about a very mature player who is ready to step on a LEB Oro (second division) court, perhaps even play in the ACB, but with an intriguing enough combination of athleticism, size and skills to keep an eye on. The NBA might be a long shot, but he's bound to become an elite player in Europe.

[Read Full Article]

---
Nike Hoop Summit World Team Player Recap (Part Two)
April 13, 2007
During the week in Memphis as a whole, Djedovic was one of the more interesting players to watch. As a 17 year old, Djedovic already has great size for a 2 guard, and a nicely developed body. Known as a shooter, it was clear that he has nice potential for the future, but a lot to learn before reaching it.

From the day he stepped onto the practice court at the FedEx Forum, it was clear that Djedovic can be labeled a sniper on the offensive end. He was lights out from 3 in many of the practices, using good elevation and a consistent stroke to knock down the long range shots. For a 17 year old, he has a pretty good fundamental understanding of how to move off screens in order to create the space for an open look.

The biggest problem for Djedovic was noticeable from the first World Select team scrimmage. As a young player, he has very little understanding of how to score within the flow of the game. Rather than waiting for an open look, Djedovic will often force up a long range shot when he becomes impatient with the offense. In addition, the Bosnian has good footwork going to the basket, but seems to be average in terms of his first step and ball-handling skills.

In the game, Djedovic struggled to get any of his looks to fall, and appeared to be bothered by the athleticism fielded by Team USA. The first time he touched the ball, he made a nice move to his left and stepped through a double team, but the ball rolled off the edge of the rim. Later on, he repeated this same move and was able to draw contact and get to the free throw line. During the rest of the game, Djedovic tried to play the shooter role, but his shot just wasn't falling.

A few weakness will limit the potential of Djedovic at this point, though he has plenty of time to work on his game before thinking about the NBA. From a standstill, he cannot create his own shot, instead needing space and a good pass to be able to make a slashing move. As a shooter, Djedovic appears to change his form when closely guarded, but this weakness may correct itself as he becomes more accustomed to playing against athletic players in real game situations. Defense also limits the upside of Djedovic, who struggles to stay with quicker guards on the perimeter.

As the youngest player to get significant minutes in the game, Nihad Djedovic looks like he could potentially make the NBA as a shooting specialist down the road. He must spend the next few years gaining experience against top-level European competition (like he already is right now) as well as working on shot selection and defense.

[Read Full Article]

---
Nike Hoop Summit Practices-- World Team (Day 2)
April 5, 2007
Nihad Djedovic played for the first time in the afternoon, after sitting out the morning session with an injury. The strong point to his game at this point appears to be the ability to knock down the set jump shot. Unfortunately, he tends to be quite shot-happy, and forces up some bad jumpers out of the offensive flow. Off the dribble, he struggles with his shooting touch as well. Djedovic has good measurements for a shooting guard at 6'6." He has a pretty developed body for his age, but he doesn't seem to really possess any type of slashing game at this point.

[Read Full Article]

---
Roundup: Maciulis Outmuscling the Euroleague
January 30, 2007
It might result surprising to see a kid born in 1990 regularly starting for an Adriatic League team, even if Bosna is not particularly strong this year, but Djedovic earns every minute he's rewarded on court. As we stated after his showing in the L'Hospitalet Tournament, the degree of maturity that Nihad enjoys is truly remarkable. That impression is equally strong watching him in the Balkan competition. He's a guy who rarely commits mistakes while he isn't afraid of trying things. Despite his youth, he's not a player you would fear to have on court, as he usually provides positive actions for his team and is a reliable defender.

Djedovic is a 6-6 shooting guard, nicely athletic (particularly when talking about his quickness), well-built, actually pretty mature in the physical department, and well-rounded in terms of skills and basketball IQ. He displays a rather complete package that starts with a nice shooting stroke with off-the-dribble ability and nice range (although he needs to gain consistency from the perimeter). His mechanics are pretty good, knowing how to balance himself perfectly placing his feet to ignite the release. He can attack his matchup showing nice handles and aggressiveness going both sides, finishing himself with either hand or easily finding his teammates, whether an open player in the perimeter or feeding some roll after a pick or an screen. He doesn't abuse of the dribble and takes quick decisions.

From the moment you start watching him, you can't ignore the level of activity he displays. He's restless, never stops. Partially, that's why he's already a nice defender. He enjoys a good lateral mobility and always keeps an eye on the passing lines, staying very active with his arms and hands although not risking his defensive position. He pays attention to the team defense and also contributes in the rebounding department. Actually, he's quite a team-oriented guy. After the Spanish wonder boy Rubio, he's likely the best 1990 player in the Old Continent. However his potential doesn't look as impressive as his current playing level when you consider the maturity –physical, mental and technical- he already enjoys. Already signed by the European powerhouse Winterthur FC Barcelona (he plays loaned in Bosna), he's a kid who should evolve into an elite wing for international basketball in the future (and, why not, eventually have the chance to pursue a hypothetical NBA dream).

[Read Full Article]

---
L'Hospitalet 2007: Reflections of A Poor Class
January 11, 2007
The other Balkan player in Spain is 6-6 Bosnian Nihad Djedovic, who recently signed a contract with Winterthur F.C.Barcelona and made first contact with his new team in L'Hospitalet, although he will continue the season playing in the Adriatic League with Bosna.

A regular starter in the top Balkan competition, Djedovic showed a very uncommon maturity on court for such a young kid (1990 born). Nicely athletic and quite strong for his age, he's a smart and very complete wing who displayed almost everything you can ask for this type of player. Basketball seems easy for him and he looks very natural playing the game. A quick guy, he was rather aggressive attacking his matchups with nice explosiveness, being quite effective finishing himself but particularly shining while finding his teammates open in the perimeter. All in all, he's a very good passer and decision maker. Djedovic also qualifies as a nice shooter despite looking a bit inconsistent. However, he has a very quick release and enjoys the ability of shooting off the dribble.

We have to devote special attention to the level of activity he shows on a regular basis. Nihad is restless, appears everywhere on court, never hiding himself on the offensive end and doing a terrific job on defense. He's quick on his moves, aggressive on the ball, and takes care of team defense, always willing to give a hand. Indeed, he got in foul trouble as a result in some games, limiting his minutes on the court (he finished averaging 14.2 points and 4.2 rebounds).

Despite all these accolades, which point towards an excellent career in the international scene, Djedovic's NBA potential appears rather diffuse. His athleticism, even if good for European standards, doesn't get to what's usually required to fill the most athletically demanding position, shooting guard. Perhaps depurating his shooting abilities he could make himself room as a specialist, but it's a long shot, and still too early to reach any solid conclusions.

[Read Full Article]

---
New Pearls in the Adriatic Sea Part Two
December 14, 2006
Djedovic is 6-foot-6 already, meaning that he already has enough size for the shooting guard position. He is a smooth athlete, not particularly explosive, but more then quick enough to get by defenders. He is quite strong for his age and shows impressive conditioning and durability.

In terms of skills, Djedovic relies mostly on his jump-shot at this phase of his career. He has good form and a smooth release, but lacks some consistency, as proven by his 34% average from the field. He is a good ball-handler and likes to put the ball on the floor, but has a lot of trouble finishing at the rim against opposition. Nihad shows great poise and ability for his age, especially on the defensive end, where he contributes more than on offense. He is a very good on ball defender, having nice lateral quickness, and looking very focused and motivated.

It is tough to evaluate a 16-year old in terms of his NBA draft potential, especially since we are talking about a European guard who doesn't have standout size or athleticism. Only time will tell how good Djedovic will become.

[Read Full Article]

---