Pierre Jackson
Recent Tweets
All Tweets
DraftExpress: Philadelphia takes Pierre Jackson at #42
2013-06-27 23:27:09
DraftExpress: DX Nets Combine Recap http://t.co/SNrO9i6wz1 What happened and who stood out (Pierre Jackson Kazemi Dellavedova Mbakwe Stephens more)
2013-05-24 14:12:05
DraftExpress: Using his standing reach from the NBA Combine & his vertical jump from the Nets Combine we've calculated Pierre Jackson's max-vert at 42.5".
2013-05-23 13:19:26
DraftExpress: Pierre Jackson really ran his team well today. Was terrific on the pick and roll. Got to the rim and made some shots too. Strong showing.
2013-05-23 12:25:19
DraftExpress: Pierre Jackson elected to compete here despite being ranked significantly higher than most and helped himself quite a bit today I think.
2013-05-23 12:24:22
Team: Baylor
Physicals
Positions
Salary
Misc
H: 5' 10"
W: 176 lbs
Bday: 08/29/1991
(24 Years Old)

Current: PG
NBA: PG
Possible: PG

Agent: Tony Dutt

High School: Desert Pines
Hometown: Las Vegas, NV
Drafted: Pick 42 in 2013 by Pelicans

Predraft Measurements
| Year | Source | Height w/o Shoes | Height w/shoes | Weight | Wingspan | Standing Reach | Body Fat | No Step Vert | Max Vert |
| --- | --- | --- | --- | --- | --- | --- | --- | --- | --- |
| 2013 | NBA Draft Combine | 5' 9.5" | 5' 10.5" | 176 | 5' 10" | 7' 6" | 4.5 | NA | NA |
| 2013 | Nets Workout | 0' 0" | 0' 0" | 175 | 0' 0" | 0' 0" | 0.0 | 35.0 | 42.5 |



Basic Per Game Statistics

- Comprehensive Stats - Statistical Top 25s

Player Page&nbsp&nbsp| Player Stats | Mock Draft History | Related Articles&nbsp&nbsp| Add to My Draft Express&nbsp
&nbsp
2013 Nets Combine Recap
May 24, 2013
After being forced to pull out of the second day of the NBA Combine due to illness, Jackson showed up in New Jersey despite other similarly highly rated prospects electing to pull out. That ended looking like a very smart decision, as he played very well and undoubtedly helped himself by showing off his terrific athletic ability pick and roll skills in person.

Pierre Jackson Interview at the Nets Combine:


Jackson got to wherever he wanted on the floor with his strong first step and excellent ball-handling skills, splitting defenders at will and threading the needle time after time with intelligent passes to rollers cutting to the basket or open shooters spotting up on the wing. He also showed off his perimeter shooting prowess with a number of off the dribble jumpers, even if he struggled at times to finish around the basket in traffic due to his average size and length. Jackson is hampered by his diminutive dimensions on the defensive end of the floor in particular. His 7'6" standing reach would be the smallest of any prospect in our historical database to ever play in the NBA. He did put a solid effort in in New Jersey, even though the player he guarded, Julius Mays from Kentucky, was able to score quite a few points.

[Read Full Article]

---
Trending Prospects: Pierre Jackson
April 25, 2013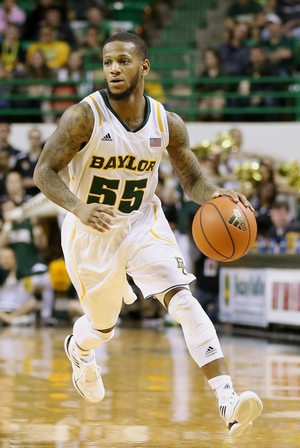 US Presswire



Derek Bodner

After two years of JUCO at the college of Southern Idaho, Pierre Jackson made a huge impact during his first season at Baylor. After the loss of Perry Jones III, Quincy Miller, and Quincy Acy from that squad, Jackson had an even larger role placed on his shoulders this year. After struggling somewhat in the Big 12 conference, finishing just 9-9 and missing out on a NCAA Tournament bid, Jackson responded well in the month of March, increasing his own personal production significantly while leading Baylor to the NIT championship.

Having to assume more of a scoring role, Jackson upped his scoring average to 21.8 points per 40 minutes, pace adjusted, a significant increase from the 17.6 he scored his first season at Baylor, with only a slight down-tick in efficiency due to his increased role, falling slightly from a 60% true shooting percentage to 58%. A big part of the reason Jackson was able to maintain his efficiency even with the increase in responsibilities was his ability to draw contact and get to the line, as Jackson increased his free throw attempts from 4.3 per-40 to 7.4.

In the half court, Jackson continues to prefer to operate out of pick and roll sets, where his combination of quickness, ability to change direction with his dribble and deadly pull-up jumper present a very tough package to defend as you very much have to pick your poison on what to focus in on defensively. According to Synergy Sports Technology, Jackson had an adjusted field goal percentage of 44.3% on jump shots off the dribble, which would be near the top 20th percentile in college basketball. With his extremely polished ball handling ability, Jackson is able to stop on a dime and gets very good elevation on his shot, which is key for somebody of his size.

Jackson's excellent shooting form extends to catch and shoot situations, where he is among the most efficient players in this draft class. His shooting form is virtually impeccable, with excellent balance, elevation, and follow through. His elevation allows him to successfully get shots off even when defended, something that would normally be a problem for somebody who is only 5'10".

Jackson has very good ball handling ability and quickness, and can change direction and speeds with relative ease. While he has an array of step back and pull-up jumpers, he's also very good at getting into the paint with either hand. An explosive athlete with good hang time and body control, who has done a much better job of drawing contact this season, Jackson can still at times struggle to finish over length. Perhaps more of an issue than his physical size is his decision making, which while it has improved greatly, he can still force up difficult shots that aren't always there.

Jackson's ability to get into the lane and how frequently he dominates the ball all but assures himself of a fairly good assist total, but he also displays solid court vision and passing ability, especially for a smaller player who may not have as many passing lanes available to him. His 7.8 assists per 40 minutes pace adjusted is 4th among players in our top 100 rankings, and even when adjusting for how many possessions he uses, he's one of the top guards in the country in assist rate.

One of Jackson's primary negatives last year was his decision making ability and high turnover rate, as he frequently suffered from baffling lapses of judgment, sometimes at critical ventures of games. While not completely solved – he still averages 3.7 turnovers per 40 minutes pace adjusted, 8th among top 100 prospects in our database – it's a fairly sizable improvement over the 4.5 he averaged last year. He will still try to force plays, both with his passes and his own shots, and will still at times get himself far too deep into the lane and out of control, but it was a noticeable improvement from last season. NBA decision makers will have to come to their own conclusions regarding why he struggled as much as he did against elite competition this season, where his numbers fell off dramatically (he shot just 32% for 3 and sported a near 1/1 assist to turnover ratio in eight games against top-25 teams), but it was difficult not to be impressed by the way he finished off the year.

Jackson's biggest negative at this time may be on the defensive end. His size, perhaps generously listed at 5'10", will always present significant matchup problems for him at the next level. Beyond that, while Jackson, when engaged, can move his feet well, it's his overall effort and attentiveness on this end of the court that may make it hard to find a spot for him at the next level. Jackson will simply fall asleep off the ball with alarming regularity. He also struggles to fight through screens, seemingly giving up very early in the process, resulting in a lot of unnecessary switches and defensive mismatches. Combine that with the disadvantage his height presents and the defensive side of the court is going to be a huge question mark decision makers have about his NBA prospects.

Pierre Jackson presents an intriguing combination of athleticism, perimeter shooting, and pick and roll play that warrants a look at a roster spot at the next level. If he can continue to improve his decision making and, just as importantly, show decision makers that he can adequately defend at the next level, he has the talent and athleticism to hear his name called on draft night.

[Read Full Article]

---
Top NBA Draft Prospects in the Big 12, Part Two
September 28, 2012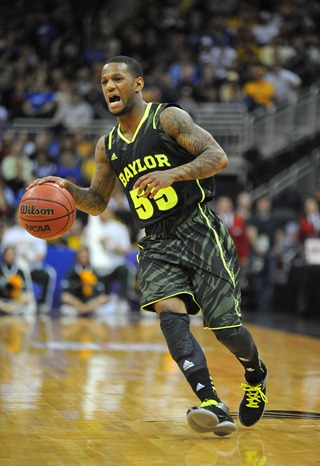 US Presswire



Jonathan Givony

An unheralded prospect coming out of high school, receiving recruiting interest from the likes of Long Beach State and San Diego State, Pierre Jackson was forced to spend his first two years of eligibility at the junior college level at Southern Idaho, after failing to qualify academically for Division I initially.

Two NJCAA championships and one NJCAA player of the year award later, Jackson was considered the #1 JUCO player in America, which paved his way to Scott Drew's Baylor squad in Waco.

Jackson came off the bench up until midway through the season, but for all intents and purposes he was Baylor's most important player virtually as soon as he stepped on campus, leading the team in minutes played on the season. He used more possessions than anyone else on the squad by a fairly wide margin, ranking second in the Big 12 in assists per-40, and sixth in 3-point percentage.

Severely undersized for a NBA point guard prospect at 5-10, Jackson makes up for what he lacks in height with outstanding athleticism. He has highlight reel caliber quickness and explosiveness, to go along with impressive ball-handling ability.

The majority of Jackson's offense comes on the pick and roll, where his excellent first step and ability to change speeds and directions quickly makes him difficult for opposing defenses to stay in front of. He can find the open man as the play develops, pull-up on a dime from the mid-range, or utilize a quick crossover to take the ball strong to the basket and finish above the rim with authority.

Jackson does a good job of finding open teammates in a variety of ways, be it making the extra pass in transition, improvising on the drive and dish or on lob plays within the set-offense. He anticipates teammates getting open and can make highly creative passes, showing solid court vision and unselfishness.

Jackson is an outstanding perimeter shooter with both his feet set and off the dribble, showing excellent mechanics, a quick release, deep range, and the ability to elevate and create separation sharply from his defender. He made 40% of his catch and shoot jumpers last season and an extremely impressive 41% of his pull-ups, sometimes from well beyond the college line.

While displaying a diverse skill-set and an overall impressive talent-level, Jackson still has plenty of work to do as a playmaker if he's to successfully transition his game from college to the NBA level. For starters, he ranked as the most turnover prone point guard amongst our top-100 prospects, coughing the ball up on a very high 27% of his used possessions last year.

Jackson isn't a solid and steady enough floor general at this stage, as he can be very up and down from game to game and sometimes possession to possession, looking extremely wild and suffering some serious mental lapses at times. He needs to improve his ability to control the rhythm of the game, as he can get very careless with the ball and try to force the issue badly at inopportune moments, being loose and unpredictable with the ball and attempting to make the spectacular play over the effective one when the scoreboard should dictate otherwise.

His shot-selection in particular can leave something to be desired, as for example, it's not entirely rare to see him bring the ball up the floor and jack up a contested 3-pointer early in the shot-clock before any of his teammates even touch the ball.

His lack of height doesn't leave him a huge margin of error in many cases with his decision making, as he just doesn't have the height to navigate his way through traffic against bigger defenders when he over-penetrates and runs into brick walls. Generally speaking, Jackson isn't a great finisher in traffic around the basket despite his ability to make highlight reel caliber plays, something that could become even more of an issue against taller and longer defenders in the NBA.

Like Baylor as a whole, Jackson was much better on the offensive end than he was on defense last season. With his quick feet and excellent hands, he has the ability to put pressure on the ball and will come up with a good number of steals every game, but he isn't terribly consistent in this area yet. His lack of size and length clearly affects him, making it difficult to contest the shots of bigger guards, but he also doesn't show great fundamentals or effort staying in front of opponents. He allows himself to get screened too easily and doesn't put up enough resistance on the perimeter, something that his team will try to mask at times by playing a good amount of zone.

All in all, Jackson did a very good job in his first season of real high-level organized basketball, coming out of the JUCO ranks. The transition to the division one ranks isn't always the smoothest for JUCO players, and he clearly still has room to continue to improve as he garners more experience running an offense against top competition. Jackson's lack of size will always work against him to a certain extent as far as NBA talent evaluators are concerned, but if he can find a way to iron out the weaknesses in his game, particularly with his decision making, he could certainly carve out a niche in the league.

[Read Full Article]

---