Rakeem Christmas
Recent Tweets
All Tweets
DraftExpress: The ACC's Top NBA Prospects (#25-30) Quinn Cook Okaro White Cameron Biedscheid Rakeem Christmas Eric Atkins http://t.co/MPu3i2Wf9W
2013-09-16 09:40:29
DraftExpress: Is Rakeem Christmas not even in Syracuse's rotation? Things are going to get crowded next year with DaJuan Coleman coming in and Melo back.
2011-11-23 11:13:59
DraftExpress: USA coach Don Showalter putting Anthony Davis, Rakeem Christmas and Michael Gilchrist through big man drills. http://plixi.com/p/90294895
2011-04-07 12:17:42
DraftExpress: Looking at DOBs...does anyone have any idea why Rakeem Christmas is so much older than his class? Almost two years older than Gilchrist.
2011-04-07 01:01:30
DraftExpress: Michael Carter-Williams and Rakeem Christmas discuss their future legacy with the Syracuse Orange: http://bit.ly/igdXY8
2011-04-05 07:31:03
Team: Syracuse, Senior
Physicals
Positions
Rankings
Misc
H: 6' 9"
W: 226 lbs
Bday: 12/01/1991
(22 Years Old)

Current: PF/C
NBA: PF/C
Possible: PF/C

Rank 46 in NCAA Seniors
RSCI: 25

High School: Academy of the New Church
Hometown: St. Croix, Virgin Islands

Predraft Measurements
| Year | Source | Height w/o Shoes | Height w/shoes | Weight | Wingspan | Standing Reach | Body Fat | No Step Vert | Max Vert |
| --- | --- | --- | --- | --- | --- | --- | --- | --- | --- |
| 2010 | LeBron James Camp | NA | 6' 9" | 226 | 7' 3" | NA | NA | NA | NA |
| 2010 | Amare Stoudemire Camp | NA | 6' 9" | 226 | 7' 3" | NA | NA | NA | NA |
| 2009 | LeBron James Camp | NA | 6' 9" | 222 | 7' 4.5" | NA | NA | NA | NA |
| 2009 | Amare Stoudemire Camp | NA | 6' 9" | 222 | 7' 4.5" | NA | NA | NA | NA |



Basic Per Game Statistics

- Comprehensive Stats - Statistical Top 25s
| Year | League | Name | GP | Min | Pts | FG | FGA | FG% | 2Pt | 2PtA | 2P% | 3Pt | 3PtA | 3P% | FTM | FTA | FT% | Off | Def | TOT | Asts | Stls | Blks | TOs | PFs |
| --- | --- | --- | --- | --- | --- | --- | --- | --- | --- | --- | --- | --- | --- | --- | --- | --- | --- | --- | --- | --- | --- | --- | --- | --- | --- |
| 2013/14 | NCAA | Rakeem Christmas | 34 | 23.6 | 5.8 | 2.2 | 3.6 | 61.3 | 2.2 | 3.6 | 61.3 | 0.0 | 0.0 | &nbsp | 1.3 | 1.8 | 72.6 | 2.1 | 3.0 | 5.1 | 0.7 | 0.5 | 1.9 | 0.8 | 3.1 |

Player Page&nbsp&nbsp| Player Stats | Related Articles&nbsp&nbsp| Add to My Draft Express&nbsp
&nbsp
Top NBA Draft Prospects in the Big East, Part Two
October 13, 2012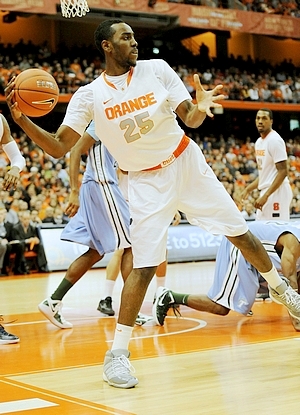 US Presswire



Matt Kamalsky

A McDonald's All-American and consensus top-25 recruit coming out of the Academy of the New Church in Pennsylvania, Rakeem Christmas played a fairly small role for the Orange as a freshman. Plugged into the middle of Jim Boeheim's zone for 11.5 minutes per-game, the 6'9 post struggled with foul trouble, but showed promise in a number of areas. With Fab Melo moving on to the NBA, Christmas will compete with junior Baye Moussa-Keita and incoming freshman DeJuan Coleman for minutes in the post for one of the nation's most talented teams.

Standing 6'9 with a 7'3 wingspan, Christmas has good dimensions for a power forward, but functioned primarily as a center last season. A very good athlete with a frame that has terrific potential to carry more muscle, Christmas, at the very least, passes the look test. As he evolves as an offensive threat, he could emerge as a more viable prospect at the power forward position, which he'll likely need to in time.

At this point, Christmas's offensive arsenal is mostly limited to catch and finish opportunities. Able to play above the rim effortlessly in space, the freshman shot 62% at the rim in his first year of college basketball. Benefitting from the versatility of Syracuse's deep, experienced back court, Christmas still needs to improve his touch around the rim to help him finish under defensive pressure and has plenty of room to expand his versatility and role for the Orange.

Christmas also has ample room to improve his overall skill level. He was, for all intents and purposes, never asked to create his own shot or make plays away from the rim. He did not attempt a single jump shot last season according to Synergy Sports Technology and lacked the polish to score with any consistency in post-up situations on either block. If Christmas is to reach his full potential, he'll need to find a way to contribute in back to the basket situations and become a more competent player away from the rim.

Christmas's best contributions came on the defensive end. Averaging a solid 10.3 rebounds and 2.9 blocked shots per-40 minutes pace adjusted, Christmas had some nice moments patrolling the paint last season, thanks to his terrific physical tools. Lacking discipline, seldom staying on the floor when encountering a pump-fake, and still clearly uncomfortable defending away from the rim, Christmas will have to become a more active, fundamentally sound defender to make the most of his abilities on this end of the floor. Perpetually in foul trouble, Christmas's ability to hold his own and be physical without fouling in the center of the Orange zone could be the biggest factor in his playing time this season.

Still in the early stages of his development, Christmas is a raw but intriguing long-term prospect thanks to his tremendous length and athleticism. If he's able to show significant development in a few key areas as a sophomore, he could gain some traction among scouts this season, but ultimately may end up needed more seasoning.

[Read Full Article]

---
2011 Nike Hoop Summit: USA Team Measurements
April 12, 2011
Rakeem Christmas
Height (with shoes): 6-9 ¼
Weight: 229
Wingspan: 7-3 ½

[Read Full Article]

---
Mcdonald's All-American Interviews: Plumlees vs Zellers, Cuse Recruits
April 5, 2011
Michael Carter-Williams and Rakeem Christmas discuss their future legacy with the Syracuse Orange.





[Read Full Article]

---
HoopHall Classic Scouting Reports: Elite Prospects (Part Two)
January 22, 2011
Jonathan Givony

There isn't much new to report about Rakeem Christmas (#16 Scout, #12 Rivals, #11 ESPN) following the very poor performance (3 points, 5 rebounds, 25 minutes) he put in at the HoopHall Classic, a game in which his squad blew a 16-point fourth quarter lead and lost to a very average team.

The 6-9 Christmas has clearly added weight and looks even more the part of a top prospect from a physical standpoint, with his excellent frame, super long arms and terrific athleticism. He's a quick jumper who runs the floor extremely well and can play well above the rim.

Beyond that, though, he clearly has a ways to go, as he has a very low skill-level offensively and has never really tried to exert himself in the half dozen or so times we've seen him play. His hands are somewhat questionable, his footwork in the post is poor, and his fundamentals on defense leave a lot to be desired. People who have watched him extensively report that these types of performances are not out of the norm for him, especially on this current high school team he plays for.

With that all that said, it's not difficult to see where the excitement about Christmas stems from, as players with his tools are very rare, and it usually takes big men longer to develop. His effort level, feel and polish will have to improve if he wants to get major playing time immediately at Syracuse, though, as he's going to play for a team that is returning a pretty solid frontcourt.

[Read Full Article]

---
Adidas Nations Tournament: High School Prospects
August 24, 2009
A consensus top-5 recruit in the 2011 high school class, it's easy to get enamored with Rakeem Christmas' (#5 Scout, #4 Rivals, #7 ESPN) upside. He passes the look test and then some on first glance, showing decent size, a good frame, long arms and downright freakish athleticism. Christmas (no relation to ex-Temple swingman Dionte Christmas) jumps out of the gym, runs the floor like a deer, and is extremely quick off his feet.

Offensively, Christmas is extremely limited at this point, which probably isn't a huge surprise considering the stage of development he's currently at. He gets most of his offense by running the court in transition, presenting himself at the rim for easy finishes, and crashing the offensive glass. On the block, he has very little in the ways of footwork or post-moves, and doesn't seem to be all that interested in scoring actually. Disinterested is a word that seems to come up a little more than you'd hope when it comes to Christmas, as he doesn't always seem to be competing all that hard, looking fairly apathetic at times and not really putting his terrific tools to good use.

Defensively, Christmas has huge potential, and he already can be very effective as both a shot-blocker and man to man defender when he puts his mind to it. His length and terrific leaping ability allows him to establish himself as a major presence rotating from the weak-side, and we saw him send back quite a few shots while watching him play, sometimes in emphatic fashion. His lack of strength makes it difficult for him to avoid being posted up by stronger big men, but his length and lateral quickness can be extremely bothersome, leaving a lot of room for optimism in this regard as his frame continues to fill out. He can already step out and hedge screens on the perimeter quite effectively, which is a nice asset to have from your big man.

Christmas is someone that obviously jumps off the page immediately right now thanks to the undeniable potential he possesses, mostly thanks to his terrific physical attributes. He's still got quite a ways to go obviously, though, especially in terms of the effort level he displays.

[Read Full Article]

---