Robbie Hummel
Recent Tweets
All Tweets
DraftExpress: Jaycee Carroll Robbie Hummel Jimmy Barron Matt Gatens Brad Oleson Michael Roll Chris Quinn all drawing paychecks here for making shots
2012-12-19 16:11:32
DraftExpress: DX Trending Prospects (1/12): Updated scouting reports on Arnett Moultrie, Kevin Jones, Robbie Hummel & Elias Harris - http://t.co/gXN7DKme
2012-01-12 07:21:32
DraftExpress: RT @goodmanonfox: Very difficult for me to be objective on Robbie Hummel. Here's my take on his latest setback - http://bit.ly/9That8
2010-10-16 02:16:59
Nemanja Bjelica is really disappointing relative to the amount of hype he has in Europe. Robbie Hummell is a similar prospect, just better.
2010-02-14 14:58:11
Top 25s - Full List
Team: Milano
Physicals
Positions
Rankings
Salary
Misc
H: 6' 8"
W: 218 lbs
Bday: 03/08/1989
(26 Years Old)

Current: SF/PF
NBA: SF
Possible: SF/PF

RSCI: 62

Agent: Mark Bartelstein
Current Salary:$880,000

High School: Valparaiso
Hometown: Valparaiso, IN
Drafted: Pick 58 in 2012 by Timberwolves
Best Case: Landry Fields
Worst Case: Lazar Hayward

Predraft Measurements
| Year | Source | Height w/o Shoes | Height w/shoes | Weight | Wingspan | Standing Reach | Body Fat | No Step Vert | Max Vert |
| --- | --- | --- | --- | --- | --- | --- | --- | --- | --- |
| 2012 | NBA Draft Combine | 6' 7.25" | 6' 8.5" | 218 | 6' 8.5" | 8' 6" | 9.4 | 27.5 | 30.0 |



Basic Per Game Statistics

- Comprehensive Stats - Statistical Top 25s
| Year | League | Name | GP | Min | Pts | FG | FGA | FG% | 2Pt | 2PtA | 2P% | 3Pt | 3PtA | 3P% | FTM | FTA | FT% | Off | Def | TOT | Asts | Stls | Blks | TOs | PFs |
| --- | --- | --- | --- | --- | --- | --- | --- | --- | --- | --- | --- | --- | --- | --- | --- | --- | --- | --- | --- | --- | --- | --- | --- | --- | --- |
| 2015/16 | Italian | Robbie Hummel | 8 | 23.8 | 11.1 | 4.4 | 7.6 | 57.4 | 2.5 | 3.6 | 69.0 | 1.9 | 4.0 | 46.9 | 0.5 | 0.6 | 80.0 | 1.3 | 4.1 | 5.4 | 1.0 | 1.3 | 0.0 | 1.0 | 3.1 |
| 2015/16 | EURO | Robbie Hummel | 7 | 22.7 | 5.7 | 2.4 | 7.3 | 33.3 | 1.7 | 4.4 | 38.7 | 0.7 | 2.9 | 25.0 | 0.1 | 0.3 | 50.0 | 0.7 | 2.7 | 3.4 | 0.9 | 0.6 | 0.0 | 0.9 | 2.6 |

Player Page&nbsp&nbsp| Player Stats | Mock Draft History | Related Articles&nbsp&nbsp| Add to My Draft Express&nbsp
&nbsp
NBA Combine Interviews: Barnes, Miller, Hummel
June 16, 2012
[Read Full Article]

---
Trending Prospects (1/12/2012)
January 12, 2012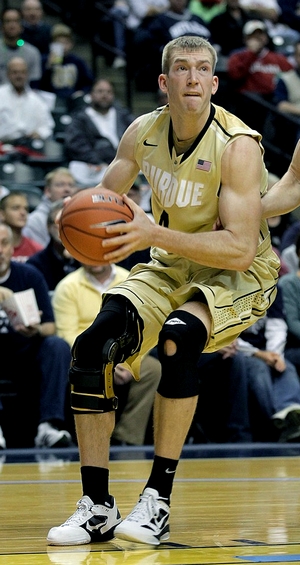 Icon SMI



Walker Beeken

After sitting out all of the 2010-2011 season with his second torn ACL, Robbie Hummel has returned for his fifth season at Purdue, where he finds himself playing for the first time without classmates JaJuan Johnson and E'Twaun Moore, both of whom are now playing in the NBA. Their departures have thrust Hummel into a larger role offensively, which so far he's handled with mixed results.

The 6'8" face-up power forward has changed his body quite a bit since arriving at Purdue with a skinny, under-developed frame back in 2007. While his stronger, bulkier upper body helps him compete with opposing Big Ten big men, he has noticeably lost some of his mobility and quickness, which may change the way scouts envision him potentially fitting in at the NBA level.

Perhaps Hummel's biggest asset as an NBA prospect is his ability to shoot the ball from the perimeter. Playing the four spot at Purdue, he's able to draw opposing big men away from the basket and get many of his looks spotting up. He's shooting a solid 39% from 3-point range so far this season, fairly consistent with his previous years. This is impressive considering his increase in attempts and the higher degree of difficulty as the team's primary scorer. He has a quick release and a high release point, allowing him to get off of his shot without needing much space, whether spotting up or running off screens.

He also does a nice job utilizing shot-fakes on close-outs and is able to put the ball on the floor for a few dribbles in either direction to set himself up for pull-up jumpers. He's struggled with his jump shot off the dribble this season, however, connecting on only 31% of his attempts, which has led to a mediocre 53% true shooting percentage, the lowest of his career. Some of this may be attributed to getting back to full strength on his knee, as he appears to lack lift when pulling up.

In addition to his outside shooting, Hummel also possesses an excellent feel for the game and a very good overall skill level for a player his size. His lack of explosiveness limits his ability to make plays off the bounce, but he's comfortable handling the ball anywhere on the floor, and he shows good vision and passing instincts.

An appealing trait to NBA teams will likely be Hummel's willingness to accept his limitations and play within the flow of the team concept. Despite the heavy load that he carries offensively for the Boilermakers, he rarely forces the issue, as evidenced by the fact that he's turned the ball over on only 7% of his possessions thus far, leading all forward prospects in our database.

As we've mentioned before, Hummel's biggest question marks as an NBA prospect may come on the defensive end, as he lacks the prototypical athleticism to defend at the NBA level. At this point, Hummel's best chance for success defensively may be playing as a power forward. He doesn't have near the footspeed or lateral quickness to defend NBA small forwards on the perimeter, and while he may still be undersized at 6-8, his added strength would help him against some of the bigger players he'd face on a regular basis.

To help make up for his physical limitations, Hummel shows a very good understanding of positioning and communication, having played for one of the top defensive programs in the NCAA over his last five years. He also plays extremely hard, displaying great toughness and energy. As a below average rebounder as a power forward, he'll need to fight hard on every possession to compete, something that will always likely be considered a shortcoming considering his physical limitations.

A full healthy season may be as important as anything for Hummel as teams will surely have concerns over his chronic injury history (back issues as a sophomore and two torn ACL's). His health issues and lack of physical tools will make landing in the first round a long shot, but if he can prove to be a dependable perimeter shooter, his excellent intangibles and willingness to fill a role should earn him some looks from NBA teams as they look to fill out their final roster spots.

[Read Full Article]

---
Top NBA Draft Prospects in the Big Ten, Part Two (#6-10)
September 3, 2010
Walker Beeken

There are lofty expectations for the Purdue Boilermakers as they enter the 2010-2011 season. A good share of the burden of reaching those expectations could fall on the shoulders of senior forward Robbie Hummel. After suffering a season-ending ACL tear in his right knee last February, Hummel will be back as a senior to prove that he is healthy and his knee is back to full strength. If that indeed is the case, the Boilermakers are legitimate contenders for a Final Four run, and Hummel should garner plenty of attention from NBA scouts.

Last season as a junior, Hummel took on a larger role offensively and increased his scoring output to 15.7 ppg, up from 12.5 ppg as a sophomore, while continuing to display the unselfishness, passing ability, and high basketball IQ that we'd grown accustom to seeing in his first two seasons.

Playing primarily as a face-up power forward in coach Matt Painter's system at Purdue, Hummel has a very versatile game with the ability to operate on the perimeter and also mix it up inside a bit. While he isn't the type of player who is going to create many plays off the dribble, due to his lack of explosiveness, he does possess very good ball-handling skills for a player his size. He also moves well without the ball, cutting to open spaces, and seems comfortable catching the ball and making plays from different areas of the floor. He has the size and skill set of an NBA small forward, but he could also potentially be utilized as more of a stretch four man in the NBA, which we're seeing much more of as teams put a premium on spacing the floor with shooters.

On the offensive end, the one word that describes Robbie Hummel's game is efficient. Hummel was seventh of all players in our database last season in points per possession at 1.29, and he also led all frontcourt players in our database in assist to turnover ratio at 2 to 1. His ability to make the most of his touches and be effective without needing the ball in his hands should serve him well as he attempts to make the transition to the NBA as a role player.

Hummel has shown flashes of being a very good shooter over the course of his first few seasons. He shot an outstanding 90.2% from the free throw line last season as a junior, which shows that he has the stroke to be a more consistent shooter from the floor as well. According to Synergy Sports Technology, Hummel shot a respectable 36.1% on catch-and-shoot opportunities last season. This is still an area where he needs to improve if he's going to have a chance to succeed at the NBA level though, as his value on the offensive end will be heavily dependent on his ability to spread the floor and knock down open jump shots. Hummel shot 45% from beyond the arc as a freshman, and 38% last season, so we do know that that ability is there.

As we've mentioned before, the main concern with Hummel when trying to project him to the NBA level is trying to figure out who he will be able to defend. He spends the majority of his time playing the power forward position at Purdue, and while he has noticeably improved his body and gotten stronger since his freshman season, he's still undersized to defend the post in the NBA. Against NBA small forwards, Hummel lacks the lateral quickness to contain dribble penetration on the perimeter. He does, however, display excellent awareness and instincts, and his energy level and toughness are off the charts, all of which can help to cover up for some his physical limitations.

Overall, Hummel possesses many of the intangibles that NBA scouts covet when searching for players to fill out their rotation or earn minutes as a role player off the bench. But after a sophomore year plagued by a bad back, and a junior year cut short by a serious knee injury, teams may wonder if he is too injury prone to play an 82 game season. To firmly assert himself as a legitimate NBA prospect, he'll need a healthy senior season displaying that his injury woes are behind him, and then a clean bill of health from NBA doctors at the Combine.

[Read Full Article]

---
Top NBA Draft Prospects in the Big Ten, Part Two (#6-10)
August 31, 2009
Joey Whelan

Perhaps no player will enter the Big Ten season with more questions surrounding him than Robbie Hummel. After a dynamic freshman season that saw the combo-forward emerge as one of the best shooters in college basketball, the Indiana native entered his sophomore campaign as the preseason odds on favorite to bring home Big Ten Player of the Year honors.

Of course, we all know how the year played out. Hummel had respectable numbers, but didn't come close to living up to the early season hype as a result of playing the majority of the season with a mild stress fracture in the L-5 vertebrae in his lower back. He only missed five games, but the combination of pain and playing with a back brace certainly took its toll on Hummel as the season progressed. So the two big questions entering this season will center on the status of his back both in the short and long term as well as whether or not we can expect more performances like the freshman year two seasons back.

Hummel's physical makeup has already been discussed several times on this site, earning him points because of his size for the small forward position, but leaving something to be desired with his average at best athleticism. What the junior lacks in physical ability he makes up for with toughness, smarts and craftiness on the offensive end.

The forward's game was and still is built around operating on the perimeter, despite the fact that he sees significant playing time at the power forward position. Just over half of his field goal attempts in fact came from beyond the arc. For a player like Hummel it shouldn't come as a surprise that the majority of his touches result in him catching and shooting rather than attacking the basket off the dribble. He has a smooth, quick release, but as was the case during his freshman season, he often shoots the ball off balance, something that became more pronounced as he struggled with his back. Any hopes that Hummel has of landing in the NBA may hinge on his ability to shoot the lights out from beyond the arc as he did during his freshman season – his 38.1 percent clip last year certainly won't impress scouts nearly as much as the 45% he shot as a sophomore.

As versatile of a player as Hummel is, his threat as a scorer starts to diminish when he puts the ball on the floor. He possesses good handles and is crafty enough to break defenders down, but he lacks strength and a great first step, and doesn't elevate particularly well. Many of the forward's driving attempts in the lane often look awkward as a result of his average leaping ability and poor strength.

Still, Hummel converts at a pretty good rate when on the move because he has such a good grasp of how to move with and without the basketball. He rarely stands still when he doesn't have the ball, often looking for open spots and lanes on the floor. While he may not be able to beat many defenders off the dribble, he knows how to set himself up to get the ball in a situation where he will have an angle on his opponent.

The same advanced understanding extends to how he runs the break for the Boilermakers. Hummel runs the floor almost like a quarterback watches a defense breakdown over the line of scrimmage. The forward will often times trail a play, watch how the lanes shape up and then attack an open seam for an easy look from one of his teammates. Hummel sports a near-2 to 1 assist to turnover ratio, which is almost unheard of for a college power forward.

Defense still continues to be a major concern for Hummel. His 208-pound frame is still too thin to handle covering players in the post and he doesn't have the lateral quickness to cover smaller perimeter players. From an NBA standpoint he is very much a tweener at this end of the floor and that could certainly work against him. He does show good instincts, which allows him to intercept a fair number of passes and even come up with the occasional block, but that alone will not make up for his physical shortcomings here. He is an excellent rebounder, though, averaging nearly 10 boards per-40 minutes pace adjusted last season, an excellent rate.

This season will tell us a lot about the future for Hummel as far as the NBA is concerned. If his back is completely healed and he returns to the same form he was in as a freshman, we're looking at a player who at the very least will get strong looks from the NBA. There are plenty of individuals in the League who do nothing more than shoot well from the perimeter; Hummel does plenty more than that. He can score off the dribble, albeit he doesn't excel here, he is tough, smart and can pass exceptionally well for a bigger forward.

If he continues to have issues with his back though and perform as inconsistently as he did the final two and a half months of last season, the NBA may be nothing more than a pipe dream for the Purdue star.

[Read Full Article]

---
Top NBA Draft Prospects in the Big 10 (Part One: #1-5)
September 10, 2008
As a freshman, Purdue forward Robbie Hummel helped the rebuilding Boilermakers finish the regular season with a 23-7 record and win an NCAA tournament game. He finished his freshman campaign as the Big 10's top marksman, shooting a blistering 44.7% from beyond the arc on 2.8 attempts per game on his way to 11.5 points, 6.1 rebounds, and 2.5 assists per game. After his freshman season, Robbie Hummel established himself as a great perimeter shooter with an extremely aggressive mindset, a terrific basketball IQ and big holes in his game on both sides of the floor.

At 6'8 and capable of playing on the perimeter as well as in the post, Hummel is the ultimate college mismatch. He is not a bad athlete by any measure at the college level, though compared to most NBA small forwards, he is well below par. Weighing in at just 208 pounds last season, it is essential that Hummel add muscle to his frame and get stronger, especially if he wants to be more effective around the basket and in the post.

As of now, though, the post does not factor much into Hummel's offense. He is first and foremost a scorer away from the basket. His spot-up perimeter jumpshot is relatively consistent, but despite his high percentages, seems to be a work in progress. He possesses a quick release, but begins his shooting motion too far away from his body and releases his shot off-balance. That said, he can and will take his shot from anywhere within his range, which extends to beyond the NBA three-point line.

Hummel also showed the ability to attack the basket off of the dribble. Though he doesn't have a very good first step, he is a crafty and competent enough dribbler by a lot of the collegiate post-defenders that have the misfortune of guarding him 20-feet from the basket, even if he clearly favors his right hand. Off of the dribble, he also shows nice court vision and creativity, passing the ball extremely well. Out of all players in our database, Hummel ranked in the top 25 in assist to turnover ratio, which is impressive considering that he's a forward and most of the players alongside him there were point guards.

If he's to make it, Hummel's future in the NBA will obviously be on the perimeter, and thus he would be best served working on polishing up his skill-set over the next 2-3 years in college. His mid-range pull-up jumper is fairly weak right now, and he avoids going to his left hand any time he puts the ball on the floor.

Unfortunately, many of his physical flaws follow him to the defensive end. He shows poor lateral quickness on the perimeter and is often beaten by his man. In the post, his lack of strength hurts him both in one-on-one situations as well as on the defensive glass where he averaged 3.5 defensive rebounds per game. Basically, he must become a better defender both inside and out if he wants to have a shot at the next level.

Despite his flaws, he was still one of the most versatile and skilled freshman forwards in the NCAA. Without ideal NBA athleticism, however, he is going to have to show scouts that he has grown as a basketball player on both sides of the floor in this coming season if he wants to keep his name firmly in future draft consideration. It will likely be his smarts, aggressiveness and winning mentality that endears him to NBA types, rather than his natural physical tools.

[Read Full Article]

---
NCAA Weekly Performers, 2/13/08-- Part One
February 13, 2008
One of the more versatile freshmen in this class probably deserves a mention before the season is up, particularly considering how well both him and his team are playing as of late. Purdue knocked off #8 ranked Wisconsin on the road this past weekend, and then proceeded to beat #9 Michigan State on their home floor. That leaves them in first place in the Big 10, which is absolutely fantastic for a team that lost two incredibly productive seniors in David Teague and Carl Landry this summer, and is currently starting four freshmen. One of those freshmen is Robbie Hummel, and he stepped up his game in a huge way over the past few days in both of those games, coming up with 21 points and 4 rebounds at Wisconsin, and then 24 points and 11 rebounds against Michigan State.

The 6-8 combo forward is a big time mismatch threat on the collegiate level. He is a decent athlete who does a little bit of everything for Purdue, knocking down shots, setting screens, taking the ball to the basket, moving off the ball intelligently, grabbing offensive rebounds, blocking shots, getting steals, and more. He's an extremely active player who plays the game with great passion and seems committed to winning, and is very unselfish with fantastic passing skills to boot, as his 2.7 assists (compared to just 1.4 turnovers) would attest. He can put the ball on the floor with either hand, but lacks a great first step and is not a strong enough ball-handler to consistently create his own shot at this point. When he does get to the basket (often with some very smart cuts), he might lack a bit of strength to finish, as his frame looks underdeveloped at the moment and will probably take a few years to fill out.

Hummel shows good promise as a shooter, as evidenced by the 46% he is hitting from behind the arc this season. He is solid with his feet set, showing a very quick release, but has extremely unorthodox mechanics, looking unbalanced in his footwork, jumping forward, and releasing the ball from a low (but consistent) vantage point. He only takes about two 3-pointers per game at this point (a very low amount), so we'll have to see how he progresses in this area. Hummel can put the ball on the floor once and pull-up off the dribble, but this does not look like a great strength of his at this point, and he can probably still get more consistent in all areas of his shooting.

Defensively is where Hummel will have to improve the most to be considered a small forward prospect over the next few years. His lateral quickness is extremely poor, struggling to stay in front of virtually anyone when guarding the perimeter, as he lacks footwork, is too upright, and does not have the strength to fight through screens. Right now it looks like he'll be fighting an uphill battle unless he improves significantly in this area.

Hummel looks like a great get for Purdue and should be around for a few more years in order for us to continue to evaluate. He's the type of player who will endear himself to scouts only through producing and winning games, and not through his upside.

[Read Full Article]

---