Team: Jazz
Physicals
Positions
Rankings
Salary
Misc
H: 6' 8"
W: 208 lbs
Bday: 10/20/1992
(23 Years Old)

Current: SF
NBA: SF
Possible: SF

RSCI: 26

Agent: Travis King
Current Salary:$1,290,360

High School: Meridian
Hometown: Meridian, MS
Drafted: Pick 23 in 2014 by Jazz

Predraft Measurements
| Year | Source | Height w/o Shoes | Height w/shoes | Weight | Wingspan | Standing Reach | Body Fat | No Step Vert | Max Vert |
| --- | --- | --- | --- | --- | --- | --- | --- | --- | --- |
| 2014 | NBA Draft Combine | 6' 7.25" | 6' 8.5" | 208 | 6' 8.5" | 8' 7" | 7.5 | 29.0 | 36.0 |
| 2012 | LeBron James Camp | NA | 6' 8.5" | 201 | 6' 8" | NA | NA | NA | NA |
| 2012 | Kevin Durant Camp | NA | 6' 8.5" | 204 | 6' 8.5" | NA | NA | NA | NA |
| 2010 | LeBron James Camp | NA | 6' 8" | 188 | 6' 7.5" | NA | NA | NA | NA |
| 2010 | Kevin Durant Camp | NA | 6' 8" | 188 | 6' 7.5" | NA | NA | NA | NA |
| 2010 | NBA Top 100 Camp | 6' 7" | NA | 187 | 6' 8" | 8' 8" | NA | NA | NA |



Basic Per Game Statistics

- Comprehensive Stats - Statistical Top 25s
| Year | League | Name | GP | Min | Pts | FG | FGA | FG% | 2Pt | 2PtA | 2P% | 3Pt | 3PtA | 3P% | FTM | FTA | FT% | Off | Def | TOT | Asts | Stls | Blks | TOs | PFs |
| --- | --- | --- | --- | --- | --- | --- | --- | --- | --- | --- | --- | --- | --- | --- | --- | --- | --- | --- | --- | --- | --- | --- | --- | --- | --- |
| 2015/16 | NBA | Rodney Hood | 15 | 30.1 | 13.1 | 4.7 | 11.2 | 42.3 | 3.4 | 6.5 | 52.0 | 1.3 | 4.7 | 28.6 | 2.3 | 2.6 | 87.2 | 0.4 | 1.8 | 2.2 | 3.1 | 1.3 | 0.3 | 1.7 | 3.4 |

Player Page&nbsp&nbsp| Player Stats | Mock Draft History | Related Articles&nbsp&nbsp| Add to My Draft Express&nbsp
&nbsp
2014 NBA Draft Media Day Interviews: McDermott, Hood, Warren
June 26, 2014
[Read Full Article]

---
Situational Statistics: the 2014 Small Forward Crop
June 20, 2014
Rodney Hood ranks as the highest usage and most efficient pick and roll ball handler in this group. His 1.26 points per possessions on 2.2 possessions per-game are the result of his very good overall shooting numbers. He scored a 2nd ranked 1.11 points per-pull-up jump shot and above average 1.29 points per shot around the rim. While Hood is not a tremendous athlete, and got to the rim on a well below average 23.3% of his shots in the half court last season, his ability to score efficiently from the outside should give him a chance to make an impact early in his career in some capacity.

[Read Full Article]

---
Rodney Hood vs K.J. McDaniels - Head to Head Matchups Video Analysis
June 19, 2014
A detailed video analysis by Mike Schmitz of how Rodney Hood and K.J. McDaniels performed in their two head to head matchups versus each other in college this past season.





More Situational Videos from Mike Schmitz



-Andrew Wiggins vs Jabari Parker
-Dante Exum vs Team USA at the FIBA U19 World Championships
-Zach Lavine w/out Jordan Adams/Kyle Anderson
-Clint Capela vs Jusuf Nurkic
-Jabari Parker vs NBA Length
-Nik Stauskas vs Gary Harris
-Noah Vonleh vs NBA Length
-Elfrid Payton vs Elite Competition
-Doug McDermott vs NBA Length
-Jabari Parker vs Aaron Gordon
-Joel Embiid vs NBA Caliber Centers
-Julius Randle vs NBA Length
-Andrew Wiggins vs Marcus Smart
---
Take a look at our new video section for a compilation of all the videos we've produced this year.
[Read Full Article]

---
2014 NBA Combine Interviews: Rodney Hood, Russ Smith, Alex Kirk
May 18, 2014
[Read Full Article]

---
Rodney Hood Scouting Report and Video Breakdown
April 2, 2014
Rodney Hood had a short stay in Durham at Duke, putting together one season which earned him Second-Team All-ACC honors after sitting out as a transfer from Mississippi State. Now that his college career is over, we can now take a step back and conduct an inventory of everything he displayed this season as an NBA prospect, as well as the things he still has to improve on.
---
-Doug McDermott Scouting Report and Video Breakdown
-Andrew Wiggins Scouting Report and Video Breakdown
-Elfrid Payton Scouting Report and Video Breakdown
-Marcus Smart Scouting Report and Video Breakdown
-NBA Draft Prospect of the Week: C.J. Wilcox (Video Scouting Report)
-NBA Draft Prospect of the Week: T.J. Warren (Video Scouting Report)
-NBA Draft Prospect of the Week: A.J. Hammons (Video Scouting Report)
-NBA Draft Prospect of the Week: K.J. McDaniels (Video Scouting Report)
-NBA Draft Prospect of the Week: Deonte Burton (Video Scouting Report)
-NBA Draft Prospect of the Week: Noah Vonleh (Video Scouting Report)
-NBA Draft Prospect of the Week: Nik Stauskas (Video Scouting Report)
-NBA Draft Prospect of the Week: Aaron Gordon (Video Scouting Report)
-NBA Draft Prospect of the Week: Clint Capela (Video Scouting Report)
-NBA Draft Prospect of the Week: Thanasis Antetokounmpo (Video Scouting Report)
-NBA Draft Prospect of the Week: Shabazz Napier (Video Scouting Report)
-NBA Draft Prospect of the Week: Bogdan Bogdanovic (Video Scouting Report)
-NBA Draft Prospect of the Week: Joel Embiid (Video Scouting Report)
-NBA Draft Prospect of the Week: Julius Randle (Video Scouting Report)
-NBA Draft Prospect of the Week: Jabari Parker (Video Scouting Report)
-Revisiting Giannis Antetokounmpo (Video Scouting Report)
-Revisiting Damian Lillard (Video Scouting Report)
-Revisiting Nikola Mirotic (Video Scouting Report)
-Revisiting Alexis Ajinca (Video Scouting Report)
---
Hood looks the part of a NBA wing, standing 6-8 in shoes with a lanky build and smooth and fluid (but not incredibly explosive) athleticism. He made 42% of his 3-pointers on the year and is one of the better shooters in this draft class, showing excellent mechanics and a high release point, to go along with deep range, and being capable of knocking down jumpers with his feet set or off the dribble. He hit 37 of the 85 pull-up jump-shot attempts he took on the season (43%), which ranks #1 among college prospects in our Top-100 Rankings.

Hood has a solid feel for the game, as he rarely turns the ball over (10% turnover rate), and posted the third best PPR among small forwards in our Top-100. He's unselfish, sees the floor well, and executes offensively in the half-court, which his next coach will certainly appreciate.

Hood is generally an efficient player offensively, as he takes what the defense gives him and rarely looks out of control. He's a solid straight-line ball-handler, particularly attacking closeouts, but was also given some ball-handling responsibilities in the half-court. Duke relied primarily on small-ball lineups this year, with Hood seeing a good amount of minutes at the power forward position, where he can be very effective as a mismatch threat against slower collegiate big men, particularly with the terrific spacing his team displayed. 32.5% of his offense came off isolation plays and on the pick and roll, even if it remains to be seen how much of a shot-creator he'll be in the NBA when he's asked to move down one or two positions and is guarded by legit wing defenders.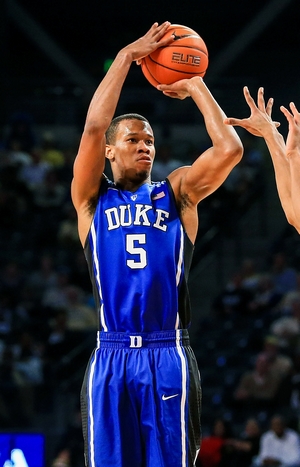 US Presswire



Hood's biggest weakness as a NBA prospect likely revolves around his defense, as he shows questionable intensity on this end of the floor, rarely getting into an actual stance and frequently being knocked off balance and taken advantage of off the dribble due to his lack of strength. His relatively short arms don't do him any favors here, as he measured just a 6-8 wingspan on a few occasions, which is accurately reflected in his inability to generate steals (.9 per-40), blocks (.3) or rebounds (4.9), all of which rank among the worst rates in the draft at his position.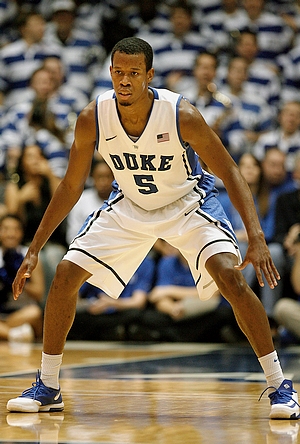 US Presswire



Hood has decent lateral quickness, so he could end up becoming at least adequate in this area, but he'll have to improve his motor and hustle quite a bit and also get stronger and tougher, as he allows himself to get pushed around without resistance more than you'd hope.

This shows up on the offensive end as well, as he tends to shy away from contact somewhat around the basket, and doesn't get to the free throw line at a very high rate. His very low 2-point percentage (49%) doesn't inspire a great deal of confidence in his ability to develop into a high volume shot-creator inside the arc at the NBA level, as he's not a terribly advanced ball-handler and avoids finishing around the basket with his right hand like the plague.

Hood's ability to space the floor with his terrific jump-shot is certainly a coveted asset in today's NBA, but there are some question marks about what else he can contribute immediately besides that. Although he's only played two years of college basketball, he's not particularly young relative to this draft class—he will turn 22 right before his NBA rookie season starts-- so it remains to be seen how much upside he still has at the same time. Hood is currently the fifth oldest player currently projected to be drafted in the first round, only one of whom (McDermott) is slated to be picked in the top-20.

Matchups against the likes of Arizona, Virginia, Michigan, Kansas, UCLA, Syracuse, Pittsburgh, North Carolina and others have given us ample opportunity to evaluate Hood's very defined strengths and weaknesses as a prospect, which we've done in the following video scouting report, courtesy of Mike Schmitz.



All of our video scouting reports this season can be found here.

[Read Full Article]

---
Top NBA Draft Prospects in the ACC, Part Five (#5-9)
September 10, 2013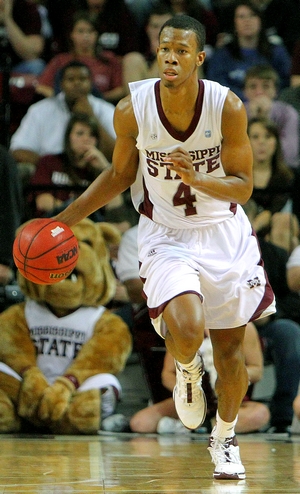 US Presswire



Josh Riddell

Rodney Hood finds himself moving from one of the most tumultuous teams, the Renardo Sidney-led 2011-12 Mississippi State Bulldogs, to one of the most stable programs in Duke University. Hood was highly ranked coming out of high school (#26 according to the 2011 RSCI but didn't find the level of success he hoped for in his freshman season. Hood has not played in over a year due to the transfer and is coming off an , sustained in the tryout process for the USA Basketball Men's University Games. He enters his redshirt sophomore season with a loaded Duke recruiting class and hopes to see an overall improvement in his production.

A smooth, lanky lefty standing 6'8" and weighing around 200 pounds, Hood has average length, sporting a 6'8" wingspan on his lean frame. He has good speed, allowing him to get up and down the floor quickly but didn't show great explosiveness his freshman season. He won't wow scouts with his athleticism, so he will need to show more refined offensive skills after being out of the spotlight for nearly 18 months.

Hood was primarily a jump-shooter at Mississippi State, with 80% of his shot-attempts in the half-court coming off jumpers. Hood was absolutely deadly in catch and shoot situations behind the 3-point line, shooting 46.9% in these situations while averaging 1.39 points per possession, according to Synergy Sports. When guarded, he likes to give the defender a ball fake, take one dribble and shoot a midrange jump shot. Just an average ball-handler and overall shot-creator, he didn't get to the rim all that often as a freshman, turning himself into somewhat of a one dimensional player. Scouts will want to see whether he has evolved his game from simply an outside shooter to a more dynamic all-around offensive player.

Not possessing an explosive first step, nor a great deal of advanced ball-handling moves in the half-court, Hood nevertheless has room to improve on his floor game. He has a nice feel for the game and always seems to be under control with the ball in his hands, as he averaged 2.4 assists per 40 minutes pace adjusted to only 1.1 turnovers per 40 pace adjusted. He contributes to his team's ball-movement and does a good job of entering the ball into the post. Hood is comfortable driving both to his left and to his right, even if he rarely gets all the way to the rim, although drives to his right usually end with a cut or spin move to get back to his favored left hand.

Defensively, Hood has the ability to guard multiple positions, although he projects best as a small forward. He uses his length and quickness to slow down offensive players in one on one situations and moves his feet well to make it difficult to get around him.

Hood's biggest issues defensively revolved around his lack of intensity and tendency to play at half speed at times. He struggles in defending screening situations, as he gets caught up in the screen as he attempts to fight over the top. When he gets screened, he often gives up on the play, taking himself completely out of the resulting action.

Hood will turn 21 in October, which makes him old compared to his peers as he enters his second collegiate season. Scouts will want to see whether Hood used his redshirt season to get into the weight room, as some added strength will help him on both ends of the floor. A boost in bulk will help him become a better finisher at the rim in traffic and give him the necessary strength to defend players of his size.

Coach Krzyzewski is one of the best in terms of establishing roles for his players, as well as adapting his strategies to fit the strengths of his team. Hood will be joining a team filled with several players with similar skill sets, such as Jabari Parker, Alex Murphy and others. He may be called upon to become more of a ball-handler to fill a team need. Hood will need to balance his established role at Duke, whatever that ends up being, with his desire to show an expanded offensive game to scouts.

Since Hood hasn't seen the court in a game setting in over a year, it's hard to assess his NBA draft prospects at this point. As long as Hood doesn't fall back into the trap of taking plays off or not finishing plays, he should find himself as a key member of the Duke rotation, as it's difficult to find many players his size who can shoot the ball as effectively as he can to go along with a good feel for the game. This will give him the opportunities to show what he can do to NBA scouts on a big stage night after night with one of the top teams in the nation.

[Read Full Article]

---
Adidas Nations Tournament: High School Prospects
August 24, 2009
Although he was nowhere near as polished as most of the other high school prospects in attendance, there was still a lot to like about the long-term potential that Rodney Hood (#28 Scout, #91 Rivals, #40 ESPN) displayed.

Showing good size for a wing player at around 6-7, with a terrific wingspan, a nice frame and solid athleticism, Hood clearly has ample physical tools. He's a heady, unselfish player who made some very smart passes, especially on the pick and roll, and also knocked down a couple of pretty mid-range and long-range jumpers, even off the dribble at times. He can get to the rim, but doesn't have much of a left hand, and seemed to struggle finishing through contact due to his lack of strength. He seems to have a nice feel for the game, though, and appeared to be a good teammate.

Hood is a raw player all in all, as his ball-handling skills are still a work in progress, his shot a bit streaky, and he goes through long stretches of unproductiveness, looking too passive trying to make his presence felt on the court. Regardless, he's an interesting guy to keep tabs on in the future.

[Read Full Article]

---