Rudy Gay
Recent Tweets
All Tweets
DraftExpress: Always very productive watching NBA players like Rudy Gay work out. Great way to recalibrate, reassess what an elite-level talent looks like
2011-08-29 03:30:18
DraftExpress: This is Rudy Gay's first day at @impactbball after rehabbing his shoulder all summer. Looks pretty damn healthy to me. Physical specimen...
2011-08-29 02:33:27
DraftExpress: Thanks to Irene, I'm at @impactbball in Vegas for the next two days. Watching Rudy Gay, Jared Dudley, Kyle Lowry, James Anderson & many more
2011-08-29 02:32:11
DraftExpress: Heard Cleveland offered Memphis their #4 pick in exchange for Rudy Gay (w/help of their trade exception). Memphis rejected
2011-05-23 12:28:06
DraftExpress: My guess is UConn comes out w/two tanks. Calhoun's had chances to use big 3s (S-Robinson, Rudy Gay) at 4 like most coaches do, but never has
2011-03-24 07:14:50
Top 25s - Full List
Team: Kings
Physicals
Positions
Rankings
Salary
Misc
H: 6' 8"
W: 222 lbs
Bday: 08/17/1986
(29 Years Old)

Current: SF
NBA: SF
Possible: SF/PF

RSCI: 5

Agent: Alex Saratsis
Current Salary:$19,317,326

High School: Spalding
Hometown: Baltimore, MD
Drafted: Pick 8 in 2006 by Rockets
Best Case: Shawn Marion
Worst Case: Travis Outlaw

Predraft Measurements
| Year | Source | Height w/o Shoes | Height w/shoes | Weight | Wingspan | Standing Reach | Body Fat | No Step Vert | Max Vert |
| --- | --- | --- | --- | --- | --- | --- | --- | --- | --- |
| 2006 | NBA Pre-Draft Camp | 6' 7" | 6' 8" | 222 | 7' 3" | 8' 11.20" | 5.7 | 33.0 | 40.5 |



Basic Per Game Statistics

- Comprehensive Stats - Statistical Top 25s
| Year | League | Name | GP | Min | Pts | FG | FGA | FG% | 2Pt | 2PtA | 2P% | 3Pt | 3PtA | 3P% | FTM | FTA | FT% | Off | Def | TOT | Asts | Stls | Blks | TOs | PFs |
| --- | --- | --- | --- | --- | --- | --- | --- | --- | --- | --- | --- | --- | --- | --- | --- | --- | --- | --- | --- | --- | --- | --- | --- | --- | --- |
| 2015/16 | NBA | Rudy Gay | 17 | 32.1 | 18.5 | 7.4 | 16.4 | 45.2 | 6.5 | 13.8 | 47.4 | 0.9 | 2.6 | 33.3 | 2.8 | 3.4 | 84.2 | 1.7 | 5.0 | 6.7 | 2.1 | 0.9 | 0.2 | 1.8 | 2.6 |

Player Page&nbsp&nbsp| Player Stats | Related Articles&nbsp&nbsp| Add to My Draft Express&nbsp
&nbsp
NBA Scouting Reports: Filling in the Blanks- Small Forwards (Part One)
November 9, 2009
Overview: One of the premier players from his draft class. A blossoming young star who took advantage of his opportunities on a bad team, but has some trouble with his consistency. Possesses an outstanding physical profile. Has excellent height, a 7í3 wingspan, and outstanding run-jump athleticism. A high-flyer. Was as perimeter oriented in his college career as he is now. Former McDonaldís All-American won Big East Conference Rookie of the Year Award at UConn. Selected with the eighth pick by the Rockets, but was dealt to Memphis almost immediately. Had a solid rookie year, but blossomed as a perimeter scorer after the departure of Pau Gasol. Took a small step backwards in his third year, but teamed with O.J. Mayo, forms the foundation of Memphisís future. Still has opportunities to improve, particularly as a team player.

Offense: An explosive offensive player. Gets a quarter of his offense from each of isolations, spot ups, and a blend of fast breaks and post ups. Does most of his damage with his jumper. Possesses solid form and has improved his footwork dramatically over time. Gets great elevation and has a high release point. Prone to forcing some shots over defenders, especially off the bounce. Decent three point shooter, still has room to improve his consistency though. Takes a lot of pull up jumpers, using his quickness to get inside and his leaping ability to rise above traffic. Capable catch and shoot player who can knock down shots running off of screens and with a hand in his face. Athleticism is a blessing and curse since is makes him a threat to score one-on-one, but allows him to get some shots off that he probably shouldnít take. Can get to the rim driving in either direction and has no problem creating separation. Has improved his ball-handling since he entered the League, only augmenting his fantastic first step. On the turnover prone side, and doesnít make his teammates better. Brings little to nothing to the table as a passer, and needs to improve his ability to find the open man when he draws additional defenders. Doesnít get to the line at the rate his athleticism could warrant. Possesses outstanding tools, but still needs to refine his shot selection, pick and choose his spots off the dribble, take on contact, and see the floor better.

Defense: Not a great defender considering his tools, but has his moments when heís motivated. Has all the physical tools of a lockdown defender, but lacks the right mentality to get the job done. Able to come up with some steals thanks to his outstanding wingspan. Doesnít block many shots, get in a consistent stance, or show much initiate when recovering or closing out. Wingspan allows him to at least contest spot up jumpers when he closes out, but heís far from aggressive. Puts himself out of position when defending the ball, and lacks a degree of discipline when his man looks to penetrate. Rebounds the ball at a decent rate due to his athleticism. Needs to recognize that his defensive development will be integral to his success when he plays for a competitor.

[Read Full Article]

---
NBA Rookie Report: Rudy Gay
January 16, 2007
Almost nothing has gone right for the Memphis Grizzlies through the first half of this season. The team's star player, Pau Gasol, missed the first 22 games, forcing former head coach Mike Fratello to rely on a largely untested group of players. Subsequently, none of the players stepped up in Gasol's absence, leading to a dismal 5-17 start. One win and seven losses later, Fratello found himself without a job and the Grizzlies had a whole new set of questions to answer.

Rudy Gay found himself in a rather unenviable situation throughout this entire scenario. He had been playing relatively well in an offense that didn't suit his style of play under Fratello, and had struggled to take his game to the next level. When Tony Barone was brought in as the new head coach, it appeared that his new up-tempo style would allow Gay's production to really take off. Unfortunately, that hasn't been the case. While Gay has by no means been a disappointment, he hasn't had an easy go of things either.

Note: The number in parentheses indicates the change in Rudy Gay's cumulative statistical averages between December 18th and January 15th. Read the first installment of the Rudy_Gay player report here.



23.4 (-0.9) Minutes, 8.6 (-0.5) Points, 4.0 (-0.2) Rebounds, 1.0 (+0.3) Assists, 1.5 Turnovers, 0.8 (-0.1) Blocks, 1.0 Steals, 38.3% (+0.6) FG, 66.4% (+2.6%) FT



What has been most remarkable about Gay's transition into Tony Barone's offense is the surprisingly low impact it has had on his production. While the team's points per game average has sky rocketed under Barone, Gay hasn't been the beneficiary of this increase. In fact, it could be argued that this past month under Barone has been the Gay's worst as a pro in terms of scoring production. While the reasons for his struggles in this new system may not seem clear, they are not all that complicated.

Barone's system is geared toward players like Gay. His physical skills, coupled with his ability to finish around the rim, make him a prototypical player for a fast-paced system. Regrettably, His potential in this system has been severely diminished by the position he has been forced to play.

In Mike Fratello's half-court offense, Gay was often relegated to the perimeter. While he did show some flashes, it became abundantly clear that he was more effective in the post. When Barone took over, it appeared that he would better utilize Gay in his system. Unfortunately for both parties, this hasn't been true. Most of Gay's touches are still coming on the perimeter, sabotaging his ability to contribute immediately.

There is no question that Rudy Gay will be able to play on the perimeter at some point in his career. He has decent range and serviceable ball handling skills for a player his size, but he severely lacks consistency and often appears overwhelmed when forced to initiate his game from outside the three-point arc. He often adjusts his shot when contested, and fails to create good separation off the dribble. In a lot of ways, it appears that he is almost forcing himself to play on the perimeter. One recent game provided an especially good example of this trend.

Gay's best performance under Barone really put his strengths and weaknesses on display. Gay tallied 22 points in 144 -135 Memphis win over the Golden State Warriors on January 3rd on 8 of 15 from the field. Only one of his makes came on the perimeter while only one of his misses came from the post. It is obvious that Gay can contribute immediately in certain situations. This game was an especially telling one for Gay. When he attacked the basket, or received the ball in the post, he looked extremely smooth. On the perimeter, he struggled to find his range. However, that didn't deter him from taking and missing three three-pointers and numerous other long jumpers. This game really made it clear that offensive systems won't be the deciding factor in Gay's production as a rookie. His success this year is dependant on where he receives the ball.

While it would be great to see Gay turn things around on the perimeter during the second half of this season, it would be a lot more reasonable to simply let him show what he can do in the post. He is a great post player offensively because of his incredible vertical and lateral explosiveness. His post game may lack polish, but he is obviously more comfortable around the basket than he is around the perimeter.

Gay's long term position may or may not be determined by his play this season. The way in which Barone has utilized him would indicate that he will likely end up playing on the wing. However, it remains to be seen whether or not Barone will be Memphis's head coach for the long haul, so Gay may find himself down low if Barone isn't retained.

It would be nice to see Gay get more touches on the interior to build his confidence, but it appears that the Grizzlies are just as content to let him work through his struggles on the perimeter. As long as Gay is relegated to the outside, his production won't likely see much fluctuation this season. There should be some subtle increases as he becomes more comfortable, but his impending transition to the perimeter won't take place over night. His skill set would allow him to produce right now if put in the right positions, but Memphis clearly wants him to start diversifying his offensive repertoire for the long-run.

[Read Full Article]

---
NBA Rookie Progress Report: Rudy Gay
December 18, 2006
24.3 Minutes, 9.1 Points, 4.2 Rebounds, 0.7 Assists
1.5 Turnovers, 0.9 Blocks, 1.0 Steals, 37.7% FG, 63.8% FT


Rudy Gay's potential to be great is undeniable. Few players can match his combination of length, athleticism, and skill. Though he hasn't produced at a consistent clip, he has shown flashes of greatness when playing in the right atmosphere. His best performances this season have come against the Miami Heat, the New York Knicks, and the Dallas Mavericks respectively. The one common quality of all of these teams is their up-tempo offensive style. Gay's November 18th game against the Dallas Mavericks is an especially good example of how he can flourish in more fast paced games.

Gay played nearly three quarters of the contest and looked extremely good attacking from the mid range. When he was in, it appeared that the Grizzlies were running a play to get him isolated on the block against his defender. Though he forced the issue at times, Gay looked extremely comfortable with the ball in his hands. On one memorable play, he used a nifty spin move to go right by Dirk Nowitzki and finished at the rim with a left-handed finger roll. At times, Gay's quickness was just too much for his defender to handle in the paint. Gay also showed good range on his jump shot knocking down the one three-pointer he attempted and showing good touch on all of his outside shots.

Though Gay looked good in the Grizzlies' half court offense, he looked even better in transition. On one specific play, he contested a Jason Terry lay-up and proceeded to beat everyone back down the floor where Kyle Lowry hit him with a pass for a left-handed lay-up in traffic. This wasn't the only time Gay got to display his end to end speed. There were three other occasions where essentially the same thing happened. Gay would contest a shot on defense and proceed to beat his man down the floor for easy buckets. Gay also played well defensively, using his length and quickness to deny passing lanes. He finished with 23 points, 7 rebounds, and 3 steals.

The irony of this stat line is that Gay put up only one point against this same Maverick team just a day earlier. This begs the question: what accounted for such a large discrepancy in production? Simply put, Gay's production is entirely dependant on where he receives the ball in the Memphis offense. During his one point performance, Gay did not receive the ball on the block or in transition at all. While Gay's production in the Grizzlies' half court offense has been sporadic, it is clear that he can already be an effective when given the ball in an area where he is comfortable. When the Memphis offensive forces Gay to receive the ball around the three-point line, he isn't an efficient scorer. He is a serviceable ball handler, but he can't effectively use his athleticism to beat his man off the dribble. One of the things that makes Gay effective is his ability to use his athleticism to score when defenders don't give him space. On the perimeter, he struggles to create open looks for himself, but has seemingly no problem doing so in the post.

The most glaring weakness in Gay's game right now is visible in his shooting percentages. Through 24 games, Gay's field goal percentage is only 37.7%. The consistency on Gay's mid range shot is questionable at best, but his shooting has noticeably improved as the season has progressed. Early in the year, he was forcing a lot of shots from the perimeter, which accounted for his markedly poor shooting. He has gotten more comfortable playing on the perimeter, and has already improved his shot selection. However, it will take some time before he can put up consistent scoring numbers from the outside.

In the long run, Gay's offensive production will be dependant on where Mike Fratello plays him. Although his perimeter game is developing, Gay is already a solid option on the interior. If Fratello could incorporate Gay's post and transition skills into his gameplan, things could turn around quickly for the rookie. With Pau Gasol returning to the lineup, Gay could be able to play more minutes at the forward, since Gasol is more imposing interior presence than Stromile Swift who had been starting at center in his absence. The emergence of Alexander Johnson will make it more difficult for Gay to earn these minutes, so we'll be monitoring where Gay's minutes are coming from as the season continues.

Gay appears more comfortable playing the perimeter on defense than he does on offense. His uses his length and foot speed to play passing lanes and deny dribble penetration. In the post, he struggles to stay on his feet when faked, but always contests his man's shot. He sometimes gets caught up in help-side rotations, but his athleticism and vertical leap allow him to effectively recover to ball handlers and challenge shots. As Gay adds strength and learns to adjust to pump fakes, he could become one of the more versatile defenders on the Memphis roster.

It will be interesting to see how Mike Fratello chooses to use Rudy Gay as the season progresses. The positions he plays and the areas in which he receives the ball in the offense will be indicative of where Fratello feels Gay will be most effective. As Gay's consistency on the perimeter improves, he should see increased minutes, but it he won't be entirely comfortable there for a while. If he continues to struggle, he can only hope that he'll see more opportunities in the post and in transition. Next month, we'll take an in depth look at which positions Gay is logging minutes at and how he is effecting the Grizzlies production from those positions.

[Read Full Article]

---
NBA Pre-Draft Camp Media Day (Part Two)
June 12, 2006

Mike Schmidt: What do you have to say to your critics that say you canít carry a team?

Rudy Gay: One thing Iíll tell you is that you know, itís never going to stop. As long as you prove yourself thereís going to be more expectations for you, so as long as people think I can do better, Iím going to try and prove myself so they can make more expectations for me.

Mike Schmidt: Is there a certain point in the draft where it would disappoint you that you fell that far?

Rudy Gay: Well, obviously I think I can be number one, but lower than 6, maybe [after] top 5, Iíll probably be disappointed in myself more than anything.

Mike Schmidt: Is there a team right now that has given you better feedback than anyone else?

Rudy Gay: You know, every team has basically been saying the same thing. Iíve only been to one workout, and Iím going to a couple more, and hopefully Iíll get a better feel for what Iíll be doing and maybe spending my next three years.

Mike Schmidt: What would you think if the team that drafted you hired coach Calhoun?

Rudy Gay: (laughs) Coach, I think heís my biggest critic, but then again heís my biggest fan. Itís good to have that, especially when I was at Connecticut. I worked my hardest for him, just like any other coach.

Reporter: What is it like having 6 of you UCONN guys in the draft?

Rudy Gay: Basically, we try to keep everybody confident and motivated. We all want to see each other do well, and Iím going to do whatever I can to help them. We always talk, wherever we go.

Reporter: Why do you think UCONN is sending so many people to the NBA?

Rudy Gay: I think the thing about UCONN, we had a lot of great players on the team this year. But the thing about it, once we leave, we see each one of our abilities. A lot of guys are limited because of our teamís success- not even success, because of how deep our team was. Some things that maybe you think I couldnít do, I can do, but didnít have to do because of my team.

Mike Schmidt: Does it make it harder for you to stand out on a team like that?

Rudy Gay: Well, thatís what the workouts are for, you know. They watch the games, and make their generalizations over that, but after a while when you sit there and watch one player and see what he can do in person itís a whole different story.

Mike Schmidt: Who do you pattern your game after?

Rudy Gay: Everybody asks me that question, and I never really have a good answer for them.

Mike Schmidt: Do you just play your own game?

Rudy Gay: I kinda play my own game, but Iíd like to be a Tracy McGrady type, but I could say Shawn Marion, heís a great player, heís an NBA all-star.

Reporter: Is there anybody who has really helped you with this whole process?

Rudy Gay: Iíve talked to Caron Butler, Iíve talked to Kevin Freeman who didnít get picked up by an NBA team, but he kind of went through the process. Richard Hamilton, those guys, you know, even coach, who didnít actually go through it himself, but he tells me a lot of things other guys have went through.

Reporter: Whatís the best piece of advice youíve received so far?

Rudy Gay: So far, I think it was ĎMelo. We were working out with him, and I made a play, and I said thereís nothing else I can do, and there was definitely something I could do. He kind of told me, Ďeven though you think youíve done your best, you have to expect more out of yourselfí.

Reporter: What kind of feedback did Charlotte give you?

Rudy Gay: I havenít really talked to them, Iím not really talking to any of them right now, just kind of keeping everything even. You know how things are, on draft day when you feel like youíre going one place, and maybe they donít pick you up, so to erase that feeling, I just donít talk to anyone.

Mike Schmidt: How intense have your workouts been in preparation for the draft?

Rudy Gay: Man, Iíve been going for about 6 weeks. For about 2 weeks, it was 3 a days, that was the first few weeks, after that, two a days. A lot of great players came through, a lot of people that my agent represents also, you know, other guys like Juan Dixon, Carmelo, Chris Paul, Justin Gray, Taj Gray, and Terence Dials. The thing about it is, all these guys play different positions, and that helps me, because I hope to be versatile enough to play multiple positions.

Mike Schmidt: Of the guys youíve worked out against, whoís been the toughest?

Rudy Gay: Oh, ĎMelo of course. He doesnít really take anything off, but plays like it was an NBA playoff game. I respect him for that because heís helped me a lot more than he thinks.

Reporter: Who have you worked out for so far?

Rudy Gay: I havenít worked out with anybody yet, just Charlotte. After the camp, Iím supposed to go to Portland. I think Iím just working out with 4 teams.

Mike Schmidt: What is your ideal 4 person workout?

Rudy Gay: Top 3 of course, I donít expect anything less out of myself, so I would like to go in the top 3 of the draft.

Mike Schmidt: Who do you think that is at this point?

Rudy Gay: At this point? Personally, at my position- itís kind of though, because itís all about positions. I could go against LaMarcus all day, and if he takes me in the post, I take him out on the wing, itís going to be two different match-ups, maybe a team doesnít need that. Itís all about what people need, and what positions people are in. Me and Adam are close in position, and Brandon Roy, so in the top 5, I think those two are closest to me.

Reporter: You mention those two guys, both of them had a scoring average that was kind of ridiculous. In a certain way, I feel like a lot of execs think that proves a certain point. Do you feel there is a point about your game that needs to be proved?

Rudy Gay: Yeah, of course. Iíve always thought I had to prove somebody something, itís been like that since I was maybe 10. The one thing I think the scouts donít realize is that I was the leading scorer for most of the season on the number 1 team in the nation, which was a pretty balanced team. I feel as though I can score other points, but I wasnít asked for that. Until I feel as that needs to happen, I think thatís empty. Iíve scored 40 points before, Iíve done that before.

Reporter: What do execs or scouts tell you most about your time at UCONN?

Rudy Gay: They say sometimes I was a little passive, too unselfish and stuff like that. Looking back at tapes I do kind of see myself doing that, but thatís what Iím working out for.

Reporter: What do they like about your time at UCONN?

Rudy Gay: I think the fact I filled the stat sheet, I think thatís one of the things I try to do the most with defense and scoring and steals, rebounds, stuff like that.

Reporter: Do you see yourself as a ípotentialí guy?

Rudy Gay: I think I could be a ípotentialí guy. [My trainer] always tells me the one word you want to get away from your name is potential, because thatís saying youíre not there yet. And thatís what Iím working to get.

Reporter: Does it annoy you that people seem to confuse you fitting in on a team with 6 guys who could potentially play in the league, but maybe trying to relate that to your own character?

Rudy Gay: Yeah, it was a lot of me fitting in, and it was a lot of respect too, because when you think about it, those guys won championships, and theyíve done things like that. With me coming in, and being a new guy, and expecting to do all these things, I did the best I could. I was the leading scorer, but me scoring 30 or 40, and 20 points a game, that would mess us up more than the way it was.

Mike Schmidt: Do you see any parallels in your situation this season and Charlie Villanuevaís last season where many people questioned his motivation going into the draft?

Rudy Gay: Yeah, and I talked to Charlie, and one thing he always says is that youíve really got to start proving these people wrong. Heís working on that right now. Heís doing it right now, heís in the league, and heís proving people wrong, and people didnít think he should be picked 7th, and all season he had that kind of chip on his shoulder. He kind of told me he really had to play like that, and I think itís easy playing like that, rather than being on a team where you really donít have to do so much. Iíve got to perform, and really prove to people that I can do this.

Mike Schmidt: What will you be doing on draft day?

Rudy Gay: Sweating. Most likely sweating.

Reporter: Of the skills you have improved at UCONN, do you think there is one that will influence where you go in the draft?

Rudy Gay: I think ball-handling probably the most, because if I can become a better ball-handler, it changes me from a 3 to a 2, so it changes my position, and also makes me versatile, so I think thatís one thing Iíve been working on the whole season. Also shooting and stuff like that, but I donít really try and point out one thing in my game, I just try and get better.

Reporter: Whatís the thing you try to show the most in workouts?

Rudy Gay: A little bit of versatility, and my wind, being that I can go for days, I feel like Iím in tip-top shape. I can run, I can jump, I can do all these things the whole season.

Reporter: Does it irritate you when people question how hard you play?

Rudy Gay: Yeah, it does irritate me. Sometimes people will say those things, but they donít see the game where I hit 4 straight and I start beating my chest, and I yell at my teammates íletís goí or something like that. Itís all about situations, Iím not the type of person that just comes out to get everybody fired up, but if youíre hot you gotta do something like that.

Mike Schmidt: Did you feel that you didnít get enough credit for keeping your team in the game during the second half of the George Mason game in the NCAA Tournament?

Rudy Gay: People seem to forget that because we lost. I really havenít thought about that, I really havenít thought about, you know, scoring the most points in that game, I havenít thought about anything but the loss.

Reporter: How stressful is the week going in to the draft knowing you could go anywhere from 1 to 6 or 7?

Rudy Gay: Man, itís crazy, itís crazy that a person they project at 1 can drop all the way to 6. But this is what we all chose to do, this is the life we chose, and Iím not going to fall back on anything, I really canít right now, Iím happy Iím doing it.

Mike Schmidt: Do you look at it like any team is an ideal situation for you?

Rudy Gay: Yeah, you have to look at it like that, because you donít choose the team, they choose you. With any team, you have to think about what you can do to help this team, so thatís what Iím doing.

[Read Full Article]

---
Interview: Rudy Gay
June 4, 2006
How are you feeling after the workout? Tired? Was this anything special for you in terms of how hard you guys went today?

Rudy Gay: Nah. Usually we go harder or the same as this every day. Iím not really tired, Iím used to it.

Jonathan Givony: How long have you been working here for?

Rudy Gay: Three weeks.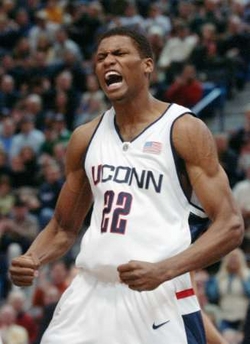 Reuters



Jonathan Givony: Any specific things youíve been working on in anticipation of workouts or the NBA season?

Rudy Gay: Well Idan [Ravin] works with us on ball-handling and stuff like that, and I feel itís gotten a lot better. Shooting off the dribble, and just refining all of my skills.

Jonathan Givony: It seems like Idan is definitely trying to push and motive you. How do you think his style of coaching compares with Coach Calhoun?

Rudy Gay: I think itís totally different. Coach (Calhoun) is the type that will push to get the extra stuff out of you, but Idan expects it out of you because he knows how you play, he knows what you can do. So itís kind of nice playing him because he expects a lot out of you. You want to do a lot for him.

Jonathan Givony: Itís probably a lot easier for him because you came to him to train, and youíve got a couple of big weeks ahead of you in terms of workouts and stuff like that. What are the challenges of a guy like Calhoun with such a talented team trying to get playing time for everybody? Was that a tough situation at UConn this year?

Rudy Gay: For him Iím sure it was, because I donít think there was another team ever that had as much talent as we did. Itís hard to put different players in different positions without getting people mad. Knowing that each person can do certain things, but then again our team is so deep that they canít do it all at certain times. It had to be hard for him but I think he handled it pretty well.

Jonathan Givony: So what do you think you guys were missing to make that next step? Just bad luck?

Rudy Gay: I think we just lived on the edge too much. We got too complacent; I think we needed to play a little bit harder in certain stretches of the game.

Jonathan Givony: Is there anything you feel youíve improved on since being here?

Rudy Gay: Oh everything. Like I said, Idan Ravin expects you to do so much more so you get better at it. Iíve gotten better at everything.

Jonathan Givony: Is it nice to be close to home?

Rudy Gay: Honestly I havenít been home once since Iíve been here. My family will be there. My family knows that Iím trying to make a big decision, and make a big step for my family and also myself. So Iím not really too worried about going home and stuff like that right now. Itís just all about business.

Jonathan Givony: When are you going to start doing your workouts?

Rudy Gay: Iím not really sure. I think maybe a couple before Orlando and a couple after.

Jonathan Givony: How much are you looking forward to the workouts? Have you talked to people about them, do you know what to expect?

Rudy Gay: Yeah Iím ready. I think Idanís got me ready. Heís done a lot to get me prepared for this. Iím just ready to get to it and start doing my thing.

Jonathan Givony: Youíve probably seen a lot of college basketball this year. Anyone in particular that you would like to go up against in workouts that you think you would match up well with?

Rudy Gay: Anybody. I donít really care; Iím just ready to go out there. Anybody thatís willing to strap up against me, Iím willing to play my hardest against. Right now it really doesnít matter weather itís Tyrus Thomas, Adam Morrison, anybody. Iíll play with any of them.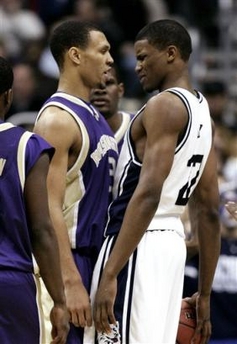 AP



Jonathan Givony: What about a rematch with Brandon Roy? You guys had some bad blood in the NCAA tournament game and it seems like your kind of gearing up for the same spot in the draft. Is that something you would look forward to?

Rudy Gay: I wouldnít mind it at all. I wouldnít mind it. But it depends on how the ball drops. Whatever somebody needs and if they want to test me against him, Iíd be ready for it.

Jonathan Givony: Do you think you still have a chance go #1?

Rudy Gay: Yeah thatís what we working for. I set my goals high, and Idan told me once we started that I can still go #1, and Iím still shooting for number one. I feel as though my talent can take me to number one. I think if I work hard enough I could be number one, so what not?

Jonathan Givony: So thatís something thatís important to you?

Rudy Gay: Yeah definitely. Iím going to work as hard as I can to get there.

Jonathan Givony: Youíre not afraid of the pressure? Number one pick, thatís just an incredible amount of pressure and it seems like no matter what you do you cant please everybody, so would that really matter at the end of the day?

Rudy Gay: (laughs) No Iím used to it. Iím used to the pressure. Just being number one makes me want to work hard.

Jonathan Givony: Preseason All-American, Wooden Award and all thatÖdid you think that was maybe a little premature? Did you like that pressure that people put on you or do you think people expected a little too much out of you too soon?

Rudy Gay: Really when I made that, it just went out one ear and out the other. I didnít even worry about all the pre-season things. The post season means the most to me because we didnít win the championship, and I think there was a lot of things I could have accomplished that I didnít. Also, I think thereís a lot for me in the future to accomplish, so really Iím just looking to the future.

Jonathan Givony: Do you still keep in touch with all the guys from UConn like Josh Boone and Rashad Anderson and those guys?

Rudy Gay: I keep in touch with all of them. I just try to make sure that they doing what they need to be doing to get to the next step and also see how they doing in their workouts.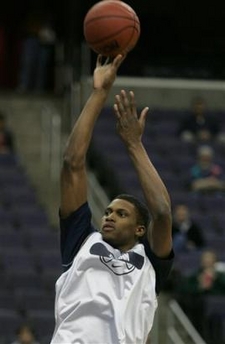 AP



Jonathan Givony: Some guys put restrictions on workouts. Like Gerald Green said Iím not going to workout against anybody. I know itís up to your agent at the end of the day, but do you personally have any problem with going head to head with guys like Morrison, Thomas, Roy, and Aldridge?

Rudy Gay: I have no problem with it, because obviously if people donít want to go up against anybody they obviously have things that they need to work on or things that they felt hey could have been doing that they havenít been. I have no weaknesses in my game, Iím ready for anybody.

Charlie Bury: Tell me about the Baltimore game, I know a lot of players come out of Baltimore. (Steve Novak in the background ďThere are no players from Baltimore manĒ

Rudy Gay: I think the thing about Baltimore is its tough. Everybody wants to be this and that but not a lot of people put the work in. Anybody that puts the work in you see in the NBA; like Sam Cassell, Melo, Juan Dixon, people like that.

Charlie Bury: Do some of the UConn guys in the league now give you advice about his whole process and what to expect?

Rudy Gay: Yeah I talk to a couple guys like Rip Hamilton, Caron Butler. Theyíve helped me through the process and given me some tips.

Charlie Bury: What do you hope to show teams when you workout for them that they didnít see from your time at UConn?

Rudy Gay: That I can be more assertive. I think at UConn I played a little more lax, and playing lax wonít get you money in the NBA.

[Read Full Article]

---
Private Workout: Rudy Gay, Steve Novak, Gray, Loughton
May 23, 2006

Itís not every day that we get to watch a potential top 5 draft pick train for the NBA draft in front of our own eyes for an hour and a half, and it was immediately evident to us why Gay is held in such high regard.

In terms of physical attributes, there is no doubt that Gay is the absolute prototype for what a modern day NBA wing should look and move like. He is every bit the 6-9 he is listed at, but possesses the type of wingspan that youíd normally expect from a 6-11 power forward. His hands are huge and his are fingertips freakishly long. Gay has an excellent frame and looks to have already added a bit of weight to it in the few weeks heís been here preparing for the draft.

As far as his athleticism goes, Gay came ďas advertised,Ē executing a few moves in the workout that only a select number of current NBA players can. He runs the floor fluidly, like a 6-3 guard, elevates gracefully and instantly off the floor, and has an incredibly smooth vertical leap.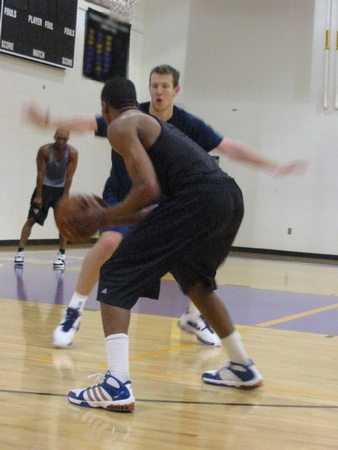 Jonathan Givony, DraftExpress.com



In terms of skills, there wasnít anything that could be hidden in this type of setting due to the nature of the drills they were put through. Gay got his shot off whenever he pleased thanks to the terrific separation he can create at any point in time from his defender, and looked absolutely terrific pulling up from mid-range. He not only elevates instantaneously off the floor to create space between him and his defender, but also possesses a high release point on his shot to compliment the already beautiful arc he puts on it. Certain drills here worked on moving off the ball and utilizing screens, and this appeared to be a part of his game where heíll have success in the NBA almost right off the bat. This also appeared to be something that was more difficult to evaluate in him in college due to the shorter 3-point line and lack of spacing that UConn at times suffered from. The NBA 3-point line is four feet further back than the college line, and this is a part of the floor in which Gayís strengths will be better utilized because of the sheer ease in which he can get his shot off.

When attacking the basket, his long strides allow him to get to the hoop from the 3-point line off of one short dribble. He showed quite a bit of craftiness getting his shot off in many different ways, particularly with a sweet-looking jump-hook shot that we probably didnít see enough of at UConn. When focused on attacking the basket and finishing strong, Gay was virtually unstoppable, as his length and explosiveness almost make things unfair on the player who is guarding him. Things just come that easy for him. Defensively, he was extremely disruptive at times thanks to his wingspan and outstanding lateral quickness. As he matures physically and gains more experience, he is likely to develop into an absolute terror on this end of the floor.

The biggest revelation to come out of this workout revolved around his mental toughness and intensity. Gay has been described at times as being a soft player, but that certainly did not look to be the case in this workout. He was highly competitive almost throughout and was visibly displeased by every shot he missed. His work ethic seemed top-notch, and it was impossible not to notice the kind of excellent shape he was in. Talking to him and watching him play, itís obvious that the intense criticism heís received over the past season has forced him to develop a bit of a chip on his shoulder, and he seems to be all the more motivated now to prove his doubters wrong. He might never be as good as people want him to be because of the fact that he looks like such a stud and there always seems to be something more that he might be able to do, but thatís not really his fault.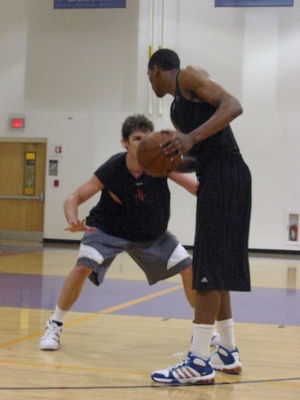 Jonathan Givony, DraftExpress.com



In terms of negatives, there were definitely some that came out due to the extremely intense nature of this workout. In the ball-handling drills and one on one, it became evident that Gay will have to work much harder on this part of his game than most 6-6 or 6-7 wing players do due to his freakishly long wingspan. Itís just that much more difficult for a player with his size and length to have complete control over the ball from when the ball hits the floor and bounces back into his hand, due the sheer physics involved. This is something heíll have to continue to work hard on.

In terms of creating his own shot, Gay is yet to truly master the art of establishing separation from defenders with change of speeds and directions, hesitation moves, jab-steps, freeze fakes and other crafty tricks that all veteran shot-creators have and need in their arsenal. He is a bit too upright when driving towards the hoop, and might have some problems taking advantage of smaller defenders until he becomes more flexible in terms of getting his body low to the ground as he slashes his way towards the basket. This certain reluctance to expose the ball causes him to settle for jump-shots more than youíd like to see a player with his physical gifts do. His release point and therefore his overall shooting accuracy is still a bit inconsistent since he has a tendency at times to snap his hand violently on the follow through, but this is something that can easily be tweaked once he gets into training camp.

When he did take the ball to the basket, he doesnít always go up that strong, which prompted Ravin to encourage him to ďplay bigĒ and be more of ďa mother------,ď but always in a heartening manner and not by depreciating him. When having his buttons pushed correctly, Gay responded emphatically, making the exact adjustments that he was encouraged to and indeed playing up to his strengths better in the possessions that followed.

All in all this was an excellent setting to evaluate Gayís strengths and weaknesses. The things he does well on the court are clearly the type of virtues that are innate and cannot be taught, while the things he doesnít do particularly well at this point generally seem to be weaknesses that can be worked on and he should improve upon as he matures and adds more polish to his game. The biggest question is, how soon will the lightbulb come on?

Gay would be best served landing on a team like Charlotte, Toronto or Minnesota who will not ask him to be their go-to player right off the bat. Itís obvious that his potential is absolutely off the charts, but at the same time the team that drafts him will need to be patient and realize that he is still only 19 years. Itís been our opinion all year that if he focuses on playing a role similar to the one Shawn Marion plays in Phoenix as opposed to trying to be a Tracy McGrady type offensive player, he will find greater success in the league sooner and potentially become an all-star down the road.

Gayís first private NBA workout is scheduled for May 31st for the team that might fit him best, the Charlotte Bobcats. According to what we were told, he will not be taking the Gerald Green route and will be playing competitively against the top players who are willing to match up with him. In an interview youíll read in the next few days, he singled out Adam Morrison, Tyrus Thomas and Brandon Roy as three players he would like to go up against in the next few weeks. He still has his heart set on going #1 in the draft, and is quietly looking forward to proving those whoíve doubted him along the way wrong.

[Read Full Article]

---
NCAA Tournament: NBA Draft Stock Watch (Elite Eight, Sunday Games)
March 26, 2006
Losing in the Elite Eight to George Mason probably wasnít the way Rudy Gay wanted to finish his college career, and for once itís hard to put too much blame on the way he performed here, besides maybe his semi-disappearing act very late in the game.

Continuing with the extreme inconsistency weíve seen from many of the top prospects in the tournament so far, Gay bounced back pretty nicely from the stinker he put up in the Sweet 16 against Washington. He showed flashes of why many consider him to be the most naturally talented player in college basketball, being very aggressive early on and looking particularly impressive shooting mid-range and long-range jumpers from the perimeter. Gay did a nice job all game long coming off screens and taking what the defense gave him, never really putting the ball on the floor but instead elevating over the top of his matchup and releasing a silky smooth looking high-arching jumper that drew nothing but nylon more often that not. During one key stretch in the 2nd half from 9:30 to 6:22 he scored 9 straight points for his team, essentially keeping them in the game when George Mason started making a run.

Defensively he had some tough calls go against him just for being a little too physical with his man, but still showed a lot of potential with his lateral quickness and by using his length to get in the passing lanes.

Down the stretch, though, particularly in overtime, Gay was nowhere to be found, only taking one shot over the last 11 and a half minutes of the game and not scoring any points.

All in all this was not exactly the type of tournament Rudy Gay needed to have to prove that he is worthy of being a top 3 pick. Look for him to bounce back during private workouts which are tailor made for his strengths.

[Read Full Article]

---
NCAA Tournament: NBA Draft Stock Watch (Sweet Sixteen, Friday games)
March 25, 2006
For any average player this might seem like a decent stat-line, but the standard has to be higher when discussing a possible top 5 pick. Against Washington, Gayís effectiveness was limited throughout much of the game, and his teammates were the ones making the big plays that led to the comeback win. In the first half, Rudy struggled to get the ball in a position to make a move thanks to the fantastic defense effort of Bobby Jones. On one occasion, Gay passed up an open three point look to take two dribbles to the right and throw up a tough fall-away jumper from the free throw line that barely grazed the front of the rim. He finished the first half with only 1 point on 0-3 from the field.

Rudy Gay played better in the second half, but still didnít look at the level of a top 5 pick, especially down the stretch. Jones continued to defend him hard without the ball, but Gay started to work for better positioning, which led to a nice move under the basket, and a few attempts from the free throw line. On defense, Gay started to concentrate on denying Brandon Roy position, and forced him into some difficult shots. At one point, Roy fouled Rudy which led to some heated words between the two players and a double technical foul. Gay is known for having a passive on-court demeanor a lot of the time, and it was nice to see some fire out of him for once. Though he had a better half, he still drove into the lane on a few occasions with no place to go, which led to some turnovers. On the defensive side, Gay missed a few help assignments as well, which allowed Washington to score on open layups right at the basket. Though he improved throughout the game, Rudy Gayís performance left a lot to be desired from somebody considered such a great prospect.

After his last game where Gay was right in the middle of a UCONN victory and had the stat-line to back it up, many people though he would break out in the remaining games of the NCAA tournament. His performance against Washington showed that Rudy isnít yet ready to be the go-to player for his team, and that his draft stock is very much up in the air at this point depending on what NBA teams see in him. Gay has at least one more game to try and bounce back, but inconsistency is never a good thing even when weíre talking about someone this young.

[Read Full Article]

---
NCAA Tournament: NBA Draft Stock Watch (round of 32, Sunday games)
March 20, 2006
After a disappointing start to his NCAA tournament campaign, only taking 5 shots in a nail-biting win over #16 seed Albany, it was absolutely imperative for Rudy Gay to get himself back on track. Not only for his own personal draft stock, but more importantly for his team to advance to the Sweet 16 against a very well-coached Kentucky Wildcat team.

Gay looked much more aggressive in this particular game, taking 14 shots and being willing and able to step up and take responsibilities when the situation called for it.

He elevated high off the dribble for a smooth high-arcing mid-range jump-shot on numerous occasions, attacked the glass relentlessly and played decent defense inside the paint defending power forwards. He also ran the floor extremely hard to help his team push the tempo of the game and showed off his incredible athleticism with an exhilarating dunk in transition

With most of UConnís big men either in foul trouble or playing poorly, Gay was forced to slide over to the power forward spot for large stretches of the 2nd half, which he handled satisfactory fashion. Hitting two clutch free throws with 3 seconds remaining in the game was a very nice way for him to finish off the day.

All in all this was not a performance that Rudy Gay fans will cherish for years to come, but it was certainly not a disappointing one either. Currently projected as the #3 pick, this game didnít do much to sway us one way or another about where he might end up being drafted.

[Read Full Article]

---
NCAA Tournament: Washington Bracket NBA Draft Prospects
March 12, 2006
After a season of ups and downs, it's the NCAA tournament that many be pointed to as the place where Rudy Gay will have to step up his game if he wants to ensure himself of being a top draft pick in June. Gay has been wildly inconsistent throughout the year, starting off the season with a bang at Maui against Arkansas, fading immediately afterwards except for some nice statistical outputs against low-major NCAA talent, picking up his game considerably in late January through mid-February, but then again fading into the background down the stretch as UConn won the Big East regular season regardless and reclaimed their spot as the #1 ranked team in the country.

For UConn to live up to their potential and make it to the Final Four, they will need Gay at his best once again, like he was midway through the Big East conference slate. Not everyone is sold on his likelihood to achieve his massive potential and develop into a legit star in the NBA, and a big tournament could go a long ways in disproving that. Gay will have to reestablish himself within 15 feet of the basket and in rather than settling for weak fade-away jumpshots like he has at times this year. It would also be nice to see go back to playing tenacious man to man defense and crashing the glass, as well as be willing to step up and utilize his phenomenal talent in the likely scenario that UConn's offense gets bogged down in a grind it out half-court setting. The cream rises to the top in March, and Gay is capable and then some of showing the entire world that he is more than just a great athlete with tons of untapped potential.

[Read Full Article]

---
Rudy Gay NBA Draft Scouting Report
March 3, 2006


Strengths


A stat-stuffer with #1 overall pick upside, Gay is probably the most gifted and naturally talented physical specimen in the NCAA. Itís impossible to watch him and not get excited about his potential.

Gay has a prototypical body and frame for a modern NBA small forward, with great size at 6-9 and terrific length. He has the height and wingspan of a power forward, but moves and gets up and down the court like a 6-3 guard.

Most of Gayís upside rests in his athleticism. Heís incredibly explosive; possessing an outstanding vertical leap that is both high and extremely quick. He gets in the air and just hangs for what seems like days. His length and explosiveness make him an acrobatic dunker and a regular fixture on highlight reels. Being more than just a dunker when he gets in the lane, Gay is extremely creative finishing around the hoop, whether itís with a beautiful pull-up floater in the lane, a nifty scoop shot or a circus shot layup off the glass. He consistently surprises you with how adept he is at finishing around the paint, and has all the tools in the world to get even better in this part of his game.

In transition is where Gay is truly at his best, looking smooth and effortless and without a care in the world. His quickness makes him a terror in the open floor, as heís nearly impossible to stay in front of when he receives the ball with space to operate. His first step is phenomenal in open spaces and this is the part of his game where his length and explosiveness are most easily seen and taken advantage of.

Defensively he has great potential thanks to his height, length and extremely quick feet. His attitude here is not what you would expect from a legit NCAA star, as he has plenty of hustle in him and has no problem getting dirty for the benefit of his team. Gay covers a ton of ground in a very short amount of time, which allows him to recover quickly and be a shot-blocking threat from the weakside. He has very good hands and a good knack for coming up with steals and blocks as well. He shows not only the ability to be a great defender but also the willingness to smother his man, although he can be inconsistent in this area too.

Gay shows flashes of a well-rounded perimeter game, with great footwork, quick spin moves and plenty of willingness to create offense pulling up off the dribble, particularly going right. His shooting mechanics are beautiful; possessing good elevation on his jump-shot and a high release point. When he has a chance to set his feet, Gay has shown the ability to hit the NCAA 3-pointer with ease, or even a step or two beyond. Even though he is not a great shooter when heís forced to put the ball on the floor, he is better from long-range than his numbers would indicate.

Gay is a very good teammate, showing many of the intangibles that lead you to believe he has what it takes to reach his high ceiling. He is extremely unselfish and an excellent passer, using his height to see the floor and a good understanding of how to put his teammates the ball in a position to score, either on the perimeter or inside the paint. He doesnít mind making the extra pass, almost to a fault at times.

Off the court Gay is well-spoken and according to all reports a very hard worker who is committed to becoming an excellent all-around basketball player. On the court he has a very good demeanor and appears to be highly coachable. He plays for one of the top coaches and programs in the country on a team that has become a factory for developing NBA lottery picks.



Weaknesses


Gayís all-around skill level is still lagging behind his outstanding physical attributes, and he struggles at times to live up to the immense expectations that have been placed on him through the incredible amount of hype heís received since he was in high school.

Despite being an incredible athlete, Gay is not always capable of fully taking advantage of it, especially in half-court sets. His ball-handling is not up to par with his phenomenal first step, and he does not really know how to effectively and consistently create space for himself off the dribble. He relies too much on his athleticism and not enough on the crafty type of moves that all great wing players have in their arsenal to get their man off balance; including head and body fakes and hesitation moves to give himself more room to operate. His size works as a detriment at the collegiate level, as he exposes the ball to his much smaller perimeter rivals by not yet knowing how to use his flexibility to get his body low enough to the floor. His coaches in the NBA will have to work with him on being more fluid and not so upright, to better take advantage of his body control, which is just average at the moment.

Gayís in-between game still needs plenty of work. Because he is such a gifted athlete and physical specimen, Gay can get a semi-open shot on the perimeter just by making a short dribble or two and elevating high off the floor. More so in the early part of the season he showed a tendency to abuse this part of his game, settling for too many fadeaway jump-shots outside of the context of the offense. This is not a part of his game where he is extremely polished in yet, which hurts his percentages from both the field and behind the arc. This was a major problem for UConn's offense until he recommitted himself to playing more to his strengths, particularly within 15 feet of the basket.

While his frame is terrific, being long, tall and extremely lanky, he could still stand to add some bulk to it to help him deal with the everyday rigors and physicality of the NBA.

On the other end of the floor, Gay is often asked to guard players that are much smaller than him, since the average college small forward is usually 6-6 or less. He shows problems defending smaller players, again not getting low enough to the floor to take advantage of his lateral movement and therefore struggling to stay in front of his man. He needs to continue to garner experience defending the perimeter, but still has terrific potential on this end of the floor.

Gay will go through long stretches where he coasts and just doesnít ask for ball. When heís in these funks he tends to just camps in the corner and not make his presence felt in half-court sets unless his team is specifically running plays for him. His off-ball movement is not good enough at this point. And like many players his age, his motor can be very inconsistent.

One of the biggest questions NBA GMs will wonder is whether he has a killer instinct. Early on in the season especially, Gay was extremely inconsistent from game to game and even from half to half. If he starts off the game slowly, he will sometimes start thinking too much and get down on himself.

When heís at his worst, Gay alternates between trying to do too much and not doing anything at all, either forcing the issue as if he wants to prove that the hype heís received his entire career was justified, or not being a factor at all on either side of the floor. His mental toughness has been questioned at times, and there are questions about whether he has what it takes to reach his incredibly high potential and be a go-to guy offensively and a legit superstar. Itís obvious that he enjoys playing basketball, but the jury is still out on whether he truly loves the game.

The pressure on him to be a superstar has been immense, and Gay has not always been able to back it up with what heís shown on the court, which in turn puts even more pressure on him. His feel for the game at this point in his career is decent, but not off the charts. The same can be said about his mental toughness, as well as his physical toughness. He could certainly use another year of college to garner more experience and continue to mature and develop his all-around game, but it's highly unlikely that this will happen.



Competition


Gay plays in the deepest and toughest conference in college basketball, the Big East, meaning there is rarely a night that he goes up against mediocre competition as far as the NCAA goes. As a freshman he started almost right off the bat for an extremely talented UConn team fresh off a national championship, alongside eventual top 10 pick Charlie Villanueva. Gay played the role of complimentary player very well as a freshman, sharing co-freshman of the year honors with Georgetown forward Jeff Green, and filling up the stat sheet consistently.

Expectations were sky high coming into his sophomore year, as Gay was named both preseason Big East and national player of the year by most publications. It appeared that he would be able to live up the hype and then some early on, after delivering an incredibly explosive 28 point performance in his second game of the season against Arkansas at the Maui Invitational. His team ended up beating Arizona as well as Gonzaga in the finals to win the tournament, but Gay was almost non existent afterwards. His team went on an extended stretch of playing strictly lower level Division one competition and Gay was barely tested before the Big East season kicked off. In his first conference game he was completely outplayed on both ends of the floor by Marquette senior Steve Novak, being one of the players who attempted to guard him on his way to a 41 point performance. Gay was for the most part mediocre in the month of January, but recovered in a huge way in February and once again showed the country why he is considered possibly the most talented player in college basketball. He went back to rebounding the ball with purpose, shot the ball much better from beyond the arc, and generally played like a player expected to compete for being the #1 pick in June.

It will be his performance in March will likely determine where he ends up being drafted, as UConn is considered as strong a contender as anyone to make the Final Four and everything is in place for Gay to lead them there.



Outlook


Gay shows flashes of brilliance by making plays that are usually reserved only for the truly elite basketball players. His upside is unquestioned, the only doubt is how much of it he will actually be able to realize.

If Gay is focused on playing a role similar to Shawn Marion in Phoenix, the way he has for much of the 2nd half of the NCAA season, he is absolutely terrific. But when he instead tries to pattern his game after Tracy McGrady, which he does not have the skill level to do at the moment, his potential lessens significantly. The team he ends up with and specifically the coach he plays for will largely determine how effective of a player he is in his first few NBA seasons. If he struggles initially, the pressure of being such a high draft pick might be too much for him to overcome mentally down the road.

Despite being fairly inconsistent as a college player so far, heís probably shown scouts enough and his potential is likely too great for him not to be selected in the top 5 of the draft. With a solid showing in the NCAA tournament, Gay could elevate his stock to #1 depending on how the other candidates perform. Players like him usually take the safe route after declaring, so donít expect him to conduct more than a handful of private workouts at most. It will be his performance on the court with UConn that determines how high he ends up being drafted.



[Read Full Article]

---
In Case You Missed It...the Top Weekly Performers, 1/31-2/6
February 7, 2006
It seems like the fad of late has been to bash Rudy Gay for his lackluster season. After a scintillating performance against Arkansas to start the season, Gay had done little to back up the #1 pick hype he received in the preseason. But like all fads, the time to bash Rudy Gay may have come and gone. Gay has put in three outstanding performances in his last four games, with his one ho-hum stat line coming in an easy win over Providence. Gay poured in 22 points in Connecticut's big victory over Pittsburgh, and notched his first double-double since November with 19 points and 12 rebounds at Indiana.

We have been practically begging Rudy Gay all season to take his game back where it belongs, which is inside of 15 feet. Gay is very skilled for a big man, but not yet ready to play the "go-to shooting guard" role. Itís not easy being a 6-9 small forward on the college level, as Gayís ball-handling skills are just not advanced enough to get by the 6-5 wings most teams put on him. To compound that problem Gay does not do a great job getting low to the floor when driving to the basket, exposing the ball from a quick-handed defender and just preferring to settle for a weak pull-up jumper when he lacks the craftiness to get by his man. In recent games, he has stopped floating around the perimeter and taking low-percentage jumpers outside the offense, and is back to attacking the basket. He has a nice in-between game from 10-15 feet, and will use his size, length or athleticism to beat practically anybody from that range. Gay has been much more aggressive in crashing the glass as well, using his nearly endless reach and superior physical skills to collect points right around and above the rim. In transition he has been phenomenal as usual, giving Sportscenter fans plenty to chew on with a couple of highlight reel caliber plays.

Like we have said before, it isn't going to take much for Rudy Gay to regain his spot near or at the top of the 2006 draft board. Where a player like Adam Morrison needs to play a full season of 30 ppg basketball to keep his stock high, it only takes a couple of nice performances before Gay's listless first fifteen or so games of the season are a distant memory. Rudy Gay's physical gifts are simply too great to ignore. If Gay can take the mentality he has shown over the past four games and extend it into March, he will be a top 3 pick come June.

[Read Full Article]

---