Seth Curry
Recent Tweets
All Tweets
DraftExpress: More Undrafted Vander Blue Robert Covington Adonis Thomas Kenny Kadji Vitalis Chikoko Seth Curry D.J. Stephens Augusto Cesar Lima.
2013-06-28 00:19:03
DraftExpress2: Finished gathering situational data on the PG\/SG prospects in our top-100. Most efficient scorers Seth Curry Oladipo McCollum McLemore.
2013-06-07 10:39:50
DraftExpress: Injuries Seth Curry (shin surgery) Gorgui Dieng (ankle) Jamaal Franklin (ankle) Ryan Kelly (foot surgery) C.J. Leslie (wrist tendonitis)
2013-05-16 09:36:37
DraftExpress: DX Trending Prospects (1\/16\/2012) - Updated scouting reports on Spencer Dinwiddie Seth Curry and Rodney Williams.\nhttp\/\/t.co\/9MlhQjfi
2013-01-17 12:29:38
DraftExpress: DX Trending Prospects (1\/16\/2012) - Updated scouting reports on Spencer Dinwiddie Seth Curry and Rodney Williams http://t.co/uCkqVRKw
2013-01-16 22:16:07
Top 25s - Full List
Team: Kings
Physicals
Positions
Salary
Misc
H: 6' 3"
W: 179 lbs
Bday: 08/23/1990
(25 Years Old)

Current: SG
NBA: SG
Possible: SG

Agent: Jeff Austin

High School: Charlotte Christian
Hometown: Charlotte, NC

Predraft Measurements
| Year | Source | Height w/o Shoes | Height w/shoes | Weight | Wingspan | Standing Reach | Body Fat | No Step Vert | Max Vert |
| --- | --- | --- | --- | --- | --- | --- | --- | --- | --- |
| 2013 | NBA Draft Combine | 6' 1" | 6' 3" | 179 | 6' 4" | 8' 1.5" | 9.6 | NA | NA |



Basic Per Game Statistics

- Comprehensive Stats - Statistical Top 25s
| Year | League | Name | GP | Min | Pts | FG | FGA | FG% | 2Pt | 2PtA | 2P% | 3Pt | 3PtA | 3P% | FTM | FTA | FT% | Off | Def | TOT | Asts | Stls | Blks | TOs | PFs |
| --- | --- | --- | --- | --- | --- | --- | --- | --- | --- | --- | --- | --- | --- | --- | --- | --- | --- | --- | --- | --- | --- | --- | --- | --- | --- |
| 2015/16 | NBA | Seth Curry | 9 | 7.4 | 4.3 | 1.6 | 2.3 | 66.7 | 0.6 | 1.0 | 55.6 | 1.0 | 1.3 | 75.0 | 0.2 | 0.2 | 100.0 | 0.0 | 0.3 | 0.3 | 1.0 | 0.0 | 0.0 | 0.3 | 0.3 |

Player Page&nbsp&nbsp| Player Stats | Mock Draft History | Related Articles&nbsp&nbsp| Add to My Draft Express&nbsp
&nbsp
NBA Combine Interviews: Pressey, Curry, Siva
May 22, 2013
[Read Full Article]

---
Trending Prospects (1/16/2012)
January 16, 2013
US Presswire



Kyle Nelson

Seth Curry has been on NBA scouts' radars since his outstanding freshman season at Liberty. Since transferring to Duke, scouts have had the opportunity to see Curry play in a variety of roles – on and off of the ball—with mixed results.

Finally able to play his natural position at shooting guard, Curry has emerged as a deadly perimeter scorer for the Blue Devils during his senior season, averaging 16 points per game in a role that will only expand following Ryan Kelly's foot injury. While he's undoubtedly an outstanding college player, the jury is still out on just how good of a NBA prospect he is at this stage.

He certainly does not look the part, standing only 6'2 with a decent 185-pound frame, well undersized for an NBA shooting guard and without much in the way of length to compensate. He is not particularly quick or explosive either, as he possesses a below average athletic profile even at this level. That being said, he does maximize his ability due to his instincts, skill-level, and savvy, which allow him to overcome many of his physical deficiencies at this level.

On the offensive end, it is easy to see how much Curry's role has changed from his junior to senior season. After being utilized as more of a Jon Scheyer type lead ball-handler and facilitator earlier on in his junior year, he's now no longer asked to bring the ball up the floor and initiate Duke's offense thanks to the emergence of Quinn Cook. In the half-court, he finds most of his offensive touches in isolation sets and as the ball handler out of the pick-and-roll.

He still sees nearly a quarter of his possessions in spot-up settings, but he has found his shooting stroke once again, after falling off in that area last year. According to Synergy Sports Tech, 72.2% of his half-court shots are jumpers (as opposed to 90% during his junior season), with 10% coming off of runners with 18% around the basket.

Curry is making 41.3% of his three point attempts and ranks once again as one of the best shooters in our database. Though his shooting motion is slightly unorthodox – as he gets a lot of elevation on his jumper – his mechanics are outstanding, both fluid and quick. Furthermore, he can get his shot off against just about anybody at this level, being equally adept at shooting off of the dribble, guarded or unguarded, and from a standstill.

Most improved, however, is his ability to create off of the dribble, as he shows very solid ball-handling skills and increased aggressiveness to accompany his already stellar instincts. While his first step is just average, he is able to use a variety of hesitation moves, jukes, and fakes to get by his man. Though his lack of explosiveness limits him around the basket and he still favors his right hand, he shows good touch around the rim while showing flashes of mastering a floater.

While Curry likely lacks the strength and athleticism to finish consistently around the basket in the NBA, it is worth noting that he is averaging a career high 5.3 free throw attempts per 40 minutes pace adjusted this season, a testament to his improved aggressiveness and ability to draw contact in the lane. He also has a very well-developed mid-range game, with the all-around skills to find offense – at 53.1% 2FG – at any spot inside of, in addition to beyond the arc.

His improvement as a scorer has come at the expense of his development as a point guard, however, as Quinn Cook has taken control of the point for the foreseeable future, and it's generally accepted at this stage that he's more comfortable playing off the ball. While Curry is adept at creating out of the pick-and-roll, it is primarily in a scoring capacity and though he still shows solid vision at times (and rarely turns the ball over), his role (and strengths) dictates that he prioritizes his own offense over his teammates'.

Another significant question mark comes on the defensive end. Curry plays with excellent focus, effort, and intensity, but lacks the lateral quickness, length, and size to consistently stay in front of NBA caliber athletes at this level. While he usually defends opposing team's shooting guards, it's safe to say that with his average physical tools that won't be anywhere near as easy at the NBA level.

Ultimately, Curry's prospects at the next level are mixed. On the one hand, sharpshooting undersized collegiate combo-guards such as Brian Roberts and Daniel Gibson carved out niches in the NBA despite their lack of ideal size and athleticism. These players are the exception to the rule, however, and it will be up to Curry to prove that he can overcome his physical deficiencies. He is very much a tweener without standout strength, length, or athleticism and with legitimate questions about how he'll transition on both offensive and defensive ends at the next level.

Scouts will consider Curry's weaknesses alongside some very intriguing strengths, however, as he is a lights out shooter, a top notch scorer, and a winner with excellent intangibles and work ethic. Furthermore, he has played whatever role Duke has required him to, suggesting that he could possibly transition into a player capable of handling backup minutes in specific lineups in the NBA. For these reasons, teams drafting in the second round will have to take a long look at Curry, especially if he ramps up his production in the wake of Ryan Kelly's injury. Even if the NBA is not ultimately in the cards, Curry looks to have a long and fruitful career playing at a high level overseas.

[Read Full Article]

---
Top NBA Draft Prospects in the ACC, Part Three (#11-15)
September 21, 2011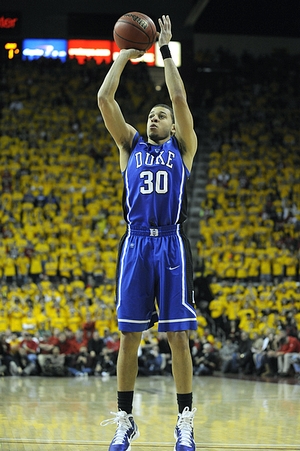 Icon SMI



Walker Beeken

After playing more of a complimentary role off the ball last season next to 2011 first round pick Nolan Smith (and #1 overall pick Kyrie Irving when he was healthy), Seth Curry will likely have the opportunity to play more minutes and display more of his overall game in 2011-2012. While Curry will still need to earn his playing time in Duke's loaded backcourt, he seems to have emerged as the likely starter at point guard in his upcoming junior season, having started all four games at the point in Duke's exhibition tour last month in China and Dubai.

This would be the second fairly dramatic role change in Curry's college career thus far, after already having to make the adjustment to a lower usage player when he transferred from Liberty to Duke. His field goal attempts per forty minutes pace adjusted went from 18.1 as a freshman at Liberty to just 9.9 last season, as he spent much less time with the ball in his hands creating offense and more time spotting up. It will be very interesting to see how he responds this season in a role that should still be quite different than either of his previous two seasons.

As we've mentioned before, Curry's game, similar to his older brother Stephen Curry, is based on his deadly outside shooting touch, as nearly 90% of his overall shots last season were jumpers, and 62% of his field goal attempts came from beyond the arc. Used mainly as a spot up shooter last season, Curry improved his 3-point percentage from 35% in his season at Liberty to a lethal 44% last year at Duke.

He uses his threat as a perimeter shooter to open up his game off the dribble. While he lacks the explosive first step to blow by his man off the bounce, he does have an excellent feel for the game, and he knows how to change speed and direction to get his man on his heels just enough to create space for his shot or open up his driving game. He showed the ability last season to penetrate off of close-outs and find his teammates, whether it was drive-and-kicks to open shooters or nifty dishes to Duke's big men for easy buckets. His decision-making looked solid in pick-and-roll situations as well, albeit in a small sample size.

With more opportunities to handle the ball and create offense this season, it will be interesting to see if Curry has made strides as a finisher in the paint and in the mid-range. Like most smaller players who lack great explosiveness, he struggled to finish in the lane and hadn't yet developed a reliable floater or other shots to score efficiently inside the arc, as evidenced by the poor 40% he shot on 2-pointers last season, placing him last by a large margin amongst players ranked in our top-100. He also did not get to the free throw line at a high rate, just 3.5 times per-40 minutes pace adjusted, which ranks in the bottom ten of our top-100 prospects.

Playing more of the point could also change how Curry operates on the defensive end, depending on how Coach K decides to use him. He played with high intensity last season defensively, as is usually demanded at Duke, and also showed good instincts with help and in the passing lanes. Getting to see him defending the primary ball-handler more often will give scouts a better feel for whether or not he'd be able to defend the point guard position at the NBA level, where he'd face stronger and more athletic players on a regular basis.

This will be Curry's third college season in a different role, and this one should give us the best glimpse yet of his true NBA potential, as he'll likely be asked to play more like a point guard on both ends of the floor. Although he does have some physical limitations as a prospect, he'll get plenty of exposure this season at Duke, and he has the shooting stroke, feel for the game, and bloodlines that make him an intriguing player to keep an eye on.

[Read Full Article]

---
Top NBA Draft Prospects in the ACC, Part Three (#11-15)
October 22, 2010
Joseph Treutlein

Coming off a very promising freshman season at Liberty, Seth Curry sat out the 2009-2010 season while transferring to Duke, and now walks into a loaded backcourt where he'll have to earn every minute he gets battling with Kyrie Irving, Nolan Smith, Kyle Singler, and Andre Dawkins. Playing mostly off the ball in his time at Liberty, Curry is likely to do more of the same at Duke, where he most likely projects as a sparkplug scoring sixth man in their rotation.

Standing 6'2 with just a decent frame and sub-par explosiveness and quickness, Curry doesn't do most of his damage by virtue of his first step or leaping ability, neither of which are impressive by NBA standards. What Curry does bring to the table is an outstanding grasp of the ability to change directions and speeds with the ball, an incredibly high skill level with his ball-handling and scoring, and a very high basketball IQ and motor to boot.

On the offensive end, much like his brother Stephen Curry, Seth's game centers around his extremely potent jump shot, which possesses range to the NBA three-point line and is often taken from high difficulty situations, pulling up off the dribble, coming off screens, and/or with a hand in his face. At Liberty, Curry saw a ridiculous amount of defensive attention both on and off the ball, making it very rare that he would have a truly open spot-up shot, something that severely hurt his efficiency numbers.

In terms of his shooting ability, Curry possesses excellent form with a high and quick release while he's capable of getting his shot off in virtually any situation. Curry wasn't a very efficient player as a freshman, in part due to the role he was forced to play and in part due to him still having room for improvement with his off-the-dribble jumper, as he doesn't keep on balance consistently and is prone to some very errant misses. At Duke, he should see far more open spot-up jumpers, something he basically never saw at Liberty, and this should make him a much more effective three-point shooter by the numbers.

Attacking the basket, Curry has a very strong and controlled handle with both hands, while he also has a good command of advanced moves such as spins and crossovers. He struggles to get separation at times due to his weak first step, but he does a good job using hesitation moves to compensate. In the lane, he relies mostly on pull-up jumpers and floaters, something he could still improve upon, while he struggles finishing at the rim when he does decide to go all the way to the basket, not having the vertical explosiveness or strength to finish well against weakside help.

As a playmaker, Curry shows pretty good court vision and makes some nice passes in the flow of the offense, but is clearly much more of a shooting guard than point guard at this stage of his development, and likely will have to wait to develop his point guard skills at Duke with Nolan Smith and Kyrie Irving in the picture this season.

Defensively, Curry brings a good fundamental base and high motor to the table, but his lateral quickness is below average, leaving him prone to being beat by first steps or quick change of direction moves. He makes up for this somewhat by having good positioning and moving his feet well, but he often is overmatched on this end of the floor. Off the ball he shows good awareness and moves well sticking with his man, while he does a good job closing out to contest perimeter jumpers.

Looking forward, Curry's physical attributes will always hold him back somewhat from an NBA perspective, so maximizing those tools need to be among his top priorities. As for the rest of his game, he has a nice foundation of skills centered around his excellent perimeter jumper, but taking his off-the-dribble game to the next level by becoming more consistent with his shot selection and also improving on his ability to make floaters and runners in the lane will be critical to his chances at making it in the NBA.

[Read Full Article]

---
USA Basketball Junior National Teams Tryouts: Top Performers
June 20, 2009
Seth Curry would have been able to help Duke this year already from what we were able to see at the tryouts, as he's an extremely complete all-around player with a great feel for the game. Possibly an inch taller than his brother Stephen, with a better frame at the same age, Seth doesn't show the same quickness or playmaking ability, but has a similar ability to play at different speeds. His ability to move off the ball and get open is about as developed as you'll find from a player this age, and he quickly established himself as the best shooter on the team, sometimes reeling off three or four 3-pointers in a row in consecutive possessions for good measure.

Best of all, Curry is a team player and a very competitive guy, really putting good effort in on the defensive side of the ball, and also showing nice passing skills. He's not overwhelmingly athletic but has a certain smoothness to his game, doing a good job at using shot-fakes and looking very crafty in transition. He needs to develop more of a dribble-drive game, as we didn't see him get all the way to the basket more than a handful of times at best over the course of the week, always preferring to pull up off the dribble for a pretty mid-range jumper.

[Read Full Article]

---