Team: Pistons
Physicals
Positions
Rankings
Salary
Misc
H: 6' 9"
W: 227 lbs
Bday: 02/16/1986
(29 Years Old)

Current: SF/PF
NBA: SF
Possible: SF/PF

RSCI: 37

Agent: Happy Walters
Current Salary:$1,227,985

High School: Laurinburg Institute
Hometown: Memphis, TN
Drafted: Pick 17 in 2006 by Pacers
Best Case: Tim Thomas
Worst Case: Dermarr Johnson

Predraft Measurements
| Year | Source | Height w/o Shoes | Height w/shoes | Weight | Wingspan | Standing Reach | Body Fat | No Step Vert | Max Vert |
| --- | --- | --- | --- | --- | --- | --- | --- | --- | --- |
| 2006 | NBA Pre-Draft Camp | 6' 7.25" | 6' 8.75" | 227 | 7' 3" | 8' 8" | 8.0 | 32.0 | 31.0 |



Basic Per Game Statistics

- Comprehensive Stats - Statistical Top 25s
| Year | League | Name | GP | Min | Pts | FG | FGA | FG% | 2Pt | 2PtA | 2P% | 3Pt | 3PtA | 3P% | FTM | FTA | FT% | Off | Def | TOT | Asts | Stls | Blks | TOs | PFs |
| --- | --- | --- | --- | --- | --- | --- | --- | --- | --- | --- | --- | --- | --- | --- | --- | --- | --- | --- | --- | --- | --- | --- | --- | --- | --- |
| 2014/15 | NBA | Shawne Williams | 44 | 21.0 | 6.6 | 2.3 | 5.5 | 42.5 | 1.0 | 2.0 | 47.7 | 1.4 | 3.5 | 39.5 | 0.6 | 0.8 | 84.8 | 0.6 | 2.5 | 3.2 | 0.8 | 0.5 | 0.4 | 0.5 | 2.6 |
| 2014/15 | NBA | Shawne Williams | 19 | 8.6 | 2.6 | 1.0 | 3.2 | 31.7 | 0.8 | 1.8 | 44.1 | 0.2 | 1.4 | 15.4 | 0.4 | 0.4 | 100.0 | 0.5 | 0.9 | 1.4 | 0.4 | 0.2 | 0.2 | 0.4 | 1.0 |

Player Page&nbsp&nbsp| Player Stats | Related Articles&nbsp&nbsp| Add to My Draft Express&nbsp
&nbsp
NBA Scouting Reports: Filling in the Blanks- Small Forwards (Part Two)
November 17, 2009
Overview:A young combo forward who has plenty of talent but lacks the discipline or work ethic to take advantage of it. Very tall (6-9) and long (7-3 wingspan) for the three spot. Has the size to play the 4 in some spurts as a face-up option. Doesn't display very much explosiveness, but is a smooth athlete who shows some deceptive athleticism. Lacks a degree of physical strength but has improved in that area a bit over time. Able to make some impressive plays with the ball in his hands. Had a solid campaign in his only season at Memphis. Named Conference USA Freshman of the Year due to his solid scoring, rebounding, and defensive production. Drafted by the Pacers, but struggled to translate his shot selection and versatility to the NBA level. Has had numerous off the court issues, and has not shown much willingness to act like a professional. Conditioning often looks questionable. Extremely young for a player of his experience level, and still has plenty of room for improvement if he were to get serious about basketball. May have burned too many bridges at this point and could be out of the league shortly.

Offense: Gets about one third of his offensive from spot up opportunities and another quarter from fast breaks. Likes to play more uptempo, where he can play to his strengths. Not the greatest option in a structured environment. Displays a quick release on his jumper, but isn't always consistent with his form or rhythm. Will take some shots from beyond the arc, but proves erratic at best. A mediocre catch and shoot option, especially since with a hand in his face. Doesn't always show ideal perimeter footwork and will take off balance shots. Not a very good ball handler for a forward hurting his ability to create better looks for himself. Extremely questionable decision-making off the dribble and equally questionable results when pulling up. Lack of bulk and explosiveness have hurt his finishing ability. Struggles in traffic, but displays a solid left hand at the basket. Will get some chances to face up with the ball on the block and looks pretty smooth when he does. Hasn't gotten to the line much in the NBA. Not an efficient player. Not too turnover prone, but not much of a passer either. Can make some tough plays look easy thanks to his terrific talent level, but has yet to polish his game to the point that he can consistently connect the dots.

Defense: Not a very good defender. Has good length and some athleticism, but struggles to create turnovers due to his lack of great quickness. Doesn't show the best fundamentals or awareness. Has a hard time getting over screens. Lacks the speed to recover once he's beat. Will try and get a hand up shooters, but won't always get in a good stance, loses the ball on the weakside, and will get pushed around by bigger defenders. Not a terribly poor rebounder, but lacks the bulk to hold his own in the paint.

[Read Full Article]

---
Orlando Summer League, Day One
July 8, 2008
Shawne Williams looks very much out of shape, sporting an undershirt and clearly not in any type of rhythm at this point in time. He looked slow getting out in transition, and displayed very poor shot selection as well. Watching him play, there is no question that he has all the talent in the world at his disposal—as he's capable of doing many different things offensively—but there are major question marks if he has the head to take advantage of that and carve out a niche in the league. This is a huge season for him and he needs to get himself together quickly.

[Read Full Article]

---
Shawne Williams NBA Draft Scouting Report
June 16, 2006


Strengths


In terms of physical attributes, Williams is one of the more intriguing wing small forwards in this draft. He has outstanding height at just a shade under 6-9 with a terrific wingspan and standing reach, and his frame shows plenty of potential to play either the 3 or the face-up 4 position depending on the direction he decides to head in. As an athlete, the best way to describe him would be "smooth". Williams is not terribly explosive, but he gets to where he needs to on the floor and is quick off his feet to finish with a dunk or pull down a rebound.

Offensively, Williams has terrific potential as a mismatch threat. His size and the high release point and elevation he gets on his shot means that he will be able to get his shot off almost whenever he pleases, as well as the quickness in which he gets his shot off. Although he is anything but a consistent shooter from long range at this point in his career, there is plenty of reason to believe that he will become a fine outside shooter if he puts the work in. He was used mostly as a pick and pop threat at the collegiate level; and this is what his role in the NBA projects at as well. Whether it was from the high or low post, Williams consistently showed the ability to use his height to see the entire floor and find the open man with his terrific passing skills.

Thanks to his height and length, Williams has nice potential as an all-around stat-stuffer and has put together some nice lines in college with steals, blocks, rebounds and assists.

Considering the direction the NBA is heading towards, players like Williams are en vogue these days. Only being a freshman, he still has plenty of upside to continue to improve.




Weaknesses


Williams played the power forward position in college and is still a bit stuck between positions as far as the NBA is concerned. This comes to play the most in his slashing and perimeter defense.

Williams is a bit averse to putting the ball on the floor and will rarely take it all the way to the basket. When he did in college, his dribble looked high and out of control at times, as he doesn't get very low to the ground and lacks a bit of body control to finish in traffic in the lane.

Instead of taking the ball strong at the hoop, Williams has a tendency to settle for tough fadeaway jump-shots off the dribble, showing poor shot selection and really hurting his field goal percentage. He finished the season shooting 41% from the field and just 32% from behind the college 3-point line, but that did not stop him from attempting nearly five 3-pointers per game. While his shooting mechanics are very pretty, he leaps and lands forward on almost all of his shot attempts.

Learning how to use his size and length better to get higher percentage shots around the basket will help him become a more versatile player. His footwork in general needs to improve, whether it's on the perimeter offensively and defensively or inside the paint to score over smaller defenders. He does not appear to be the most physical player in this draft, often shying away from contact.

Defensively, there are some questions marks regarding Williams' ability to defend the perimeter. His lateral quickness is just average and his awareness on this end of the floor is less than ideal, often losing his focus and not always being terribly committed to staying in front of his man. Experience is a major factor here, as concepts like hedging a screen or rotating over on help defense are not things he particularly excels at. Like all Memphis players, he had a tendency to gamble for steals.

Despite only being a freshman, Williams is the same age as some juniors in this draft class, as he spent a year at prep school getting eligible for college after finishing high school.



Competition


Williams was a highly touted high school player that did not make the cut for college right away and was forced to go to prep school at Laurinburg prep for a year. He joined Memphis for one season and looked to be on his way to contending for freshman of the year honors after an incredibly hot start, cumulated with a 21 point (5-7 3P), 7 rebound, 4 assist performance against UCLA and a 15 point, 8 rebound outing against Duke, both in the preseason NIT in November. He faded significantly once the in-conference portion of Memphis' schedule begun, which was ironically substantially weaker than the murderer's row they faced early on in the year. He finished the year averaging 13 points and 6 rebounds per game.



Outlook


After an inconsistent freshman season, Williams decided to declare for the draft and eventually ended up hiring an agent after hearing that his stock looks fairly solid for the first round. This didn't come as a huge surprise considering that Williams has always seemed to have the NBA on his mind since emerging as a top high school player, and even considered declaring after his one year at Laurinburg before coming up extremely flat in the high school all-star games. Some experts say that Williams is a strong candidate to be drafted in the top-20, with much of this having to do with how strongly Memphis coach John Calipari is supporting him through the media. Where he ends up landing is anyone's guess in what appears to be one of the crazier drafts in recent memory. The team that drafts him will need to have patience, as the word "project" has come up following many of his private NBA workouts.



[Read Full Article]

---
West Coast Swing: Shawne Williams, Thomas Gardner Workout
June 1, 2006

The headliner of this workout, Williams is a player we never really felt that we had a great handle on from the game footage we've seen in the past and recently acquired. There was always a feeling that he could be showing slightly more, and that was somewhat the case walking out of this workout as well unfortunately.

Just looking at him, it's not hard to tell why NBA types like him and especially his potential. He passes the eye test and then some, with great size, a phenomenal frame, long arms, wide shoulders and excellent lower body strength. He looks the part of your Boris Diaw/Tim Thomas small-ball forward, and has most of the budding skills you'd like to see from a player in that mold.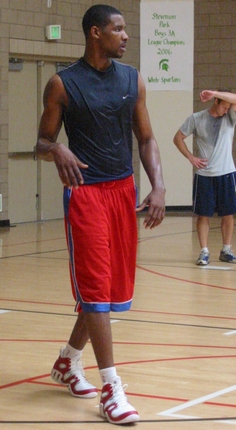 Jonathan Givony, DraftExpress.com



Williams was excellent in most of the mid-range drills conducted here, looking very good knocking down unguarded shots from both off the dribble as well as with his feet set from 14-18 feet out. He has smooth mechanics on his jump-shot, even though he jumps forward a bit on each attempt, with very good elevation and a high release point that will make his shot nearly unblockable when taking into consideration his height. Abunassar pointed out that this workout was intended to work on and show the type of shots he'll get and hopefully knock down in the NBA, as he projects mostly as a face-up forward whose bread and butter lies in his ability to pick and pop, which is what the NBA seems to be all about these days.

When attacking the basket in the one on zero drills, Williams looked quite effortless putting the ball on the floor and elevating quickly and impressively off the ground to dunk with either hand. Much like during the regular season, he did not stand out in any one particular area in the drills, but did a good job showing off his all-around upside here.

In the 2 on 2 was where we were allowed to learn a little more about the type of player he is at the moment, rather than what he projects to become in a few years. He looked smooth on the catch and shoot with his feet set, but did not show much in the ways of putting the ball on the floor and making his way all the way to the basket.

Williams is, at this point, more comfortable creating a mid-range shot off a short jab-step and pull-up rather than slashing hard and finishing with contact at the hoop. Similar to the impression we got watching Rudy Gay last weekend in Washington DC, Williams gets his shot off from the perimeter almost whenever he pleases due to his size, high release point and terrific elevation, and therefore has a tendency to settle for tough, contested shots that sometimes go in. It might be unfair to criticize someone who only played college basketball for one year, but at this point he lacks the improvisation skills, experience, ball-handling ability, explosive first-step and shot-creating polish in terms of hesitation moves and overall craft to be a reliable and consistent offensive threat outside of the pick and pop. He is still stuck a bit between the 3 and the 4 positions on both ends of the floor.

He wasn't the most intense player we saw in our 4 days/4 workouts in Los Angeles, particularly on the defensive end where he struggled to stay in front of his man. This might have had something to do with the nature of the workout and the fact that he was clearly the most talented player on the floor at all times. His potential here did come out at one point, though, with a super-quick recovery on the perimeter and an impressive blocked 3-point attempt on the 6-8 Rodney Epperson. In the NBA 3-point shooting drills at the end of the workout, Williams struggled to a certain extent, hitting 5/11 from the right corner, 5/14 from the left corner, and 5/8 from straight-away.

All in all this workout did a good job of showing the player Shawne Williams might develop into in the future, but was inconclusive at best or underwhelming at worst in terms of showing the player he is right now. The NBA draft is all about upside, though, and this is something that he clearly has plenty of. Most of his weaknesses are hopefully the type of things that can be developed under the right coach, but he's more of a down the road type guy than someone who will be expected to step in right away and produce. Williams is projected by most as a top-20 pick and is working out for teams accordingly, and according to his agent Happy Walters has been invited to the physical-only portion of the NBA pre-draft camp, which should tell you that his stock is indeed where it needs to be right now in the eyes of the people that count most.

[Read Full Article]

---
NCAA Tournament: NBA Draft Stock Watch (Elite Eight, Saturday Games)
March 26, 2006
Williams started off the college season hot, but regressed significantly shortly after and performed extremely inconsistently throughout the year. In his final game of the season against UCLA, Williams played like a freshman. On offense he is out of control driving to the hoop too often, as he appears to make up his mind on what he is going to do before he even sees what the defense is giving him and regardless displays average ball-handling skills. Williams displayed some ability to post up smaller players, but he was unable to finish any of his moves. His horrendous shot-selection which has been killing him all season long again came back to haunt him tonight, and despite his excellent form and hot shooting early in the season, the 6-9 college power forward will finish his freshman year shooting just 42% from the field and 31% from behind the arc on nearly 5 attempts per game.

Though he has very good long term potential, Shawne Williams lacks a great deal of polish and experience right now, not to mention a true NBA position. It would be wise for him to stay in college another season to work on his game, because it's very difficult to see any way in which he could slip into the first round considering the talent we find at the wing positions in this year's draft.

[Read Full Article]

---