Sylven Landesberg
Recent Tweets
All Tweets
Sylven Landesberg will play for Sacramento's summer league squad in Las Vegas.
2010-06-25 15:22:01
Top undrafted free agents: Brian Zoubek, Samardo Samuels, Alexey Shved, Jeremy Wise, Mikhail Torrance, Sylven Landesberg, Manny Harris
2010-06-24 22:58:00
Not so great media interviews: Al-Farouq Aminu, Sylven Landesberg, Stanley Robinson, DeMarcus Cousins, Ed Davis, Derrick Favors, Greg Monroe
2010-05-20 16:34:03
NBA Combine Invites are out. Besides obvious, I heard Sylven Landesberg, Mikhail Torrance, Derrick Caracter and Kevin Seraphin were invited.
2010-05-05 06:33:40
Good stuff. Agree 100% RT @cgrock24: Sylven Landesberg,UVA BB, http://cli.gs/q806Pd post drew a lot of interest. (cont) http://tl.gd/lrl7o
2010-03-29 12:35:04
Top 25s - Full List
Team: Maccabi Tel Aviv
Physicals
Positions
Rankings
Salary
Misc
H: 6' 6"
W: 210 lbs
Bday: 04/10/1990
(25 Years Old)

Current: SG
NBA: SG
Possible: SG

RSCI: 34

Agent: Jeff Schwartz

High School: Holy Cross
Hometown: Queens, NY

Predraft Measurements
| Year | Source | Height w/o Shoes | Height w/shoes | Weight | Wingspan | Standing Reach | Body Fat | No Step Vert | Max Vert |
| --- | --- | --- | --- | --- | --- | --- | --- | --- | --- |
| 2010 | NBA Draft Combine | 6' 4.75" | 6' 6.25" | 210 | 6' 9" | 8' 4.5" | 11.6 | 28.0 | 32.0 |



Basic Per Game Statistics

- Comprehensive Stats - Statistical Top 25s
| Year | League | Name | GP | Min | Pts | FG | FGA | FG% | 2Pt | 2PtA | 2P% | 3Pt | 3PtA | 3P% | FTM | FTA | FT% | Off | Def | TOT | Asts | Stls | Blks | TOs | PFs |
| --- | --- | --- | --- | --- | --- | --- | --- | --- | --- | --- | --- | --- | --- | --- | --- | --- | --- | --- | --- | --- | --- | --- | --- | --- | --- |
| 2015/16 | EURO | Sylven Landesberg | 7 | 19.1 | 6.4 | 2.4 | 8.0 | 30.4 | 1.6 | 4.7 | 33.3 | 0.9 | 3.3 | 26.1 | 0.7 | 1.6 | 45.5 | 0.1 | 2.1 | 2.3 | 1.1 | 0.4 | 0.0 | 1.0 | 1.6 |

Player Page&nbsp&nbsp| Player Stats | Mock Draft History | Related Articles&nbsp&nbsp| Add to My Draft Express&nbsp
&nbsp
NBA Combine Interviews: Hobson, Hayward, Richards, Stephenson, Garcia
May 28, 2010
[Read Full Article]

---
Landry Fields: The Players You See. The Players I Play
April 25, 2010
Anyway, Virginia was a talented team with a new head coach in Tony Bennett who recently came from Washington State. In this game, I played against a player who at one point or another was or is on a few draft boards, Sylven Landesberg.

Landesberg was a pretty talented player and had a decent game, however didn't really have the kind of game most would expect out of him against us. He had pretty good size for a two guard and I could see he had a decent feel for the game.

This was a game we had to win because the winner would take on Kentucky the following day and Stanford needed to get some national attention and turn some heads early if we were ever going to have a shot at the tournament. The game remained close throughout and Virginia had some pretty good talent outside of Landesberg.

Mustapha Farrakhan was probably one of my favorite players to against that whole tournament. I thought he gave great energy and solid minutes for his team. Not to mention, Jeff Jones was strokin' it that game. However, even through the great play out of their squad, we managed to pull it out. We beat Virginia and would go on to face Kentucky and their crowd.

[Read Full Article]

---
NCAA Weekly Performers, 3/25/10
March 25, 2010
Jonathan Givony

After two seasons at Virginia, Sylven Landesberg's college basketball career appears to be over, as the school announced that he'll be dropping out to "pursue his professional aspirations." Landesberg was suspended before the ACC tournament for academic reasons, as he reportedly was not attending an art class he was enrolled in all semester long. Virginia finished the season 15-16 in its first year under Tony Bennett, after the coach that initially recruited Landesberg, Dave Leitao, was fired. It is presumed that Landesberg will now enter his name in the NBA draft, although no formal announcement has been made at this point.

Landesberg is coming off another very productive season at Virginia—despite playing in a completely different system than he was recruited to under Leitao--earning second-team All-ACC honors in the process. His scoring rate improved substantially this year (adjusting for pace and minutes played), although his efficiency numbers largely stagnated. His 2-point percentages (45%) remain unimpressive, although he is shooting the ball better from beyond the arc—38%, up from 31% last year, on a limited number of attempts.

He continues to get to the free throw line, rebound, and distribute the ball effectively, while his turnover rate is down this season. From a statistical standpoint, he's obviously made strides this year, even if that didn't necessarily help his team that much—they dropped 9 of their last 10 games and finished tied for second to last in the ACC, with a 5-11 record.

Using the data at our disposal to analyze the difference in Landesberg's role between this year and last, a couple of key things stand out. Most notable would be the pace his team played at, down from 68 possessions per game (92nd-fastest in the NCAA) to 63 (317th-fastest). Landesberg operated far less in transition according to Synergy Sports Technology, with jump-shots becoming a more important part of his game compared to last year. He was utilized substantially more coming off screens and in pick and roll plays this season, although he was allowed significant opportunities to operate in isolation situations as well.

Landesberg's main appeal as a prospect remains his ability to create his own shot as a 6-6 swingman—something you just don't find that often. He's an incredibly smooth, fluid athlete, not terribly explosive, but nevertheless possessing a wide array of shifty ball-handling skills and hesitation moves to get his man off balance and attack him with terrific timing. This is a skill that is extremely difficult to teach, and gives him a great base to build off as a scorer down the road. Watching him play, it's not difficult to see a little bit of Evan Turner in his game in this regard, minus the same incredible versatility and feel for the game.

Unfortunately for Landesberg, he does not currently possess the same ability to finish his drives as he does creating then. He is not incredibly explosive around the basket, often lacking the verticality needed to get his shot off in traffic already at the college level, and not yet showing the best instincts for initiating contact in the paint and drawing fouls.

While he gets to the line at a solid rate (about average in fact amongst the NCAA's top shooting guard prospects), he could do a much better job of driving into his defenders (rather than around them) and not settling for as many floaters in the lane as he currently does.

Part of this will come naturally with added strength and experience, but getting coached up in this area and making more of a commitment to not settling for the first shot that becomes available will go a long ways in honing his terrific slashing potential.

As a shooter, Landesberg has clear-cut strengths and weaknesses. On one hand he doesn't get much elevation on his flat-footed and somewhat deliberate stroke, either in catch and shoot situations or when pulling up off the dribble. This will make it more difficult for him to get his shot off at the NBA level where defenders are bigger, longer and more athletic than in the NCAA.

On the other hand, Landesberg clearly has an innate feel and touch for making shots, something that again speaks to the talent he possesses. While he probably will need to tweak his mechanics and learn how to get his shot off quicker, he should be able to figure things out at some point in his career.

While Landesberg clearly projects as a swingman at the professional level, he does possess some very intriguing playmaking skills that demonstrate strong court vision and a high basketball IQ. He makes a couple of very nice passes each and every game, advancing the ball crisply in a simple and effective manner to get his teammates open looks, and sometimes threading the needle in highlight reel fashion for impressive assists. His ability to see the floor and help facilitate an offense will likely be appreciated more at the next level than it was at Virginia, as he simply does not have the quality of teammates around him to take fully show what he can do as a passer.

Landesberg's skill-set indicates that he would likely be better suited playing a complimentary role than acting as his team's main go-to guy. That really wasn't an option on a Virginia team that was in rebuilding mode when he arrived, though, something that became even more apparent in his second season after the school hired a new coach.

Defensively, Landesberg is average at best at the NCAA level and looks a good bit away from being able to hold his own on this end of the floor in the NBA. His fundamentals are poor, as he's very much prone to biting for fakes and gambling in the passing lanes, and is very quick to get out of his stance at the first opportunity possible—getting beat quite a bit off the dribble in turn. It's not difficult to tell that this was not a big priority for him early on in his career. Possessing average length, strength and lateral quickness, Landesberg must commit himself to improving substantially on this end if he has his sights set on making an impact at the NBA level, especially early on in his career.

All things said, we're clearly not looking at a finished product, and in a perfect world, Landesberg could have used another year of development before plunging head-first into the NBA draft. He is only 19 years old after all. He obviously was not all that interested in the academic side of being a college basketball player, though—something that is clearly his right—and will now have to maneuver himself wisely to find the best situation to continue to develop his skill-set and attempt to reach his excellent potential.

Whether that means staying in the draft (where he's almost unanimously projected as, at best, a second round pick) or pulling his name out and spending time in the D-League or in Europe is anyone's guess. He's rumored to potentially be able to acquire an Israeli or Austrian passport sometime down the road, which would allow him to play as a non-American in leagues like Spain, Italy, Greece or Israel itself. It will be interesting to see which route Landesberg takes, and even if he doesn't make or stick around the NBA initially (by design or not)—or even gets stashed for a few years by the team that drafts him-- he's an intriguing talent to keep track of to see how he continues to develop.

[Read Full Article]

---
Top NBA Draft Prospects in the ACC Part Two (#6-10)
October 21, 2009
Joseph Treutlein

One of the most productive freshmen in the country last season, Sylven Landesberg had a good freshman season on an individual level, even though his team struggled to a disappointing 10-17 record. While most of their core players return this year, Virginia doesn't have a noteworthy recruiting class, so Landesberg should have a tough time once again this season.

Offensively, there is a lot to like about Landesberg, starting with his relentless, attacking style of play, which has him constantly trying to take his man off the dribble and get to the basket. Combining a pretty quick first step with long strides, excellent body control, and a good handle with either hand, Landesberg is a tough cover in isolation. Things aren't all great in this area of his game, however, as when he gets to the basket, his finishing ability varies depending on the situation, and certainly isn't helped by the very high degree of attention defenses pay him. While Landesberg is great at drawing contact and getting to the line, and even has shown the ability to finish through it, he doesn't have the greatest vertical explosiveness around the rim, leading to some troubles when matched with multiple defenders. In addition, while he has a floater that looks very nice at times, he's awfully inconsistent with it.

Another reason Landesberg's dribble-drive game isn't near its peak is because smart defensive teams will frequently sag off him, forcing him to beat them with his jumpshot, which is still a work in progress. As a jump shooter, Landesberg is actually quite good when unguarded, averaging 1.3 points per possession in these instances according to Synergy Sports Technology, but he drops to a truly awful 0.18 points per possession on guarded jump shots, illustrating a major problem area with his game. Looking at his jumper, it's easy to see why he struggles with a hand in his face, as his shot could use a few mechanical fixes. He tends to push the ball a bit on his shot while having a slight hitch in his motion, and he often doesn't get his legs underneath him, something that becomes more likely when he's rushed. Landesberg clearly has a lot of natural shooting ability, and his efficiency on open looks and from the free-throw line is encouraging, but cleaning up his mechanics so he can become a more dynamic shooter should definitely be among his priorities and could vastly improve his game.

As for the rest of his offense, Landesberg demonstrates good court vision and passing ability on occasion, and dishes out a respectable 2.8 assists per game for a wing, but he definitely struggles to find a balance between passing and scoring, which will remain a difficult task on a very unbalanced Virginia offense, where a huge burden of shot creation falls on his shoulders. Landesberg's awareness is also a cause for concern, as he often will force dribble-drives into double teams and display tunnel vision looking for his own shot in the lane, though some of that can be credited to youth and being on an offense that asks so much of him. It'll be interesting to see how this develops in the coming years.

Defensively, Landesberg shows high effort and awareness levels, always keeping his head up and frequently flying across the court to contest jump shots in Virginia's zone. Fundamentally, he is also strong, making good use of his physical tools, namely his length, by pressuring the opposition and contesting shots. He has just average speed laterally, but he does a good job keeping his man in front of him with his constant focus and good fundamentals.

Looking forward, Landesberg projects as a likely first round pick when he comes out due to his solid size along with excellent ability in the dribble-drive game, but scouts may have a tough time getting an accurate read on him in the situation he's a part of. There are definitely questions about how he will adjust to playing a more complementary role in the pros, though improving his jump shot would definitely alleviate some of the concerns about how his game will translate.

[Read Full Article]

---
Evaluating the NCAA Freshman Class, Part Two
January 14, 2009
Little talked about Sylven Landesberg has quietly become one of, if not, the most productive freshman in the country. In a season where the freshman class has underperformed, Landesberg is showing why he was a McDonald's All-American, as he has already become Virginia's go-to-guy. His smooth demeanor coupled with an aggressive nature make this Queen's native a very intriguing NBA prospect.

Landesberg's ability to get to the basket is undeniable. He puts pressure on the defense for 40 minutes and is always in attack mode. He's not exceptionally quick, but he manages to get in the paint with ease by using a variety of crafty hesitation moves which are very tough to keep up with at the collegiate level. He handles the ball very well, and has the ability to cover a lot of ground with just one dribble.

With great size at 6'6', and a very strong frame, Landesberg does not shy away from contact; in fact, he welcomes it. He gets to the line at a very impressive rate at 8.8 times a game per-40 pace adjusted, good for 12th in the country, and 1st amongst freshman, while connecting on 82.4% of those attempts. His savvy and aggressiveness are also key factors for why he's able to get to the line so often, although there are question marks about how this part of his game might translate to the next level.

When he's not drawing contact, his finesse game takes over, enabling him to weave in and out of defenses. He displays great body control on his dribble drives, using long strides and side steps to get where he wants to go. He also has a great knack of finishing in traffic, whether it's a runner or a reverse lay-up, Landesberg finds creative ways to put the ball in the basket.

With that said, he has tendency to press and force the action. At least a couple times a game, he'll take questionable off balance shots or penetrate into a crowd, essentially wasting a few possessions each contest. Landesberg's first step is usually enough to get by at the collegiate level, but you already see instances when he struggles to beat more athletic players off the dribble, in which case he'll usually force a very tough shot off at the rim with a defender draped all over him.

Another improvement Landesberg must make in order to reach his true ceiling is with his shooting. He has a nice looking stroke, especially with his free throws, but when spotting up or pulling up he has shown an inconsistent form and a flat shot, often looking rushed and uncomfortable. He's also flat-footed when he shoots on the catch which also contributes to a flat shot as he displays a rather slow release. He's currently shooting 48.7%, with the vast majority of his shots coming at the rim and has only attempted 20 three pointers in the first 13 games making just 6 of them. His shot is certainly not broken however, and there is definite reason to think he can make the necessary adjustments to become a better overall shooter. This is extremely important for a player like Landesberg considering that he will almost certainly not be able to just get to the rim at the NBA level the way he does in college, due to his average athleticism.

Landesberg's passing skills and decision making could use some improvement as well. When driving to the basket, his mind is made up on scoring, often missing open teammates as a result. Other times he's so focused on sizing up his defender that he holds the ball and slows down the offense. With that said, the quality of his teammates leaves a lot to be desired, and he's really the only one on the roster who can really create his own shot at a high level. His A/TO ratio is a decent 1.01, and he's only turning the ball over 2.4 times game, not bad for a freshman that handles the ball as much as he does. With the country beginning to take notice of his stellar play, it's going to be interesting to see if his vision will open up due to the added attention he'll start receiving in conference play. Landesberg has an excellent feel for the game and can definitely make plays for others, so it's likely just a matter of gaining experience and learning how to better pick his spots.

On the defensive end, Landesberg has been solid and will only get better. He has all the tools to be a solid perimeter defender, even if his lateral quickness is just average, and clearly puts the effort in. He's long and very strong, and despite having great foot-speed, he makes up for it with long and low strides. There are times when he comes out of his stance and loses sight of his man, but for the most part he plays with great spirit and energy, which is true on both ends of the court.

Another outstanding element of Landesberg's game is with his ability to rebound. His no fear attitude and toughness is a big reason for why he's one of the best rebounding guards in the country, pulling down 6.7 rebounds a game per 40 pace adjusted. On his defensive rebounds, he's able to grab it and push it down the court, an extremely valuable skill, especially at the next level. He locates the ball quickly and is not afraid to sacrifice his body in traffic.

At only 18 years old (turning 19 in April), Landesberg is one of the most impressive newcomers in the country and has a game that could translate to the next level if he continues to improve his all-around skill-level and polish and learns how to overcome his athletic limitations. He's already been named ACC freshman of the week 5 times, and with a great foundation and terrific instincts, Landesberg could develop into a very intriguing NBA prospect.

[Read Full Article]

---
2008 Spalding Hoophall Classic -- Best of the Rest
January 22, 2008
Sylven Landesberg (#38 Scout, #54 Rivals) did not play his best game here at Hoophall, struggling shooting the ball from the field in a narrow loss to a Drew Gordon-less Archbishop Mitty squad. He had some problems getting to the rim, settling for contested pull-up jumpers (which he normally makes) that were off the mark today. The Queens' native's lack of athleticism was evident on a few of his attempted drives to the baskets, where he was cut off by far inferior players and forced to defer to his teammates.

With that said, Sylven is a bit of a throwback player in that he has a sly demeanor out on the floor with a very high basketball IQ. He does a bit of everything offensively, handling the ball well, shooting it with range, and finding the open man when necessary. Very aggressive going to the rim, but better going left than right, Landesberg played much stronger than his 195 pound would lead you to believe. He has a natural scorer's instinct, even though his shooting mechanics could use some work in order to improve his consistency from beyond the arc.

All in all, this was an average showing for a player who has the potential to be a major contributor next year at Virginia. The graduation of Sean Singletary and lack of a sturdy point guard will certainly open up minutes at that slot for Landesberg, although we feel he would be much better suited playing off of the ball so that he is able to make his scoring presence felt more. Either way, the opportunity is going to be there for the skilled guard to contribute during his freshman campaign.

[Read Full Article]

---
Top High School Prospects at the 2007 City of Palms Classic
December 28, 2007
Showing really nice size for a shooting guard at 6-6, and outstanding scoring instincts, there is really a lot to like about Sylven Landesberg's (#38 Scout, #54 Rivals) smooth and effortless style on first glance. He's a talented ball-handler, with lots of fancy moves in his arsenal that allow him to change gears and constantly keep his defender off balance. He can shoot the ball with streaky range both from behind the arc or preferably pulling up off the dribble from mid-range, sometimes taking things a step farther and finishing with a pretty floater. He's a creative scorer with really nice versatility, but can also pass the ball very well too, seeing the floor very well at his height and really showing excellent court vision both in transition and in the half-court. Despite his scoring prowess, Landesberg seems to be a pretty unselfish guy who can surely create for others. Offensively, he's a very skilled player.

Defensively, Landesberg has average lateral quickness but seems to do a very good job competing on most possessions, looking tough and pretty active, even hitting the glass fairly well. He's a bit on the skinny side at the moment, which hurts him trying to get through screens and such, but he has a frame that should very well fill out as he continues to mature physically.

Landesberg's main drawback revolves around his average athleticism, which might hurt his upside a bit when considering his long-term potential. He doesn't have a great first step and is not very explosive around the rim either—having more of an old-school, cerebral game more than a high-flying uber-athletic one. Landesberg looks much better going left when creating his own shot, preferring to pull up off the dribble every time he went right to the point that he became quite predictable. His 3-point stroke looked pretty streaky when he was rushed—flat-footed with a somewhat unattractive release, but with very nice touch.

Landesberg is headed to the ACC, which should give him a great opportunity to get exposure playing at the highest level of college basketball. He will be an interesting guy to follow over his first 2-3 years at Virginia.

[Read Full Article]

---
LeBron James Skills Academy Day Three
July 10, 2007
After a shaky Saturday session, Landesberg came out Sunday much more aggressive and the results were much more positive. He used his cerebral style of play to get everyone around him involved, while also scoring every time the opportunity presented itself. The New York guard's ability to get around defenders and finish at the rim consistently despite his relatively average athleticism is a testament to the high basketball IQ that the rising senior possesses. He hit a couple of three pointers on the day (although his shooting mechanics could use some refinement) and exhibited the ability to score in bunches when need be. Landesberg's size, playmaking ability, and scoring knack will surely allow him to play both guard positions by the time it is all said and done at whichever school he decides upon (considering Texas, St. John's, Virginia, Georgia Tech, and Kentucky).

[Read Full Article]

---
Getting To Know Sylven Landesberg
May 19, 2007


New York City guard Sylven Landesberg brings a package of skills that not many other guards in the class of 2008 can offer. At 6'6, he has the ability to not only be a lethal scoring threat from the perimeter, but he can also run a team nearly as well. His ball handling and court vision are above average for a player of his size, which explains why the majority of schools recruiting him want him to run the show for their respective colleges. Landesberg is an awfully creative scorer, slithering his way through the lane when he doesn't kill you from the outside. His can kill you from beyond the three point arc, as well as from the midrange area with his jumper, making him one of the more versatile wings in the class of 2008.

Landesberg's two biggest weaknesses are his lack of strength and his presence on the defensive end, which he will tell you himself. He is a bit frail at only around 195 lbs for a player standing 6-foot-6, and is often effected once he absorbs contact in midair. On the defensive end he struggles at times guarding smaller, quicker defenders. Sylven has the length to eventually become a solid defender in the future, but must first refine his defensive fundamentals in order to do so.

Sylven is a player that draft fans need to keep their eyes on due to his complete offensive skill set, and the fact that the majority of the schools that are recruiting him are projecting him as a point guard in their offensive scheme. With improved strength and muscle mass for Landesberg, there is no reason that he will not be one of the more intriguing guard prospects in his class due to his outstanding size, scoring ability, and court vision.


Rodger Bohn: Can you give me a brief description of your game, for those out there who haven't seen you play?

Landesberg: Last summer, I was more of a laid back player. I wasn't very aggressive, but this summer everything has changed. I got stronger, and I'm much more aggressive now. I look to score on every single possession, whether it be myself or my teammates. I'm just far more aggressive now and have a different mentality.

Rodger Bohn: What do you think separates you from the other guards the class of 2008 has to offer?

Landesberg: I would say my style of play and the way I do things on the floor. I like to get my teammates involved, I know when to pass, who to pass it to, and when to score myself. I also think the ways I can score, since I can score in so many different ways.

Rodger Bohn: What areas of your game do you feel you need to improve upon most?

Landesberg: My defense and my strength. I definitely need to get a little bigger.

Rodger Bohn: Tell me what the typical off-season day for Sylven Landesberg is like.

Landesberg: Oh wow. I wake up at 5:30 in the morning, take a couple hundred shots, then head over to a trainer named Jerry Powell. I work out with him for about two hours, then I eat breakfast. Then I go up to my school and get some more shots up, so I usually get over 1000 shots in for the day. Next I hit the weight room up with my trainer who works me out with the weights, and then I go back to Jerry Powell at night.

Rodger Bohn: What's the latest with your recruiting situation?

Landesberg: Well, I've cut my list of schools down. Now I'm only looking at Texas, Virginia, Florida, Georgia Tech, St. John's, and Rutgers.

Rodger Bohn: Do you have a leader at the moment?

Landesberg: No, I can't say that I have a leader right now.

Rodger Bohn: Which out of those schools have offered you?

Landesberg: All of the schools have offered.

Rodger Bohn: Have you taken visits to any schools yet?

Landesberg: No, not yet. I'm looking to make some visits very soon though.

Rodger Bohn: What are the main factors in your recruitment?

Landesberg: I want to go to a school where I can come in and make a big impact right away. I don't' want to sit on the bench my first year, I want to be able to play. The school I go to has to fit my style of play, as I like to run the floor and stuff.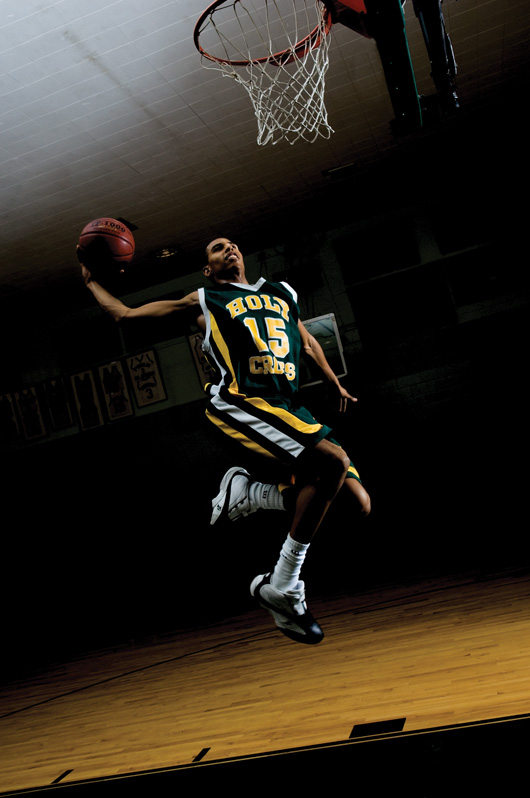 Tim Llewellyn



Rodger Bohn: I thought that it was a bit odd that you are so strongly considering programs such as Rutgers, St. John's, and Virginia that don't normally land top 30 caliber players such as yourself. What is it that those three schools have that keep you so interested?

Landesberg: Well St. John's, they're the local team. I have to keep them on there. Everyone is telling me to go there and bring the home team up. I love the coaching staff and everyone over there too, so that's why I'm keeping them on the list. Rutgers, they're local too and I love the coaching staff over there. Virginia would just be a real good fit for me. They're using a lot of players over there and I think I would fit in great with their style of play.

Rodger Bohn: Now the obvious assumption is that the only reason you are considering Rutgers and St. John's is because they are so close to home. How big of a factor is staying close to home for you?

Landesberg: A lot of people ask me that question, but staying close to home really isn't that big of a thing for me. It doesn't matter where I play, as long as I'm happy where I'm at. Staying close to home is not really that big of a factor for me.

Rodger Bohn: What do you like about Texas?

Landesberg: They're losing a lot of bigtime guards. D.J. Augustin will be gone when I get there, most likely. A.J. Abrams will be gone too. They said that they love the way I played. Coach Barnes came down and saw me and told me that he loved the way I play. I really like the way that they're going to use me, since I'd be the main focal point of their offense. They're recruiting some big people in there, some really good big men for me to drop it down to and get assists. It's a big move over there. They're going to have a really good team.

Rodger Bohn: Tell me what makes Florida so appealing, since you told me that you prefer to play point guard and they're going to use you as more of a wing.

Landesberg: Florida, they are the national champions. Billy Donovan came down, and I really like Billy Donovan. I like the way they run their offense, that's the main thing. They like to run the ball a lot, so that's why I kept them in mind. I like to run the ball a lot, so that's why I had to keep them up there. When you're running the ball a lot, it doesn't matter whose playing the 1, 2, or 3 because all of the guards just get it and go.

Rodger Bohn: What do you like about Georgia Tech?

Landesberg: They were pretty much the first school out of the six that I have on my list now that were recruiting me real, real hard since the beginning of my sophomore year. Paul Hewitt came down a lot of times, and I've talked to him the most out of all the head coaches. I talk to Coach Hewitt a lot and I have a really good connection with them. I like the way that they're going to use me a lot, since they're going to use me the same way that Texas is going to use me.

Rodger Bohn: Were you happy with the way that Georgia Tech used Javaris Crittenton this past season? He is a big point guard, and you would likely be playing a role similar to him if you were to become a Yellow Jacket.

Landesberg: I was a big fan of him. I liked the way he played and the way Georgia Tech used him. They should have done better then they did as a team, but I liked the way they used Crittenton a lot.



Rodger Bohn: What position are you looking to play at the next level?

Landesberg: A lot of people are telling me that they're going to use me as a point guard, so I guess I'm going to be playing a lot of point.

Rodger Bohn: What schools are recruiting you as a point guard?

Landesberg: Well at Florida, I would be playing the 2 or the 3 since they have Nick Calathes coming in. Virginia and Texas both said I would be running the offense there. St. John's said I would be running the offense, so did Georgia Tech. I'm not so sure on Rutgers, but I would probably be a 2 or a 3 this year.

Rodger Bohn: How do you think you've played so far this spring on the AAU circuit?

Landesberg: So far I think I've been doing pretty well. We've played in three big AAU tournaments so far and I think I did well in all of them, except for Boo Williams. That was a pretty bad tournament for me.

Rodger Bohn: Why did you decide to leave the New York Panthers and play with the Metro Hawks this spring on the AAU circuit?

Landesberg: Playing with the Panthers, I wasn't playing my best basketball over there because there were a lot of things holding me back. I was playing the 3 or the 4 over there when I never play those positions. Playing with the Metro Hawks was a big change because I actually got to play the position that I will play in college, plus I got to play with another great player in Samardo (Samuels)?

Rodger Bohn: How do you like playing with an elite big man in Samardo Samuels?

Landesberg: With the Panthers, I was really hidden in the offense and I wasn't really able to show what I could do. Over here with the Metro Hawks, I'm running the one, two, and three. Playing with Samardo has been great. He's always someone to dump the ball to when I'm penetrating and teams are double teaming me. I know he's going to be right there and it's an easy two points every time.

Rodger Bohn: You played in ABCD the last few years, but ABCD is now a thing of the past. Will you be playing in the Reebok University camp or the Nike position camps and LeBron James All America Camp?

Landesberg: I'm doing the Nike position camps and then the LeBron James All American Camp

Rodger Bohn: What are your thoughts on the NBA's age limit?

Landesberg: I think that it's really stupid, it's nonsense. I think that if a kid is good enough to go, he should be able to go.

[Read Full Article]

---
Pitt JamFest: Top 2008 Prospects
May 2, 2007


Landesberg was the second most productive player in the class of 2008 that we observed, as he filled up the stat sheet all weekend long. Despite his incredibly slender frame, he was able to score in every way imaginable throughout the weekend. He showed off a very nice handle for a wing, even playing point guard at times and looking quite comfortable doing so. Sylven was downright automatic shooting the ball, whether it be through a devastating pull-up jumper or from beyond the arc. It was clear throughout the tournament that we were looking at a player with an extremely high basketball IQ, with the lengthy wing rarely making a mistake or forcing a bad shot when he had the ball in his hands.

Obviously the biggest flaw that many are going to pick out in Landesberg's game is his strength, or lack thereof. At only 180 lbs, he surely needs to bulk up a bit before he reaches college if he hopes to defend stronger wing players. Although Sylven has the length and quickness to eventually be a nice defender, he did struggle a bit guarding smaller players on the weekend. With improved strength and defensive fundamentals however, we should surely see Landesberg make an impact in his first year at the collegiate level.

[Read Full Article]

---