Terrence Jones
Recent Tweets
All Tweets
DraftExpress: Also playing for RGV in addition to Patrick Beverley Terrence Jones Andrew Goudelock Hassan Whiteside Tim Ohlbrecht. Lots of talent.
2013-01-09 14:10:49
DraftExpress: Houston takes at Terrence Jones at #18
2012-06-28 09:17:50
DraftExpress: Jared Sullinger, Terrence Jones, Perry Jones all on the board still. Stay in school kids.
2012-06-28 09:17:34
DraftExpress: Philly took Vucevic last year at 16, but have to take Zeller here, right? We'll see. Terrence Jones, Perry Jones, Moultrie also available...
2012-06-28 08:54:41
DraftExpress: Using Synergy Stats to compare the crop of SF/PFs in the 2012 NBA Draft: http://t.co/pteM1drU (Perry Jones, Terrence Jones, Royce White etc)
2012-06-25 11:52:01
Team: Rockets
Physicals
Positions
Rankings
Salary
Misc
H: 6' 9"
W: 252 lbs
Bday: 01/09/1992
(23 Years Old)

Current: PF
NBA: PF
Possible: PF

RSCI: 10

Agent: Arn Tellem

High School: Jefferson
Hometown: Portland, OR
Drafted: Pick 18 in 2012 by Rockets
Best Case: Al Harrington
Worst Case: Marvin Williams

Predraft Measurements
| Year | Source | Height w/o Shoes | Height w/shoes | Weight | Wingspan | Standing Reach | Body Fat | No Step Vert | Max Vert |
| --- | --- | --- | --- | --- | --- | --- | --- | --- | --- |
| 2012 | NBA Draft Combine | 6' 8.25" | 6' 9.5" | 252 | 7' 2.25" | 8' 11" | 7.7 | 29.5 | 34.5 |
| 2011 | Kevin Durant Camp | NA | 6' 9" | 249 | 7' 2" | NA | NA | NA | NA |
| 2009 | Vince Carter Camp | NA | 6' 8" | 219 | 7' 0" | NA | NA | NA | NA |
| 2009 | LeBron James Camp | NA | 6' 8" | 219 | 7' 0" | NA | NA | NA | NA |



Basic Per Game Statistics

- Comprehensive Stats - Statistical Top 25s
| Year | League | Name | GP | Min | Pts | FG | FGA | FG% | 2Pt | 2PtA | 2P% | 3Pt | 3PtA | 3P% | FTM | FTA | FT% | Off | Def | TOT | Asts | Stls | Blks | TOs | PFs |
| --- | --- | --- | --- | --- | --- | --- | --- | --- | --- | --- | --- | --- | --- | --- | --- | --- | --- | --- | --- | --- | --- | --- | --- | --- | --- |
| 2015/16 | NBA | Terrence Jones | 13 | 25.5 | 10.4 | 3.9 | 9.1 | 43.2 | 3.2 | 7.1 | 44.6 | 0.8 | 2.0 | 38.5 | 1.8 | 3.1 | 57.5 | 1.9 | 3.4 | 5.3 | 1.1 | 0.4 | 1.0 | 1.1 | 2.1 |

Player Page&nbsp&nbsp| Player Stats | Mock Draft History | Related Articles&nbsp&nbsp| Add to My Draft Express&nbsp
&nbsp
NBA Combine Interviews: Jones, Nicholson, Green
June 22, 2012
[Read Full Article]

---
Terrence Jones Video Scouting Report
June 19, 2012
Mike Schmitz takes a look at the strengths and weaknesses of Terrence Jones with the help of Kentucky game film, Head Coach John Calipari, and Jones himself.






---




More DraftExpress Video Breakdowns:


-Perry Jones Video Scouting Report
-Thomas Robinson Video Scouting Report
-Andre Drummond Video Scouting Report
-Quincy Miller Video Scouting Report
-Tony Wroten Video Scouting Report
-Terrence Ross Video Scouting Report
-Tyshawn Taylor Video Scouting Report
-Damian Lillard Video Scouting Report
-Jeremy Lamb Video Scouting Report
-Bradley Beal Video Scouting Report
-Dion Waiters Video Scouting Report
-Kendall Marshall Video Scouting Report
-Moe Harkless Video Scouting Report
-Meyers Leonard Video Scouting Reports
-Michael Kidd-Gilchrist Video Scouting Reports
-Harrison Barnes Video Scouting Report
-Austin Rivers Video Scouting Report
-Tyler Zeller Video Scouting Report
-Arnett Moultrie Video Scouting Report
-John Henson Video Scouting Report


---


Mike Schmitz is a writer for ValleyoftheSuns, a member of the TrueHoop Network. Follow him on twitter and subscribe to his YouTube page.

[Read Full Article]

---
Terrence Jones Workout Interview
May 26, 2012
[Read Full Article]

---
Finding a Niche For: Terrence Jones
April 27, 2012
Matt Kamalsky

The 10th ranked played in the high school class of 2010, Terrence Jones bucked John Calipari's one and done trend, returning for his sophomore season and reaping a reward he'll carry for the rest of his career in the form of a NCAA Championship.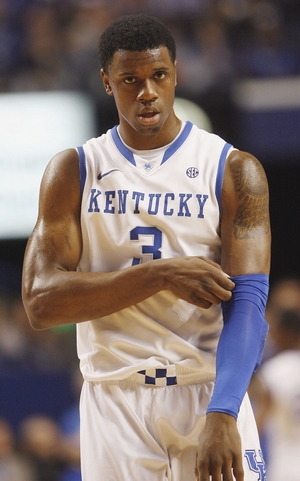 US Presswire



While his resume looks much better, and the memories will last a life-time, it is debatable whether Jones did his NBA stock any good by returning to school.

The talented forward struggled with the same issues that raised the eyebrows of scouts last season, but did so under a new wave of intense scrutiny all year long, seeing his production and touches drop while adding another layer of doubt which he was able to relieve somewhat in March with a strong NCAA Tournament showing.

An incredibly versatile and talented player with clear-cut NBA tools, Jones was an elite player in the college game when he was zoned in, but the difficulties he has had making his presence felt on a consistent basis, staying focused for entire games, and not pouting when things don't go his way remain disconcerting.

While it is easy to find a niche for Jones's skill set on a NBA roster, the challenge for front offices will be ensuring that he's put in a position to reach his full potential –a much more complex proposition.

Kept on an incredibly short leash and challenged publicly on a few occasions by John Calipari, who had no qualms pulling Jones early and often for a defensive lapse or not boxing out, Jones struggled with his body language at times early in the season, and seemed entirely content to simply blend in for long stretches as the season went on.

Obviously, the talent around him had a lot to do with that, as Calipari simply did not need to put the ball in his hands as much for the team to be successful considering all the weapons they had on the roster—one of the reasons his usage rate dropped off from 27.9% last season to 22.5%. Still, Jones looked like a different person at different times this year, dominating the paint with Anthony Davis one half, but looking disinterested in what was going on around him the next.

A Preseason All-American and one of the most talented players in the country, Jones appeared to get his act together during the NCAA Tournament, clearly understanding the importance of the opportunity for himself and his teammates.

Had Jones proved unable to stay motivated in the tournament, it would have raised some serious red flags about his motor, but fortunately for Jones and Wildcats; he was able to get his act together when they needed him most. Despite that, scouts are going to do their due diligence in trying to understand what makes him tick to better understand what kind of return they will be getting if they invest a premium draft choice in his talents.

It is Jones's immense talents that make him a good fit in a number of different situations and has decision-makers so keen on getting a feel for his inconsistency.

Measured at 6'9 with a 7'2 wingspan and powerful 245-pound frame that he worked hard to add additional muscle to last summer, Jones has everything you look for in a NBA forward physically, even if he could be considered a tad undersized for the power forward position. He runs the floor like a small forward, plays above the rim in traffic, makes fluid moves off the dribble, and has the package of tools to defend multiple positions at the NBA level.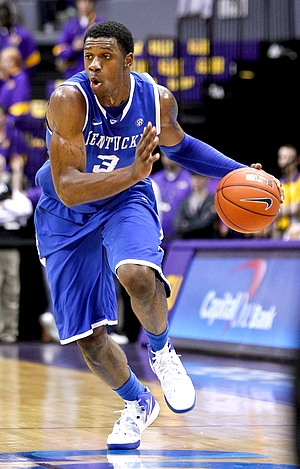 US Presswire



In projecting where Jones may fit best at the next level, it is worth noting that last season he appeared to be more stuck between the forward positions than he does now. The Oregon native is a versatile scorer with the ability to shoot the ball (inconsistently) from the perimeter, put the ball on the floor and attack the basket off the dribble, earn some easy looks running in transition, make plays in the post, and finish explosively at the rack. Considering his array of talents and defensive tools, Jones could surely spend some time at the small forward position in the NBA.

Despite that, he may be better equipped to operate as a face-up power forward early on at the next level, where he'd be far more of a mismatch. Connecting on 34% of his jump shots, almost none of which came from the midrange, as a freshman and sophomore according to Synergy Sports Technology, Jones has the ability to keep defenses honest with his somewhat long, loose shooting mechanics. However, the more time he spends on the perimeter the more likely he is to fall into the habit of settling for long shots, which takes away from perhaps his greatest strength, making athletic plays around the rim, crashing the glass and finishing.

The sophomore is able to blow by slower defenders at the college level and simply beat them to the rim, but his lack of great ball-handling ability for a wing by NBA standards could limit his ability to attack the rim against true small forwards early in his professional career. Lacking much in the way of midrange scoring ability, Jones's lack of experience creating space on the perimeter would put him in a position where he'd need to reinvent his game to be efficient as a small forward, an obvious risk considering the questions about his mental toughness and the challenges such a transformation present.

By comparison, Jones's offensive arsenal seems much better suited for an up-tempo offensive team that will give him opportunities to face the basket from the post and mid-range and find a comfort zone immediately as a four rather than gambling on his ability to develop as a full time wing. Jones' quickness and strong first step are far more advantageous to him against fours than threes, and his ability to face-up from the post and get into the paint afford him better opportunities to utilize his athleticism instead of his still developing scoring touch.

A tremendous finisher thanks to his exceptional length and leaping ability, playing Jones closer to the rim will also put him in better position to make a consistent impact on the offensive glass, and depending on what kind of teammates he's paired with, give him more chances to catch-and-finish, something he's proven capable of doing emphatically through traffic when he finds any daylight around the rim.

Despite what Jones could bring to the table as a face-up four and finisher, he still has plenty of room to grow as an interior scorer. Similar to where he stands in his development as a perimeter shooter, Jones shows some promise in one-on-one situations with his back to the basket, but lacks ideal polish. He uses fakes effectively in the post, and has decent footwork, but isn't comfortable enough with his hook shot, turnaround jumper, or post moves to score consistently against comparably sized players on the block.

Jones's athleticism made him a serviceable scorer in the post throughout this season, and he shot 42% from the block according to Synergy Sports Technology. Though that is a dramatic improvement over the 36% he shot last season, the power forward position is one of the most talented and athletic positions in the NBA, and Jones will need to polish a few of his moves to become a more decisive and efficient threat to efficiently score on the block in the NBA.

Defensively, Jones has all the tools to be an effective defensive player at the next level. Constantly pushed on that end of the floor by John Calipari, Jones's blend of lateral quickness, length, and leaping ability made him a versatile defensive player in the post and away from the basket at the college level. He gave up position too deep inside at times, and will inevitably struggle against stronger interior scorers like Kevin Love and Al Jefferson at the NBA level, but is able to bother shooters with his length, deny dribble penetration very effectively away from the rim, and can provide a presence in the paint.

Jones would be well served to continue improving his excellent frame to prepare him for the rigors of the NBA game, though he already has the building-blocks to defend stretch-fours and less post-oriented scorers along with some wings early in his career.

Improved strength would surely help Jones hold position in the post, but would also help him when boxing out. His athleticism allows him to rebound outside of his area but he'll face a challenge when keeping more athletic big men off the boards in the NBA.

A likely lottery pick, Jones's stock could rise if he can convince NBA scouts he's moved past the issues that have plagued him in the past. Sometimes lost in the shuffle because of the talent around him, or as a result of his own lapses, Jones is a terrific athlete with the right blend of tools to find some success early in his career.

The question may come down to what kind of strategy the team drafting him has in place to make sure he reaches his potential.

[Read Full Article]

---
Finding a Niche For: Terrence Jones
April 29, 2011
Scouting report by Walker Beeken, video breakdown by Sebastian Pruiti

Terrence Jones made a name for himself early in his freshman season at Kentucky with an excellent performance at the Maui Invitational in November, where he averaged 23 points and over 11 rebounds during the three game tournament, while also blocking 10 shots, shooting 4-8 from 3 point range, and getting to the free throw line for an outstanding 32 attempts.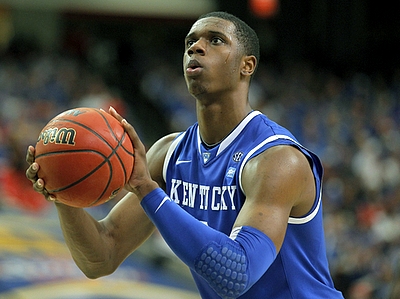 Icon SMI



Ranked as the 10th best player in his high school class according to the RSCI, Jones was expected to contribute immediately at Kentucky, but his early season success surpassed the expectations of most. The lefty looked dominant at times playing as a face-up power forward, displaying a lethal combination of skill creating his own shot and making shots from the perimeter, along with aggressiveness and intensity attacking inside the paint and crashing the boards.

His early season success drew plenty of attention from NBA decision-makers, with his name often being mentioned with some of the top prospects in the NCAA. As the season went on, however, Jones lost some momentum, as his shot wasn't falling, his role in Kentucky's offense decreasing, and his confidence appearing to take a hit. After averaging nearly 20 points per contest 16 games into the season—on 37% shooting from beyond the arc--Jones only hit the 20 point mark again twice over the final 22 games of the season, and saw his perimeter shooting come down to earth in a major way, converting just 27% of his 3-point attempts in that span.

His decline wasn't a detriment to the team though, as Kentucky played its best basketball of the season down the stretch, winning 12 of 13 games before falling to Connecticut in the Final Four. Coach John Calipari may have just figured that his team's best chance of winning was to feature other players more offensively, spreading the wealth and becoming less dependent on Jones on the offensive end. Brandon Knight, Darius Miller, and Josh Harrellson all increased their production offensively in the later part of the season as Calipari made adjustments and Jones played a lesser role.

Some early evidence of this was seen in Calipari's profanity-laced tirade during the Alabama game on January 18th, where he called Jones, amongst other things, selfish. Calipari later explained that Jones sometimes has a tendency to play soft and bail out his defender by settling for 3-pointers as opposed to putting pressure on his man and attacking the basket. To Jones's credit, although he wasn't as productive overall near the end of the season, he was more selective with his perimeter jump shot, knocking down a solid 7 of 15 attempts in his final 10 games.

When projecting Jones to the next level, there are many opinions on how he could best be utilized and what position he should play, as he seems to be stuck between small forward and power forward. He could probably get away with playing either spot depending on the team, style of play, and the personnel around him.


---
Terrence Jones Strengths/Weaknesses Video
Watch in full screen mode by clicking button in upper right hand corner of video
---



More DraftExpress Video Breakdowns:


-Alec Burks
-Derrick Williams
-Jimmer Fredette
-Kenneth Faried
-Harrison Barnes
-Marcus Morris
-Perry Jones

---


If a team plays a slower pace and uses him as a cutter and posts him up on occasion, where he could take advantage of his strong body and physicality, he could play some three. He would likely be more limited in this type of role offensively though, as it would be more difficult for him to make plays off the dribble from the perimeter against quicker defenders, and he'd likely get less open looks with his feet set as well. He wasn't very effective in the post this season either (scoring only .67 on his post up possession) so he'd have quite a bit of work to do on becoming a more efficient post player to where he could actually punish the smaller threes that would guard him.

On the defensive end, he would need to be on a team with solid help-defenders and a presence at the rim, as his lateral quickness could be questionable when trying to defend NBA small forwards on the perimeter.

The more likely role for him at the NBA level, at least at this stage in his career with his current body and skill set, would be to play as more of a face-up four man, similar to his role at Kentucky. This would suit teams looking to get out and run a bit more, and would help with spacing in the half-court. Jones could continue to exploit his quickness advantage on the offensive end and utilize his ability to make plays of the dribble, attacking the basket, or using a dribble or two and pulling up for jumpers.

He'd also likely get more open looks from the perimeter and help to stretch the floor if he can become a bit more of a consistent threat from the outside. He shot a lackluster 33% from the 3-point line this season, but he showed flashes of being better than that. Although he doesn't have textbook form, like many lefties, he has a decent release, shoots the ball with confidence, and was more proficient when he was selective with what shots he should be taking,

Off the dribble, Jones has a nice first step and very good ball-handling skills for a player his size, but he heavily prefers driving left and needs to really focus on developing his right hand. He's comfortable handling in the open court as well, even showing the ability to grab a defensive rebound and take off with the dribble. His decision-making is still a bit shaky at times, as expected for a player his age, but he does have good passing instincts and has displayed the ability to make plays for others off the bounce on occasion.

On the defensive end, Jones isn't the ideal size for an NBA power forward at 6'8", but there are plenty of guys in the league at his size who manage to get by, and Jones has a long 7'2" wingspan and very strong, solid frame for a 19 year old, so he should be able to hold his own physically in most matchups. He also averaged almost 2 blocks per game this season, further illustrating his presence in the basket area.

He's a solid defensive rebounder as well, as evidenced by the fact that he averaged 8.2 defensive rebounds per forty minutes pace adjusted. He's tough, plays with great intensity, and has solid instincts going after rebounds. Moving him out to the three takes him away from the basket more and limits his effectiveness as a rebounder.

Overall, although Jones's stock probably isn't where it once was earlier in the season, he's still looked at a potential lottery pick, as it's clear that his versatility and physical tools are very unique and desirable traits that NBA teams covet. While his ultimate role and position may still be up in the air, he still shows very good potential down the road as he continues to add polish to his game and shores up some of his weaknesses.

[Read Full Article]

---
Trending Prospects (12/2/2010)
December 2, 2010
Joseph Treutlein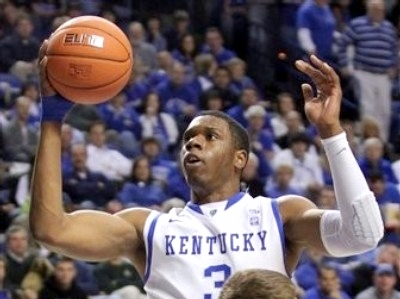 AP



One of the most productive freshmen in the country six games into the season, Kentucky forward Terrence Jones has looked extremely impressive in the early going, playing with an extremely high level of confidence and maturity.

The 6'8 18 year old has a very mature physical profile for his age, boasting a thick, well-built frame in both the upper and lower body with good length to boot. From an athletic standpoint, his muscle mass doesn't hold him back much at all, as he's quick off his feet even in stride off the dribble, explosive around the rim, and has a very good first step with the ball.

On the offensive end, Jones has a versatile game and the confidence to put all his skills to use. Having a nice basketball IQ and very good scoring instincts, there isn't any one area where Jones isn't at least an adequate performer.

Doing the majority of his damage operating off quick catches on the wing and in the pinch post, Jones does a lot of work catching and putting the ball down on the floor to go to the basket. Heavily favoring his dominant left hand, Jones has a controlled albeit somewhat upright dribble that he's very confident with both in and out of space.

Being most comfortable when he has room for a quick, straight-line drive to the rim, Jones is capable of getting separation with his explosive first step and either driving all the way to the rim or pulling up for a floater with either hand. While Jones favors his finesse game perhaps a bit too much, he's capable of going up for strong dunks in traffic when he's built up enough momentum, elevating fairly effortlessly and not being shy about drawing contact, getting to the line at a very high rate, being amongst the top players in the NCAA in that category early on.

In space, Jones will occasionally show off a rangy spin move or behind-the-back dribble, both of which he can seamlessly transition into one of his floaters, though he doesn't show much ability getting off advanced moves in traffic, and to his credit he seems to recognize his limitations pretty well, rarely making ill-advised decisions with the ball considering how frequently he's been creating his own shot. He turns the ball over on just 14% of his possessions, which is an extremely low rate considering his freshman status and his style of play, which would seemingly lead to a large amount of lost possessions.

While Jones vastly prefers going to his left, he's also decently comfortable with his right hand, not having as much wiggle but being able to finish with right-handed lay-ups and floaters and still having a good degree of control with the ball.

Not just a one-dimensional scorer attacking the basket, Jones also possesses range slightly beyond the college three-point line, having a pretty consistent jump shot with a decently quick and high release. He has somewhat of a stagger stance with his left foot far in front of his right and he has a tendency to shoot some line drives while pushing the ball in front of his face, but he's shooting an accurate 46.2% on 1.2 makes per game thus far, and shows great confidence shooting the ball even with a hand in his face. While not showing anything in terms of shooting off the dribble, Jones has a very dangerous shot fake in his arsenal which he uses to open up big driving lanes to the basket.

Surprisingly for a freshman combo-forward, Jones has also shown himself to be a willing passer with strong court vision, dishing out 2.2 assists per game in the early going, doing so in transition, hitting cutters in the lane, kicking out of double teams in the post, and just moving the ball in the flow of the offense. He sometimes will get in trouble not recognizing a passing lane closing down and force the ball through, but his errors are mostly good ideas and he shows a good feel overall in this area that can be developed further.

In terms of post offense, Jones isn't very adept at the moment, having trouble getting separation and finishing over larger opponents at times, not really having much in terms of rangy moves, relying heavily on simple hooks and spinning hooks. He seems to do a much better job operating from the perimeter where he's capable of building momentum and having more initial separation from his man, looking far more comfortable in that regard.

Off the ball, Jones also does a solid job finishing on cuts to the basket and crashing the offensive boards, doing an excellent job throwing his weight around and establishing deep position, showing good instincts running to the rim when shots go up and showing good hands and getting off the floor quickly for putbacks.

On the defensive end, Jones has shown a solid effort level thus far, not giving up on many plays and being pretty consistent in closing out on perimeter jumpers, always running full speed with his arms outstretched. Unfortunately, a good deal of those situations are created when Jones gets caught ball-watching off the ball, making him prone to losing his man in the flow of offense, leading to an easy shot.

In terms of man-to-man defense, Jones actually has a good stance and moves his feet pretty well on the perimeter despite a high center of gravity and somewhat stiff movements. With more work here and consistent focus, he should be able to hold his own against most NBA small forwards, but could be overmatched against the elites. In the post, Jones has done a very good job thus far, bodying up pretty well, keeping his arms outstretched, contesting anything shot above him, and moving his feet. He also seems to be pretty far away from his potential here as he doesn't show great understanding of leverage, which makes his overall effectiveness in this area more impressive.

Looking forward, Jones was already thought of as a potential lottery pick before the season began, so the mature and confident game he's shown thus far has definitely helped, especially because its rare freshmen instantly contribute in such a complete manner. While still more of a combo-forward at the moment, Jones' early prowess with perimeter shot creation and adequate comfort with perimeter defense so early in his career also make an eventual transition to full-time small forward more likely, something that also should help his stock. With his physical tools, NBA-ready body, and strong and growing skill set, Jones has a high ceiling and should stay put firmly in the early-to-mid lottery if he can continue this play all season.

[Read Full Article]

---
Initial High School Player Scouting Reports, Part One
August 14, 2009
One of the fastest-rising players in the 2010 class based on his play this summer, Terrence Jones (#34 Scout, #15 Rivals, #16 ESPN) didn't disappoint in the least bit when we went out to see him in the GBOA tournament in Las Vegas.

A 6-8 tweener forward with solid athleticism and a nice frame, Jones does a little bit of everything for his team. He likes to play primarily facing the basket, where he shows a nice first step and the ability to attack his man off the dribble going either left or right. Not blessed with great advanced ball-handling skills at this point—he's mainly a two-dribble guy without much of a mid-range game—Jones does an excellent job using shot-fakes to create space and takes the ball very strong to the rack.

Capable of knocking down a barrage of 3-pointers when he gets hot, Jones is still a bit on the streaky side from the perimeter and tends to fall in love excessively with his jumper at times. He has a slight hitch in his shot which takes away from the fluidity of his release. Although he's very much capable of posting up, and actually shows nice footwork on occasion down in the paint to go along with his strong body and excellent size, he doesn't seem to do so enough, looking more concerned with bringing the ball up the floor in transition himself and trying to show off his small forward skills. He's not a selfish guy, though—he seemed very willing to make the extra pass and all in all looked like a pretty good teammate.

Defensively, Jones shows average fundamentals and toughness and doesn't always look all that focused on this side of the floor. He can get in the passing lanes and make plays rotating from the weakside, but doesn't always seem to show much hustle getting after the glass, although he can clearly make his presence felt here when he puts his mind to it.

Jones has a rep for being fairly inconsistent from game to game, as you never quite know what you'll get from him on any given night. This is not that much of a shock considering the stage of development he's currently at, and it will be interesting to see whether his games blossoms moving forward. He has a lot of tools at his disposal and is an extremely versatile all-around player, even if he hasn't quite found a position for himself just yet.

[Read Full Article]

---