Terrence Ross
Recent Tweets
All Tweets
DraftExpress: Kentavious Caldwell-Pope - this year's Terrence Ross?
2012-11-19 20:24:22
DraftExpress: With the #8 pick, Toronto selects Terrence Ross
2012-06-28 07:16:26
DraftExpress: Terrence Ross gets 14th Green Room invite w/Davis, T-Rob, Beal, MKG, Barnes, Lillard, Waiters, Rivers, Drummond, Lamb, Henson Zeller Leonard
2012-06-25 06:22:36
DraftExpress: Terrence Ross: "A lot of people don't think I can get to the basket, but I'm going to start proving that I can." http://t.co/oJvRD7uz
2012-06-16 06:00:14
DraftExpress: Other guys getting good reviews from NBA people at the Combine today: Damian Lillard (big time), Royce White, Jeff Taylor, Terrence Ross.
2012-06-07 09:35:02
Team: Raptors College Team: Raptors
Physicals
Positions
Rankings
Salary
Misc
H: 6' 7"
W: 197 lbs
Bday: 02/05/1991
(24 Years Old)

Current: SG/SF
NBA: SG/SF
Possible: SG/SF

RSCI: 32

Agent: Aaron Mintz
Current Salary:$2,793,960

High School: Montrose Christian
Hometown: Portland, OR
Drafted: Pick 8 in 2012 by Raptors
Best Case: Jason Richardson
Worst Case: Jeremy Richardson

Predraft Measurements
| Year | Source | Height w/o Shoes | Height w/shoes | Weight | Wingspan | Standing Reach | Body Fat | No Step Vert | Max Vert |
| --- | --- | --- | --- | --- | --- | --- | --- | --- | --- |
| 2012 | NBA Draft Combine | 6' 6" | 6' 7" | 197 | 6' 7.25" | 8' 4.5" | 3.2 | 31.0 | 37.5 |
| 2011 | Kevin Durant Camp | NA | 6' 7" | 197 | 6' 7" | NA | NA | NA | NA |



Basic Per Game Statistics

- Comprehensive Stats - Statistical Top 25s
| Year | League | Name | GP | Min | Pts | FG | FGA | FG% | 2Pt | 2PtA | 2P% | 3Pt | 3PtA | 3P% | FTM | FTA | FT% | Off | Def | TOT | Asts | Stls | Blks | TOs | PFs |
| --- | --- | --- | --- | --- | --- | --- | --- | --- | --- | --- | --- | --- | --- | --- | --- | --- | --- | --- | --- | --- | --- | --- | --- | --- | --- |
| 2015/16 | NBA | Terrence Ross | 12 | 16.4 | 5.2 | 1.8 | 5.4 | 33.8 | 0.9 | 2.3 | 40.7 | 0.9 | 3.2 | 28.9 | 0.6 | 0.6 | 100.0 | 0.2 | 1.6 | 1.8 | 0.6 | 0.6 | 0.3 | 0.8 | 1.8 |

Player Page&nbsp&nbsp| Player Stats | Mock Draft History | Related Articles&nbsp&nbsp| Add to My Draft Express&nbsp
&nbsp
NBA Combine Interviews: Ross, Jenkins, Taylor
June 14, 2012
[Read Full Article]

---
Terrence Ross Video Scouting Report
June 3, 2012
Mike Schmitz takes a look at the strengths and weaknesses of Terrence Ross, with the help of Washington game-film and head coach Lorenzo Romar.







---




More DraftExpress Video Breakdowns:


-Perry Jones Video Scouting Report
-Thomas Robinson Video Scouting Report
-Andre Drummond Video Scouting Report
-Quincy Miller Video Scouting Report
-Tony Wroten Video Scouting Report


---


Mike Schmitz is a writer for ValleyoftheSuns, a member of the TrueHoop Network. Follow him on twitter and subscribe to his YouTube page.

[Read Full Article]

---
Trending Prospects (2/10/2012)
February 10, 2012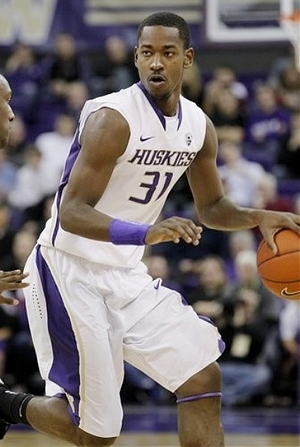 AP



Joe Treutlein

Coming off a solid freshman season where he was relegated to coming off the bench on a deep and talented Huskies roster, Terrence Ross has really broken out as a sophomore, as he now ranks second on his team in scoring, rebounds, and minutes per game.

Ross remains largely the same player from a physical perspective this season, possessing great size and athleticism for either wing position, with average length, and has taken some positive steps with his game on both sides of the court.

On the offensive end, Ross' role still largely revolves around his jump shot, with nearly 40% of his shots coming from behind the three-point arc, and 2/3rds of his half-court attempts coming on jumpers. His shooting percentage behind the arc is up slightly from 35.2% to 38.4% this season, but he's also been taking more difficult shots due to his expanded role and has looked impressive in a variety of areas.

Ross is at his best knocking down shots with his feet set, having very good accuracy in space and not needing much time or room to get his shot off due to his high and quick release. He's also very dangerous and confident with his pull-up jumper, though is less consistent with this area of his game depending on the situation. Due to his limited ball-handling, Ross operates in this area almost strictly on quick one or two-dribble pull-ups, but is excellent when he's able to keep his balance. He can get into some trouble at times when moving from side to side into his shot or settling for some awkward fadeaways, but has done a better job with his shot selection overall this season.

Another interesting aspect of Ross' developing perimeter game is the flashes he shows taking shots off screens, something he's done with very good success at times this season. With his size and excellent speed operating without the ball, Ross is extremely rangy in how much space he can create coming around a pick, and has shown surprisingly good balance in catching and turning into his shots in these situations. In the right offense at the next level, this could be an extremely potent weapon that's relatively scarce in the NBA, and will be a very nice tool in his arsenal if he can continue improving here.

In terms of attacking the basket in the half court, Ross has improved marginally this season, but remains largely limited due to his still unpolished ball-handling and average basketball IQ. He does very little attacking off traditional isolations from the perimeter and doesn't try to force the issue much in this regard, playing well to his strengths in his team's offense. The few forays he does make towards the basket with the ball in his hands tend to be either from the mid to pinch post area or when he has somewhat of a clear out and doesn't have to deal much with help defense.

Ross still shows very little with his advanced handles and is reliant on spin moves and his speed to get separation. It's not hard to see how this area of his game could receive some help from the increased spacing and more individualistic tendencies of NBA offenses, but it still remains a large weakness. Playing more of the two-guard will also give him more opportunities at having a size advantage in the post, something that could also be utilized down the road.

While Ross isn't much of a threat going to the basket with the ball in his hands in the half court, he's still very dangerous getting to the rim in other ways, namely on cuts, offensive rebounds, and in transition. His size, speed, and terrific explosiveness make him very dangerous in all of these areas, and he shows good instincts here as well when he puts them to use. His expanded offensive role this season and reliance on his perimeter skills somewhat limits what he can contribute off the ball going to the rim, and he may need to make this area of his game more of an emphasis initially at the next level.

The defensive end may be the area where Ross has improved most as a sophomore, as he's been much more consistent in applying himself, being a real terror both on and off the ball. Ross' size and athleticism allow him to be a superb defender in isolation, and he's combined those tools with the aggressiveness needed this season. He plays right up into his man and moves his feet well to stay in front, but his excellent recovery speed allows him to frequently extend himself and still get back in time, making him a very disruptive force.

Ross shows similar ability defending his man off the ball, sticking with him all over the floor through screens and taking full advantage of his physical tools. He's a good team defender and really puts in the work on this end of the floor overall, something that coaches will surely find attractive when they start evaluating prospects come pre-draft time.

Looking forward, Ross has taken as big a step forward as almost any player in the country this season, and clearly has a slew of attractive assets from an NBA perspective. His combination of physical tools, defense, perimeter shooting, and ability to attack the rim off the ball give him good potential as a very high-end role player, and he still has room to grow. Continuing to improve his ball-handling and continuing to add strength to his frame would help his stock, which is something he could show in pre-draft workout matchups, where his makeup as a player and commitment to defense could allow him to shine.

[Read Full Article]

---
Top NBA Draft Prospects in the Pac-12, Part One (#1-5)
October 5, 2011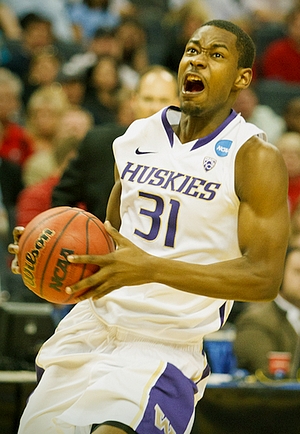 Icon SMI



Matt Kamalsky

Terrence Ross may have only scored 8 points per-game last season, but isn't hard to understand why scouts are high on the rising sophomore. Despite playing a limited role for the Huskies, the Portland native showed a truly impressive blend of size, athleticism, aggressiveness and scoring instincts that should help him fill the void left behind by the departure of Washington's top-three scorers and raise his profile as a NBA prospect.

Ross's upside at the NBA level begins with his excellent physical tools for the shooting guard position. Standing 6'7 (albeit with an average wingspan), the former top-35 recruit looks the part of a pro swingman. A high-riser with a tremendous first step, he also possesses prototypical athleticism for the wing position, which he's already shown the ability to use effectively from the perimeter and around the basket. Ross may need to add some weight to his frame to help prepare his body for the rigors of the NBA, but it is hard not to be impressed with what he brings to the table physically.

On top of his athleticism, Ross possesses a very promising skill set. At this point in his career, he is, in a word, aggressive. He operates on the floor with the moxy of a player with unlimited confidence, never being shy about pulling the trigger from the perimeter, at times to a fault. Despite his athleticism, Ross settles for a large number of fade-aways and contested shots from the outside, with more than half of his total shot attempts coming from beyond the arc, despite converting just 35% from that range.

Though there are concerns about his shot selection, it is Ross's ability to knock down tough shots that makes him an intriguing prospect. Though he needs to shore up his consistency and decision-making, Ross displays a fluid shooting stroke with good elevation and a reliable release point. If he continues to work on his skill-level, he could develop into a very effective offensive threat.

Ross may have knocked down some big-time shots as a freshman, but he was at his best using his athleticism at the basket. The Huskies ran more than a few set plays to free up Ross for backdoor lob passes and the talented guard earned himself some easy buckets by getting up the floor in transition and cutting to the basket. An explosive leaper, Ross can finish plays above the rim when he has any sort of space and is capable of finishing acrobatically around defenders as well. Converting 63.8% of his finishing opportunities according to Synergy Sports Technology, Ross backs up his style with substance.

As Ross matures as a player, there are a few things he could do to improve his stock, the most obvious of which would be utilize his athleticism more effectively to create high percentage shots off the dribble and get to the foul line. Ross is not a polished ball-handler, and doesn't look entirely comfortable going left, but he is more than capable of creating separation and beating his man to the rim with his first step and flashes an impressive crossover from time to time.

Attempting just 2.1 free-throw attempts per-40 minutes pace adjusted last season, the lowest rate of any player in our top-100 prospect rankings, Ross' efficiency would improve greatly if he focused more on creating high percentage shot opportunities around the rim instead of just settling for the first available jumper.

Away from the basket, Ross would benefit greatly from improved catch-and-shoot consistency. He's capable of making things happen from the perimeter with his raw shot-making ability, but needs to make the most of the easy opportunities he sees within the flow of the game. He is not yet a lights out shooter when left open—making just 32% of his attempts with his feet set last season-- and would become a true matchup nightmare if he improved his consistency in this area over time.

As we've mentioned in the past, Ross's potential doesn't end on the offensive end. His wingspan and lateral quickness give him terrific upside on the other end of the floor as well. As a freshman, he had some good moments, making a number of plays in the passing lanes and using his average length very effectively to contest shots out on the perimeter and pull down rebounds.

Against more aggressive slashers, Ross struggled at times, allowing ball-handlers to beat him to spots by being a bit too aggressive. With added strength and another year of seasoning, Ross is capable of doing a better job denying penetration as a sophomore, and while he seems much more apt to expend his energy on the offensive end, has the potential to be a rock solid defender in time.

With incoming freshman Tony Wroten and Abdul Gaddy set to handle the point guard duties, Ross and C.J. Wilcox will round out a deep Washington backcourt. While he won't be shouldering the load himself, this season is an opportunity for Ross to take a step forward in his development and showcase the facets of his game he didn't get the opportunity to display last season.

The NBA is littered with wing players who are either prolific shooters or effective drivers, but rarely do you find prospects that can do both. Ross has the physical tools and scoring instincts to develop into a complete scorer if he continues to work on his skill-level and improves his knowledge of the game.

If Ross continues to make shots at a high level and rounds out some of the rough edges of his game, he could be on the verge of a break out year. While clearly still in an early stage of his development, Ross is one of the most interesting young wing prospects for NBA scouts to follow in college basketball.

[Read Full Article]

---
ESPN RISE National High School Invitational
April 12, 2009
The smooth junior from Montrose Christian had a relatively quiet weekend, but there were certainly flashes of the ability that make him a blue chip prospect in his class. Ross (#31 Rivals, #65 Scout, #41 ESPN) has great size and length for his position, and has shown that he can score in a variety of ways.

At this point he looks like he is going to be a dangerous perimeter player at the collegiate level. Ross knocked down almost every open look he got during the tournament, and was able to connect on a couple of contested shots as well. While we've written about his ability to score off the dribble, Ross didn't attack the basket too many times during the weekend. He did show some explosiveness with a couple of forceful throw downs when he got the opportunity to run in transition.

As we've said in the past, there is a lot of potential on the defensive end for Ross given his quickness and length. What he needs to do now is show an interest on this end of the floor. When he puts his mind to it, he is very tough to beat off the dribble and holds his position well. The future seems bright for the junior and he will be a nice addition to a high-major program down the road.

[Read Full Article]

---
Flyin To The Hoop: Best of The Rest
February 10, 2009
Terrence Ross (#31 Rivals, #65 Scout, #41 ESPN) turned some heads with his play at Flyin To The Hoop, with a number of people suggesting that he is ranked a bit too low by all three of the major recruiting services. Physically, there is no denying that Ross fits the bill of an elite wing prospect. At 6'6 with a long wingspan, he has legit length. Though still on the skinny side at only 180 pounds, he has a frame that has the potential to fill out substantially in due time.

Offensively, Ross' best weapon has to be his athleticism and first step. A very good leaper, he utilizes his ability to rise over defenders in combination with his explosive first step in what can be a downright devastating pull-up jumper. The Portland native also shows a very smooth jumper from beyond the arc, easily drilling collegiate three pointers with a nice release. He also does a very nice job of getting out in transition and finishing, usually with an emphatic dunk.

The major weakness in Ross' offensive game at this stage has to be his ball handling. While he is capable of putting the ball down on the floor two or three times in a straight line, he didn't show much more than that in the two games that we observed him. Ross was also not the most aggressive guy in terms of going all the way to the rim, often settling for outside jumpers when he could have made it all the way to the basket and finished inside.

Ross isn't much of a defender at this point, looking disinterested on this end of the floor and showing subpar fundamentals. He completely relies on his athleticism at this point, which allowed him to corral a couple of a steals and block a couple of shots. The potential is certainly there for Ross to be a very nice defender based on his physical profile, but time will tell whether or not this area of his game develops.

At this point in the game, Ross is being recruited by virtually every high major program in the country. There is no denying the long term potential that Ross has if he continues to develop and his combination of size, perimeter skills, and athletic ability make him one of the more interesting players long term as far as the class of 2010 is concerned. Playing on the AAU circuit with Portland based Team Jones, Ross is a player who we will certainly follow closely over the spring/summer to see if he is able to build upon his promising skills.

[Read Full Article]

---