Terry Rozier
Recent Tweets
All Tweets
DraftExpress: Terry Rozier -first major surprise of the draft in terms of a guy rocketing up and being selected way ahead of projections. Very interesting
2015-06-25 21:24:44
DraftExpress: New on DX NBA Scouting Report and Video Breakdown on Louisville's Terry Rozier (@T_Rozzay3) http://t.co/tFcnV2I2AQ http://t.co/8IH9R7HP6t
2015-06-24 11:06:22
Team: Celtics
Physicals
Positions
Rankings
Salary
Misc
H: 6' 2"
W: 190 lbs
Bday: 03/17/1994
(21 Years Old)

Current: PG
NBA: PG
Possible: PG

RSCI: 76

Agent: Seth Cohen

High School: Shaker Heights
Hometown: Youngstown, OH
Drafted: Pick 16 in 2015 by Celtics

Predraft Measurements
| Year | Source | Height w/o Shoes | Height w/shoes | Weight | Wingspan | Standing Reach | Body Fat | No Step Vert | Max Vert |
| --- | --- | --- | --- | --- | --- | --- | --- | --- | --- |
| 2015 | NBA Draft Combine | 6' 0.75" | 6' 2.25" | 190 | 6' 8.25" | 8' 2.5" | 5.6 | 33.0 | 38.0 |
| 2014 | Nike Skills Academy | NA | 6' 2" | 189 | 6' 6.5" | NA | NA | NA | NA |
| 2011 | LeBron James Camp | NA | 6' 1" | 168 | 6' 6" | NA | NA | NA | NA |
| 2011 | Deron Williams Camp | NA | 6' 1" | 168 | 6' 6" | NA | NA | NA | NA |



Basic Per Game Statistics

- Comprehensive Stats - Statistical Top 25s
| Year | League | Name | GP | Min | Pts | FG | FGA | FG% | 2Pt | 2PtA | 2P% | 3Pt | 3PtA | 3P% | FTM | FTA | FT% | Off | Def | TOT | Asts | Stls | Blks | TOs | PFs |
| --- | --- | --- | --- | --- | --- | --- | --- | --- | --- | --- | --- | --- | --- | --- | --- | --- | --- | --- | --- | --- | --- | --- | --- | --- | --- |
| 2015/16 | NBA | Terry Rozier | 10 | 7.1 | 1.6 | 0.7 | 3.4 | 20.6 | 0.5 | 2.4 | 20.8 | 0.2 | 1.0 | 20.0 | 0.0 | 0.0 | &nbsp | 0.5 | 0.5 | 1.0 | 0.8 | 0.0 | 0.0 | 0.6 | 0.6 |
| 2015/16 | DLEAGUE | Terry Rozier | 3 | 33.3 | 23.3 | 7.3 | 16.0 | 45.8 | 5.7 | 10.7 | 53.1 | 1.7 | 5.3 | 31.3 | 7.0 | 9.3 | 75.0 | 1.0 | 5.7 | 6.7 | 7.3 | 1.0 | 0.3 | 1.7 | 0.7 |

Player Page&nbsp&nbsp| Player Stats | Mock Draft History | Related Articles&nbsp&nbsp| Add to My Draft Express&nbsp
&nbsp
Terry Rozier NBA Draft Scouting Report and Video Breakdown
June 24, 2015
Scouting Report by Josh Riddell. Video Analysis by Mike Schmitz.

In Louisville's first ACC season, Terry Rozier was a key player in their successful regular season campaign and NCAA Tournament run to the Elite Eight. Already 21 as a sophomore, due to an extra year of prep school because of an academic issue, Rozier left the Cardinal program early and turns his attention to the next stage of his professional career.

Rozier has the physical tools to match up against NBA guards and nice size to boot. Measured at 6'2.25" with a 6'8.25" wingspan at the NBA Draft Combine, Rozier has a strong frame, long arms and good size for a point guard which will allow him to compete on both ends. Additionally, he possess excellent speed, agility and explosiveness to round out his strong athletic profile.

(Video may not load with Internet Explorer. Use Chrome or Firefox)

Rozier best attribute as a pro prospect is his tenacious defense, evidenced most by his 2.2 steals per 40 minutes which he gets by using his length and anticipation skills to play the passing lanes and lead to easy baskets. He has the potential to defend either guard spot with his 6-8 wingspan and is a pest on the ball, pressuring the ball incessantly on every possession. He moves his feet exceptionally well to stay in front of dribble penetration and his strength prevents him from being bumped out of position. He does so without fouling, averaging just 1.7 fouls per game, which is impressive considering how aggressively he plays.

He's also a great rebounder for his size, averaging 6.2 total rebounds per 40 minutes pace adjusted (4.9 defensive), which is always useful from the guard position. Rozier's NBA coach won't have to convince him to play hard on every possession, as this has been instilled in him well after two seasons under Coach Rick Pitino, and his toughness and high-energy style has certainly earned him fans in NBA circles.

After playing mainly off the ball his freshman year alongside Russ Smith, Rozier became more of a primary ball-handler in his sophomore season, particularly once starting point guard Chris Jones was dismissed due to an off-court transgression. Although he showed some improvement in his decision making with the ball, he struggled with inconsistency throughout the season, as while Louisville was an elite defensive team, their offense often left a lot to be desired.

Rozier did quite a bit of his work offensively in transition, where his strong frame, aggressive style of play, solid ball-handling skills and excellent athleticism really shine through. These same attributes make him a solid creator in the half-court as well, as he's capable of beating opponents off the dribble with a quick first step, and can keep opponents on his hip with his size and strength.

(Video may not load with Internet Explorer. Use Chrome or Firefox)

Rozier got a lot of experience operating off ball screens at Louisville, which will help his transition to the NBA, but he was not terribly efficient in these situations, at .851 PPP according to Synergy Sports Technology, which is among the lower rates in this draft for point guards. Shifty and strong, he uses the screen well to create space, and can pull up smoothly off the dribble in the mid-range area, but doesn't always see the floor to make proper decisions and keep the ball moving within the flow of the offense. He can be deadly in looking for his own offense, as his ability to use screens and his quick step gives him space to operate, particularly in the mid-range area, but he needs to improve on getting his teammates involved.

He averaged just 3.4 assists per 40 minutes pace adjusted, the lowest rate among PGs currently projected to get drafted, and a -0.54 pure point ratio, which also ranks last. To his credit, Rozier does take care of the ball well, turning the ball over on just 11.7% of his possessions, one of the lowest rates in the draft.

Possessing a lightning quick first step, Rozier is able to get to the rim regularly and got to the free throw line at a solid rate. He is a strong ball handler, capable of changing speeds and directions with the ball, and can get into the paint through penetration by using his strength to bully his way into the paint even if he can't blow past his defender. He struggled badly finishing what he created inside the paint throughout his career at Louisville though, settling for too many tough floaters, avoiding his off hand, and generally heaving up difficult shots in traffic regardless of how the defense played him. Rozier made just 41% of his "inside the paint" shot attempts in the half-court in his two years at Louisville, an extremely poor rate that may cause teams to wonder just how much success he'll have in this area at the next level.


US Presswire



A streaky shooter, Rozier will need to prove he can be more accurate from the perimeter at the next level to become a more well-rounded offensive player. While he displayed nice fundamentals complemented with a high release point thanks to nice lift on his jump shot, it didn't always translate to consistent production. In catch and shoot situations, he converted just 34.5% of his attempts according to Synergy Sports Technology and while he fared better on jumpers off the dribble at 39.7%, these were mostly on long two-point attempts, which are not considered the most efficient looks in the NBA.

Rozier is not a non-shooter, though, hitting 33% of his career attempts, on over five tries per-40 minutes. His ability to create space is a valuable commodity, and when in rhythm he was very effective making jumpers with his feet set. His mechanics are solid, as mentioned, and he found some success at times operating off the ball Louisville, attacking closeouts with his strong first step and doing a decent job of spacing the floor with his average shooting ability, which gives him some potential in two-guard lineups.

Rozier's physical attributes and defensive ability put him firmly on the map as an intriguing draft prospect for many NBA teams. He will need to improve his shot-selection, decision making and overall playmaking ability to earn the trust of an NBA coaching staff, either by seeing the floor better with the ball in his hands or becoming a better spot-up shooter. If he can, he could find himself in a NBA rotation quickly thanks to his strong defense. Although he may need some time to develop offensively, Rozier's aggressive style of play and ability to guard two positions is attractive coming off the bench, and if he continues to improve his feel for the game, he could develop into more than that potentially.

[Read Full Article]

---
Terry Rozier Workout Video and Interview
May 27, 2015
An interview with Louisville's Terry Rozier, featuring footage from his pre-draft workouts with Cody Toppert.
---
Also on DX:
Full Interview With Terry Rozier from the NBA Combine
---
(Video may not load with Internet Explorer. Use Chrome or Firefox)
---
More Pre-Draft Interviews/Workout Videos
-Rondae Hollis-Jefferson Workout Video and Interview
-Rashad Vaughn Workout Video and Interview
-Andrew Harrison Workout Video
-J.P. Tokoto Workout Video
-Jarell Martin Workout Video
-D'Angelo Russell Interview
-Quinn Cook Interview
-Frank Kaminsky Workout Video
-Robert Upshaw Workout Video
-Rakeem Christmasn Workout Video
-Myles Turner Workout Video
-Stanley Johnson Interview
-Kelly Oubre Interview
-Frank Kaminsky Interview
-Satnam Singh Interview
-Satnam Singh Workout Video
-Alan Williams Interview
-Aaron White Interview
-T.J. McConnell Interview
-Chasson Randle Workout Video
-Chris Walker Interview
-Chris Walker Workout Video
-Cameron Payne Workout Video
-Cameron Payne Interview
[Read Full Article]

---
Terry Rozier and Marcus Thornton Interviews
May 27, 2015
(Video may not load with Internet Explorer. Use Chrome or Firefox)
[Read Full Article]

---
Top NBA Prospects in the ACC, Part 7: Prospects #7-11
October 23, 2014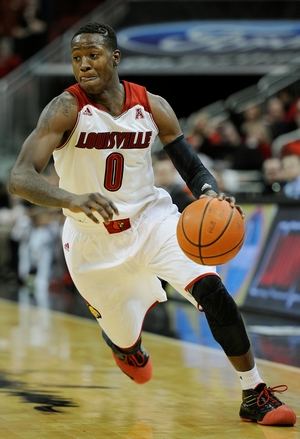 US Presswire



Jonathan Givony

Originally slated to enroll at Louisville in 2012, Terry Rozier's arrival on campus was delayed by a year after being unable to get academically eligible due to an insufficient GPA and ACT score. He went to Hargrave Military Academy for a year of prep school instead, where he significantly improved his standing in the eyes of high school recruiting services, going from being considered the 76th best prospect in the 2012 class according to the RSCI, to #18 in 2013.

Sporting outstanding physical attributes, Rozier has good size for a point guard (he measured 6-2 in shoes at the Nike Skills Academy this past summer), with a 6-6 1/2 wingspan, and a strong 189 pound frame that will only get bigger in time. He's also a terrific athlete, showing great speed in the open court, excellent quickness defensively, and the ability to play above the rim with ease when needed.

Somewhat up and down over the course of his delayed freshman campaign, Rozier bounced in and out of Rick Pitino's starting lineup, en route to playing 19 minutes per game on average. He saw most of his best outings coming against the weaker teams on Louisville's schedule, and struggled in particular down the stretch, averaging 4 points and 1 assist per game shooting 43% inside the arc and 18% for 3 in nine games in March.

Rozier's role this upcoming season will likely look a lot different than last year's. The majority of his touches last season came either as a spot-up shooter in the corner or in the open court, where his excellent speed is a major asset in getting him or his teammates good early shots in transition. Rick Pitino searched all season for the ideal backcourt partner to pair with the ball-dominant Russ Smith, and Rozier was mostly asked to play a complimentary role in the half-court, seeing very little playmaking responsibility.

Rozier did a good job of spacing the floor as a spot-up shooter last year, showing the ability to make jumpers consistently with his feet set and knocking down 37% of his 3-point attempts. He has good form, including a high arc and a nice release, even if he tends to fade away sometimes unnecessarily. Shooting off the dribble is a bit more of an adventure for Rozier, as he made only made 26% of his pull-ups last season, although on a very limited number of attempts (31) that makes it difficult to gauge how he would fare in a more featured role.

Generally speaking, Rozier was prone to bouts of streakiness as an overall shooter in the half-court, especially against tougher defenses, so NBA scouts will be watching this part of his game closely to see how it evolves when forced to operate with the ball in his hands more, like he'll be asked to do at the next level.

Seeing only a handful of possessions each game as the pick and roll ball-handler or operating in isolation settings, Rozier struggled badly to create shots efficiently for himself or others in the half-court last season—shooting just 27% from the field in these situations.

Rozier's ball-handling skills and ability to operate at different speeds are still a work in progress at this stage, as he struggles to dribble or finish with his left hand and shows just average court vision.

While he sports an outstanding first step, which allows him to get inside the paint fairly often, he's not a great creator or finisher at this stage, as he has a tendency to take very difficult runners and floaters from 5-8 feet rather than getting all the way to the rim. Rozier hit just 26 of the 65 shots he attempted in the paint last season (40%), and doesn't do a great job of seeking out contact and drawing fouls, generating a free throw attempt on just 21% of his used possessions last season, one of the lowest rates among returning Top-100 prospects.

As a passer, Rozier did an excellent job of keeping mistakes to a minimum last season, turning the ball over on just 8% of his possessions, one of the lowest rates among Top-100 prospects, which helped him post a sparkling 3.2 pure point ratio. Not seeing all that much time playing on the ball, half of Rozier's assists last season came in transition situations according to Synergy Sports Technology, while the rest appeared to be generated in the flow of Louisville's half-court offense. Things will likely look a lot different this year, as we'll get a much better idea of how natural a distributor Rozier is, and how good his feel for the game is at this stage.

One area that there's little doubt about is Rozier's defense, a place that he absolutely excelled in last season. His strong frame, long arms and quick feet are great assets on this end of the floor, and he combines that with an excellent intensity level, like we are accustomed to seeing from Rick Pitino's players. Rozier puts strong pressure on the ball, be it in full-court or half-court situations, moving his feet extremely well and playing a very physical style, and regularly gets in the passing lanes, averaging a very solid 2.1 steals per-40 minutes. He's one of the better rebounding guards you'll find at the college level as well, particularly on the offensive glass, helping demonstrate his superior physical tools at his position.

This is a big year for Rozier, who turns 21 in March and is about six months older than the average sophomore draft prospect due to his year at prep school. He gained a lot of experience apprenticing under Russ Smith last season, and now will be asked to shoulder significantly more ball-handling and playmaking responsibilities, which should tell us quite a bit about just how good of a prospect he projects as long term.

Rozier struggled badly at the adidas nations this past August, showing poor decision making skills and having a difficult time getting his outside shot going, hitting 41% of his 2-pointers and 14% of his 3s. With that said, his physical attributes are ideal for a point guard and he posted strong passing, defense and 3-point shooting metrics as a freshman, which helps him enter this season with quite a bit of hype and high expectations.

[Read Full Article]

---
2014 adidas Nations Interview: Terry Rozier
August 14, 2014
[Read Full Article]

---