Terry Rozier Workout Video and Interview
May 27, 2015
An interview with Louisville's Terry Rozier, featuring footage from his pre-draft workouts with Cody Toppert.
---
Also on DX:
Full Interview With Terry Rozier from the NBA Combine
---
(Video may not load with Internet Explorer. Use Chrome or Firefox)
---
More Pre-Draft Interviews/Workout Videos
-Rondae Hollis-Jefferson Workout Video and Interview
-Rashad Vaughn Workout Video and Interview
-Andrew Harrison Workout Video
-J.P. Tokoto Workout Video
-Jarell Martin Workout Video
-D'Angelo Russell Interview
-Quinn Cook Interview
-Frank Kaminsky Workout Video
-Robert Upshaw Workout Video
-Rakeem Christmasn Workout Video
-Myles Turner Workout Video
-Stanley Johnson Interview
-Kelly Oubre Interview
-Frank Kaminsky Interview
-Satnam Singh Interview
-Satnam Singh Workout Video
-Alan Williams Interview
-Aaron White Interview
-T.J. McConnell Interview
-Chasson Randle Workout Video
-Chris Walker Interview
-Chris Walker Workout Video
-Cameron Payne Workout Video
-Cameron Payne Interview
[Read Full Article]

---
Terry Rozier and Marcus Thornton Interviews
May 27, 2015
(Video may not load with Internet Explorer. Use Chrome or Firefox)
[Read Full Article]

---
Top NBA Prospects in the ACC, Part 7: Prospects #7-11
October 23, 2014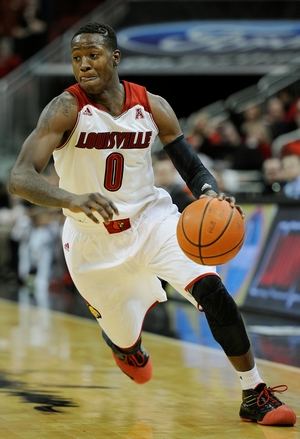 US Presswire



Jonathan Givony

Originally slated to enroll at Louisville in 2012, Terry Rozier's arrival on campus was delayed by a year after being unable to get academically eligible due to an insufficient GPA and ACT score. He went to Hargrave Military Academy for a year of prep school instead, where he significantly improved his standing in the eyes of high school recruiting services, going from being considered the 76th best prospect in the 2012 class according to the RSCI, to #18 in 2013.

Sporting outstanding physical attributes, Rozier has good size for a point guard (he measured 6-2 in shoes at the Nike Skills Academy this past summer), with a 6-6 1/2 wingspan, and a strong 189 pound frame that will only get bigger in time. He's also a terrific athlete, showing great speed in the open court, excellent quickness defensively, and the ability to play above the rim with ease when needed.

Somewhat up and down over the course of his delayed freshman campaign, Rozier bounced in and out of Rick Pitino's starting lineup, en route to playing 19 minutes per game on average. He saw most of his best outings coming against the weaker teams on Louisville's schedule, and struggled in particular down the stretch, averaging 4 points and 1 assist per game shooting 43% inside the arc and 18% for 3 in nine games in March.

Rozier's role this upcoming season will likely look a lot different than last year's. The majority of his touches last season came either as a spot-up shooter in the corner or in the open court, where his excellent speed is a major asset in getting him or his teammates good early shots in transition. Rick Pitino searched all season for the ideal backcourt partner to pair with the ball-dominant Russ Smith, and Rozier was mostly asked to play a complimentary role in the half-court, seeing very little playmaking responsibility.

Rozier did a good job of spacing the floor as a spot-up shooter last year, showing the ability to make jumpers consistently with his feet set and knocking down 37% of his 3-point attempts. He has good form, including a high arc and a nice release, even if he tends to fade away sometimes unnecessarily. Shooting off the dribble is a bit more of an adventure for Rozier, as he made only made 26% of his pull-ups last season, although on a very limited number of attempts (31) that makes it difficult to gauge how he would fare in a more featured role.

Generally speaking, Rozier was prone to bouts of streakiness as an overall shooter in the half-court, especially against tougher defenses, so NBA scouts will be watching this part of his game closely to see how it evolves when forced to operate with the ball in his hands more, like he'll be asked to do at the next level.

Seeing only a handful of possessions each game as the pick and roll ball-handler or operating in isolation settings, Rozier struggled badly to create shots efficiently for himself or others in the half-court last season—shooting just 27% from the field in these situations.

Rozier's ball-handling skills and ability to operate at different speeds are still a work in progress at this stage, as he struggles to dribble or finish with his left hand and shows just average court vision.

While he sports an outstanding first step, which allows him to get inside the paint fairly often, he's not a great creator or finisher at this stage, as he has a tendency to take very difficult runners and floaters from 5-8 feet rather than getting all the way to the rim. Rozier hit just 26 of the 65 shots he attempted in the paint last season (40%), and doesn't do a great job of seeking out contact and drawing fouls, generating a free throw attempt on just 21% of his used possessions last season, one of the lowest rates among returning Top-100 prospects.

As a passer, Rozier did an excellent job of keeping mistakes to a minimum last season, turning the ball over on just 8% of his possessions, one of the lowest rates among Top-100 prospects, which helped him post a sparkling 3.2 pure point ratio. Not seeing all that much time playing on the ball, half of Rozier's assists last season came in transition situations according to Synergy Sports Technology, while the rest appeared to be generated in the flow of Louisville's half-court offense. Things will likely look a lot different this year, as we'll get a much better idea of how natural a distributor Rozier is, and how good his feel for the game is at this stage.

One area that there's little doubt about is Rozier's defense, a place that he absolutely excelled in last season. His strong frame, long arms and quick feet are great assets on this end of the floor, and he combines that with an excellent intensity level, like we are accustomed to seeing from Rick Pitino's players. Rozier puts strong pressure on the ball, be it in full-court or half-court situations, moving his feet extremely well and playing a very physical style, and regularly gets in the passing lanes, averaging a very solid 2.1 steals per-40 minutes. He's one of the better rebounding guards you'll find at the college level as well, particularly on the offensive glass, helping demonstrate his superior physical tools at his position.

This is a big year for Rozier, who turns 21 in March and is about six months older than the average sophomore draft prospect due to his year at prep school. He gained a lot of experience apprenticing under Russ Smith last season, and now will be asked to shoulder significantly more ball-handling and playmaking responsibilities, which should tell us quite a bit about just how good of a prospect he projects as long term.

Rozier struggled badly at the adidas nations this past August, showing poor decision making skills and having a difficult time getting his outside shot going, hitting 41% of his 2-pointers and 14% of his 3s. With that said, his physical attributes are ideal for a point guard and he posted strong passing, defense and 3-point shooting metrics as a freshman, which helps him enter this season with quite a bit of hype and high expectations.

[Read Full Article]

---
2014 adidas Nations Interview: Terry Rozier
August 14, 2014
[Read Full Article]

---