Tobias Harris
Recent Tweets
All Tweets
DraftExpress: How does Aaron Gordon fit in with Tobias Harris and Mo Harkless two fellow tweener SF\/PFs in Orlando's frontcourt? This was a bold move.
2014-06-26 20:01:08
DraftExpress: Mitch McGary's case is a strange one. He's older than Tobias Harris. Even if he's "one and done," he'll be 21 when he's drafted.
2011-08-15 11:11:50
DraftExpress: RT @DaveTelep: Tobias Harris has the work ethic and professionalism to be a pro's pro in NBA for a long time. Earned everything that's c ...
2011-06-23 08:26:20
DraftExpress: NBA Combine Video Interviews: Tristan Thompson, Kenneth Faried, Tobias Harris, Travis Leslie http://bit.ly/jsx0g9
2011-05-20 12:11:02
DraftExpress: Don't know why Tobias Harris is being criticized for his measurements.He's 6-8 in shoes w/a 6-11 wingspan. That's what he was supposed to be
2011-05-20 11:15:32
Team: Magic
Physicals
Positions
Rankings
Salary
Misc
H: 6' 8"
W: 223 lbs
Bday: 07/15/1992
(23 Years Old)

Current: SF/PF
NBA: SF/PF
Possible: SF/PF

RSCI: 6

Agent: Torrel Harris
Current Salary:$2,380,594

High School: Half Hollow Hills West
Hometown: Brookville, NY
Drafted: Pick 19 in 2011 by Hornets
Best Case: Shane Battier W/more Offense
Worst Case: Ryan Gomes

Predraft Measurements
| Year | Source | Height w/o Shoes | Height w/shoes | Weight | Wingspan | Standing Reach | Body Fat | No Step Vert | Max Vert |
| --- | --- | --- | --- | --- | --- | --- | --- | --- | --- |
| 2011 | NBA Draft Combine | 6' 6.5" | 6' 7.75" | 223 | 6' 11" | 8' 7.5" | 8.4 | 31.5 | 37.5 |
| 2009 | LeBron James Camp | NA | 6' 8" | 210 | 6' 11" | NA | NA | NA | NA |
| 2009 | Amare Stoudemire Camp | NA | 6' 8" | 210 | 6' 11" | NA | NA | NA | NA |



Basic Per Game Statistics

- Comprehensive Stats - Statistical Top 25s
| Year | League | Name | GP | Min | Pts | FG | FGA | FG% | 2Pt | 2PtA | 2P% | 3Pt | 3PtA | 3P% | FTM | FTA | FT% | Off | Def | TOT | Asts | Stls | Blks | TOs | PFs |
| --- | --- | --- | --- | --- | --- | --- | --- | --- | --- | --- | --- | --- | --- | --- | --- | --- | --- | --- | --- | --- | --- | --- | --- | --- | --- |
| 2015/16 | NBA | Tobias Harris | 17 | 32.5 | 14.9 | 5.6 | 11.6 | 48.0 | 4.6 | 8.9 | 52.0 | 0.9 | 2.7 | 34.8 | 2.8 | 3.5 | 80.0 | 2.3 | 5.5 | 7.8 | 2.2 | 0.8 | 0.7 | 1.8 | 2.1 |

Player Page&nbsp&nbsp| Player Stats | Mock Draft History | Related Articles&nbsp&nbsp| Add to My Draft Express&nbsp
&nbsp
Situational Statistics: the 2011 Forward Crop
June 19, 2011
Tobias Harris, just an 18-year old freshman for the duration of the season, ranked in the middle of the pack both in usage (9th) and efficiency (11th).

While he did a decent job for a freshman of keeping turnovers to a minimum in the half-court (coughing the ball up on just 10.2% of his possessions, ranking him 4th), he doesn't seem to have a consistent means of scoring at this stage.

He ranks towards the bottom or middle of the pack in most areas, struggling in particular to score in isolation settings (.486 PPP) or jump-shots (.725 PPP, 27.5% FG%), especially in catch and shoot situations, where he's the 3rd least efficient player in this group after Malcolm Thomas and Chris Wright.

Not known as a spectacular athlete, Harris will surely have to improve the consistency of his jumper to make it in the NBA, but considering his age and work ethic, he should be able to do so.

[Read Full Article]

---
Finding a Niche For: Tobias Harris
May 29, 2011
Tobias Harris quietly put together a strong freshman campaign at Tennessee, playing his best basketball of the season in March when he averaged 21.4 points and 5.8 rebounds. Though the Volunteers fell in the first round to the Michigan Wolverines, Harris was a bright spot, and opted to put his name in the 2011 NBA Draft permanently despite struggling with the prospect of leaving his teammates and the budding relationship he was building with new Head Coach Cuonzo Martin.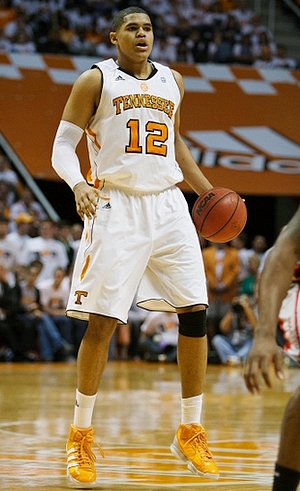 Icon SMI



Ranked as the 6th best player in his high school class according to the RSCI, Harris was expected to contribute immediately at Tennessee, and early season returns were largely positive. Lauded for his versatility, Harris struggled at times to knock down jumpers, but was able to compensate with his high basketball IQ, ability to put the ball on the floor, and touch around the basket.

---
Tobias Harris (#12) Strengths/Weaknesses Video
Watch in full screen mode by clicking button in upper right hand corner of video
---



More DraftExpress Video Breakdowns:


-Klay Thompson
-Tyler Honeycutt
-Justin Holiday
-Tristan Thompson
-Brandon Knight
-Terrence Jones
-Alec Burks
-Derrick Williams
-Jimmer Fredette
-Kenneth Faried
-Harrison Barnes
-Marcus Morris
-Perry Jones
-Kawhi Leonard
-Brandon Knight
-Tristan Thompson

---

Harris's play slowly earned the attention of NBA decision-makers, with his name often being mentioned as one of the major prospects in the freshman class, but seldom amongst the top tier of lottery prospects. Not as athletic as players like Terrence Jones, or as dominant as players like Jared Sullinger, the early entry decisions of many of his peers has helped his stock gain momentum in recent weeks. Scoring less than ten points in only three games this season, Harris was a consistent contributor for a Tennessee team facing off the court distractions and forced to overcome somewhat erratic play from their leaders at key moments.

The biggest reason Harris was so consistent last season is because his role matched the versatility of his skill set, one of the reasons he chose to attend Tennessee to begin with. Seeing a consistent stream of touches out on the perimeter, as a finisher at the basket, with his back to the basket in the post, and even as the primary ball-handler in transition situations, Harris was not reliant on any one aspect of his skill set to score his points and could make an impact a number of ways.

When projecting Harris to the next level, his jack-of-all-trades, master-of-none skill-set allows scouts to pencil him into a number of different roles offensively, many of which blur the lines between the small forward and power forward positions. Harris's lack of elite athleticism and size raises some questions about his defensive potential and one-on-one scoring ability at the next level, but he's extremely crafty, plays within himself, and has a maturity about him that is uncommon in a player who won't turn 19 until July.

Though Harris saw a sizeable portion of his offense in transition in Tennessee's up-tempo system and spent most of his minutes at the four spot, he could contribute in a number of ways as a small forward on a slower-paced team with his high basketball IQ, unselfish attitude, mismatch potential in the post, and ability to convert plays around the basket with his scoring touch.

The New York native showed a nice feel for scoring in the post on the college level, finishing 42.9% of his shots in back to the basket situations and could exploit smaller forwards down low early in his career. To emerge as a high usage three for a half-court oriented team, Harris will need to improve his spot-up shooting ability and midrange game. He made just 28% of his catch and shoot and pull-up jumpers last season, but fared considerably better when left open with his feet set, leaving some room for optimism on that front.

On the defensive end, Harris fits ideally on a team that makes aggressive help-side shifts and has a capable weak-side shot blocker, as his lateral quickness could be questionable when trying to defend NBA small forwards on the perimeter.


The more likely role for Harris at the NBA level, at least at this stage in his career would be on a faster paced team that could utilize his unique floor game more effectively at the power forward position. Functioning as a face-up four on such a team would afford Harris more freedom to put the ball on the deck, use his ball-handling ability, and mask his current lack of efficiency as a pure-shooter.

By no means is Harris a going to blow past too many NBA defenders with his speed or get by on his size from the midrange, but he proved exceptionally good at taking what defenders gave him off the catch in the college game and not forcing the issue. Able to use his man's momentum against him, Harris was a very sound decision-maker when deciding when to drive to the rim or pull-up, two things that will serve him well as he polishes his scoring ability.

Long-term, Harris has the potential to fit a slew of different roles at the power forward position in the NBA. He's a tireless worker from a basketball family that simply loves to be in the gym. If he refines his consistency from the perimeter, where he already has a nice base of fundamentals to work with, he could conceivably function as a stretch-four over time.

With a young player who has a great head on his shoulder that can do a little bit of everything offensively like Harris, its entirely likely that the team that drafts him will be grooming him with something in mind a few years down the road, meaning the role he plays as a rookie will not be the same as the one he plays a few seasons from now.

On the defensive end, Harris doesn't have ideal size for a NBA power forward at 6'8 and does not rebound at an elite rate, but there are plenty of guys in the league at his size who manage to get by. Harris doesn't have the physical tools to be an elite rebounder, but he makes an effort on the boards as our highlight video suggests.

Teams may be willing to overlook Harris's lack of upside defensively considering all that he brings to the table on the other end of the floor, especially if he's placed next to a dominant rebounding center or a three with a nose for the ball.

Down the road, it will be important for Harris to learn the nuances of the game on the defensive end and make a concerted effort to maximize his presence on the glass. He's a savvy player who is capable of making an impact with his basketball IQ more so than his athleticism.

Overall, Harris is amongst the more intriguing forwards in this class. He'll impress in interviews and workouts with his uncommon maturity and skill level. He isn't a strong candidate to function as a top offensive option for a NBA franchise down the round, and won't be featured on many highlight reels, but he has a lot of raw tools team's look for in a complementary scorer and plenty of time to work on his weaknesses as he adapts to the pro game.

[Read Full Article]

---
Analyzing the 2011 NBA Combine Measurements
May 21, 2011
Harris measured in at just 6-6 ½ inches tall without shoes on, but posted a 6-11 wingspan. To compare that to another first round combo forward, Jared Dudley only measured in at 6-5 ¾ with a 6-7 wingspan. Harris shares Dudley's high basketball IQ, and that should help him adapt to whatever he's asked to do as a rookie.

[Read Full Article]

---
NBA Combine Interviews: Tristan Thompson, Faried, Harris, Leslie
May 20, 2011
[Read Full Article]

---
Trending Prospects (1/20/2011)
January 20, 2011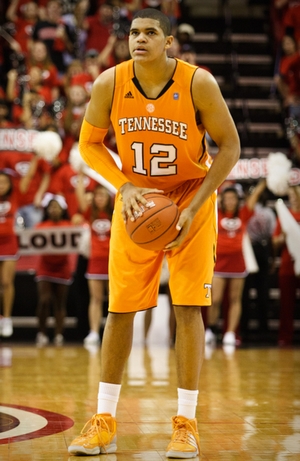 Icon SMI



Jonathan Givony

One of the most productive members of this year's freshman class, Tobias Harris has played a key role for Tennessee from the moment he arrived on campus. And while the Volunteers have been a roller coaster rider of a team all season, Harris has been a model of consistency, scoring between 15-21 points in virtually every game he's participated in, despite being one of the youngest players in college basketball.

The biggest intrigue around Harris stems around his versatility, as he's a solidly built 6-8 power forward with a very good skill-set and an excellent feel for the game. Harris is a tremendous mismatch threat at the college level as he has the ball-handling skills to take his man off the dribble from the perimeter, but is still big and strong enough to make his presence felt inside the paint on both ends of the floor. He's also a very good passer who moves off the ball well and shows great maturity and unselfishness operating in the half-court.

Harris has the freedom to grab a rebound and go coast to coast on his own, showing really nice body control handling the ball fluidly in the open floor, and even being able to change directions on the fly. Tennessee takes advantage of his unique skill-set frequently, allowing Harris to score over 20 points per-40 and get to the free throw line at a strong rate.

Harris is able to knock down shots from the perimeter, but is nowhere near consistent enough with this part of his game just yet. He's knocked down just 16 of the 57 jumpers (28%) he's attempted on the season thus far, showing a slow, flat-footed release, and converts under one 3-pointer game. To reach his full potential Harris will need to become much more proficient in this area, as it's an absolute key to the way he'll have to operate in the NBA.

As much of a mismatch as Harris is for his size, he's still figuring out the nuances of creating high-percentage shots in the half-court. He doesn't show much of a post-game, something that would benefit him greatly when teams elect to use smaller players to guard him on the perimeter. When creating his own shot, he struggles at times to get all the way to the basket, shying away from contact and being forced to finish plays with a floater rather than elevating over his opponents.

Harris is not an exceptionally explosive athlete, especially in traffic, which is one of the reasons he's shooting under 50% from inside the arc, despite his very nice touch around the rim. When defenders rotate into the paint, he doesn't have the ability to pull up for a jumper in the mid-range area at this stage, as he shows little to no elevation on his shot.

None of these issues are particularly unique for an 18-year old, and considering his strong work ethic and excellent feel for the game, it's likely that Harris will continue to gradually improve on the weaker parts of his game.

Defensively, Harris has nice tools to work with at 6-8 with a strong frame and a solid wingspan. He puts a good effort in on this end of the floor, has nice anticipation skills and is a smart and fundamentally sound player to match.

One area of concern NBA teams might have revolves around the position Harris is expected to defend at the next level. He shows average lateral quickness, which could prevent him from guarding some of the more athletic slashers he could run into at the small forward position, but is slightly undersized for a power forward at 6-8. Thankfully for Harris, that inch or two he may or not be missing is becoming less of an issue amongst NBA teams, and considering all the other things he brings to the table, they'll probably be able to live with that. It will be important for him to continue to put a good effort in on the glass—an area he's just OK in right now.

Harris is very much an acquired taste, the type of player who is unlikely to blow GMs away with his upside or athleticism, but who coaches usually fall in love with. He's probably not a great fit in just any NBA system, as he is somewhat of a tweener, but should be able to carve out a long and successful career if he lands in the right spot and continues to improve on his weaknesses.

[Read Full Article]

---