Tomas Dimsa
Recent Tweets
All Tweets
DraftExpress: Tomas Dimsa had a great 4th quarter and overtime for Lithuania. Finished with 19 points. Solid tournament for him. Final up next. #fibaU19
2013-07-07 14:00:25
DraftExpress: USA-Lithuania tipping in Prague. Streaming on ESPN3 & FIBATV. Draftnikes keep your eyes on #9 Tomas Dimsa and #13 Marius Grigonis #fibau19
2013-07-06 14:26:51
DraftExpress: Tomas Dimsa gets hammered and the ref calls nothing. Lithuanians can't believe it. Croatia survives and secures 2nd place in group #fibau19
2013-07-02 15:59:00
DraftExpress: Lithuania was down by 20 when I arrived at halftime...now they are up by 2 with 25 seconds left after a crazy pull-up 3 by Tomas Dimsa...
2013-07-02 15:54:07
DraftExpress: Nike Hoop Summit Scouting Reports the Wings http://t.co/FuzIyg2tlG - Andrew Wiggins Sergey Karasev and Tomas Dimsa.
2013-04-24 18:07:26
Team: Frankfurt, International
Physicals
Positions
Rankings
Salary
Misc
H: 6' 4"
W: 185 lbs
Bday: 01/02/1994
(21 Years Old)

Current: SG
NBA: SG
Possible: SG

Rank 16 in International 1994

Agent: Sarunas Broga

High School:
Hometown: Kaunas, Lithuania




Basic Per Game Statistics

- Comprehensive Stats - Statistical Top 25s

Player Page&nbsp&nbsp| Player Stats | Related Articles&nbsp&nbsp| Add to My Draft Express&nbsp
&nbsp
2013 Nike Hoop Summit Practice Drill Videos
April 24, 2013
[Read Full Article]

---
Nike Hoop Summit Scouting Reports: Wings
April 24, 2013
Matt Kamalsky

Arriving a day later than everyone, Tomas Dimsa had a fairly quiet week in Portland, not really standing out among the quality of talent assembled, but also not looking out of place. He came through for the World Select Team when he was called upon on gameday though, knocking down his only official shot, a 3-pointer, and all 3 of his free throws after getting fouled on another 3-pointer to finish with six points in six minutes.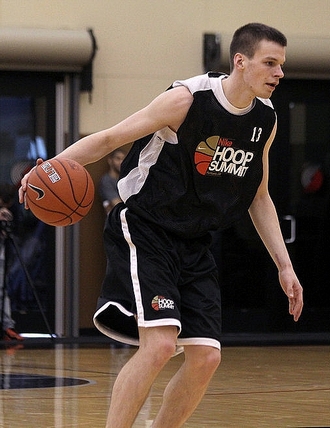 Tim Brown/OregonLive.com



A late addition to the Hoop Summit roster, Dimsa had a difficult time using his athleticism to get to the basket throughout the week. Noted for his explosiveness for a European prospect, he did get loose and elevate for a dunk over a defender at one point in practice, but did not convert. Lacking great ball-handling ability and strength in the half-court, and not being the most assertive player around, Dimsa was not able to make plays consistently off the dribble and particularly in transition like he did in previous settings we've evaluated him. He has a strong first step, but the length and athleticism of Dante Exum and Andrew Wiggins posed obvious challenges for him. He did make some very intelligent passes throughout the week, though, looking very unselfish and appearing content not forcing the issue amongst the deep collection of talent that was alongside him. He also put a solid effort in defensively.

The Kaunas, Lithuania native did most of his damage when he could find his range, getting hot during the World Select Team's scrimmages on one notable occasion where he went 4-4 from beyond the arc in a matter of minutes. He has a fairly long shooting stroke, but gets good arc on the ball and is fairly consistent with his feet set. Considering this has been considered a weakness of his up until this point in his career, it was nice to see Dimsa shooting the ball effectively, something he'll need to continue to do consistently to reach his full potential as a prospect.

Averaging double figures for Zalgiris-Sabonio krepsinio centras in the 2nd division of Lithuania, also known as the NKL, Dimsa had a solid season at the level of competition he played at. Whether he pans out as a NBA prospect will have a lot to do with how his body and floor game improves in the coming years. It will be interesting to see how he fares when he gets the opportunity to ply his trade against better club competition in Lithuania, as he's definitely one of the more talented wing prospects the country has developed in the last few years.

[Read Full Article]

---
Nike International Junior Tournament Kaunas: Elite Prospects
February 14, 2012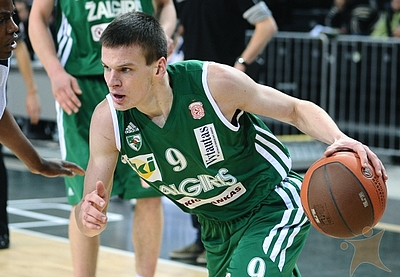 Fotodiena.lt/R.Dačkus



Jonathan Givony

Scoring nearly a point per-minute over four games and converting 79% of his attempts inside the arc, it's safe to say that this was a successful showing for Lithuanian wing prospect Tomas Dimsa, who was also named the tournament's MVP.

Slightly undersized for a shooting guard at 6-4, with a fairly narrow frame, Dimsa doesn't look like much on first glance, but quickly changes that perception as soon as he steps out on the court. He's simply an exceptional athlete for a European prospect, quick in the open floor, bouncy around the basket, and regularly playing above the rim in highlight reel fashion.

Dimsa gets most of his production at the moment in transition and cutting off the ball for explosive finishes. He's a developing shot-creator who can beat his man off the dribble with an excellent first step, being mostly a straight line dribbler who struggles at times with changing directions with the ball. Due to his skinny frame, he has some issues finishing through contact, but is such a great leaper that that's rarely an issue at this level of competition. Dimsa has a good feel for the game and appears to be a very solid passer as well, rarely forcing the issue and making some impressive drive and dish plays.

As a shooter, he can get streaky but appears to have good potential, making a handful of jumpers over the course of this tournament, and even showing some ability to create separation in the mid-range area off the dribble.

Defensively, Dimsa is highly competitive, using his lateral quickness to put good pressure on the ball and regularly making plays getting in the passing lanes. He had some impressive moments skying through the air for above the rim rebounds, but will likely need to continue to add strength to his frame as he gets older to handle the physicality of European basketball.

One of the older prospects in attendance, already having turned 18 in January, Dimsa produced accordingly relative to this talent level. He appears to have plenty of room for growth in various parts of his game, and is surely a prospect scouts will want to keep track of down the road due to his supreme athletic tools.

[Read Full Article]

---