Trey Thompkins
Recent Tweets
All Tweets
DraftExpress: They want to sign a youngish PG I heard. RT @MarkDeeksNBA Weird timing. RT @LAClippers Clippers Waive Trey Thompkins http://t.co/Cltw2Vwe5M
2013-03-14 17:57:23
DraftExpress: CT beats DC 171-169. Josh Selby 48 pts, Sam Young 38, Tyreke Evans 38, Nolan Smith 35, Trey Thompkins 26 Wesley Matthews 25 Travis Leslie 25
2011-11-18 09:43:45
DraftExpress: Trey Thompkins had 15.5% body fat percentage at the NBA combine, but looks to have slimmed down dramatically since. Used his time off wisely
2011-11-18 08:33:40
DraftExpress: On the other end of the spectrum, Trey Thompkins must be starving himself. He's lost a TON of weight since the draft. Eat something dude.
2011-11-18 08:31:52
DraftExpress: Brandon Knight, Jordan Hamilton, Kenneth Faried, Kyle Singler, Trey Thompkins, Jeremy Tyler, Diante Garrett and others will be working out.
2011-05-26 12:22:09
Top 25s - Full List
Team: Clippers College Team: Real Madrid
Physicals
Positions
Rankings
Salary
Misc
H: 6' 10"
W: 239 lbs
Bday: 05/29/1990
(25 Years Old)

Current: PF
NBA: PF
Possible: PF

RSCI: 26

Agent: Arn Tellem

High School: Norcross
Hometown: Norcross, GA
Drafted: Pick 37 in 2011 by Pistons

Predraft Measurements
| Year | Source | Height w/o Shoes | Height w/shoes | Weight | Wingspan | Standing Reach | Body Fat | No Step Vert | Max Vert |
| --- | --- | --- | --- | --- | --- | --- | --- | --- | --- |
| 2011 | NBA Draft Combine | 6' 8.5" | 6' 9.75" | 239 | 7' 1" | 8' 11.5" | 15.5 | 27.5 | 30.5 |
| 2010 | Amare Stoudemire Camp | NA | 6' 10" | 237 | 7' 0" | NA | NA | NA | NA |



Basic Per Game Statistics

- Comprehensive Stats - Statistical Top 25s
| Year | League | Name | GP | Min | Pts | FG | FGA | FG% | 2Pt | 2PtA | 2P% | 3Pt | 3PtA | 3P% | FTM | FTA | FT% | Off | Def | TOT | Asts | Stls | Blks | TOs | PFs |
| --- | --- | --- | --- | --- | --- | --- | --- | --- | --- | --- | --- | --- | --- | --- | --- | --- | --- | --- | --- | --- | --- | --- | --- | --- | --- |
| 2015/16 | ACB | Trey Thompkins | 6 | 19.8 | 9.0 | 3.8 | 6.0 | 63.9 | 3.2 | 3.8 | 82.6 | 0.7 | 2.2 | 30.8 | 0.7 | 0.7 | 100.0 | 1.0 | 4.8 | 5.8 | 0.8 | 0.5 | 0.7 | 1.0 | 2.7 |
| 2015/16 | EURO | Trey Thompkins | 6 | 16.5 | 7.2 | 2.3 | 6.2 | 37.8 | 1.7 | 3.7 | 45.5 | 0.7 | 2.5 | 26.7 | 1.8 | 1.8 | 100.0 | 1.2 | 2.5 | 3.7 | 1.3 | 0.2 | 0.3 | 0.7 | 2.0 |

Player Page&nbsp&nbsp| Player Stats | Mock Draft History | Related Articles&nbsp&nbsp| Add to My Draft Express&nbsp
&nbsp
Situational Statistics: the 2011 Big Men Crop
June 21, 2011
Trey Thompkins is among the highest usage players in our sample at 17.5 possessions per-game (2nd). His perimeter orientation limits him to some degree in terms of efficiency, as he was only able to register 0.916 points per-possession overall.

Seeing a combined 20% of his offense away from the rim in spot-up and isolation situations, 31% of Thompkins's shots are jumpers (3rd most). He is not a great athlete, but has potential as an inside-outside scorer and is one of the more assertive ball-handlers in this group.

His best marks come in post-up situations, which accounted for a marginally above average 36.3% of his touches. Scoring 1.011 PPP with his back to the basket (4th), Thompkins can't quite compensate for his lack of jump shooting efficiency (29% FG%, 2nd last) and less than stellar 60.4% shooting in finishing situations in these rankings. One of the more skilled big men in this group, clearly these ranking are stacked in favor of high-level athletes playing smaller roles.

[Read Full Article]

---
NBA Combine Interviews: Trey Thompkins, J. Harper, J. Johnson, Leuer
May 24, 2011
[Read Full Article]

---
Analyzing the 2011 NBA Combine Measurements
May 21, 2011
Trey Thompkins (6-8 ˝ without shoes, 7-1 wingspan) measured out well for a four, but had the highest body fat percentage at 15.5%, comparable to that of DeMarcus Cousins last year. [/url]

[Read Full Article]

---
Trending Prospects (2/24/2011)
February 24, 2011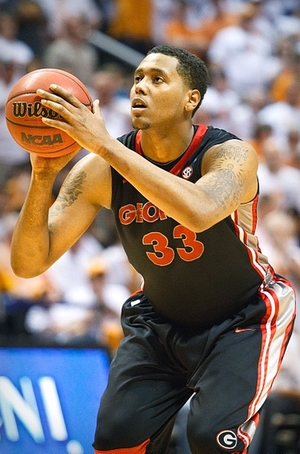 Icon SMI



Walker Beeken

Trey Thompkins came into the 2010-2011 season as a player who many thought will make the jump to being one of the best big men in country, following a solid sophomore season where he showed a versatile and productive skill-set for a player his size. Unfortunately for Thompkins, while he has improved his game in certain areas, he's taken steps backwards in others, and hasn't been as productive overall as he was last season.

From a physical standpoint, Thompkins has nice size for an NBA power forward prospect at 6'9" with broad shoulders, but just-average athleticism, some of which can likely be attributed to a lack of conditioning. His body isn't as toned as scouts would like to see, and his quickness and explosiveness leave something to be desired. In fairness to Thompkins, he did begin the season with an ankle sprain that caused him to miss some practice time as well as the first three games of the season, but we noted last year that maximizing his athletic ability would be a key to for his draft stock, and he hasn't made the necessary strides in that area.

Much of Thompkins' struggles this season can be traced to his extremely poor shooting. After shooting a solid 38% from the 3-point line and 39% overall on jump shots as a sophomore, he has regressed dramatically, connecting on only 24% of his threes and 23% of his jumpers this season. For a player who lacks the ideal physical tools and toughness around the basket, it's discouraging to see these dips in his shooting numbers, as his ability to knock down open shots was a big part of what made him so intriguing as a prospect.

It's difficult to say what the cause is for his drastic regression as a shooter, as he shot the ball well his first two seasons, and he's taking fairly close to the same amount of shots from similar spots on the floor. Even though he probably is a better shooter than what we've seen from him this season, this should be a sign for him that he needs to be more selective with his jump shots. He's the focus of most teams' defenses at the college level, though, and would probably be more of a complimentary piece in the NBA, where he'd get more open looks. He's shown before that he's capable of knocking those shots down, but his shooting woes this season aren't helping his case.

On a positive note, Thompkins has continued to become more efficient in the post, scoring an impressive 1.1 points per possession this season, up from the .9 points per possession on his post up opportunities as a sophomore. He continues to display good footwork, a high skill level, and the soft touch we saw from him before, and although he still probably relies a bit too much on his turnaround jump shot - often fading away from the basket - he does have a refined post game for a player his age, and has the potential to continue to improve and become an effective weapon on the block.

Defensively, Thompkins still has some of the issues we saw from him last year, as it's questionable whether he's always giving maximum effort, possibly partly due to conditioning issues. He's slow to get out and challenge shots, and he lacks the lateral quickness to defend some of the quicker power forwards in the NBA. In the paint, Thompkins shows good instincts and is a solid shot-blocker, but his lack of consistent intensity and toughness will be even a bigger obstacle at the NBA level, where he'll face more players who are more physically gifted than he is. His rebounding has dropped off once again this season, for the third straight year, which is not a good sign all things considered.

Overall, Thompkins still has some intriguing qualities with his high skill level for a big man and his potential as a scorer on the block. His shooting woes have been disappointing though, and he'll need to prove through the end of the season or in workouts that he's a much better shooter than what we've seen from his so far this season. Big men with his feel, touch, and skill level aren't easy to come by, but the questions about his motor and consistency will have to be looked into deeper by teams to find out whether or not he's a guy who will ever reach his full potential.

[Read Full Article]

---
NCAA Weekly Performers, 3/3/10
March 3, 2010
Matthew Kamalsky

After a very solid freshman year, Trey Thompkins spent last summer with the U-19 National team at the World Championships in New Zealand where he finished as Team USA's leading scorer. Poised for a big year after his play in Auckland, he returned to a UGA program welcoming a new head coach and facing a bleak outlook in the SEC. Though the Bulldogs have struggled in Mark Fox's first season, that hasn't stopped Thompkins from having a breakout year, quietly emerging as a very legitimate NBA prospect, far from the national spotlight.

Thompkins' development doesn't come as a major shock, as he was considered by analysts such as Scout.com's Dave Telep as a borderline McDonald's All-American coming out of high school. The 19 year old forward showed flashes of brilliance last season, displaying a high skill level and playing well despite the lingering effects of an offseason injury that hampered his conditioning all season long.

A talented inside-outside threat, Thompkins was able to make an impact around the basket while showing a promising post repertoire and budding catch and shoot game. This season, Thompkins has turned that potential into production thanks to improved consistency, a much sleeker physique, and a perfectly defined role in Mark Fox's offense.

Though Thompkins has done a tremendous job building his draft resume this season, he still has some limitations from an NBA perspective. His body looks considerably better than it did last season, and he has a very nice wingspan, but he still isn't terribly explosive, lacking the first step and leaping ability that would compensate for his average height. Possessing an average physical profile for an NBA power forward, Thompkins may not be an outstanding athlete, but his lack of physical tools is clearly overshadowed by his impressive scoring arsenal.

The biggest improvement Thompkins has made since last season lies in his ability (and willingness) to score with his back to the basket. Showing a knack for gaining position and making decisive moves to create space, Thompkins is converting 47.4% of his shots from the post, up from 41.2% last season according to Synergy Sports Technology.

When Thompkins is isolated on the block, his go-to-move is his turnaround jumper, which allows him to utilize his outstanding touch and features a very high release point –something that will help his transition to the next level. When Thompkins doesn't see an opportunity to turn and shoot, he shows a nice up and under move, and has solid overall footwork. He shows a rare ability to throw the ball in off the glass, something you don't see from many players his age, and perfectly demonstrates how talented a scorer he truly is.

When Thompkins isn't showcasing his outstanding touch around the basket, Mark Fox has done an excellent job positioning him to operate one-on-one from the elbow or foul-line extended, similar to how many NBA power forwards are utilized in isolation situations. Thompkins regularly catches the ball on the wing and high post with his teammates cleared out, in a situation to create his own shot. A capable ball handler for a player his size, Thompkins likes to drive right to get to the basket, preferring to use his strength to get to the block and then using his footwork to beat his matchup to the rim, often using nifty pivot moves along the way. This an impressive move for an NCAA big man to make, let alone one who is just 19 years old.

While not showing much in the way of advanced ball handling ability, and showing average decision making and passing skills at times, Thompkins is one of the more turnover prone players in our database –something he'll need to work on moving forward. While he's not a bad ball-handler by any stretch for an NCAA big man, he could clearly stand to polish up this part of his game.

Away from the rim Thompkins has made some significant strides as a shooter and is benefiting significantly from the improved shot-selection he's showing this season. After shooting 38.4% from three-point range on 3.1 attempts per-game as a freshman, Thompkins has shot an impressive 42% from three on 1.9 attempts per-game this season, ranking him amongst the most efficient shooters in our database. With Mark Fox's system getting him the ball in the post more effectively, Thompkins still forces defenders to respect his range. He displays excellent touch on virtually every shot he takes, which has helped him improve his pull up jumper and midrange game –two areas he should continue to work on but show great potential moving forward.

Thompkins is able to make a big impact on the offensive end with his well-rounded skill set, but his laid-back nature becomes apparent when watching him defend. The Georgia native does an adequate job getting a hand up on shooters, and his excellent hands help him come up with loose balls in the lane and rebound at a solid rate, but his lack of intensity makes it difficult for him to be an effective stopper. Giving up position too easily on the block, and lacking a sense of urgency and discipline when closing out shooters, Thompkins doesn't always compete on the defensive end the way that NBA decision-makers would like to see. Considering his average physical tools, the concerns about his intensity become that much more problematic when projecting his defensive presence to the next level.

With his sophomore season coming to a close, Thompkins faces a difficult decision regard his future. Mark Fox has been laying the groundwork for future recruiting classes, but there is little talent at this point headed to Athens next fall. Thompkins has boosted his play considerably, but with Georgia seemingly off of the national radar, are enough NBA people actually taking notice? A couple of teams we spoke with hadn't seen him play this season. Another question would be-- could he significantly improve his NBA resume next season if his team continues to struggle?

One NBA scout we spoke with stated, "He took a big step this year, but he isn't going to get a lot of buzz. I see him in the late 1st, early 2nd round." Considering his age and talent level, Thompkins seems like a great bet for a competitor drafting for the future, but he's not guaranteed a spot in the first at this juncture. Keeping things close to the vest when asked about his future, Thompkins will have a tough call on his hands when the early entry deadline rolls around. A strong showing against Kentucky tonight and then in the SEC tournament would go a long ways in making people notice his play.

[Read Full Article]

---
Top NBA Draft Prospects in the SEC (Part Two: #6-10)
September 20, 2009
Joey Whelan

Believe it or not, this is already the third time we have taken a look at talented big man Trey Thompkins since he broke onto the college scene. We examined the power forward midway through his freshman year at Georgia and most recently observed him briefly at the USA Junior National Team tryouts in June. Having had an opportunity to watch extensive film of the Georgia native during the second half of his 2009 season, we will be further breaking down the development of this intriguing youngster.

Thompkins missed the early part of his freshman season due to an ankle injury and even though it took him some time to work back into playing shape early on, we suspected he was an average athlete at best. His final stretch of games did nothing to change that opinion. He certainly has a solid frame, weight in at 245 pounds and featuring a great wingspan, but his physical attributes tend to fall off a bit from there. We have mentioned his solid mobility and coordination for a frontcourt player at his stage of development as being above average, but he doesn't possess great quickness or explosiveness which hurts him around the rim in some instances and are a concern for the next level.

In the early part of his freshman season while he was still working himself back into being comfortable on the floor, Thompkins displayed a pretty polished post game that was built mainly around his drop step. As the schedule progressed though, the forward started to rely more and more on a soft turnaround jumper, a shot that he is able to hit spinning over either shoulder. He certainly will still try to power his way to the basket, often going with a soft hook off of moves to the middle of the lane, but overall his lack of leaping ability comes back to hurt Thompkins here as he doesn't finish over defenders at a high rate as we have mentioned in the past.

We have already talked at length about Thompkins's range, which extends beyond the arc. As the season progresses he attempted a greater number of perimeter shots, so naturally his shooting percentage dropped, but he still finished at a very respectable 38.4 percent on just over three attempts per game. The youngster is a very good catch and shoot player on the perimeter for a big man at his stage of development, although his shot still could use some tweaking. His form for the most part looks pretty good, although he does have a tendency to push the ball sometimes. The biggest knock on Thompkins and his shooting right now is that he gets very little elevation on his shot, often jumping just an inch or two and somewhat line driving his shot attempts. His ability to shoot off the dribble didn't improve very much as the season progressed as this is still an area he struggles with.

Thompkins ability to handle the ball surprisingly well for a young frontcourt player makes him an intriguing prospect, but again he showed little development in this aspect of his game as the season progressed. He started the year able to attack the rim in a straight line against slower defenders and the year ended with him still exhibiting these limitations as a dribble drive player. Since he isn't overly quick off the bounce, Thompkins will often try to spin and post up against his defender at the earliest possible juncture if he can't blow past him.

Defensively we saw some strides from Thompkins after we first looked at him in January. His rebound numbers improved noticeably in the latter part of the season thanks to the increased focus he showed to boxing out and establishing position. He absolutely still has his mental lapses on occasion – a fact that hurts him as a weak side defender and shot blocker – but it was clear that he was progressing at this end of the floor.

As we said was the case at the midway point of his first season, it is still too early to really judge how far Thompkins can go as a prospect. He shows a very high skill level for such a young player, especially one who plays in the frontcourt. With that said, maximizing his athletic abilities will be an absolute must for the rising sophomore if he is to stand any chance of reaching the NBA. He certainly is undersized for a post player in the League, but with his blossoming versatility attracting some attention already, improving his quickness and explosiveness would go a long way in helping his stock. It will be interesting to see how the youngster fairs with a full offseason of strength training under his belt and a fresh bill of health to start the upcoming campaign.

[Read Full Article]

---
USA Basketball Junior National Teams Tryouts: Top Performers
June 20, 2009
Trey Thompkins was one of the more talented big men in attendance on either roster, showing great length and a decent skill-level facing the basket. His motor looked fairly poor though, not running up and down the floor as hard as you might hope, and looking fairly soft in the post on both ends of the floor. He needs to improve his footwork and intensity level, since he's not that great of an athlete to just get by on his potential.

[Read Full Article]

---
Evaluating the NCAA Freshman Class, Part Two
January 14, 2009
Although he missed the first four games of the season and wasn't able to participate in much offseason strength training, Trey Thompkins has gotten off to a pretty solid start for the Georgia Bulldogs, especially of late, with three consecutive strong games against Missouri, Georgia Tech, and Tennessee. Heading into the conference season, he seems to be getting his game in stride, which is good news for the Bulldogs.

Despite missing significant time with knee and ankle injuries (meaning he may not be at 100% quite yet), it appears pretty evident early on that Thompkins is at best an average athlete. He is a mobile and coordinated big man with great length, and an excellent frame, but lacks any real explosiveness around the rim. He's struggled finishing around the basket this season for that reason, but has been able to make up for that and then some with his terrific skill-set.

Looking at his offensive game, Thompkins looks very adept inside the post, where he has a nice repertoire of moves and a very good feel for the game. He does an excellent job of playing off what his defender gives him, slyly working to inside position, reading the angles, and getting himself into the position where he can get the highest percentage shot. When he gets the ball, he can spin off either shoulder going to or away from the basket, and does a good job of reading the defense and adjusting accordingly. He has a nice shoulder fake and can hit a turnaround jumper spinning left or right, though his accuracy falls off outside of 8 feet with this move.

He's at his best when he's utilizing his drop step, though, showing good footwork and playing off his excellent positioning to create a lot of easy shots at the rim. On the downside, Thompkins really struggles to power up at the basket, not being able to finish strong over defenders, but he makes up for this with a good command of ball fakes.

Thompkins' game extends all the way out to three-point range, where he has a reliable spot-up jumper, hitting for nearly 50% from behind the arc, on under three attempts per game. He has a deliberate shooting motion with somewhat of a push shot, however he has good balance when spotting up and is pretty consistent when he's not rushed.

He's at his best in space with time to get off his shot, and struggles when shooting on the move, not having very good balance pulling up off the dribble. He shoots from the mid-range a bit, incorporating some turnaround jumper pivot drives into his game, but he's inconsistent with them and sometimes rushes these moves.

As a ball-handler, Thompkins is above average for a freshman power forward, having pretty good composure and control, but his timing and footwork seem off at times, not letting him take full advantage of his mobility just yet. He struggles to gain separation at times, not being exceptionally quick with the ball in his hands, but still has moderate success with his dribble-drive game, albeit mostly on straight-line drives where his defender is out of position. This is clearly a part of his game that he can continue to develop, as he shows a nice framework to build off.

On the defensive end, Thompkins is still a work in progress, not being a great weak-side shot-blocking threat and struggling a bit in man-to-man defense. In the post, he tends to get caught out of position by overreaching on fronts, and doesn't do a great job recovering. When playing straight-up man, he does a pretty good job to stay in front of his man, but isn't as active as you'd like and still could use some work on his fundamentals, not being incredibly effective. His woes become more pronounced when he has to step out to the perimeter, as his lateral foot speed is not good, nor are his fundamentals. His terrific wingspan does help him on this end of the floor, though, and it's possible that he becomes better here as he gains more experience.

On the glass, Thompkins hasn't really hit his full potential yet. He shows good touch and instincts on the offensive end, but his attentiveness to boxing out and crashing the boards on the defensive end isn't up to par for a player of his size and ability.

Looking forward, it's a bit too early to make many definitive statements about Thompkins' projection, both due to the limited number of games he's played and because he wasn't able to benefit from an offseason of strength training due to injuries. Maximizing his athleticism will certainly be crucial for his future successes.

Other than that, he should be working on his defensive fundamentals and trying to expand his already solid perimeter game. It's pretty impressive to see a freshman show such an advanced skill-set both facing and with his back to the basket already, to go along with a nice feel for the game, so there is some reason to be cautiously optimistic in regards to his future.

[Read Full Article]

---