Tyler Honeycutt
Recent Tweets
All Tweets
DraftExpress: Tyler Honeycutt stepping out of the crowd. Malcolm Lee should be hearing his name shortly as well.
2011-06-23 09:41:20
DraftExpress: Markieff Morris/Tyler Honeycutt Interview and Workout Footage http://bit.ly/iqPDgw
2011-06-21 01:57:39
DraftExpress: 3rd group scheduled for Minnesota workout: Jacob Pullen, Andrew Albicy, Tyler Honeycutt, Chandler Parsons, Malcolm Thomas, JaJuan Johnson
2011-05-23 11:33:24
DraftExpress: Video interviews from the NBA Combine in Chicago w/ Kyle Singler, Tyler Honeycutt, Jereme Richmond & Chandler Parsons http://bit.ly/lAxcOP
2011-05-22 03:48:02
DraftExpress: Minnesota Group Workout, Wings: Marshon Brooks, Jereme Richmond, Travis Leslie, Tyler Honeycutt, Justin Holiday, Chandler Parsons
2011-05-17 11:21:11
Top 25s - Full List
Team: Khimki
Physicals
Positions
Rankings
Salary
Misc
H: 6' 8"
W: 187 lbs
Bday: 07/15/1990
(25 Years Old)

Current: SF
NBA: SF
Possible: SF

RSCI: 34

Agent: Aaron Mintz

High School: Sylmar HS
Hometown: Sylmar, CA
Drafted: Pick 35 in 2011 by Kings
Best Case: Francisco Garcia
Worst Case: Brandon Bowman

Predraft Measurements
| Year | Source | Height w/o Shoes | Height w/shoes | Weight | Wingspan | Standing Reach | Body Fat | No Step Vert | Max Vert |
| --- | --- | --- | --- | --- | --- | --- | --- | --- | --- |
| 2011 | NBA Draft Combine | 6' 6.75" | 6' 8.25" | 187 | 6' 9" | 8' 9" | 5.3 | 30.0 | 37.0 |



Basic Per Game Statistics

- Comprehensive Stats - Statistical Top 25s
| Year | League | Name | GP | Min | Pts | FG | FGA | FG% | 2Pt | 2PtA | 2P% | 3Pt | 3PtA | 3P% | FTM | FTA | FT% | Off | Def | TOT | Asts | Stls | Blks | TOs | PFs |
| --- | --- | --- | --- | --- | --- | --- | --- | --- | --- | --- | --- | --- | --- | --- | --- | --- | --- | --- | --- | --- | --- | --- | --- | --- | --- |
| 2015/16 | EURO | Tyler Honeycutt | 7 | 17.0 | 4.3 | 1.6 | 2.9 | 55.0 | 0.9 | 1.4 | 60.0 | 0.7 | 1.4 | 50.0 | 0.4 | 0.6 | 75.0 | 1.6 | 2.7 | 4.3 | 1.0 | 0.9 | 1.0 | 0.9 | 1.7 |

Player Page&nbsp&nbsp| Player Stats | Mock Draft History | Related Articles&nbsp&nbsp| Add to My Draft Express&nbsp
&nbsp
Situational Statistics: the 2011 Wing Crop
June 22, 2011
Tyler Honeycutt ranks poorly from a statistical perspective, as his 0.822 PPP overall ranks dead last among wings. His 47.7% aFG% and his 20.2% TO% both rank second to last, and his 9.7% free throw rate ranks fourth from last.

-Travis Leslie's 0.964 PPP ranks in the middle of the pack at 10th overall, weighed down some by a fifth-worst aFG% of 49.6%, largely a result of a lack of three-pointers relative to the rest of the class.

Leslie sees 49.3% of his field-goal attempts finishing at the basket, tops in the class, while his 1.215 PPS in these instances ranks a strong 6th. His 0.828 PPS on jumpers, however, ranks 14th of 17th overall.

-[p=Jereme Richmond]Jereme Richmond doesn't fare very well statistically, with his 0.863 PPP overall ranking 16th of 17. He definitely has the most unconventional possession distribution in the class, as his 9.6% of possessions in transition and 10.7% of possessions on spot ups both ranks dead last, while his 19.3% on cuts and 16.3% on post ups both rank first. It's clear that he played more like a forward than a wing player in college.

Richmond's 1.432 PPS finishing around the basket ranks first overall, while his 0.75 PPS on jumpers ranks third from last, which alone is a solid microcosm of his offensive strengths and weaknesses as a player.

[Read Full Article]

---
Markieff Morris/Tyler Honeycutt Interview and Workout Footage
June 21, 2011
[Read Full Article]

---
NBA Combine Interviews: Kyle Singler, Honeycutt, Richmond, Parsons
May 22, 2011
[Read Full Article]

---
Finding a Niche for: Tyler Honeycutt
May 13, 2011
Scouting report by Derek Bodner, Video breakdown by Sebastian Pruiti

With the decision to hire an agent, Tyler Honeycutt put a cap on an intriguing, albeit somewhat disappointing, college career. The UCLA sophomore failed to make the drastic jump in production that was widely expected going into this season, but still continued to show the skills that makes him such a tantalizing prospect down the road.


---
Tyler Honeycutt (#23) Strengths/Weaknesses Video
Watch in full screen mode by clicking button in upper right hand corner of video
---



More DraftExpress Video Breakdowns:


-Justin Holiday
-Tristan Thompson
-Brandon Knight
-Terrence Jones
-Alec Burks
-Derrick Williams
-Jimmer Fredette
-Kenneth Faried
-Harrison Barnes
-Marcus Morris
-Perry Jones
-Kawhi Leonard
-Brandon Knight
-Tristan Thompson

---


From an athletic standpoint, there's a lot to like about Honeycutt, despite his slender (188 pounds) frame. Honeycutt stands 6'8" with long arms, which he uses extremely well on the defensive end, as evidenced by him being the leading shot blocker in the Pac-10. He moves his feet well laterally, which combined with his length, overall good effort level on that end of the court and strong second jump creates an intriguing defensive prospect on the perimeter. Playing in Ben Howland's system, Honeycutt has experience playing largely man to man defense, and played significant minutes both in the post and on the perimeter, something that should help when evaluating his ability to defend at the next level.

On the offensive end things become a little murky, both on what you can expect from him right out of the gate as he begins his professional career and on what you can reasonably expect him to develop into down the line. Taking a quick look at just the numbers, what jumps out is his drop in efficiency (40.6% from the field, down from 49.6% as a freshman) and his negative assist to turnover ratio (2.8 assists to 3.0 turnovers).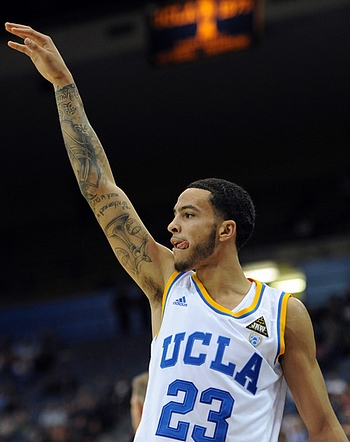 Icon SMI



Taking a deeper look, the efficiency drop off was largely due to a change in shot distribution. Honeycutt attempted 1.6 three pointers per 40 minutes pace adjusted last year, and that shot all the way up to 5.2 attempts this year. That, along with his improved free throw percentage (73.6%, from 60%), caused his overall drop in efficiency to not actually be as drastic as it appeared on first glance. His true shooting percentage only fell from 55% to 52%, and that was primarily due to a drop in effectiveness in transition. According to Synergy Sports Technology, his half court effectiveness increased from 0.756 points per possession to 0.840.

As we noted before the season began, Honeycutt has excellent form on his jumper, with good elevation and nice touch, and this still holds true. It appears he put in work in the offseason as his consistency, and thus his effectiveness, improved substantially. Besides the aforementioned increase in three point attempts (and effectiveness, up to 36.2%), Honeycutt increased his frequency and efficiency across the board, now taking over 70% of his half court attempts as jumpers, yielding a very good 0.976 points per shot (up from 38.3% of his half court offense last year at 0.761 points per shot).

Easing Honeycutt's transition to the NBA is his ability to play off the ball, both in a standstill catch and shoot role and as a shooter coming off of screens, moving extremely well off the ball and using screens to gain separation, something which now has become a very prominent part of his game.

Off the dribble, Honeycutt has a nice first step and an improving off hand, but his ball-handling ability overall is still a limiting factor in his usefulness as an isolation player. He doesn't possess much in terms of advanced ball-handling moves or change of directions, and will likely, at least initially, be relegated to forays into the lane as a result of defenders closing out on him. Once he gets into the lane he has good touch around the hoop, he struggles to draw fouls (his 3.6 free throw attempts per 40 minutes pace adjusted ranks towards the bottom of players in our top 100 rankings) and finish through contact.

Perhaps the most intriguing part of his game, and the part that may not translate immediately to the NBA level, is his passing ability. Honeycutt shows very good court vision for a player of his size, and a willingness – perhaps to a fault – to setup his teammates. The problem is he often forces the issue, making high risk passes that may not be the best option. He'll need to improve his decision making and ball-handling ability to fully utilize his passing ability at the next level, which may limit a team's desire to use him in a point forward role initially.

The biggest concern watching Honeycutt over the course of the season is possibly his aggressiveness and consistency. UCLA overall suffered from inconsistent play at the point guard position, and Howland's system through the years hasn't always been kind to off the ball perimeter players as it can have a steep learning curve. That being said, Honeycutt often times passed up opportunities and was far too often not aggressive enough for someone of his skill level. He has a reputation amongst scouts for not being particularly tough either mentally or physically, and his passivity clearly doesn't help in this regard.

Honeycutt did play through a lot of nagging injuries as the year went on, something that could have contributed to his inconsistent play. He averaged 14.9 points per game on 45.9% from the field and 38.5% from three, to go along with 8 rebounds, 2.6 assists, and 1.7 blocks in his first 11 games of the season before spraining his right shouder. He sat out only one game from the shoulder injury, but may not have been 100% for some of the season. He followed that up with a sprained elbow, which may hampered him throughout the year. After injuring his shoulder in late December he averaged just 11.7 points on 37.4% from the field and 6.8 rebounds per game for the rest of the season, a marked decline in productivity.

Injuries have been a regular problem during his brief collegiate career, as a spinal stress fracture and a stress reaction in his right tibia caused him to miss time his freshman year. With his body type, there are some question marks about how he'll be able to handle the rigors of an 82 game season, particularly considering the huge jump in physicality he'll endure against older and stronger players.

Adding strength will help Honeycutt tremendously in terms of translating his defensive prowess from college to the NBA. If he can prove he has the toughness and lateral quickness to defend the perimeter full time, he'll be able to earn minutes early in his career while his decision making catches up to his overall talent level.

Honeycutt's initial role will likely be playing off the ball, as he could fit in well as a catch and shoot player either as a spot-up shooter in isolation or pick and roll heavy offenses, or coming off screens and moving without the ball. He has a good feel for the game and excellent court vision, which down the line could see time facilitating more of the offense if his ball handling and decision-making improves.

While clearly a raw player, Honeycutt has the size, skill-level and basketball IQ NBA teams covet at the wing position, which could make him a very solid value pick later in the first round sometime down the road. In the meantime, Honeycutt will have to continue to add strength to his frame and polish up his all-around game to realize his very high upside.

[Read Full Article]

---
Top NBA Draft Prospects in the Pac-10, Part One (#1-5)
September 20, 2010
Jonathan Givony

Starting off his freshman campaign slowly due to a spinal stress fracture followed by a stress reaction in his right tibia, Tyler Honeycutt nevertheless managed to bounce back and string together a very interesting freshman season for an underachieving UCLA squad.

Showing excellent size for a small forward at 6-8, to go along with a nice wingspan and better athleticism than you might expect on first glance, Honeycutt is a very smooth, very versatile wing player with a big upside and an outstanding feel for the game.

Honeycutt does a little bit of everything offensively at the college level, even if he was clearly way too unselfish as a freshman last season. He averaged just 7.7 field goal attempts per-40 last year, sixth most total on the team, looking a little too willing to fit in at times.

While there is no way he should have been passing up shots to the type of talent UCLA sported on its roster last season, this does highlight possibly his greatest strength—his excellent passing ability—as he's a major asset for any team to have in their half-court offense. Honeycutt has excellent court vision and anticipation skills and regularly makes passes that hint at an extremely advanced basketball IQ. He does a great job facilitating his team's ball-movement and looks to have the potential to develop into a point forward type down the road—the type of player a coach can run his team's offense through.

Honeycutt also has a very nice stroke from the perimeter, even if he was at times hesitant to show that last year and was inconsistent with his shooting when he did. He made just 13/46 of his jumpers (10/29 3P, 60% FT) according to the data at our disposal, but should be able to improve on that significantly based on his excellent mechanics and the soft touch he displays.

As a ball-handler is where Honeycutt might need the most work, as he's just an average shot-creator at the moment. His ball-handling skills need plenty of work, particularly in terms of his ability to change directions with the ball and operate in pick and roll and isolation type situations. He was the fifth most turnover prone player in our database last season on a per-possession basis, coughing the ball up on an extremely high 31% of his possessions. His terrific court vision sometimes leads him to try and force the issue threading the needle with some very tough passes, but as he matures and gains experience, he should be able to improve his decision making skills significantly.

Adding strength to his lanky frame should open up plenty of things in Honeycutt's game, as he's clearly yet to reach his full athletic potential. Somewhat of a late bloomer in high school, Honeycutt's frame will be able to put on more weight down the road. He has a great feel for scoring around the basket, but is hampered significantly by his lack of strength at the moment.

Defensively, Honeycutt has outstanding potential with his terrific size, length, smarts and anticipation skills, and he's already one of the more productive players in the NCAA on this end in terms of the amount of rebounds (9.6), steals (2.2) and blocks (1.8) he puts up on a per-40 minute basis. Honeycutt moves his feet well on the perimeter and does a very good job of using his length to contest shots, but he can definitely get taken advantage of at times from a physical standpoint by older and stronger players. He struggles fighting through screens and seems to have mental lapses at times on this end of the floor like all young players do, but based on what we've seen and the fact that he's playing under Ben Howland, he should be just fine in this area down the road.

The fact that Honeycutt is already such a good rebounder despite lacking a significant amount of strength and spending heavy minutes at the small forward (as well as the power forward) position is a great sign. He has an excellent feel for tracking down loose balls and doesn't seem to lack much in the ways of toughness or hustle the way some other skinny players do.

Based on what we saw at the adidas Nations Experience in Chicago in August, Honeycutt could be on his way to a breakout season on the national level, something UCLA sorely needs. With a bigger role in Ben Howland's offense and more aggressiveness than he showed last year, Honeycutt will emerge as a coveted NBA prospect and could be ready to make the jump to the League already next spring. His ability to fit into any type of half-court motion offense will make him very interesting for slower paced teams in particular.

[Read Full Article]

---
adidas Nations Player Profile: Tyler Honeycutt
August 27, 2010
Video film and production courtesy of Tad Hathaway of 312 Media
[Read Full Article]

---
Initial Scouting Reports, High School Class of 2009 (#11-150 Recruits)
July 30, 2008
There seems to be a wide range of opinions regarding the prospects of skinny 6-8 small forward Tyler Honeycutt (#59 Scout, #121 Rivals, #80 ESPN), but based off what we saw in Vegas, it's difficult to see what's not to like. Honeycutt has the size to play the 3 or the 4 in college and shows attributes that will allow him to see time at both spots depending on the matchup, which makes him a pretty intriguing prospect at his size. He will call for the ball and try to make some basic spin moves in the post, but can bring the ball up the floor in a point-forward role and also knock down 3's. We watched him come off screens and also make shots with his feet set on the catch and shoot. He is a solid athlete with long arms and a frame that is underdeveloped at the moment but should fill out. He seems like a good teammate and has an excellent demeanor on the floor. Honeycutt is going to have to find a position he can defend at the collegiate level (his future is likely at the 3) and continue to add strength to his frame, but we understand why teams like UCLA, USC and Arizona State have already offered him scholarships.

[Read Full Article]

---