Nike Academy Scouting Reports: College Point Guard Prospects
July 1, 2015
Mike Schmitz

The Cal floor general didn't wow scouts with athletic plays or torch the nets with his outside jumper, but still gave a sneak preview of what he'll be able to do as a primary playmaker with some talent around him next year in Berkeley, CA. Wallace, who measured an impressive 6' 6" in shoes with a 6' 9.5" wingspan, played with very good poise and pace on the offensive end, moving the ball ahead in transition and picking apart the defense out of pick and roll sets in the half court.

Wallace's ambidexterity and length allow him to be extremely creative with the ball, using different angles and wrap-around passes to hit the roll man in stride. The Bakersfield, CA native does a nice job playing at different speeds and forcing the big defender to stay in front of the ball until he can calculate the perfect bounce pass to hit the big in stride. Wallace also proved very capable of finding the strong or weakside corner shooter out of ball screens.

While most of his highlights came as a distributor, Wallace did some damage in the paint with his patented floater – right and left hand – that helps him overcome his lack of vertical explosiveness. The Cal senior also played with intensity on the defensive end as he proved capable of fighting over ball screens and sliding with point guards on the perimeter thanks to his ability to cover ground with lateral slides.

The biggest questions revolving Wallace as a prospect, however, still revolve around his jump shot and athleticism. While Wallace did knock down a handful of jumpers over the course of the camp, the big dip before his shooting motion and the inconsistent release point and rotation on the ball doesn't give him a ton of hope to develop into a reliable NBA 3-point shooter unless he makes some significant changes to his mechanics.

Wallace isn't expected to add another gear of quickness from age 21 to 22, making becoming a consistent shooter that much more important for the Cal prospect. The Golden Bears will be loaded with talent (and shooting) during the 2015-16 season, which could lead to a big year for Wallace, who will have the opportunity to play to his strengths as a distributor and secondary scorer.
[
Read Full Article
]
Top NBA Draft Prospects in the Pac-12, Part 7: Prospects #15-20
September 8, 2014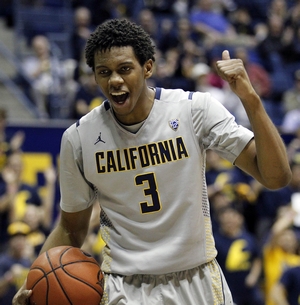 US Presswire
Derek Bodner
Tyrone Wallace flashed an intriguing skill set during his freshman season at California, where he averaged 10 points, 6.2 rebounds, and 3.7 assists per 40 minutes pace adjusted. While his rebounding, defense, and passing abilities allowed the freshman to stay on the court and contribute for the Golden Bears, his offensive efficiency limited his overall effectiveness, as he shot just 34.2% from the field and 22.4% from the three point line.
After an offseason spent focused on improving his jump shot, Wallace showed substantial improvement in year two at Berkeley. According to Synergy Sports Technology, Wallace generated 0.986 points per possession on jump shots during his sophomore season, a drastic improvement from the 0.679 he was at during his freshman season, turning what was a huge hole in his game into an above-average level of efficiency. The improvement was across the board, including catch and shoot possessions (0.98 points/possession, from 0.667), off the dribble (1.182, from 0.652), and from three point range, where he improved to 32.1% on 3.8 attempts per game, up from 22.4% during his freshman campaign.
Beyond the numbers, the form on his jump shot has been far more consistent, with less flare on his shooting elbow than he exhibited during his freshman season. Wallace can still battle through bouts of inconsistency, but projecting continued improvement is far more reasonable at this point.
A smooth athlete with a good change of pace, Wallace is a confident ball handler who is able to get into the paint. Once there, though, he struggles finishing around the hoop, shooting just 46.5% around the basket, per Synergy. Wallace generally has good touch around the rim with either hand, but he isn't all that explosive in traffic, and struggles at times finishing over length. He combats this by taking a good amount of floaters and runners in the lane, which he shows the ability to hit, but which also helps keep his free throw rate down.
Wallace's other main contribution on the offensive end comes from his passing. He has averaged 3.4 and 3.7 assists per 40 minutes pace adjusted during his freshman and sophomore seasons, respectively, despite sharing the backcourt with upper classman Justin Cobbs. Wallace sported a 1.73/1 assist to turnover ratio and a 0.71 pure passer rating, both solid marks for a shooting guard. Wallace shows good instincts as a playmaker and has a good feel for the game, and he makes good, quick reads with the ball in his hands. With the loss of Cobbs to graduation, it will be interesting to see how Wallace's role on the team changes as he now becomes the veteran presence in the perimeter rotation.
Wallace also moves well off the ball, doing a good job running off screens, using that space to either set-up a jumper or to use the screen to get into the paint. He doesn't have the quickest release on his jump shot, but is able to elevate and get off a clean look in these situations. Again, his continued development into a reliable jump shooter could open up this avenue of his game for increased usage.
The defensive side of the ball is where Wallace initially made his contributions, and is still a strength of his game. He has solid foot speed and, while only being listed at 6'4", has good length, which he uses well when denying penetration and challenging shots. His combination of length, foot speed on the perimeter, ability to change direction defensively, and his contributions on the defensive glass allows Wallace to effectively guard three positions at the NCAA level.
Wallace's role on the changing California team will be an interesting one to watch. With some young talent on the wings, Wallace could see some time at the power forward spot in a small-ball lineup, but he could also be asked to take on a bigger role in facilitating the half-court offense than he has in years past, a role which he has some tools to succeed in. When Wallace came to California, his defensive versatility and effort level kept him in the lineup despite an offensive game that was very much a work in progress. The massive strides he made in his offensive game last year, along with a role that could showcase his versatility, could combine to make Wallace an interesting player to watch in the Pac-12 this season.
[
Read Full Article
]