Tyshawn Taylor
Recent Tweets
All Tweets
DraftExpress: RT @WojYahooNBA: Brooklyn is sending cash to Portland for Tyshawn Taylor, out of Kansas and St. Anthony of Jersey City.
2012-06-28 11:04:01
DraftExpress: Portland takes Tyshawn Taylor at #41. Pick traded to New Jersey. Always been a big Tyshawn fan. 6-4 athletic combo who can defend and shoot.
2012-06-28 11:03:42
DraftExpress: Five best talents available entering the 20s (in my opinion): Jared Sullinger, Jeff Taylor, Quincy Miller, Doron Lamb, Tyshawn Taylor
2012-06-28 08:33:32
DraftExpress: DX: Tyshawn Taylor video scouting report: http://t.co/dwqOQCFz
2012-06-05 03:18:47
DraftExpress: DX Trending Prospects: Updated scouting reports on Andrew Nicholson, William Buford, Orlando Johnson and Tyshawn Taylor http://t.co/b1sPSv0u
2012-01-20 03:27:50
Top 25s - Full List
Team: Nets College Team: Dynamo Moscow
Physicals
Positions
Rankings
Misc
H: 6' 4"
W: 177 lbs
Bday: 04/12/1990
(25 Years Old)

Current: PG
NBA: PG
Possible: PG

RSCI: 75

High School: St. Anthony
Hometown: Jersey City, NJ
Drafted: Pick 41 in 2012 by Trailblazers
Best Case: Jrue Holiday
Worst Case: Armon Johnson

Predraft Measurements
| Year | Source | Height w/o Shoes | Height w/shoes | Weight | Wingspan | Standing Reach | Body Fat | No Step Vert | Max Vert |
| --- | --- | --- | --- | --- | --- | --- | --- | --- | --- |
| 2012 | NBA Draft Combine | 6' 2.75" | 6' 4" | 177 | 6' 6.25" | 8' 1.5" | 4.2 | 32.0 | 36.5 |



Basic Per Game Statistics

- Comprehensive Stats - Statistical Top 25s

Player Page&nbsp&nbsp| Player Stats | Mock Draft History | Related Articles&nbsp&nbsp| Add to My Draft Express&nbsp
&nbsp
NBA Combine Interviews: Ross, Jenkins, Taylor
June 14, 2012
[Read Full Article]

---
Tyshawn Taylor Video Scouting Report
June 5, 2012
Mike Schmitz takes a look at the strengths and weaknesses of Tyshawn Taylor, with the help of Kansas game-film and head coach Bill Self.






---




More DraftExpress Video Breakdowns:


-Perry Jones Video Scouting Report
-Thomas Robinson Video Scouting Report
-Andre Drummond Video Scouting Report
-Quincy Miller Video Scouting Report
-Tony Wroten Video Scouting Report
-Terrence Ross Video Scouting Report


---


Mike Schmitz is a writer for ValleyoftheSuns, a member of the TrueHoop Network. Follow him on twitter and subscribe to his YouTube page.


[Read Full Article]

---
Trending Prospects (1/20/2012)
January 20, 2012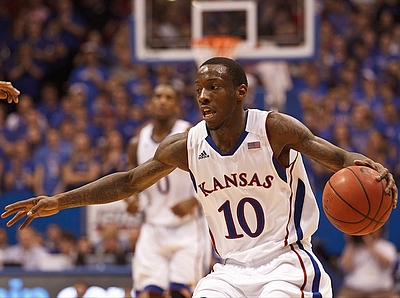 Icon SMI



Walker Beeken

Tyshawn Taylor has taken on a larger role in his final season at Kansas, and he's been instrumental in the Jayhawks getting off to an impressive 15-3 start, including winning their first five games in conference play, despite an inexperienced roster. The senior point guard is leading the team in minutes and assists per game and is also their second leading scorer, behind All American candidate Thomas Robinson.

As we've written before, Taylor has always been an impressive prospect from a physical standpoint. Standing 6'3Ē with a lean frame, he has a solid first step, very good top speed with the ball in hands, and nice lateral quickness defensively.

These traits put him on the NBA radar early in his college career, but his lack of consistent production and a number of off-court incidents have prevented him from becoming more of a highly regarded prospect.

The strides he's made this season may have him headed in the right direction, but he still has a glaring weakness, with his poor decision-making skills. Taylor is still coughing the ball up as much as ever, with a turnover on a quarter of his possessions so far this season. While there are other high profile point guards turning the ball over at a higher rate, Taylor's heavy usage puts him in the spotlight, as does the fact that he's had some of his high turnover games against good teams, such as 11 in the Duke game, 7 against Ohio State, and 8 in a rivalry game against Kansas State.

NBA teams may have concerns regarding whether he'll ever be able to run a team as a point guard and play efficient basketball, as he hasn't seemed to improve in that area much at all over the course of his time at Kansas.

Taylor uses almost a quarter of his possessions as the ball-handler on pick-and-roll situations, something he'd likely do just as much if not more at the NBA level. While he has the tools to be very effective in these sets, with his ability to pull up for the outside jump shot, and his burst to turn the corner to get into the paint, he's still far less efficient than scouts would like to see. He doesn't see the floor well once he's in attack mode, and he often over-penetrates and ends up throwing a bad pass or forcing up a difficult floater or shot attempt at the rim, as evidenced by his poor 39% shooting on attempts in the basket area so far this season, or his 45% 2-point conversion rate.

With that said, Taylor also makes some extremely impressive plays displaying his high talent level, whether it be splitting the defenders with the dribble to get in the lane, pulling up for smooth mid-range jumpers, or getting all the way to the rim and scoring with an acrobatic finish.

Perhaps Taylor's biggest improvement as a player over his time at Kansas has been with his shooting ability. He's knocking down a career-high 42% from 3-point range, despite the fact that he's nearly doubled his attempts from last season. He gets good elevation on his shot, has shown NBA 3-point range, and he's just as effective shooting off the catch with his feet set or off the dribble, both of which he does prolifically.

Defensively, as we've mentioned before, Taylor has all of the tools to successfully defend the point guard position at the NBA level. He has the size and lateral quickness scouts like to see, and he competes hard and generally shows good toughness as most Bill Self coached players do.

After biding his time as a role player on deep, loaded Jayhawk squads for three seasons, Taylor finally has his opportunity show more his overall game this season, and so far the results have been inconsistent.

It's been impressive to see his scoring and creating ability with his larger offensive responsibilities, but he still hasn't alleviated any of the concerns scouts likely have regarding his ability to take care of the ball and efficiently run a team from the point guard spot.

He does have his team exceeding expectations, though, and he has been a big part of that. If he can put together a strong second half of the season playing at a high level more consistently, particularly in the NCAA tournament, he'll have an opportunity to move up draft boards quickly.

[Read Full Article]

---
Trending Prospects (2/17/2011)
February 17, 2011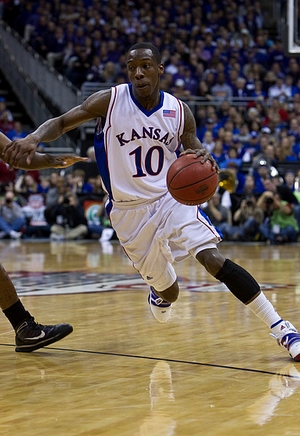 Icon SMI



Joseph Treutlein

Playing the most amount of minutes on the #1 ranked team in the country, Tyshawn Taylor is having his best season as a collegian, even if he still has a fairly modest stat line. He is also leading his team in assists despite spending as much time off as on the ball, and is performing more consistently than he has in any of his previous seasons.

On the offensive end, Taylor is the team's primary point guard, usually bringing the ball up the court and getting the Jayhawks into their offense, making quick decisions and rarely unnecessarily holding onto the ball. Using his excellent size, good first step, quickness, and change of direction ability, Taylor has a knack for finding open spaces on the floor and can get by most college opponents with ease. He's done a good job developing his vision and feel over the years, showing nice ability to recognize double teams and find the open man. He shows excellent ability on drive-and-dishes when he keeps his head up, and also makes a lot of simple passes in the flow of the offense.

While Taylor's point guard abilities have grown noticeably in his time in college, he's clearly still developing and is prone to making errant decisions with his dribble at times. That said, playing in Kansas' offense where he spends so much time off the ball and is forced to make quick reads and rarely overdribble should definitely be helpful in his transition to the NBA, where he won't have to make the play style adjustment most college point guards do.

In terms of his own offense, Taylor has a decent groundwork of skills in all areas but doesn't really excel in any one. He shows the most potential with his ability to attack the rim due to his speed off the dribble combined with his body control and ability to change direction. He relies mostly on simple moves going to the basket, doing a great job utilizing screens to get the step on his man and showing a strong second gear in the lane.

While Taylor shows no problem getting past his man and getting virtually wherever he wants on the floor, his ability to finish both at the rim and in the lane is still a work in progress. At the basket, Taylor doesn't show the greatest elevation in the half-court and shows problems finishing over weak-side defenders. He has tried to compensate this by developing his array of floaters and runners in the lane, which in the long term should be to his advantage, but at the moment he doesn't finish any of them with consistency. To his credit, his speed and potential with pick-and-rolls should play better in the more widely spaced NBA, where he should be able to get some less crowded forays to the basket.

As for Taylor's perimeter game, he has a respectable jump shot with college three point range, but it's never been a big staple of his game (just 1.2 attempts this season), and his efficiency from behind the arc has always hovered in the low to mid 30's. He shows excellent elevation on his shot with a high and quick release, but his mechanics aren't very polished and he has a strong tendency to jump into his shot. The most immediate gains to his offensive game would likely come from taking this segment of his game to the next level, and will likely be a big priority for him after the season ends.

On the defensive end is where Taylor is perhaps most impressive, as he has ideal physical tools for a point guard with his 6'3 frame and excellent lateral quickness and instincts. His fundamentals are very good and he shows great tenacity on this end, often getting into his stance well past the three-point arc. He's prone to overextending himself at times and can bite on pump fakes, but when he's zoned in he's very tough to shake off the dribble while he's also consistent with getting his hands up to contest shots.

Looking forward, Taylor's key role on the best team in the country is going to give him plenty of important exposure in March and April, and the learning curve he's shown at point guard over his three seasons should be attractive to NBA teams in spite of his unimpressive stat line. The fact that he's a two-way player with great physical tools and flashes some very impressive skills at times will also help, and he could see himself creep into some first round discussions as the draft draws nearer, depending on which other players decide to enter their name.

[Read Full Article]

---
NCAA Weekly Performers, 3/4/10
March 4, 2010
Matt Kamalsky

After an outstanding summer where he emerged as the leader of the USAís U-19 World Championship team, we noted that Taylor was returning to Lawrence to be a role-player, not the star he proved capable of emerging as in New Zealand. With most of the season in the rearview mirror, it is safe to say that the St. Anthonyís product has (perhaps begrudgingly) accepted his role as a complementary player on a deep, experienced, and incredibly talented Jayhawk team. While his numbers certainly donít jump off the page, Taylor is a player who could very well factor into this summerís draft according to the rumor mill, making his season worth taking a look at.

From a physical standpoint, Taylor brings a number of NBA caliber qualities to the table. Displaying a good first step, nice quickness in the open floor, and impressive lateral quickness defensively, Taylor has a nice athletic profile for a point guard. Couple that with his 6í3 frame and solid build, and he certainly looks the part of an NBA guard. While he surely displays a lot of promise in that regard, his limited role at Kansas and lack of pure playmaking ability raise some questions that the young guard will have to answer, as he does not project quite as well at the 2-guard position in the NBA.

Offensively, Taylor has some tools, but doesnít always get a chance to showcase them, and obviously still has a ways to go to become a complete player. From the perimeter, he proves capable of hitting catch and shoot jumpers with good consistency and has gotten a bit better at maintaining his mechanics with a hand in his face. Taylor struggles to hit shots off the dribble, preferring to use his momentum to get off his floater rather than taking the first look heís given.

Around the basket, Taylor has had his fair share of issues this season. Even with a limited number of touches, Taylor doesnít benefit from being able to pick and choose his spots. He seems a bit too willing to go into the teeth of the defense, struggling to take contact and subsequently not finishing at a great rate, which renders him as one of the more turnover prone players in our database. When he can get out in the open floor and use his physical tools to make plays, he looks exponentially more comfortable than he does challenging bigger defenders at the basket. The development of his midrange game will be a big step towards compensating for those shortcomings.

When accounting for what Taylor has done offensively this season, itís important to note the role he plays for arguably the top team in college basketball. With so much talent, touches are at a premium for the Jayhawks, and while Taylor would surely be able to dominate the ball elsewhere, he currently has to defer regularly to the likes of upperclassmen Cole Aldrich and Sherron Collins in Kansasí very disciplined and organized half-court offense. With sophomore power forward Marcus Morris having a breakout season and freshman wing Xavier Henry always a great option to create an open look for, there are only so many touches to go around for their 5th leading scorer Taylor. Not only does Taylorís role explain his meager 5.1 FGA per-contest, it also limits his playmaking opportunities.

When Taylor does get a chance to make plays for his teammates, he does an excellent job getting the ball into the paint, feeding the open man, and showing good court vision. Ranking in the top-25 of our database in assists per-40 minutes pace adjusted, Taylor gets the job done as a playmaker thanks to his ability to draw additional defenders. As he gains experience and polish offensively, his feel for the game and fundamentals lead you to believe that he could develop into a solid distributor.

The aspect of Taylorís game that seems most NBA-ready at the moment is his defense. While he doesnít create many turnovers, he shows excellent lateral quickness and appears to take things personally on the defensive end. A bit too aggressive at times extending his defense out towards half court, Taylor shows good discipline contesting shooters, has very active hands, and displays the ability to force his man into tough shots.

In projecting Taylor to the next level, one inevitably runs into a Jrue Holiday comparison. Both players struggled to produce on talented teams, and both have many of the qualities teams look for in an outstanding all-around role-player. Just 19 years old, Taylor still has quite a bit of upside and does many of the little things that coaches love, but isnít ready to step into a role on a contender.

Considering who Kansas is set to lose to graduation at seasonís end, Taylor faces a difficult decision. Logically speaking, he should have a much bigger role in KUís offense next season if he returns to school. Kansas is hot on the trail of two of the top high school guards in America in Brandon Knight and Josh Selby, though, both players who need the ball in their hands all the time to be successful. In addition, they have an extremely talented freshman point guard already waiting on the bench in Elijah Johnson, a consensus top-30 recruit himself. At some point Taylor may start wondering how different his role will be if he sticks around for another year.

[Read Full Article]

---
USA Basketball Junior National Teams Tryouts: Top Performers
June 20, 2009
Probably the biggest revelation to come out of these tryouts, and clearly one of the most well-rounded players in attendance, Tyshawn Taylor looks poised to emerge as the leader of the Under-19 World Championship bound team.

Fresh off dissecting this 2009 draft class to the Nth degree, it was hard not to come away seeing a lot Jrue Holiday in Taylorís game. Although not freakishly long or strong, he has good size for either guard spot to go along with a very nice first step, and is an extremely versatile player on top of that.

Taylor stands out first and foremost for the work he does on the defensive end of the floor, which is not a surprise considering the coach he plays for. He is the type of player who is always around the ball, constantly in the mix for loose balls, and he takes a lot of pride in the effort he puts forth shutting down his man.

While clearly not a pure point guard at this point in time, Taylor shows good enough court vision that it wouldnít be a stretch seeing him develop into a capable playmaker down the road. His feel for the game is excellent, and heís a highly unselfish player who particularly shines with the patience he shows on the pick and roll. He rarely takes bad shots, is always willing to make the extra pass, and really does a nice job feeding the ball into the post or finding the open man on the drive and dish.

Offensively, Taylor clearly has room to improve on his all-around polish, especially in the half-court. His ball-handling skills are good, but not great, and his shot tends to get streaky from time to time. Despite this, heís obviously capable of knocking down jumpers, both with his feet set or off the dribble. In transition he is very effective thanks to his excellent smarts and the great burst he shows on his first step.

Already a very effective player, despite having plenty of things he can still work on, Taylorís upside looks significant. While he may have to take a back seat to Sherron Collins this season at Kansas, scouts will definitely look at him thoroughly as a prospect for 2010 or 2011.

[Read Full Article]

---