Vander Blue
Recent Tweets
All Tweets
DraftExpress: More Undrafted Vander Blue Robert Covington Adonis Thomas Kenny Kadji Vitalis Chikoko Seth Curry D.J. Stephens Augusto Cesar Lima.
2013-06-28 00:19:03
DraftExpress2: RT @GoodmanESPN Early entry guys still on board CJ Leslie Lorenzo Brown Vander Blue Phil Pressey Adonis Thomas Deshaun Thomas BJ Yo\u2026
2013-06-27 23:35:33
DraftExpress2: Early entry guys still on board CJ Leslie Lorenzo Brown Vander Blue Phil Pressey Adonis Thomas Deshaun Thomas BJ Young.
2013-06-27 23:34:28
DraftExpress: Lots of everything from Vander Blue today. Made tough shots also made some very poor decisions. Great athlete. All in all a solid showing.
2013-05-22 12:59:56
DraftExpress: DX Trending Prospects Vander Blue http://t.co/DXjmBzC9tE (via @derekbodner)
2013-05-14 08:42:04
Team: Los Angeles
Physicals
Positions
Rankings
Salary
Misc
H: 6' 5"
W: 197 lbs
Bday: 07/17/1992
(23 Years Old)

Current: SG
NBA: SG
Possible: SG

RSCI: 30

Agent: Makhtar Ndiaye

High School: Madison Memorial
Hometown: Madison, WI

Predraft Measurements
| Year | Source | Height w/o Shoes | Height w/shoes | Weight | Wingspan | Standing Reach | Body Fat | No Step Vert | Max Vert |
| --- | --- | --- | --- | --- | --- | --- | --- | --- | --- |
| 2013 | NBA Draft Combine | 6' 3.5" | 6' 5.25" | 197 | 6' 6" | 8' 4.5" | 4.6 | 28.0 | 37.5 |
| 2013 | Nets Workout | 6' 3.5" | 6' 5.25" | 197 | 6' 6" | 8' 4.5" | 4.6 | 28.0 | 37.5 |



Basic Per Game Statistics

- Comprehensive Stats - Statistical Top 25s
| Year | League | Name | GP | Min | Pts | FG | FGA | FG% | 2Pt | 2PtA | 2P% | 3Pt | 3PtA | 3P% | FTM | FTA | FT% | Off | Def | TOT | Asts | Stls | Blks | TOs | PFs |
| --- | --- | --- | --- | --- | --- | --- | --- | --- | --- | --- | --- | --- | --- | --- | --- | --- | --- | --- | --- | --- | --- | --- | --- | --- | --- |
| 2015/16 | DLEAGUE | Vander Blue | 8 | 38.8 | 21.4 | 7.5 | 16.4 | 45.8 | 5.6 | 11.3 | 50.0 | 1.9 | 5.1 | 36.6 | 4.5 | 6.0 | 75.0 | 1.6 | 3.5 | 5.1 | 3.5 | 2.5 | 0.0 | 2.3 | 1.6 |

Player Page&nbsp&nbsp| Player Stats | Mock Draft History | Related Articles&nbsp&nbsp| Add to My Draft Express&nbsp
&nbsp
NBA Combine Interviews: Snell, Young, Green, Blue
May 24, 2013
[Read Full Article]

---
Trending Prospects: Vander Blue
May 14, 2013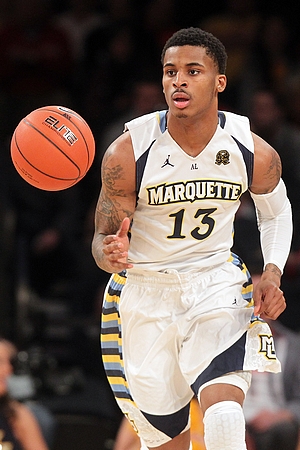 US Presswire



Derek Bodner

Vander Blue, a top-30 recruit coming out of high school, was somewhat of a disappointment in his first two seasons at Marquette. While Blue was a starter for virtually his entire sophomore season on a team that advanced to the Sweet 16, his personal productivity and offensive game never progressed far enough to match his lofty expectations.

As Marquette lost Darius Johnson-Odom and Jae Crowder, they needed Blue to step up and replace some of that production. Blue responded by upping his production substantially, from 12.2 points per 40 minutes pace adjusted to 18.3. Blue was particularly impressive in NCAA Tournament play, averaging 18.3 points per game while shooting 36.8% from three point range during Marquette's run to the Elite Eight.

The most notable change in Blue's game has been the emergence of a somewhat-reliable jump shot. According to Synergy Sports Technology, Blue, who shot 23.3% on jump shots last year, improved that number to 35.8%. The improvement in efficiency would propel Blue from the bottom 15% of the NCAA to the 59th percentile. His numbers improved across the board, including in catch and shoot situations ( 0.708 points per possession to 0.938), jump shots off the dribble (0.4 points per possession to 0.928), mid-range (0.667 to 0.825), and from three point range (0.75 to 0.905).

From a technical standpoint, Blue has much better balance and much less wasted lower body movement than in years past, and a more consistent follow through, improving on the hitch and inconsistent release he had last season. It's still far from perfect, and he can at times see his form and balance break down, particularly when under duress, but it's a vast improvement over where it was in years past. Blue must continue to work on extending his range, as he still struggles with consistency at the collegiate three point line (30% 3P%), and being able to extend this out to beyond the college three point line and make it a consistent weapon from NBA range will be a key in his being able to find a role at the next level.

When creating for himself, Blue is most comfortable in pick and roll sets. He has improved dramatically as a shooter off the dribble, showing a much better in-between game. It is in pick and roll sets where Blue is able to use his athleticism and get to the basket off the dribble with the most regularity, using the space created off the pick and his excellent athleticism to his advantage.

As a finisher once he gets into the lane, Blue is mostly a mixed bag. He has excellent elevation and body control in the paint, and he can at times show improved touch with his right hand. He has very little finishing ability with his off hand, however, and he generally prefers to avoid contact and settle for more of a finesse game when finishing in traffic. Despite being asked to create more in the half-court, his free throw rate dropped this season, from 5.3 attempts per-40 to 4.5 this season, which is a very poor rate considering how athletic he is and how much he handles the ball.

Blue still provides considerable value off the ball. His athleticism makes him a terror in transition, which still constitutes 20% of his offense, down from 32.5% of his offense during his sophomore season, where he was mainly an afterthought in the half-court. He also moves well off the ball, using his speed and quickness to make strong cuts to the basket. As mentioned before, he seems to be slightly more in control finishing around the basket, but developing his left hand and showing an increased willingness to absorb contact and get to the free throw line would help him in this regard.

Blue's lack of comfort handling the basketball in the half-court is one of his main deficiencies that currently holds him back from being a regular creator on the offensive end, as he has a high, somewhat out of control dribble with little ability to change direction, and can become turnover prone in traffic. His ball handling prevents him from really taking advantage of his tremendous athleticism.

Blue has shown some ability as a passer in years past, but with his change in role this season, he has looked to score more, and at times has had tunnel vision. His lack of advanced ball handling and shot creating abilities further limits his ability as a distributor, and overall his pure passer rating of -3.39 rates among the worst guards in our top 100 prospect rankings.

On the defensive side of the ball, Blue's athletic profile presents plenty of intrigue. Slightly undersized for a shooting guard at 6'4", Blue makes up for this with excellent length, a solid frame, and good lateral quickness. When he gets into a good defensive stance, Blue is capable of moving his feet well and changing direction, and does a very good job using his length and quick hands to force turnovers and generate transition opportunities for his team. He likes to play the passing lanes, and at times can get caught roaming off the ball a little bit too much, and at times can struggle fighting through screens, but he clearly has the potential and likelihood to provide value on the defensive end at the next level.

Vander Blue is far from a complete product, and still has plenty of work to make himself into a complete offensive basketball player. While he still has considerable work to do in order to make his jump shot more consistent, and to continue extending the range on his jump shot out further, the improvement he has shown in his jump shot was a very important step for him to make in order to cement himself as a legitimate prospect. If Blue can continue to round out his offensive game, his combination of physical profile and defensive potential make him an interesting gamble for an NBA team.

Blue is one of the younger juniors in his class, not turning 21 until this July, so it wouldn't be outrageous to suggest that he still has considerable upside to continue to improve. If he doesn't get drafted, which is not a certainly at this point considering he was one of the last players invited to the NBA Combine, he could be an interesting prospect for teams to keep tracking in the D-League to see if his ball-handling, perimeter shooting and basketball IQ continue to develop.

[Read Full Article]

---
Top NBA Prospects in the Big East, Part Four
October 18, 2012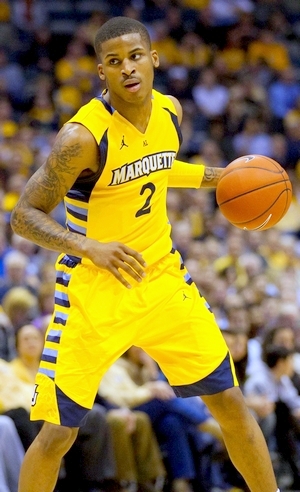 US Presswire



Kyle Nelson

Vander Blue's decision to attend Marquette was a legitimate recruiting coup for head coach Buzz Williams. The 6'4 combo-guard ended a decorated high school career ranked in the RSCI top-30 , a part of a talented class of 2010, in which 17 of the top-30 players have already heard their names called on draft night. His college career has been less promising, however, a combination of unfulfilled expectations and an off-the-court issue that may have caused some distraction, even though he has been a frequent starter on a team that made back-to-back trips to the Sweet Sixteen. Now, as Darius Johnson-Odom and Jae Crowder are working to keep their roster spots in the NBA, the question remains as to whether Blue can regain his high school form with an increased role on offense while helping Marquette return to the NCAA Tournament for the eighth straight year.

There is still a lot to like about Blue from a physical perspective, as he is a versatile athlete in Marquette's three-guard offense. Though he stands just around 6'4 in shoes, he has a solid 200-pound frame and a long wingspan that allow him to compensate for his average size, particularly on the defensive end. Blue is a good athlete, as well, showing solid body control along with the ability to explode to the basket and excellent quickness in transition.

The problem with Blue still remains his inability to score and score efficiently. After a rough freshman year, he struggled again as a sophomore, averaging just 12.2 points per 40 minutes pace adjusted while playing over 25 minutes per game. In fact, by the numbers he is one of the least prolific scoring guards in our database.

Blue has struggled thus far in his career to score with efficiency, both inside and outside. He makes a very poor 43.6% of his 2-point attempts, which ranks him near the bottom of shooting guard prospects in our database. On film, Blue doesn't show much of a feel for converting plays around the basket, tossing up prayers in traffic and bricking floaters as often as throws down a thunderous dunk in transition. He is at his best using his athleticism to finish off of cuts, slashing to the hoop, or attacking the basket in transition, but it's worth pointing out that he finishes just 41.2% of his shots in the paint. His shooting touch is clearly suspect, but his struggles might also be related to his generally shaky ball-handling skills and struggles finishing left.

His trouble finishing around the basket is particularly disconcerting when taking his overall jump shooting and his lack of an in-between game into consideration. As a freshman, Blue made just 16% of his 1.4 attempts from beyond the arc and as a sophomore he made only 25.8% on fewer attempts. Blue converted just 23.3% of his overall jump-shots last season, showing just how far he has to go in this area. His mechanics seem to be the primary culprit, as he demonstrates a hitched release, with a lot of extra movement in his lower body and torso elevating with his body square to the basket. As a junior, therefore, he will have to find and maintain his shooting rhythm, which he has visibly struggled with thus far.

Improving as a shooter is particularly important because, at this stage, Blue has yet to show much in the way of playmaking ability. Though he is a solid passer in Marquette's three-guard offense, as evidenced by his 3.8 assists per 40 minutes pace adjusted, he has struggled as a facilitator, where his tendency toward tunnel vision results in turnovers nearly just as often as dishes to open teammates. His 3.2 turnovers per 40 minutes pace adjusted relative to his low usage rate is certainly an area that scouts will be monitoring during his junior year.

For as inconsistent as Blue has been on the offensive end, he has proven himself to be one of the Big East's top perimeter defenders. His length, lateral quickness, and activity level allow him to hold his own against most perimeter players at this level, point guards and wings alike. When he's dialed in, he shows potential not only to be a defensive stopper, but also to ignite the offense and start quite a few of his transition possessions off of a steal or a defensive rebound. Despite his lack of ideal size for the shooting guard position in the NBA, his defensive ability should allow him to earn minutes, should his scoring and offensive instincts develop accordingly.

At the end of the day, Blue remains an intriguing prospect due to his athleticism and versatility on both ends of the floor, but he has a lot of work to do to prove to scouts that he is an NBA player. While he is an NBA-caliber defender and will once again anchor one of the nation's top perimeter defenses, scouts will be watching to see what else he is capable of contributing. His junior year, therefore, will provide him with plenty of opportunities to replace the scoring, leadership, and toughness that Jae Crowder and Darius Johnson-Odom brought on a nightly basis during their times at Marquette. His NBA prospects may ultimately rest on how well he capitalizes on these opportunities and whether he can overcome his mediocre start to his college career with a breakout season.

[Read Full Article]

---
FIBA Americas U-18 Championships: Top American Prospects
July 5, 2010
Vander Blue is a player we hadn't had the chance to evaluate at the high school level but came away extremely impressed with at the FIBA Americas tournament.

He's got good size for either backcourt position with a terrific body and exceptional athleticism, which he has no problem putting to full use on both ends of the floor. Blue's role on this team was primarily defensive stopper, something that he seemed to relish. He was the point man on Team USA's full-court press, getting right into his defender with his long wingspan and terrific lateral quickness, and he caused plenty of turnovers.

Offensively, we'll have to wait until next season to get a full read on Blue's potential because of how loaded this team was with scorers, but he showed solid ball-handling skills and made a couple of very good passes, particularly in transition. His shot may be a bit on the streaky side, but he didn't really take enough of them to judge. Blue's athleticism is a real asset in the open court, as he's fast with the ball and extremely explosive around the rim. He'll be an immediate contributor at Marquette next season.

[Read Full Article]

---