Wayne Blackshear
Recent Tweets
All Tweets
DraftExpress: Louisville's McDs All-Americans Wayne Blackshear Chane Behanan Peyton Siva. Big contrast w\/ Russ Smith & Dieng who were very unheralded.
2013-04-06 18:34:31
DraftExpress: Should be interesting. Wonder what kind of shape he's in. RT @KentTaylorWAVE: Wayne Blackshear cleared for game action: http://t.co/SOIY1OeY
2012-02-08 09:21:17
DraftExpress: Video interviews & practice highlights w/ Bradley Beal, Wayne Blackshear, Marshall Plumlee, Kyle Witjer, Branden Dawson http://bit.ly/grAYSX
2011-04-15 12:47:40
DraftExpress: Wrapped up a great week in Chicago with some more interviews. Got Kyle Wiljter, Brendan Dawson, Marshall Plumlee and Wayne Blackshear.
2011-03-31 01:13:36
DraftExpress: HoopHall Elite Prospects Scouting Reports http://bit.ly/6n6vgv Michael Gilchrist, Anthony Davis, LeBryan Nash, Myck Kabongo Wayne Blackshear
2011-01-20 09:41:41
Team: Louisville, Senior
Physicals
Positions
Rankings
Misc
H: 6' 5"
W: 215 lbs
Bday: 02/11/1992
(22 Years Old)

Current: SF
NBA: SG/SF
Possible: SG/SF

Rank 18 in NCAA Seniors
RSCI: 21

High School: Morgan Park
Hometown: Chicago, IL

Predraft Measurements
| Year | Source | Height w/o Shoes | Height w/shoes | Weight | Wingspan | Standing Reach | Body Fat | No Step Vert | Max Vert |
| --- | --- | --- | --- | --- | --- | --- | --- | --- | --- |
| 2010 | LeBron James Camp | NA | 6' 5" | 215 | 6' 10.5" | NA | NA | NA | NA |
| 2010 | Paul Pierce Camp | NA | 6' 5" | 215 | 6' 10.5" | NA | NA | NA | NA |
| 2010 | NBA Top 100 Camp | 6' 5" | NA | 216 | 6' 11" | 8' 5" | NA | NA | NA |
| 2009 | LeBron James Camp | NA | 6' 5" | 205 | 6' 10.5" | NA | NA | NA | NA |
| 2009 | Paul Pierce Camp | NA | 6' 5" | 205 | 6' 10.5" | NA | NA | NA | NA |



Basic Per Game Statistics

- Comprehensive Stats - Statistical Top 25s
| Year | League | Name | GP | Min | Pts | FG | FGA | FG% | 2Pt | 2PtA | 2P% | 3Pt | 3PtA | 3P% | FTM | FTA | FT% | Off | Def | TOT | Asts | Stls | Blks | TOs | PFs |
| --- | --- | --- | --- | --- | --- | --- | --- | --- | --- | --- | --- | --- | --- | --- | --- | --- | --- | --- | --- | --- | --- | --- | --- | --- | --- |
| 2013/14 | NCAA | Wayne Blackshear | 36 | 19.6 | 8.2 | 2.6 | 6.0 | 43.3 | 1.3 | 2.8 | 47.5 | 1.3 | 3.2 | 39.5 | 1.8 | 2.4 | 74.4 | 0.6 | 2.5 | 3.1 | 0.7 | 0.9 | 0.5 | 0.6 | 2.3 |

Player Page&nbsp&nbsp| Player Stats | Mock Draft History | Related Articles&nbsp&nbsp| Add to My Draft Express&nbsp
&nbsp
Top NBA Prospects in the AAC, Part Four: (#11-15)
October 25, 2013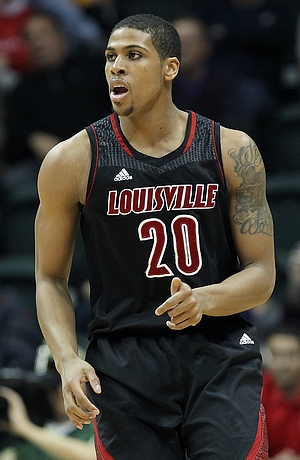 US Presswire



Matt Kamalsky

Spending all but the final 15 games of his freshman year out of action while rehabbing a shoulder injury, Wayne Blackshear emerged as a key roleplayer for Louisville as a sophomore, contributing 7.6 points and 4.1 rebounds per-game as the eventual National Champions' starting small forward. A former top-25 recruit and McDonald's All-American, the Illinois-native will face a unique challenge this season as he'll need to continue growing as a player while helping fill the void left by the indefinite suspension of Chane Behanan.

Standing 6'5 with a 6'10 wingspan, Blackshear has solid size for a wing prospect, buts it is his athleticism and 230-pound frame that make him a prime candidate to slide over to the power forward spot at times in Behanan's absence. On the heavy side for a wing, his combination of strength, explosiveness, and perimeter skills should make him a mismatch threat when Louisville goes small.

Though Louisville's prolific guards will once again be the engine that drives Rick Pitino's offense, Blackshear should see more opportunities to make his presence felt on the offensive end than he did last season, when he used just 7.6 possessions per-game according to Synergy Sports Technology. Playing a role predicated on his ability to stretch the floor with his jump shot and use his athleticism in transition and as a finisher in the half court, Blackshear scored an impressive 1.003 points per-possession, but was seldom asked to create offense on his own as evidenced by his 1.2 turnovers and assists per-40 minutes pace adjusted.

Looking ahead, it will be Blackshear's ability to earn and make the most of opportunities to create his own offense that will play a key role in his long-term development. Last season, Blackshear averaged just 14.9 points per-40 minutes pace adjusted, ranking outside the top-50 small forward prospects in our database. He is a good, not great shooter, both off the catch and off the bounce in limited opportunities, though he still has room to improve his consistency. With 77% of his shot attempts in the half court coming from the perimeter, Blackshear doesn't create many opportunities around the rim, but his ability to take contact and finish inside the paint helped him shoot a terrific 65% in close last season.

With Russ Smith still around and Chris Jones entering the fold, it seems somewhat unlikely that Blackshear will be the Cardinals' first option at any point in the coming seasons, but if he can show improvement in his ball-handling ability and add overall polish to his offensive repertoire, he can still boost his stock in a complementary role. Blackshear's willingness to play within himself and fill a role for the betterment of his team will make it interesting to monitor where he stands within Louisville's scoring hierarchy in the coming years.

Blackshear showed improvement as a defender as a sophomore, looking more comfortable in Louisville's pressure-heavy man and zone schemes. Staying active, getting a good stance, and possessing good lateral quickness, Blackshear struggles to get over screens and stay in front of smaller players at times, but his effort and focus help him more than hold his own at the college level as well as make an impact crashing the boards. Blackshear is often too aggressive on this end of the floor, ranking second among small forwards in fouls per-40 minutes pace adjusted. He'll need to do a better job staying out of foul trouble so he'll be able to fill the more prominent role he'll be asked to fill as a junior.

Though Blackshear has yet to make the same splash some of his highly touted peers in the high school class of 2011 have, his efficient play has made him a valuable cog on one of the nation's best teams. Whether he gets the opportunity to play a significantly bigger role in the program's success in the coming two seasons remains to be seen. There's little questioning that he has the tools to play at the next level should he become a more polished player over that period, and it will be worth keeping a close eye on how his role evolved for the defending National Champions as a junior.

[Read Full Article]

---
McDonald's All American Game Interviews/Practice Highlights, Part Two
April 15, 2011
[Read Full Article]

---
HoopHall Classic Scouting Reports: Elite Prospects (Part One)
January 19, 2011
Jonathan Givony

One of the top seniors playing at this event, Wayne Blackshear (#12 Scout, #32 Rivals, #18 ESPN) did not disappoint, coming back admirably from multiple injuries to lead his team to victory over a highly touted Garfield high school team.

A physically impressive wing player standing 6-5 with long arms and an absolutely chiseled frame, Blackshear is a very good athlete who also shows a nice skill-set and seemingly superb intangibles.

Offensively, Blackshear is not the most polished player you'll find, but is still able to put points on the board efficiently with his ability to score in transition and polished jump-shot.

In the open court, Blackshear is effective thanks to his terrific combination of strength and explosiveness, looking more than capable of overpowering defenders on his way to the rim and finishing impressively once there.

In the half-court, he has a very nice jump-shot that he's capable of converting both with his feet set and off the dribble. He's not a great shot-creator at this point, looking somewhat limited with his advanced ball-handling skills, but is a very unselfish player who is both willing and able to find the open man.

Defensively is where Blackshear will likely be able to make his mark the fastest at the college level. He not only has great tools to work with his excellent frame and lateral quickness, but is also a highly competitive player who shows no qualms whatsoever about sticking his nose into get the job done.

Even when battling a very painful knee injury he suffered early in the game we took in, Blackshear was still looking to slide into the paint and attempt to draw an offensive foul, something you rarely see from such a highly touted prospect at this level. He does good work for all these same reasons on the glass on both ends of the floor, picking up his team plenty of extra possessions along the way.

Blackshear is exactly the type of player college coaches dream of adding to their roster, as he's not just a winner but is extremely talented on top of that. There's little doubt that he'll come into Louisville and be able to contribute right away, even if he needs to continue to mature, gain experience, and improve his feel for the game and all-around polish, like all young players do.

[Read Full Article]

---
Initial High School Player Scouting Reports, Part Two
August 22, 2009
It was tough to tell too much about this very highly touted young wing player in the AAU setting, as his team plays way too fast for their own good, and Blackshear (#12 Scout, #18 Rivals, #17 ESPN) looked pretty comfortable taking a backseat to some of his older teammates.

Blackshear has prototypical physical tools for a wing player, which is where most of the intrigue around him likely stems from. He's extremely smooth in the open court, showing nice ability to change speeds and get to the basket, where he can absolutely explode and throw down some monster dunks. Combine that with his good size and a frame that will put on weight, and you have a pretty interesting prospect.

Offensively he shows a very nice stroke from the mid-range area, pulling up smoothly off the dribble, and creating great separation from his defender. He loses accuracy when he steps outside the 3-point line, though, and will settle for bad shots from time to time. He made some very nice passes in the games we saw, but have been a little too passive at times, looking far too comfortable blending in, and showing a distinct lack of aggressiveness. He made some extremely impressive plays from time to time, but then disappeared for long stretches.

Defensively, Blackshear has all the tools to be very effective, and should be able to develop into a very good defender at the collegiate level, as long as he's willing to put the effort in, which wasn't always the case when we saw him.

[Read Full Article]

---