Xavier Henry
STRENGTHS:
- All-around offensive polish
- Efficiency
- Scoring instincts
- Commitment to playing defense
- Defensive fundamentals
- Intelligence
- Likelihood of reaching potential
- Role-player potential
- Strong Intangibles
- Understands limitations
- Solid passer
- Above average athleticism
- Coordination
- NBA body
- Size for position
- 3-point range
- 3-point shooting percentages
WEAKNESSES:
- Ability to play at different speeds
- One-dimensional?
- Ability to create own shot
- Advanced ball-handling skills
- Lateral quickness
- Versatility to defend multiple positions
- Limited upside?
- Explosiveness
Recent Tweets
All Tweets
NBA Draft Media Day Video Interviews: Evan Turner, Ekpe Udoh, Al-Farouq Aminu, Greg Monroe, Xavier Henry, etc http://bit.ly/c35FTb
2010-06-24 01:51:02
The New Orleans Hornets' board, from what I can gather, looks like this: Xavier Henry, Patrick Patterson, Cole Aldrich. Not 100% on order.
2010-06-22 16:46:01
Confirmed: Xavier Henry is the 15th player invited to the Green Room
2010-06-22 12:44:01
Supposedly three more Green Room invites still going out. Have to imagine they go to Patrick Patterson/Xavier Henry & probably Avery Bradley
2010-06-21 18:21:01
Me talking John Wall, Evan Turner, Xavier Henry, Wes Johnson, NBA draft philosophies and much more on the DX Podcast: http://bit.ly/dbyT7k
2010-06-20 19:45:00
Top 25s - Full List
Team: Lakers
Physicals
Positions
Rankings
Salary
Misc
H: 6' 6"
W: 210 lbs
Bday: 03/15/1991
(24 Years Old)

Current: SF
NBA: SF
Possible: SF

RSCI: 6

Agent: Jason Glushon

High School: Putnam City
Hometown: Warr Acres, OK
Drafted: Pick 12 in 2010 by Grizzlies
Best Case: James Posey
Worst Case: Martell Webster

Predraft Measurements
| Year | Source | Height w/o Shoes | Height w/shoes | Weight | Wingspan | Standing Reach | Body Fat | No Step Vert | Max Vert |
| --- | --- | --- | --- | --- | --- | --- | --- | --- | --- |
| 2010 | NBA Draft Combine | 6' 5.25" | 6' 6.5" | 210 | 6' 11.25" | 8' 9" | 4.7 | 28.5 | 36.5 |



Basic Per Game Statistics

- Comprehensive Stats - Statistical Top 25s

Player Page&nbsp&nbsp| Player Stats | Mock Draft History | Related Articles&nbsp&nbsp| Add to My Draft Express&nbsp
&nbsp
NBA Draft Media Day Interviews: Turner, Udoh, Aminu, Monroe, Henry,etc
June 24, 2010
[Read Full Article]

---
Situational Statistics: This Year's Small Forward Crop
June 12, 2010
Xavier Henry's complementary role at Kansas highlights what he brings to the table as a role-player on the next level.

With a host of other prospects around him, Xavier Henry wasn't asked to take over games. Rather, he was asked to spot up off the ball and take advantage of his opportunities. Henry's 1.012 PPP overall ranks him sixth in our group and seems to indicates that he played his comparably small role (12.1 Pos/G) admirably.

Though he did his fair share of running on the wing of Kansas' break, Henry's transition numbers aren't spectacular, but his 0.994 PPP in half court situations (5th) represent how effective he is when the game slows down. With 35.9% of his offensive touches coming in spot up situations, Henry's set shooting ability ranks him highly as a drive and kick option. His 1.1 PPP in spot-up situations is a byproduct of his ability to hit catch and shoot jumpers with (1.26 PPS, 6th) or without (1.16 PPS, average) a hand in his face. His pull up jumper remains a bit suspect by comparison, as he hits just 28.6% of his shots off the dribble.

In 2.1 shot attempts per-game in finishing situations, Henry's 1.12 points per-possessions rank right around average for this group. Looking at where his shots are coming from, he received a total of 7.1% of his possessions last season in one-on-one (1.048 PPP, 1st) or post up (1.2 PPP, 3rd) situations, indicating that he received little opportunity to create shots for himself. His lack of touches in those situations make his highly ranked efficiency numbers a bit misleading to say the least.

On the next level, Henry will likely find himself player a similar role to the one he played last season early in his career. A highly capable spot up shooter who has a chiseled physique and brings solid defensive intensity, he's tailored to be a useful player right away for some teams and could blossom into a very effective offensive wing if he continues to develop.

[Read Full Article]

---
NBA Combine Interviews: Henry, Anderson, Babbitt, Jones, Robinson
May 24, 2010
[Read Full Article]

---
Analyzing the NBA Combine Measurements
May 22, 2010
Among wing players, Xavier Henry looks terrific, as expected, at 6-5 ¼ without shoes, with an excellent 6-11 ¼ wingspan. He has ample size to play either shooting guard or small forward, which should help ease his transition in defending perimeter players at the NBA level.

[Read Full Article]

---
NCAA Weekly Performers, 2/10/10
February 10, 2010
Joseph Treutlein

After a very hot start to his freshman campaign, Xavier Henry has cooled off quite a bit as conference season has gotten underway. He stills remains among the best freshman in his class, being a steady contributor as a starter for the #1 ranked Jayhawks.

From a physical standpoint, Henry has a very well-built frame, especially mature considering he's still only 18 years old. Athletically, he is a good but not great athlete, not having outstanding quickness or vertical explosiveness around the basket, but still enough to probably be considered average for a wing at the NBA level, while also possessing great coordination and body control.

Henry started off the season incredibly strong from three-point range, making over 50% of his attempts for a good portion of the season. His shooting accuracy has come down to earth a bit as conference play has begun,though, as he's made just 13 of his last 49 3-point attempts over his last 10 games.

Shooting the ball, Henry has a high and quick release and is very accurate when spotting up, even with a hand in his face. Pulling up off the dribble, he's not nearly as effective, however, as he isn't particularly fluid transitioning from dribble to shot, and this leads to problems when contested in these situations, although he is at least respectable pulling up when given space.

As a scorer, Henry relies heavily on his three-point shot, with nearly half of his overall attempts coming from behind the arc, almost all of the spot-up variety. Henry is limited in what he can contribute in isolation situations, as he has very little in the line of advanced ball-handling skills, appears to have just an adequate first step with the ball, and really doesn't even show much confidence or initiative pursuing straight-line drives to the basket (something that may very well make his first step appear worse than it is capable of being).

While Henry isn't a prolific shot creator in isolation situations, he does do an good job creating for others within the flow of the offense, being a very heady and willing passer, frequently making drive-and-dump and drive-and-kick passes off his cuts to the basket, doing a very good job keeping his head up and passing on the move. Henry is a smart and unselfish player in general, and definitely understands playing within the team concept and not forcing the issue much with the weaker areas of his game.

When Henry does get to the basket, he does a decent job finishing in spite of underwhelming vertical explosiveness, showing good body control and touch, though he could do a better job throwing his body around to draw contact. He may have more problems with this area of the game in the pros, however, though the fact that he has somewhat of a floater in his arsenal bodes well for him and is something he should continue working on.

On the defensive end, Henry puts in pretty good effort and shows a solid fundamental stance in perimeter man-to-man defense, but laterally he just doesn't seem to have the foot speed to stay in front of quicker guards, making it questionable if he can be a shooting guard defensively in the pros. Despite being just a touch undersized for a small forward at 6'6, Henry does do a much better job against slower, bigger opponents, being able to stay in front of them and use his length to contest shots, making it more likely to see him project as a 3 in the pros, which also makes sense given his underdeveloped ball-handling skills.

Looking forward, Henry clearly has two NBA skills in his three-point shooting and passing, while his team-oriented approach will certainly be appealing to teams, but with only a year spent in college and not much to show for it in terms of shot creating abilities, teams will have a tough time gauging his learning curve to see if that's something he's likely to develop down the road. Henry's attitude and approach to the game are definitely reassuring in this regard, but if he only projects as a role playing wing who can't create his own shot (and there are questions about which position he is best suited to guard), teams may be hesitant to draft earlier than the later portion of the lottery at best, though there are likely many playoff teams who would be happy to see him fall.

[Read Full Article]

---
Nike Hoop Summit, High School Prospects
April 16, 2009
After a solid showing at the McDonald's game, Henry managed to take some time to put his recruiting situation out of his mind, and entered this week with a solid focus. This paid off for the talented wing, who lead Team USA in scoring and showed some very nice skills in the process.

18 of Henry's 22 points came from behind the three point line, where he shows good form and a quick release. The lefty shoots the ball with a great deal of confidence as well, and has no reservations about taking another shot, even if he badly missed the last one. The rest of his points came on one drive to the hoop where he displayed solid body control, and another finish on a basket cut in the half-court.

The uncommitted senior needs to further develop his ball-skills before he should be considered NBA ready, and a more polished mid-range game would be a nice step as well. He has a strong body, good size, and impressive defensive tools, however, and should ease into the role of shooting specialist very comfortably wherever he ends up next season.

[Read Full Article]

---
Nike Hoop Summit, Day Two
April 10, 2009
One of the stand-out prospects today also happens to be one of the hottest stories in the world of recruiting at the moment. One time Memphis commit Xavier Henry displayed a good package of skills today, and particularly excelled in transition.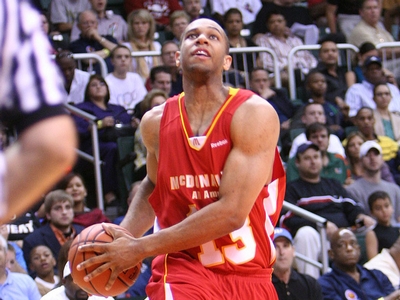 Jim Hlavac, DraftExpress



Physically, Henry has everything you look for in basketball player, starting with great size and a very strong body as well. The lefty shows a nice shooting stroke from long range, and good creativity when finishing near the basket. His defense was nothing special today, but he does have the strength, length, and athleticism to become an excellent player on the defensive end of the floor.

Ball-handling seems to be the biggest weakness for Henry at this point in time, and it showed a couple times today where he lost the ball, first on a hesitation move in transition, and also while trying to create his own shot in the half-court. He seems to really favor his strong hand at this point in time on the dribble drive, though it's impossible to make that definitive conclusion based on a small sample size of his play.

Most basketball fans probably know the name Xavier Henry if they have followed the recent coaching carousel at the NCAA level. Memphis head coach John Calipari took the head job at Kentucky, and Henry had a provision that voided his letter of intent with Memphis as a result. This all happened the week of the McDonalds' All-American game, and with the Hoop Summit coming so soon after, Henry still really hasn't had a chance to take it all in.

"It really caught me off guard with Calipari leaving," Henry said. "I didn't think he would go."

The thought for the talented lefty was to immediately de-commit from Memphis, and re-open his recruitment. Henry said he became distracted by the situation for the first couple of days, before getting some sound advice from his mother.

"My mom told me to just forget about it, and we'd sort it out after the high school all-star games. She said I need to enjoy these games, because they are a once in a life-time thing."

Henry seems to be very close to his family, which actually might make his recruiting situation all the more complicated. His brother C.J. played professional baseball for three years before walking on at Memphis last season, and the brothers had planned on teaming up under Coach Cal. Xavier's father was a basketball stand-out at Kansas (the runner-up to Memphis), and played professional basketball overseas.

One early report indicated that new Memphis head Coach Josh Pastner was planning on hiring Xavier's father, Carl Henry, to become the Director of Basketball Operations for the Tigers. Xavier dismissed those rumors entirely.

"That's not true at all. People start rumors so they have stuff to talk about. My dad was the most shocked to hear he got a job at Memphis."

The decision now looms for Xavier Henry, who must decide between his father's alma matter Kansas, his brother and Memphis, or the coach he originally committed to play for who now heads a storied program in Kentucky. It will be interested to see how it plays out over the coming weeks at the Hoop Summit, but for now he's just focused on the game Saturday.

[Read Full Article]

---
Player Evaluations, McDonald's All-American Game (West Team)
April 3, 2009
This was a bit of an up and down week for Xavier Henry (#4 Scout, #3 Rivals, #1 ESPN), which is not a surprise considering all the turmoil he's faced off the court caused by the departure of the coach he was committed to, John Calipari, to Kentucky. After two very weak practices, he managed to rebound and post a pretty solid showing in the private scrimmage and actual game, showing off his excellent versatility as a scorer.

Henry was able to make his presence felt both as a slasher and shooter, living up to his reputation as a 6-7 shooting guard who can put the ball in the net in a variety of ways. Henry displayed a good first step going left or right, being very strong and aggressive with the ball. His jumper was streaky at times, but still showed excellent potential, as he can create separation from the defense thanks to the elevation he gets and is able to knock down shots at a good rate both from standstill positions and off the dribble. At times he seemed to fall in love with his pull-up jumper excessively rather than trying to get to the rim in advantageous matchups, but this isn't anything that a good coach and a well-defined system that works on getting him good looks can't fix.

As Henry's just-average conditioning level indicates, we probably have yet to see all he can offer at the high-school level due to the setbacks he's suffered with the stress fracture in his foot last year and the car accident he was involved in at the beginning of this season. He's a guy we'll obviously be keeping a close eye on in college to try and figure out just how good of a long-term prospect he is for the NBA level, something we don't have a great read on yet.

[Read Full Article]

---
HoopHall Classic Scouting Reports, Part Three
January 23, 2009
We've been waiting patiently for the right opportunity to properly evaluate Xavier Henry (#4 Scout, #3 Rivals, #1 ESPN), as he is clearly one of the more important prospects in the 2009 high school class according to the recruiting rankings. Thus far, that's proven difficult. Henry suffered a stress fracture in his ankle in April of 2008, and was hobbled throughout the summer, opting to play through the injury instead of letting it heal. Right before the high school season kicked off, Henry was involved in a car accident that left him with a broken cheekbone, forcing him to sit until about two weeks before this game, which obviously meant that he was not in peak shape.

Regardless of the injury, Henry appears to be a good, but not great athlete who relies primarily on his physical strength and superior skill-set at the high school level. He has an extremely well-developed frame that clearly (and understandably) isn't at its full potential yet conditioning wise, noticeably sporting some baby fat. With great size as a 6-6 pure wing player, Henry has more than adequate tools for an NBA prospect at his position.

Obviously a very advanced and instinctive scorer, Henry is equally adept as a slasher and shooter, showing an extremely powerful first step which he uses to overpower defenders on the way to the lane. He's also a good ball-handler, looking very comfortable creating his own shot with either hand, and doing a very good job getting to the paint and drawing contact when he puts his mind to it. He drew 13 free throws in the matchup with St. Anthony's, converting on 10 of them. At times he has a tendency to over-penetrate and run into brick walls, though, which led to a number of turnovers in this game.

Henry also has great potential as a shooter, looking very much capable of creating separation from his defender with the excellent elevation he displays on his pull-up jumper. He seems to have deep range and great touch on his jumper and is obviously very much a shot-maker from the perimeter, although in this particular game he clearly fell in love with his jump-shot and forced the issue excessively.

St. Anthony's box and one and matchup zone caused him to hit just 4 of his 15 shots from beyond the arc, and Henry looked extremely frustrated throughout the game. He tends to cock the ball a little bit and release it on the way down, making his stroke very inconsistent on this day. Shoring up his release point as he elevates off the ground should be one of the things Henry should focus on, as well as improving his shot-selection. It was hard to read too much into this particular game due to the fact that his team was clearly overmatched both personnel wise and on the sidelines, going up against one of the greatest coaches in the history of high school basketball in Bob Hurley.

Defensively, Henry obviously has his work cut out for him, as he puts very little effort into this side of the ball, showing poor fundamentals as well. Coach John Calipari will have to work with him extensively on this part of his game, along with helping him become a more complete player, rather than just a scorer.

Despite his poor showing (5-19 shooting from the field), it's very obvious why Henry carries the reputation he does, something that we should see more of as the season moves on. It's not quite clear whether he possesses the long-term upside of some of the other top-ranked recruits in his class, although there is a lot to like already about his size, scoring instincts and skill-level.

[Read Full Article]

---