Yancy Gates
Recent Tweets
All Tweets
DraftExpress: Wasserman Media Group's 2012 draft haul thus far: Jordan Taylor, Fab Melo, Yancy Gates, Tony Wroten, Jorge Gutierrez and Dominique Sutton
2012-04-23 10:45:10
DraftExpress: ICYMI: DX Trending Prospects: Updated scouting reports on Tyler Zeller, Jared Cunningham, Yancy Gates & Kyle O'Quinn - http://t.co/cUfpm5SA
2012-03-30 03:35:58
DraftExpress: DX Trending Prospects (3/29) Updated scouting reports on Tyler Zeller, Jared Cunningham, Yancy Gates and Kyle O'Quinn http://t.co/cUfpm5SA
2012-03-29 08:12:35
DraftExpress: You just never know which Yancy Gates is going to show up on any given night. Probably the biggest knock against him. Tonight, invisible.
2012-03-22 11:41:58
DraftExpress: RT @billtrocchiSI: Festus Ezili gets six games for accepting a hotel room. Yancy Gates gets six games for punching two players in the face.
2011-12-11 04:05:21
Top 25s - Full List
Team: Shanxi
Physicals
Positions
Rankings
Salary
Misc
H: 6' 9"
W: 287 lbs
Bday: 10/15/1989
(26 Years Old)

Current: PF/C
NBA: PF/C
Possible: C

RSCI: 32

Agent: Lee Melchioni

High School: Withrow
Hometown: Cincinnati, OH

Predraft Measurements
| Year | Source | Height w/o Shoes | Height w/shoes | Weight | Wingspan | Standing Reach | Body Fat | No Step Vert | Max Vert |
| --- | --- | --- | --- | --- | --- | --- | --- | --- | --- |
| 2012 | Portsmouth | 6' 8.25" | NA | 287 | 7' 3" | NA | NA | 27.3 | NA |
| 2009 | LeBron James Camp | NA | 6' 9" | 274 | 7' 3" | NA | NA | NA | NA |
| 2009 | Amare Stoudemire Camp | NA | 6' 9" | 274 | 7' 3" | NA | NA | NA | NA |



Basic Per Game Statistics

- Comprehensive Stats - Statistical Top 25s

Player Page&nbsp&nbsp| Player Stats | Mock Draft History | Related Articles&nbsp&nbsp| Add to My Draft Express&nbsp
&nbsp
2012 Portsmouth Invitational Tournament Measurements Released
April 13, 2012
The heaviest player at the camp by far is Yancy Gates at 287 pounds. His 7-3 wingspan is intriguing, but he'll obviously need to get in much better shape than he was here.

[Read Full Article]

---
Trending Prospects (3/29/2012)
March 29, 2012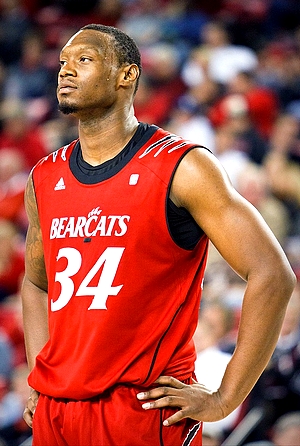 Icon SMI



Kyle Nelson

Cincinnati senior Yancy Gates had quite an eventful senior year, rebounding from the nasty brawl and six-game suspension to lead the Bearcats to the Sweet Sixteen. Though he disappeared down the stretch in a loss to Ohio State, he showed enough throughout the season to plant himself back on the NBA radar. Now, as his time at Cincinnati is over, scouts must decide whether his legitimate talent and potential trumps the long list of red flags that he has built up throughout his career.

At 6'9, with an excellent 7'3 wingspan and a massive 260-pound frame, Gates possesses good size for an NBA big man. He is solid athlete, as well, explosive around the basket, though probably more mobile than he is quick. Despite his good physical profile, improving his conditioning would do wonders for both his physique and athleticism, not to mention his standing with NBA teams.

On offense, Gates is more or less the same player that we profiled at the beginning of his senior season, displaying a combination of post play with some spot-up shooting and face-up potential. That being said, it's worth noting that Gates's 15.7 points per 40 minutes pace adjusted on just 46% from the field were both career lows this season.

In the post, Gates still lacks much of a post game, relying more upon brute strength than polished footwork. He still has a nice jump hook in his repertoire and can surprise his man with a quick spin on the baseline, but he is not consistently aggressive and rarely uses his size to his advantage at this level. Another issue is that Gates does not consistently post up, however, preferring to pull up or fade away than take his man to the basket.

His often inconsistent or uninspired aggressiveness and focus is a significant reason why he struggles to get to the foul line and why shoots such a low percentage from inside of the arc, as he rarely puts himself in position for easy baskets. When he's dialed in he's an asset in the post, carving out space and using his strength and athleticism to get to the basket, but you never quite know what to expect from Gates, as his performances fluctuate greatly depending on what day you catch him on.

Gates also sees his fair share of offense away from the basket, where he finds over 25% of his field goal attempts. Unfortunately, Gates is still not a great shooter, making just 31% of his jump shots according to Synergy without the shot selection or free throw percentage to suggest he is a better shooter than meets the eye. His release does not look bad, but he tends to fade away when he shoots, even with his feet set. Needless to say, he must work on his mechanics and decision making quite a bit before proving to scouts that he is a capable jump shooter.

One area where Gates has visibly improved, however, is on the offensive boards. As a senior, Gates was one of the better offensive rebounds in the country averaging 4.1 offensive rebounds per 40 minutes pace adjusted. Though he doesn't usually box out, his combination of strength, soft hands, length, instincts and leaping ability allow him to grab offensive rebounds and bring the ball straight back up to the basket. If he's able to improve his effort and focus-level as he matures he could be a very good offensive rebounder and finisher.

Gates is a solid defender, as well, showing very good lateral quickness for his size with the ability to stay in front of his man inside and outside. In the post, he does not make much of an effort to deny his man the ball, but he does an excellent job of standing his ground and forcing his man into tough shots. As is the case elsewhere in his game, focus can be an issue here and staying in his stance would help him significantly, but he should not be a liability guarding power forwards at the next level. He has proven to be a good rebounder, as well,grabbing a career-high 11.5 rebounds per 40 minutes pace adjusted

Nevertheless, Yancy Gates is a difficult player to project at the next level. On one hand, he has an excellent physical profile with an interesting skill set and significant potential. On the other hand, he has a myriad of red flags, from "the Xavier brawl" to his shoddy conditioning, his multiple suspensions to his inconsistent effort. Gates certainly has the talent to get drafted and could have a lot of value to a team if he's able to overcome the issues that have plagued him throughout his career. In the meantime, Gates must do everything in his power to prove that his past his behind him while showing greater effort on both ends of the floor.

[Read Full Article]

---
Top NBA Draft Prospects in the Big East: Part Four (#16-20)
October 20, 2011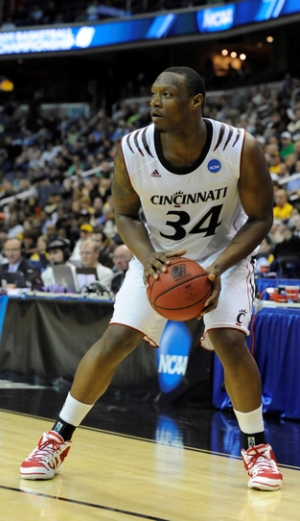 Icon SMI



Jeff Rush

Last time we checked in on Yancy Gates, he was coming off the best string of games he's put together as a Bearcat at the 2009 Maui Invitational. While his performance generated some buzz among scouts, the rising senior struggled to capitalize on the attention he received, showing little progress in his game since that point despite intermittent glimpses of the potential that once made him a highly touted prep recruit.

Despite that, Gates remains intriguing, as he is blessed with the size and strength that scouts look for at the power forward position at the next level. He combines his powerful presence with solid footwork and strong, soft hands that rarely miss an opportunity to snatch a bullet pass in traffic or tip in an offensive rebound. While not the type of explosive athlete that will finish over players at the rim, he is capable to using his frame to create space to score inside against long and athletic bigs. Gates has been listed at 6'9" 260 lbs. for the past two years, although that seems a little bit on the light side, he has trimmed down since earlier in his career when his propensity to lift weights allowed him to get too heavy at times. He now sports a cut physique that he has no problems throwing around in the paint on both ends of the court.

Gates possesses a skill set that isn't entirely aligned with his size, as he is more than willing to step away from the basket and shoot jumpers. While not a great jump shooter, he does have a nice release and clean form that gives the impression that he is capable of becoming a solid mid-range option despite his 30% accuracy on such attempts according to Synergy Sports Technology. He also has developed a fairly solid feel for the game, as his even assist to turnover ratio indicates. Throughout his three years at Cincinnati his assist totals have risen and his turnover totals have dropped showing an improvement that we don't tend to see from big men as their usage increases at the college level.

In the post, Gates is a load to handle when he's being aggressive, posting up low and wide becoming almost impossible to get around for defenders attempting to deny post entry passes. Once he has the ball he prefers to turn over his left shoulder to a solid jump hook or turnaround jump shot. He is also capable of facing up and putting the ball on the floor to get to the basket from time to time where he uses his wide body to draw contact and get to the line.

Gates does show some nice things in the post when he is dialed in, but is would be nice to see him improve his consistency around the rim, become a bit more versatile down low, and really demand the ball on every possession. He gets a lot of his shots blocked at this point as he tends to go through defenders as opposed to over them, and while has developed a feel for creating enough contact to get himself to the line, he could stand to diversify his post arsenal. His per-40 pace adjusted free throw attempts went from 4.0 his sophomore year to 5.9 his junior year showing that he is developing a feel for how best to use his body to his advantage.

Gates' best trait offensively is the set of strong and soft hands that he uses to collect and finish offensive rebounds. His offensive rebound rate is not incredibly high for a guy his size, but he is especially effective when he corrals those rebounds at finishing them, often with a tip-in. According to Synergy Sports Technology, Gates ranks in the 95th percentile for scoring efficiency off of put-backs among every player in Division I.

Defensively, Gates is very solid both in the post and against guys on the perimeter. He has very good feet that allow him to stay in front of quicker players looking to drive by him on the perimeter or on a face up in the post. He also does a very good job of walling up in the post and making the offensive player shoot a contested shot over him. Much like his assist and turnover numbers, Gates' foul rate has improved in each of his three seasons, dropping to just 3.3 foul per-40 pace adjusted. It is clear that this lowered foul rate is not the result of a lack of effort defensively as Gates averages 1.2 steals and 1.9 blocks per-40 pace adjusted as well.

Overall, Gates may not have exploited the spotlight as thoroughly as recent Maui breakout star Kemba Walker, but he remains a very intriguing prospect because of his huge size and ability to be a solid contributor in multiple phases of the game. He does not have the typical athleticism that you would look for from an NBA power forward, and seems to coast at times, but he has developed a nice feel for what he can do and exploiting that to help his team. It will be very interesting to see what kind of development we will see from Gates this season after three seasons of incremental improvement.

[Read Full Article]

---
NCAA Weekly Performers, 12/3/09
December 3, 2009
Matt Kamalsky

The last two weeks have been highly productive for Yancy Gates and his Cincinnati Bearcats. Despite losing in the championship game of the Maui Invitational in an overtime brawl against Gonzaga, Mick Cronin's squad registered two convincing wins over top-25 teams in Vanderbilt and Maryland, and his star sophomore leveraged the big stage to make a strong impression on NBA decision-makers.

Standing 6'9 and weighing in around 260 pounds, Gates already looks the part of an NBA power forward, and has for some time. A workhorse in the weight-room, Gates has always had a chiseled physique, but has lost some weight since last season, allowing him to be more explosive around the rim and quicker in the open floor. Sporting broad shoulders, long arms, and a powerful lower body, the Cincinnati native will get high marks for his physical tools whenever he decides to declare, especially as he develops his ability to impose them more consistently in game-settings.

Through the first five games of the season, Gates has shown flashes of physical dominance on the offensive end, primarily in the form of ferocious dunks in traffic coming off of offensive rebounds or cuts down the lane, but he doesn't assert himself at the rim consistently enough in one-on-one situations to dominate games. Still showing some of the complacency that caused him to disappear for stretches as a freshman, and the same average decision making ability that has hampered him throughout his career, Gates hasn't consistently shown the back to the basket game that bruisers like him usually possess.

In high school, Gates got by on facing up and functioned as something as a hybrid forward, two things that have shown in his propensity to take shots from the midrange and turnaround jumpers in the post. Not always thoroughly taking advantage of his imposing strength in the post, Gates doesn't seem to have the highest basketball IQ, but he's surprisingly skilled for a player his size. Able to step out and put the ball on the floor for one or two dribbles to get to the rim or knock down the occasional 15-footer, Gates tends to rely on his finesse game quite heavily when posting up, hurting his efficiency. Showing a solid hook over his left shoulder, a decent drop step move going right, and a knack for making timely and decisive moves around the rim, Gates needs to work to develop some counter moves and improve the touch on his jump shot –something that limits the effectiveness of his turnaround jumper and his consistency from the foul line (61%).

During Cincinnati's Maui Invitational run, Gates's strengths and weaknesses were on full display, as he was a beast when he asserted himself at the rim against Vanderbilt and Maryland, but had a hard time making an impact by settling for too much on the perimeter against Gonzaga. On top of what Gates showed as a scorer, he proved to be an equally effective rebounder. Eating up space on both ends, Gates is averaging an excellent 12.6 rebounds per-40 minutes pace adjusted.

While Gates shows nice instincts on the glass, his defensive fundamentals still leave a lot to be desired. Willing to bang bodies in the paint, Gates uses his length to contest shots on the ball, but struggles in one-on-one situations at times, not always maintaining ideal position or displaying good timing. Still improving on that end of the floor, Gates's work ethic should allow him to become an effective defender in time, as his mobility and physical stature still allow him to make some plays as it is.

Based on what he's shown so far, Yancy Gates certainly has earned the attention of NBA decision-makers. However, he'll need to continue to impress to maintain the momentum he has if he plans to declare for this summer's draft. He's grown as much in the last few weeks as any player in the NCAA, and seems to be on a promising learning-curve, making him an obvious name to keep an eye on as the season progresses.

[Read Full Article]

---
Top NBA Draft Prospects in the Big East Part Two (#6-10)
October 11, 2009
Scott Nadler

There is much to be optimistic about for the Cincinnati Bearcats this season. They landed one of the most talented (and controversial) recruits in the nation in Lance Stephenson, have a healthy Cashmere Wright returning from injury, and are coming off a very solid season in arguably the toughest conference in the country. With all of that said, much of the preseason hype surrounding this team revolves around the potential of sophomore power forward, Yancy Gates; and rightfully so.

Gates earned All-Rookie team honors in the Big East last season after averaging 10.6 points and 6.1 rebounds in 23 minutes of play. At 6'9, with a chiseled frame, Gates is a physical specimen and has a great presence on the court. He's an imposing figure and showed flashes of dominance in the paint. He's also athletic and moves very well, showing good footwork around the basket and a willingness to run the floor –all of the ingredients anyone could ask for in a big man.

On the other hand, Gates has a tendency to blend in on occasion, failing to assert himself or holding back a bit and deferring to his teammates, which is common of most freshmen. The way he began his games would be telling to how his performance would end up –with good starts resulting in big numbers and poor starts resulting in average outings. Maintaining a certain level of consistency will be important for Gates this season.

It will also be crucial for Gates to continue to build on his prowess as a rebounder. Gates averaged 10.6 rebounds per-40 pace adjusted last season and even more impressive was his offensive rebounding production, where he averaged 4.9 per-40 minutes pace adjusted –ranking him 9th in our database. He has big, soft hands, is not afraid to throw his weight around and rebounds well in traffic. With all of these factors going for him, Gates could be even better if he plays with reckless abandon and more aggressiveness.

Similarly, Gates' ability to score, especially in the painted area, will depend on his forcefulness. He is a very difficult player to stop at the college level considering his strength advantage, averaging 18.4 point per-40 minutes pace adjusted. In addition, he possesses solid fundamentals and good habits around the basket. He rarely brings the ball below his chest, displays great patience, utilizes his pivot foot to establish better position, and has no wasted motion. Consequently, he scores around the basket at an outstanding 66.2% clip and is ranked 23rd in our database in field goals per-40 minutes pace adjusted with 7.9.

In the post, however, he still has room to grow. Even though he does a good job at getting position, he seems unsure on occasion of what he should do. Developing a go-to move, something he currently doesn't have, would eliminate that problem. Furthermore, Gates tends to settle for turnarounds too often and fades away from the defense, even against smaller players, which is why he only shoots 2.6 free throws a game. Improving his left hand would also benefit him greatly and enable him to power up on either block.

Away from the basket, Gates showed glimpses of an outside touch, shooting with as much as 18 foot range. He has a good shooting stroke with average release speed and a high release point. His success rate is significantly increased when he holds his follow through, as opposed to quickly flicking his wrist and bringing it back, which suggests a rushed approach and a lack of confidence. If he can consistently knock down outside shots, something he showed great flashes of in high school, he will be that much tougher to defend.

Speaking of defense, Gates struggled as a post defender. He allows his man to catch the ball too easily due to his tendency to play behind his matchup as opposed to 3 quartering the post to deny the entry. He's undisciplined at this stage, jumping and leaning on ball fakes which put him off balance. He also loses focus sometimes –leaving him a step behind and on second late on help situations. He did a better job on the perimeter, showing good lateral speed for his size and the commitment to challenge all shots with his long wingspan.

Gates has all the tools to be a solid player, now it is up to him to decide how good he wants to be. There have been some question marks in the past about some red flags that may hold him back. If he can put it all together this season, the Bearcats should be a factor in the Big East and NCAA tournament bound.

[Read Full Article]

---
Pitt JamFest: Top 2008 Prospects
May 2, 2007


In one of the more surprising upsets of the tournament, Gates saw his stacked Ohio Basketball Club squad get upset by the Rhode Island Hawks in their pool play finale. The 6'9 Cincinnati recruit led the way for his team with 13 points, but the consistency issues that plagued him throughout his career were evident once again today. He showed his tremendous upside early in the game, stepping out and knocking down a three, blocking a handful of shots, and utilizing his strength on the low blocks with his back to the basket play. Then we saw the player that has left so many recruiting analysts frustrated over the years. Yancy was scoreless in the second half, and was most often seen floating around the perimeter and jacking up contested jump shots, despite the fact that he is stronger then virtually any player the class of 2008 has to offer. If he truly hopes to reach his fullest potential once he becomes a Bearcat in the fall of 2008, Yancy must realize that he has perform as the player we saw in the first half for a full 40 minutes each and every night.

[Read Full Article]

---