Zach Auguste Updated NBA Draft Scouting Report
April 26, 2016
Kyle Nelson

Notre Dame center Zach Auguste began his senior year as a legitimate NBA prospect. While scouts took notice of his breakout junior campaign, Auguste remained a player with quite a bit left to prove during his senior season. He delivered in many regards, emerging as a leader for Notre Dame, earning All-ACC-Third Team honors, and powering the Irish to the Elite Eight in the NCAA Tournament for the second straight season.

While Auguste improved considerably during his time in South Bend, his NBA prospects remain unclear. While improved in some areas, namely as a rebounder, Auguste's production dropped off considerably when matching up against elite-level frontcourt competition.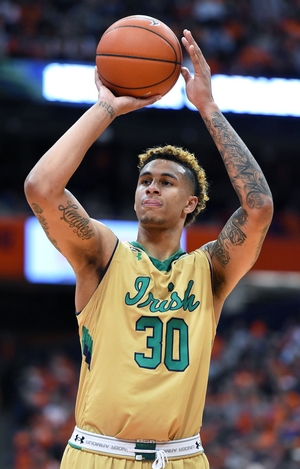 US Presswire
At 6'10 in shoes with an average wingspan and a solid 245-pound frame, Auguste has an ideal physical profile for an NBA power forward. The issue is that he is more of a center in a power forward's body, getting most of his offense directly around the basket and being very limited defensively. He is a good athlete, however, possessing impressive mobility and quickness in the open floor, as well as solid explosiveness around the basket. This allows him to maximize his athletic abilities, even if his struggles against NBA-caliber athletes suggest that he will likely have to show scouts more in pre-draft settings and beyond to prove worthy of earning a NBA roster spot.
By the numbers, Auguste was one of the most productive post players in our
database
as a senior, averaging 20.5 points per 40 minutes pace adjusted. Yet, despite his productivity, he experienced modest declines in his efficiency, making 55.8% of his field goals, down from 61.9% as a junior. More importantly, he remains limited on the offensive end of the floor, seeing nearly 95% of his looks in the immediate vicinity of the basket.
While Auguste does not have the most versatile post game, he has little trouble getting to the basket due to his combination of excellent hands and nimble footwork. He also improved considerably as a finisher, making 52% of his post up attempts, nearly 20% higher than his junior year mark while seeing more touches in this capacity as a senior. Yet, even here, Auguste's general instincts have yet to catch up with his athleticism and footwork. He remained turnover prone – coughing the ball up over 3.5 times per 40 minutes pace adjusted – and exhibited questionable decision making at times. Games against capable post defenders further exposed his limitations and it remains to be seen whether he has the ability to score with his back to the basket against NBA-caliber defenders on a nightly basis.
While Auguste is a mixed bag in the post, he did a great job of putting himself in positions to score off the ball. He was particularly impressive as a scorer in pick-and-roll situations, where he made 73.5% of his overall attempts. On film, it is easy to see why, as he is able to seamlessly roll to the basket, corral passes, and finish aggressively. Auguste was also able to score in transition (69% FG) and while cleaning up his teammate's misses (4.8 offensive rebounds per 40 minutes pace adjusted), even if he finished an unimpressive 46.3% FG% in these situations.
He continued to do a great job of drawing contact and getting to the foul line, as well. In fact, his 7.7 free throw attempts per 40 minutes pace adjusted ranked tenth among prospects in our
top-100
.
Yet, the foul line presents another issue, as he made just 62.6% FT and never developed as a perimeter shooter in his four years in South Bend. He attempted just 16 jump shots as a senior and made only one of his seven attempts from outside of 17 feet. For the second straight year, Auguste did not attempt a shot from beyond the arc.
Thus, while Auguste proved himself to be a capable post scorer at the collegiate level, his skill set does not look likely to translate into the power forward position in the modern NBA. Furthermore, his lack of productivity against NBA caliber athletes more generally is a cause for a concern with an eye towards the next level.
He remained limited on the defensive end of the floor, as well, for many of the same reasons that we have
observed before
. First, Auguste has never been much of a rim protector and blocked just 1.4 shots per 40 minutes pace adjusted as a senior. Furthermore whether it is a matter of fundamentals, effort, or awareness, Auguste is just not a very focused defender in the post, curiously struggling to step out and guard the pick-and-roll despite his quickness and agility. At this point, the question is whether Auguste can refine his feel for the game, while playing more aggressively at the same time. His physical profile has never been in question and, despite his disappointing defensive resume thus far, he still has the potential to be a capable defender at the next level.
One area where Auguste differentiated himself, however, was on the boards. In fact, his 15.6 rebounds per 40 minutes pace adjusted actually rank him as the second best rebounder in our
top-100
. He went from being a fairly average rebounder for the first three years of his career to one of the best in this draft class in terms of pure production, which is certainly notable.
Thus, while
Zach Auguste
improved considerably during his four years at Notre Dame, his NBA prospects remain unclear. Without a jump shot and inconsistent on the defensive end of the floor, Auguste is a center in a power forward's body, without the scrappiness and rim-protection prowess to compensate. After an impressive senior season, however, Auguste will have plenty of opportunities to distinguish himself in private workout settings. While his career at Notre Dame left scouts with more questions than answers, his physical profile alone suggests that he could still develop into a NBA player down the road, possibly after some refinement in the D-League or overseas.
[
Read Full Article
]
Top NBA Prospects in the ACC, Part Eight: Prospects #16-20
October 14, 2015
Jacob Eisenberg

Zach Auguste came to Notre Dame as a moderately heralded recruit out of New Hampshire in 2012, and while his first two seasons in South Bend were encouraging based on per-minute production levels, it wasn't until last season that he finally emerged as a legitimate NBA prospect. Auguste was the only post-threat on Notre Dame's ACC championship team and eventually helped guide the Fighting Irish to the Elite Eight in the NCAA Tournament.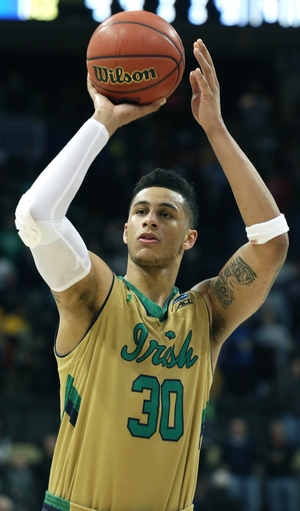 US Presswire
At 6'10, 240 pounds, Auguste is big for ACC standards, but projects as a bit of a tweener between the four and the five at the next level. He has average length, which will work against him on the defensive end for his entire career. Still, he's strong, mobile and physical and can get to his spots on the floor effectively. At Notre Dame last season, Auguste used his size to gain advantage against opponents in the paint, leading to a gaudy 21.1 points and 10.6 rebounds per-40 minute rate.
Auguste had free reins on offense when he got the ball in the paint last season. He had the highest usage rate on Notre Dame, and posted a sparkling 63% true shooting percentage. More impressively, Auguste was as close to automatic as they come around the basket. He converted on 120-of-165 (72.7%) field goal attempts around the hoop in the half court – per Synergy Sports Technology – due to his soft touch and strong finishes.
Auguste's best attribute as an NBA prospect is his nimble footwork. It makes sense that Auguste moves well, considering his father was a semi professional soccer player in Haiti. While Auguste doesn't take particularly long strides, he gets up and down the court at an impressive speed for a player his size. He also has good hands and manages to catch tough passes in motion – all while stopping his feet on a dime with ease – to finish transition opportunities before travelling. With Notre Dame's desire to spread the floor and play quickly, Auguste's efficiency on the interior is an ideal complement for the Irish's shooters. In transition, Auguste converted on 36-of-45 field goal attempts (80%) and rarely turned it over.
While Auguste has a reputation for being Notre Dame's only post threat, the truth is Auguste isn't actually all that effective working with his back to the basket. Auguste made just 30 of his 85 post attempts last year and couldn't seem to find consistency with either hand shooting over either shoulder. To make matters worse, 20.7% of Auguste's post attempts resulted in turnovers – an absolute stain on Mike Brey's otherwise hyper-efficient offense.
Auguste does make up for his turnover rate with an impressive ability to get to free throw line. Last season, Auguste averaged 6.7 free throw attempts per-40 minutes and .39 free-throw attempts per possession – both ranking among the best in DX's top-100 prospect database. He has tremendous balance, which allows him to battle for positioning in the low post without getting pushed off his spots. The balance also allows him to grab offensive rebounds and finish through contact with consistency, a skill that accounts for a healthy portion of his scoring diet. Auguste grabbed 12.5% of all available offensive rebounds last season, ranking eighth among all NCAA prospects last season.
Auguste is still a work in progress at the line, converting on just 63.6% of his free throws last season. To his credit, the 63.6% as a junior was a massive upgrade from the 48.3% he shot as a sophomore. There are signs that he can be good at the line, as he gets a nice rotation on the ball.
Auguste isn't particularly dynamic offensively. He attempted just a handful of jump shots outside of the paint last year and has yet to make a three pointer in college. His jump shots have a flat arc and seemingly always hit the back rim. While he's able to use his size to create scoring opportunities at the college level, it's unlikely those same opportunities will be available against professionals, which will require him to expand his range, particularly if asked to operate at the power forward spot.
Defensively, Auguste is quite limited: Though he moves well for a big man, he takes bad angles when defending on the perimeter and offers minimal rim protection around the basket. Auguste averaged just 1.1 blocks per-40 minutes last season, and was consistently eaten alive when pitted against a skilled offensive big man. Jahlil Okafor and Karl Towns converted on 42-of-60 shots (70%) in four games against Notre Dame last season and Auguste was the tasked defender in both of those matchups.
Though he fights on the interior, Auguste is slightly undersized and allows deep positioning without much resistance against bigger and stronger opponents. At 240 pounds, Auguste is not weak, but he will still need to get significantly tougher and more physical to defend comfortably at the next level to compensate for his lack of length. Currently, he's a bit of a turnstile in the paint.
Still, to his credit, Auguste hedges well and shows a nice mobility on the defensive end, leading to the possibility that he can defend power forwards in the NBA if he learns how to angle himself better. The physical tools are there for him to develop into a better defender should he ever learn to curb penetration through better positioning.
Overall, Auguste's big junior season made him a legitimate NBA prospect. While his role figures to expand with the departures of Jerian Grant and Pat Connaughton, Auguste will need to show more versatility on both ends of the floor to impress scouts in his senior season.
[
Read Full Article
]